A handful of years ago Christmasses started to get out of control in my family (6 siblings + 13 nieces and nephews + grandparents + partners = a loooong "to buy for" gift list). So everyone agreed that making gifts was the way to go – more heartfelt and easier on the purse strings. Not only is this totally up my alley, but it's also so much fun to see what people come up with. A few of my faves from Christmasses past have been monogrammed bath mats, mix n' match cloth napkins in fun fabrics, monogrammed glasses (etched with our initials), and painted terra cotta planters.
I browsed around for inspiration for my presents this year, and ultimately decided to do some coasters. I wanted something pretty, relatively simple, and seriously budget friendly (you know, since we're still paying for that not-so-cheap year we just spent in England).
WARNING: Family members of mine – please close browser. Stat.
The first step was to gather up the materials. I grabbed about 40 square white ceramic tiles from the Home Depot (about 40 cents a piece), a bunch of decorative paper from Michael's (some was new, some I already had lying around), some Modge Podge, and a clear top coat finishing spray (also from Michael's).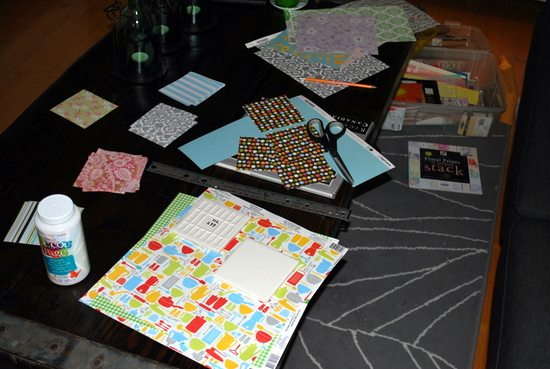 It's really pretty easy. You just cut your paper to tile size, apply a thin layer of modge podge to the back of the paper, smooth it down (I used a library card to get rid of any bubbles), then add another layer of modge podge over top. In the end I did 3 layers of modge podge just to ensure everything was really well sealed. I also threw on a top finishing coat (an acrylic spray) to be extra sure.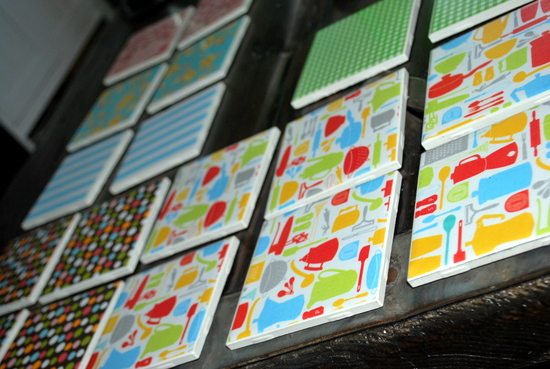 After everything has dried and cured, I attached some felt to the bottom of the tiles so that they are nice and smooth sliding around a table. I just grabbed some furniture felt from the dollar store since they are super sticky and the perfect size.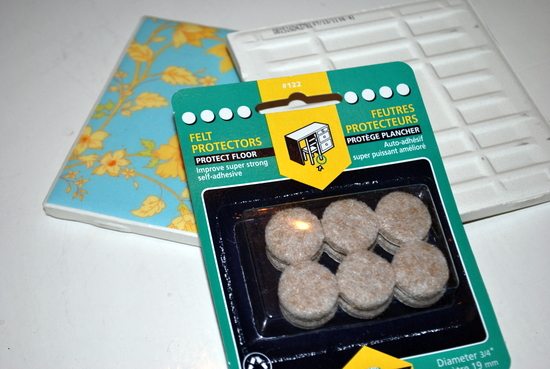 Attach one to each corner, and you're in business.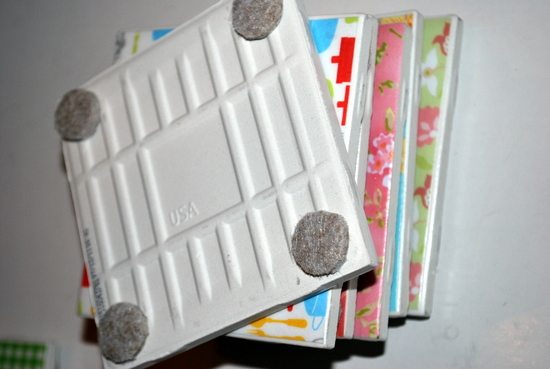 Here is the finished product. I kinda loved having them all laid out on our dining room table. So much fun pattern and colour!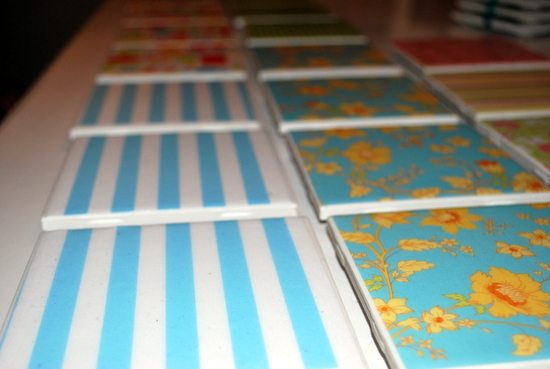 The other nice thing about this gift idea is that you can customize them for the recipient. For example, I knew my Mum would like pinks and greens in stripes and florals, but that my brother and sister-in-law would prefer a darker palette, so I just chose the paper accordingly. Some sets are the same paper and some are mix n' match.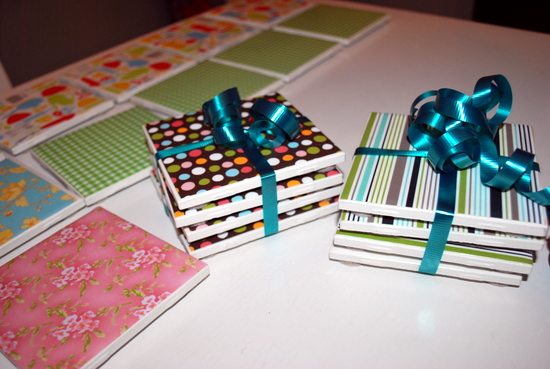 The budget breakdown (per set of 4)?
Tiles: $1.50
Paper: $1 (based on one sheet per set)
Modge Podge: $0 (already owned; but you can get a big bottle of it for around $10)
Top Coat: $0 (already owned; but you can get a can for about $5)
Felt: $1.30 ($1 for a package of 12, which does 3 coasters)
Grand total? $3.80 per set. Not too shabby.
Now they are just happily waiting under the Christmas tree…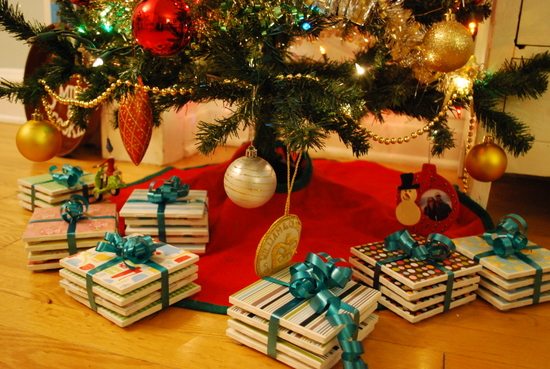 What about you guys? DIYing any gifts this year? Any faves that you have done in years past? Do tell.