As I mentioned in the first post earlier this week about the condo redesign project I recently took on (check out that post here), one of the first steps was to come up with a looooong shopping list. Basically, besides the mattress and rugs Collin already owned, we needed to get everything to furnish this one bedroom + den condo. Here's a little idea of what the list was looking like:
Bedroom
bedframe
bedding
throw pillows
night tables
table lamps
artwork
shelves
Living/Dining Room
couch & loveseat
coffee table
side table
buffet
table lamp
artwork/mirror/accessories
throw pillows
dining room table
dining chairs
TV and sound system
kitchen stools
Den:
pull-out couch
bookshelves
artwork
See what I mean about kinda starting from scratch?
We didn't need to do any major renovations or structural stuff to the place, but there was a fair bit of painting to do. I wanted the space to feel contemporary, fresh, and earthy – so this was the colour palette we landed on:
living/dining room: white (hooray – didn't need to paint!)
bedroom: light gray
bathroom: earthy lime green
den: white with one wall of wide gray and white stripes
So while Collin got to painting, I got to shopping. My general shopping scheme never really changes. I think it's important to invest in some quality pieces (the "high"), and then to hunt out other "low" items from thrift stores/antique shops/online classifieds/flea market. It means you get a good balance and some juxtaposition in a space.
First up were the higher end pieces, like the couch and loveseat, coffee table, and kitchen stools. After much hunting around, I found some great Canadian-made sofas with clean, classic lines and ordered them (3-seater and loveseat) in a dark gray – masculine, neutral and will stand the test of time. Shown below in cream, but you get the idea – from Blueprint Home in Ottawa.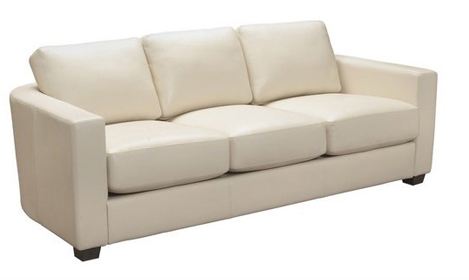 To show off Collin's lovely rug from Afghanistan, I thought a glass waterfall coffee table would be perfect. I grabbed this guy at Structube. Love, love, love.

I sat in a good number of kitchen stools and finally settled on these modern and comfortable beauts (in white for $118 each)…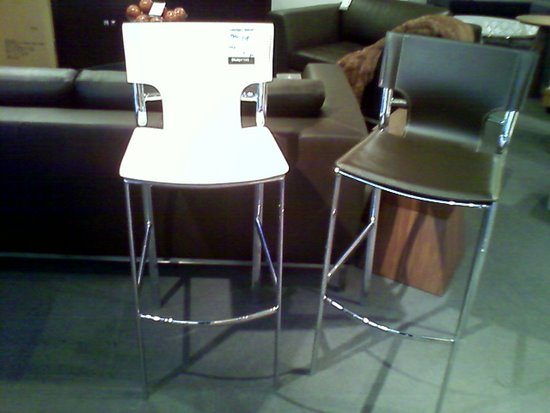 … and these soft leather brown parsons chairs (both also from Blueprint Home).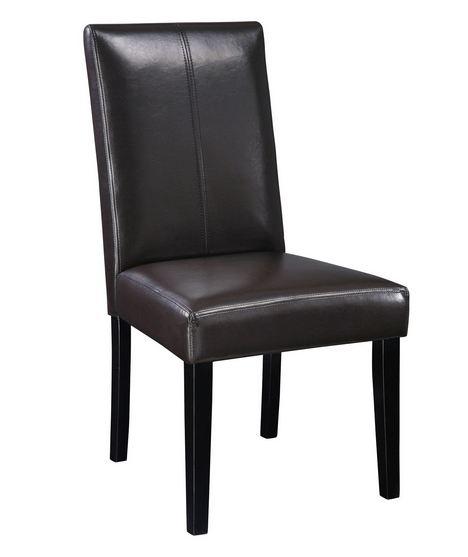 Now for some of the lower end (but still lovely!) pieces.
I snagged a gorgeous old dining room table from a small town antiques store for $200. It needed a coat of black paint on the legs, but the structure was solid and the pine top was rustic and beautiful.
Then I picked up a buffet on Kijiji for a mere $20. Holla! It was looking ratty and old, but nothing that a good coat of paint wouldn't transform. I completely forgot to take a before photo, but it looked a little something like this (but in worse condition!).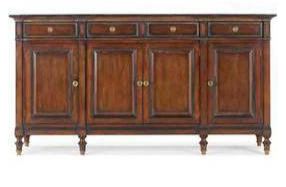 For the bedroom, I suggested the IKEA malm bedframe and nighttables. Simple, solid and modern.
For things like accessories, mirrors, table lamps, and throw pillows, I was all about etsy, small little shops, and HomeSense (the Canadian equivalent to HomeGoods). You don't have to spend a bunch of money to get really amazing, on-trend pieces. Oh, and for frames? My go-to is always the IKEA Ribba frames. Those bad boys are classic and perfect in any space.
Alright now that I've given you an idea of how I filled the condo, you're going to have to wait and see how it all came together. Stay tuned for all the after pics!
Happy weekend, folks!
Tags: designing a condo, high/low room