I don't know about you guys, but it's always this time of year when I always get a serious urge to organize, organize, organize. I think with the winter looming, I go into this mode of wanting to get rid of the junk, get everything in it's place, and stock up the pantry and freezer. Maybe I subconsciously think I'm going into hibernation or something? In light of this weird urge, this is going to be organization theme week on the blog.
First project to tackle for organization week? My makeup drawers. This desk/vanity sits in our bedroom and the hubby and I split the drawers down the middle: he gets 2, and I get 2. I threw a few containers into this top drawer, dumped it all my makeup, and there it stayed for over a year (since we got home from living in England). Not only would I have to root around to find what I was looking for, but it had gotten seriously dirtaay with bronzers and eyeshadows exploding every which way. Don't judge me, kay?
And then the second drawer was sitting empty! With a pretty tiny closet shared between us both, it was totally crazy for me not be utilizing this drawer.  Whoops.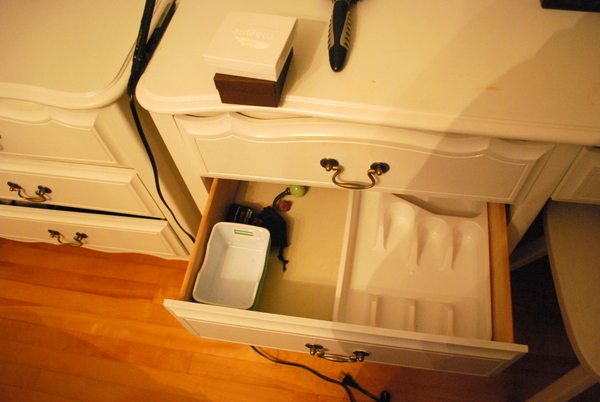 So first thing was to dump all of the contents out on the floor and pull the drawers out. I gave them each a good wipe down and clean, and then decided to line them with paper to up the pretty factor. Supplies needed? Some decorative paper (which I had on hand), scissors, ruler, and some double-sided tape (I used double sided photo squares).
I measured the size of the drawer, drew it out on the back of the paper, and cut it to size.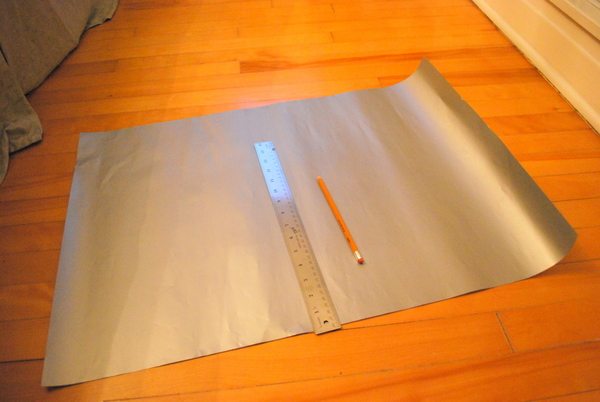 Then I stuck down my tape. I didn't use a crazy amount, in case I ever need to pull it up and replace it.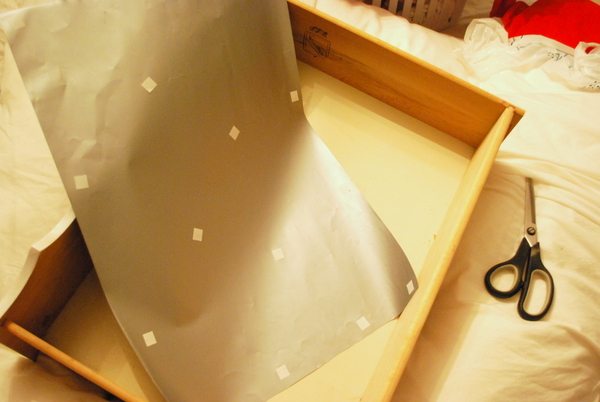 Then you just place it in the drawer and smooth it down. It's amazing what a big difference this makes. It's like adding jewellery to a plain outfit – totally jazzes it up and makes it feel like something special.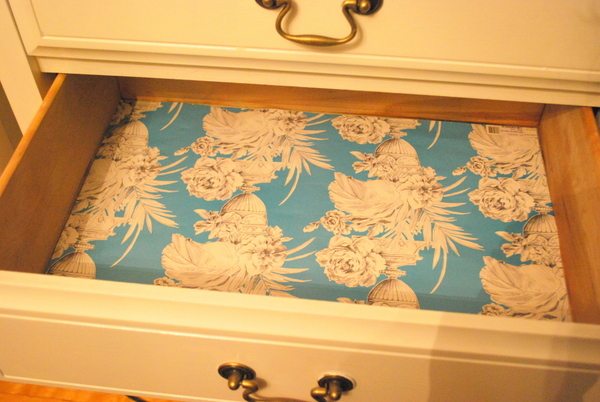 Then I tossed out any old makeup or stuff I wasn't using anymore, and inserted some containers (I already owned them, but you could grab similar ones from any dollar store). I was left with all sorts of empty space in my drawer, so I grabbed all of my samples and hotel lotions from our linen closet and put them in here. Not only did it free up a bunch of space in our linen closet, but now I can actually see these products, which will mean I'll use them way more often.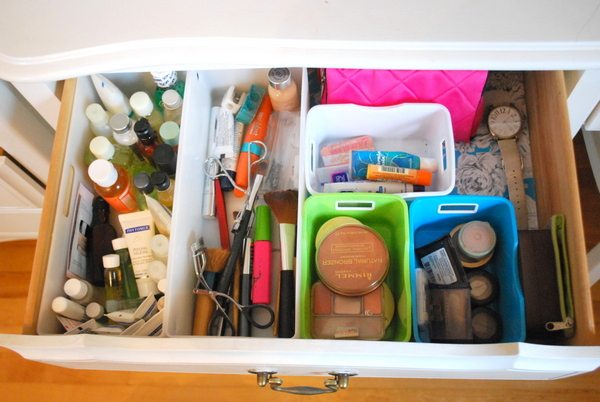 I like having a mixture of smaller buckets, as they hold specific items and keep things organized into groups. I have one for lip stuff, one for blush and bronzers, one for eyeshadows, etc.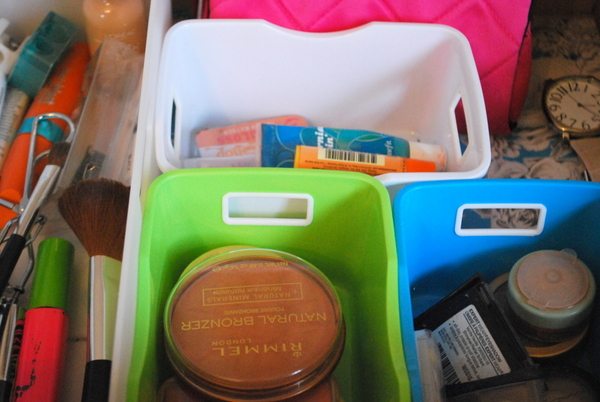 And that second drawer? I had an overflowing pile of tee-shirts and tank tops in the closet, and brought some over here. On the left are all of my sports tank tops, and on the right are all of my baggy gym/lounging/working around the house tee-shirts. And now left in my closet are all of my "every day" tee-shirts, in a much more easy to navigate folded pile.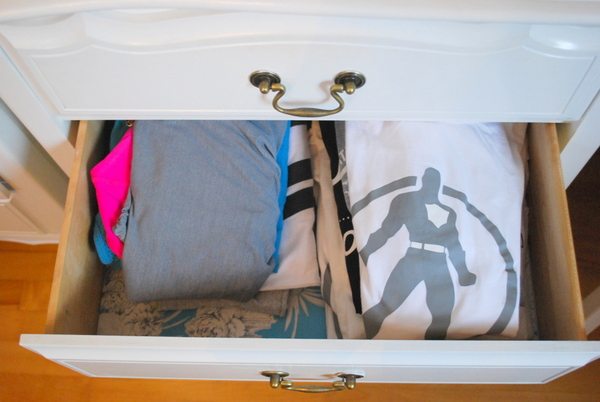 It is weird that this project brought me so much joy? I have always made fun of my Mum for enjoying cleaning so much (seriously, the woman loves a good scrub…), but I think I have a similar strange affliction with organizing. I'm not the only one, right?!
Organizing your pad recently? Ever lined any of your drawers? Or come up with a great way to organize your makeup? Do you get into an organizing groove around fall like I do? 
Tags: how to line drawers, lining drawers with decorative paper, organizing makeup drawer