Remember back in this post when I lamented over our front door colour? And then bit the bullet and painted our screen door black?
Well, with the now-black screen door, my colour options were now wide open. I could go with any of my original contenders (yellow, red, or navy), or could get a little creative.
First step was to tape off the door. I used an "exterior surfaces" painter's tape from ScotchBlue that I hadn't tried before (this is the stuff). The special feature is that with a bit of pressure when you are ripping it off the roll, it tears off in a straight line – no scissors needed or wonky cuts! It only took a few tries of getting used to breaking it off, and it really made things a cinch. Taping off all of these little windows took waaaay less time.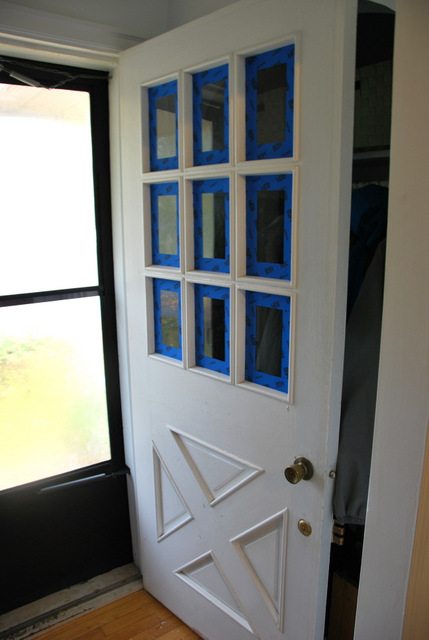 I'll give you three guesses on what colour I went with…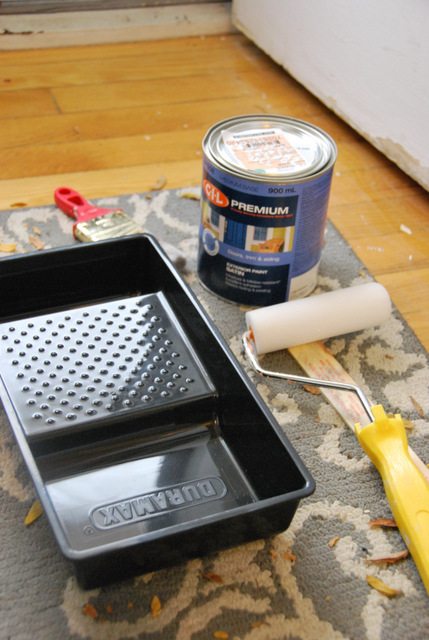 When I was browsing my Martha Stewart paint deck, I saw her teal colour (called "araucana teal") and I was sold. It's a fun and happy colour, knew it would go well with our red brick and black accents, and gives a bit of a hint of our aqua-loving house inside. Are you surprised? Turquoise is like my middle name, you guys.
I had it colour-matched at the Home Depot to CIL's exterior paint in a satin finish.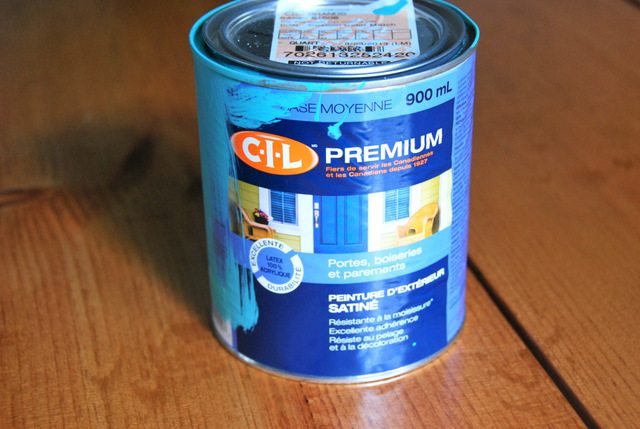 Oh I should mention that I gave the door a bit of a sanding before getting started. I didn't go overboard, as we will replace this door when we do our major addition/reno, but I wanted to get some of the major dings sanded down a bit. Then I gave it a wash with a soapy cloth, let it dry, and got started on painting.
First up was to cut in with a 2″ angled brush.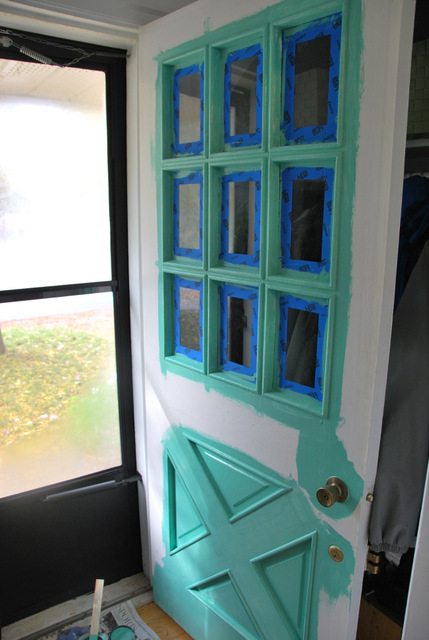 And then I finished off the rest with a small foam roller. It took three coats for full coverage.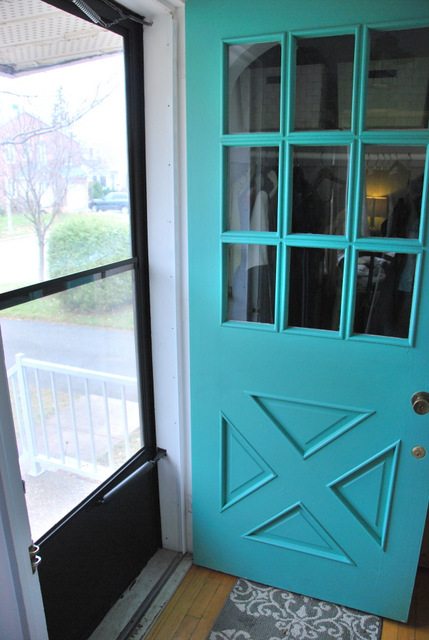 This is a really good photo of the colour. It's very much a teal. I couldn't be happier.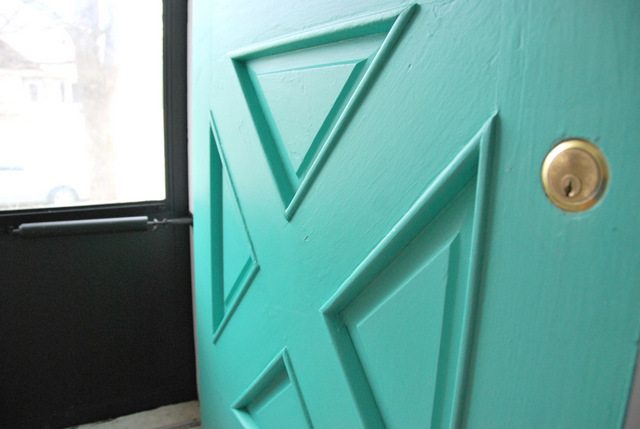 You can see that there are still some dents in the door, but the paint did a nice job of distracting from them. They were more noticeable in the glossy white, which was so dingy looking.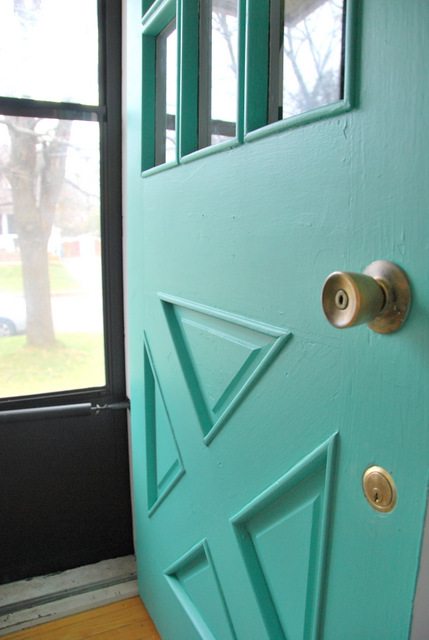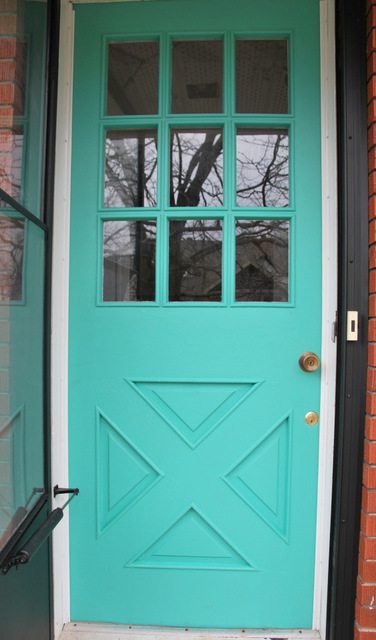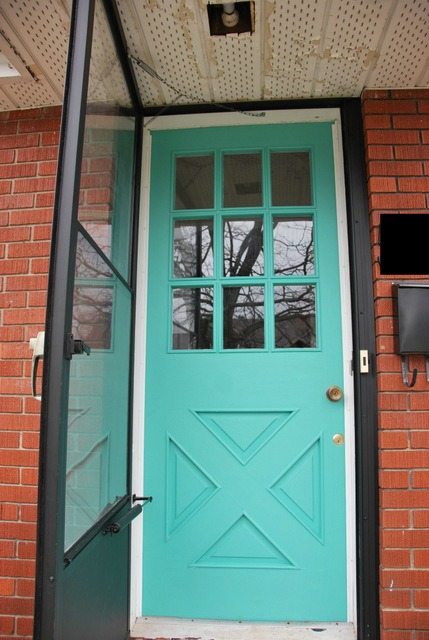 I really like the balance of the cool turquoise with the warm red and rich black accents. It's a happy little marriage of colours.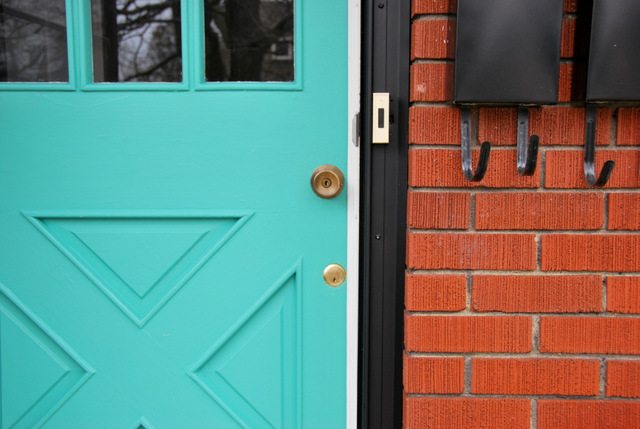 With the screen door closed you can't see the turquoise as clearly, but there is still a pop of colour from the street.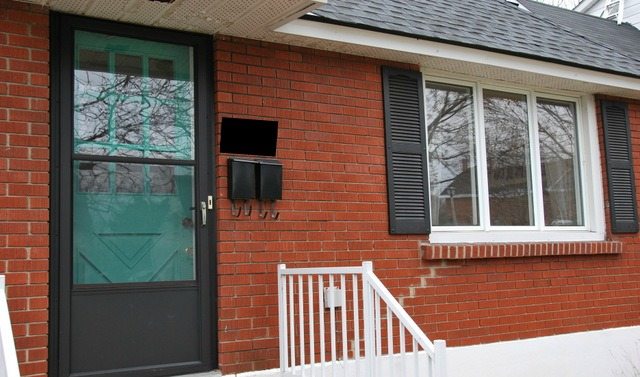 This is one of those projects that I so wish I had done when we first purchased. The turquoise door and black screen have really changed the curb appeal of our place. There is still lots to do (hello landscaping and dingy walk-up pathway).. but it is miles better.
What colour is your front door? Are you into bright doors? Love neutral beauties? I definitely still love a black or deep navy door. I think we might go that route in our future once the addition/reno is done.