Notice anything different around here? Yep, not only do I love to tweak my own pad, I like to switch up the look here on the blog every so often! I'm still working out some kinks, so bear with me over the next few days. I'm going for a super clean and fresh look, with better galleries for DIY projects, better general readability, and ability to navigate.
Back to the regular programming. With the changes and small upgrades we made to the living room recently, here are the latest photos of the room.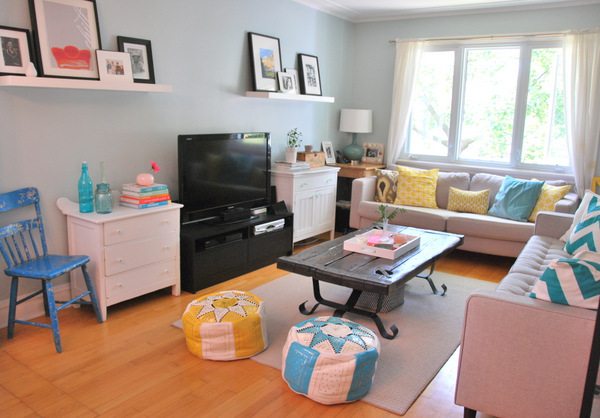 With the sunny yellow and cornflower blue accents, it's a bright and cheery room. Feels nice during the summertime for sure. And with all of the main pieces being neutral, it means that it'll be really easy to switch out the accents to create a different vibe come fall. You know I have a slight pillow obsession, so digging into my personal home decor store (ie. linen closet) provides an easy way to change things up!
The two poufs were ones that we brought back from our trip to Morocco a few years ago. They provide some extra seating, and will be great for when we're hanging out on the floor with the kiddo. They are definitely one of my favourite things that we have brought back from our travels. Totally reminds me of walking around the medina (market) in Fez with the hubby – I can almost taste the mint tea and smell all of those crazy scents.
There is definitely a little part of me that would love to do something entirely different in here (part of my constant house-tweaking nature!), but with our plans for an addition/reno next year, I don't want to put in much effort or moula at this point.
Ready for a little trip down memory lane? Here was the room one week after we moved in. It didn't stay like this for long, but it's pretty funny to look back at where we started from. So bad, right? Ha!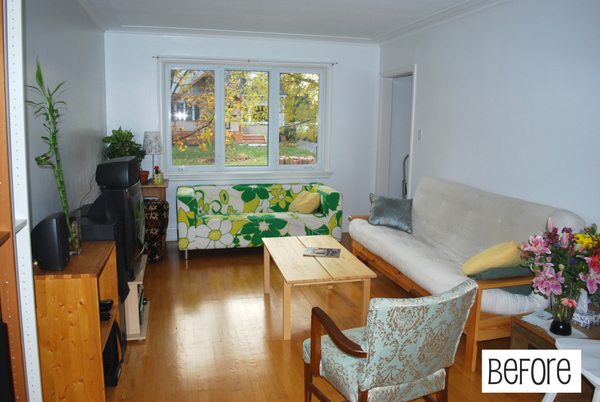 Are you guys constant house tweakers like I am? Making any changes in your living room? Spill the beans!