The sweetest digs is pleased to be able to offer advertising options for both large and small businesses. A range of advertising options are listed below.
The deets:
- The sweetest digs attracts readers who are interested in home decor, interior design, DIY projects, and all things crafty. They are most often women aged 18-35 from Canada and the United States.
- We have a large loyal following of engaged readers and are growing in numbers every day.
- The sweetest digs continues to be featured on various websites, including Apartment Therapy, Design*Sponge, and Remodelaholic. Check out our press page for a list of features to date.
- The blog is updated 3-5 times per week with DIY projects, home decor, interior design ideas, craft ideas, home organization, and shopping guides.
Sidebar ads show up on the right-hand side of every page of the website 24/7. Your business will get seen in every single page view – that's some sweet visibility. Two sizes of sidebar ads are available: the sweet bungalow (120 x 120 pixels) and the 3-story charmer (120 x 240 pixels).

Get the sweet bungalow sidebar ad for $20/month.
10% discount for 3 month pre-payment.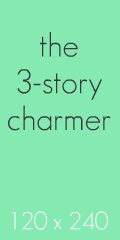 Get the sweet bungalow sidebar ad for $30/month.
10% discount for 3 month pre-payment.

Text links are welcome at a rate of $10/month.

We love our readers and we love to shower them with gifts. So if you'd like to us to host a giveaway featuring your latest and greatest products, just send us an email! If you sell the types of products our readers would be interested in, then we'd be happy to partner. Giveaways are free of charge.

If you are interested in any other types of sponsorship, please contact us directly. We will do occasional product reviews if the products are likely to be enjoyed by our readers.
We would love to hear from you!
Please email: thesweetestdigs@gmail.com