So yesterday this happened, and totally made my day.
Yep, John and Sherry from the seriously popular blog, Young House Love, featured our bathroom reno in their reader redesign series. OUR bathroom! I think it took a good 10 minutes of just looking at the post before I even believed it was real. Not only have I been following YHL since 2008, but it was the very first blog I ever stumbled upon. The first blog that inspired me to think about starting one of my own. A huge thank you to J&S for posting about our bathroom, and a big hello to any new readers who have popped over!
To continue on with the "super lucky" theme, remember that EQ3 design contest that I won a few months ago at BlogPodium (see my moodboard entry here)? And the gorgeous 3-seater sofa that was the prize? Well, she's here and she's a beaut.
Readers, please meet Revy (the "Reverie" from EQ3). Ain't she pretty?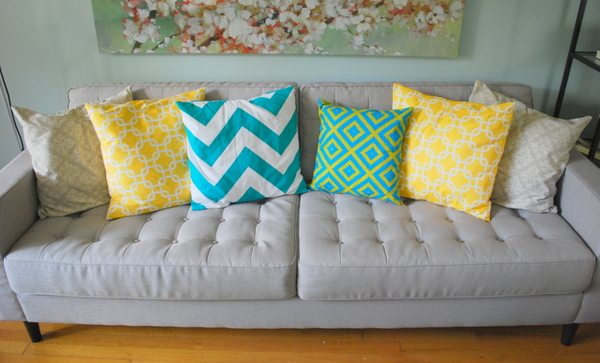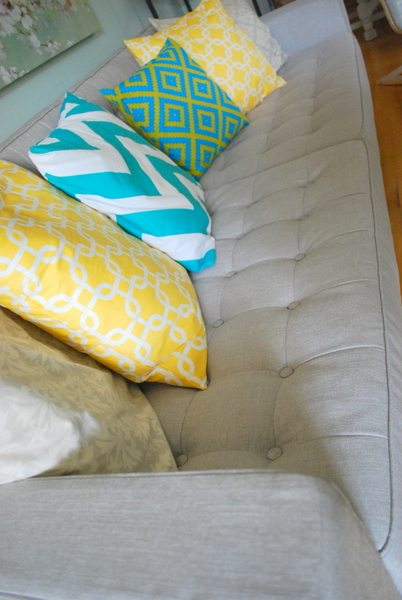 We originally thought we'd go with a charcoal gray colour for the upholstery, like the one I used in the moodboard, but once we got into the store we fell in love with the lighter gray. The charcoal was super dark and had a lot of blue undertones, and so I worried that it would read as navy blue. This lighter gray is perfect for us and will carry through with just about any design and room for a long, long time (good for a house tweaker like me!).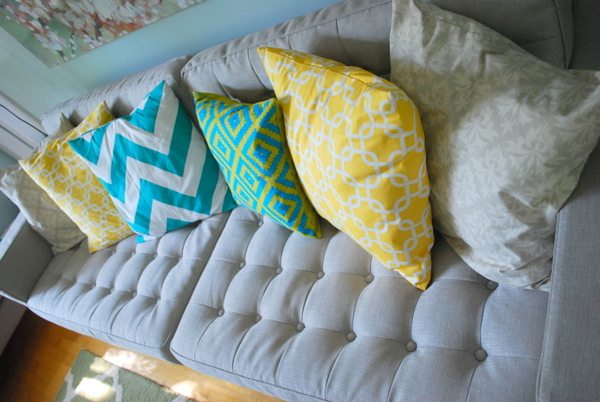 I love the clean square lines and these nice cone-shaped wooden legs.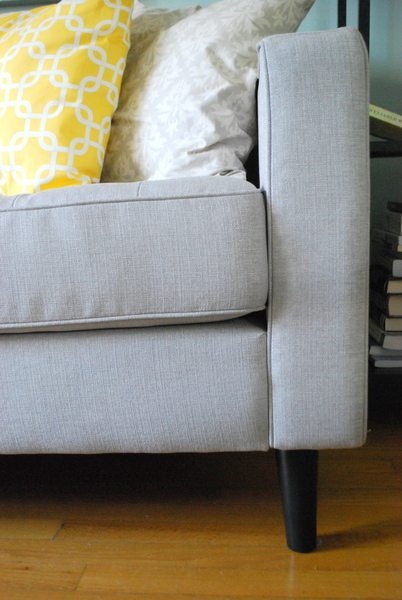 Oh and that classic tufting? To. Die. For. I'm so in love.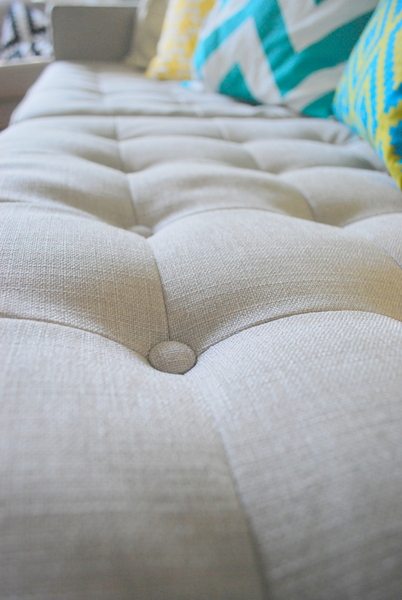 We're feeling super lucky. We definitely wouldn't have been able to afford a new couch anytime soon, so getting this swanky one from EQ3 was such a treat. A big thank you to EQ3 for sponsoring the contest, and to BlogPodium for hosting it!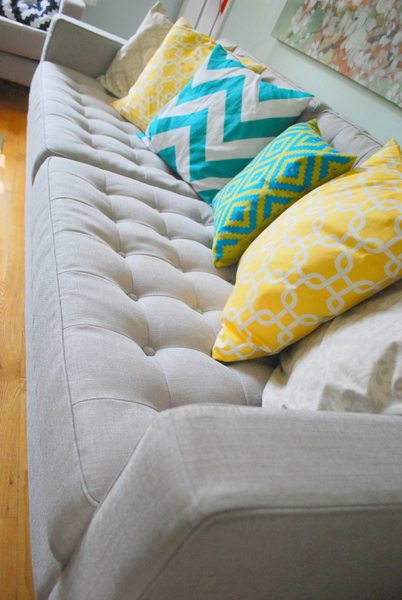 So basically I want to marry this couch. Yep, sorry Danny, but it's the truth. Oh, and did you see some of our snazzy new colourful pillows? Well, our new couch couldn't just be naked now, could it?
As I hinted at last week, we bought a few other new goodies from IKEA and elsewhere recently, so I'll be back next week with some shots of the rest of the living and dining rooms to see how they're looking these days. Stay tuned!
Any new sofas in your life, lately? Love light gray and tufting as much as I do? Or maybe you've hit a lucky streak too and won a contest? I had never really won anything before this, so I was seriously pumped. Have a great weekend, guys! 
Want to create a blogging biz?
Sign up for my FREE 7-day email course to get action-packed lessons delivered straight to your inbox. We'll get your blog and biz up and running in no time!