Happy Friday, guys. We have a winter storm going on here in Ottawa today (snow in April? COME ON!), and I have a brutal head cold to boot so am at home sick. I think I'm going to sleep the day away, and hopefully wake up tomorrow to a head that I don't want to chop off and sunny, warm weather.
So remember that survey that I asked you guys to fill out over the blogiversary week? Well, I have finally compiled the results. And guys, it was SO amazing. So many of you filled it out, said such lovely things, and gave me some great ideas about how to ensure that the blog is giving you readers what you're looking for.
So here goes.
Most of you are gals. Like 99% gals. No big surprise there, I guess. But thanks so the 1% of fellas who filled out the survey! And over 85% of you are between 20 and 39 years old.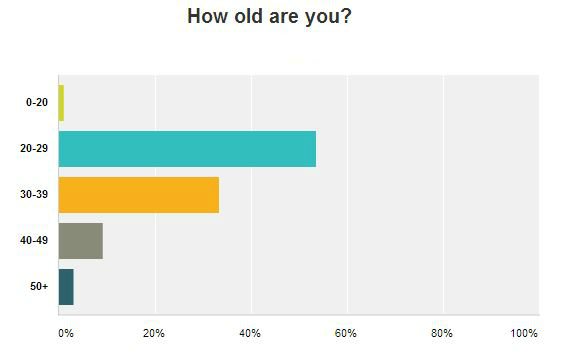 Most of you live in North America, but I was happy to see that there were some international readers, including folks from Europe, Australia and New Zealand, and even one from Cape Town, South Africa!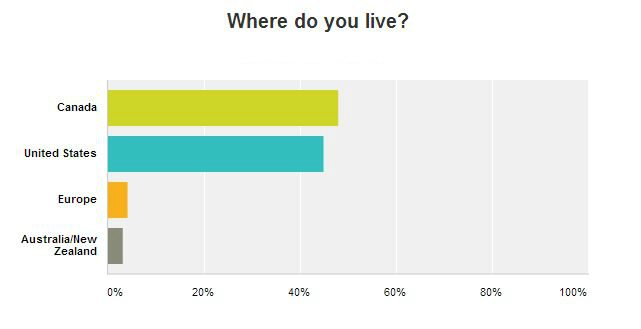 The majority of you own your houses, but there are a good number of renters checking in too. I think because a lot of my projects are so budget-friendly, they are renter-appropriate. Hopefully that's the case!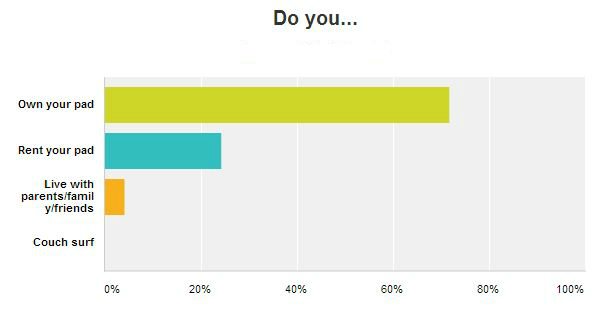 This next question was really great. It was neat to see that so many of you enjoy the project tutorials, before and afters, and room makeover posts. Those are definitely the ones I like writing the best, so that's great! And house tours really got a good review too – I need to do more of those! If you guys are local and have a house/apartment you think I have to crash, write me (thesweetestdigs@gmail.com). Even if you're not local, feel free to send in photos of your pad for a house tour!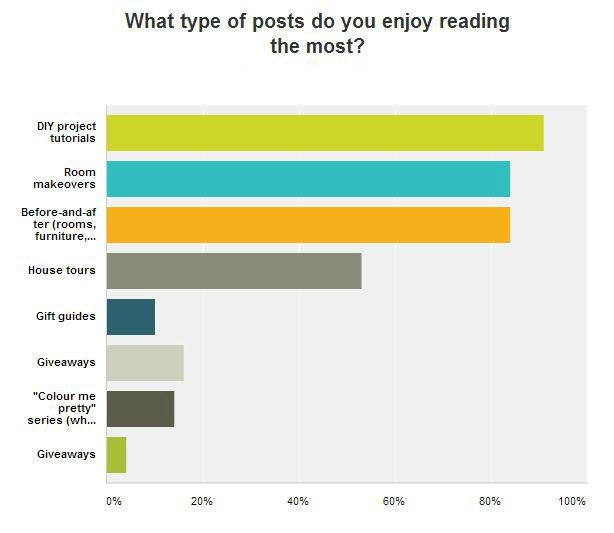 Then I asked a couple of open-ended questions and got some really fabulous feedback.
For new post ideas, some of you suggested:
-Things around Ottawa ("store crashing", events, fave neighbourhoods, etc) and similarly, more Canadian content
-More posts abut my thrift store, vintage finds
-More posts about my own design work for other folks (I don't do this too often – but when I do, I promise to post about it as long as I have their permission!)
-More product reviews — things from local stores that I have purchased and loved or not loved.
Other feedback included:
-More posts about me, my pregnancy, and just personal stuff in general. I was pretty flattered to read this comment from so many of you! One of my blog new year resolutions was to get more personal, so I will definitely keep trying to do this. You saw yesterday my latest bump watch photos, and I'll keep 'em coming for sure. Although I promise that this won't morph completely into a baby/parenting blog — the project pace might slow down somewhat with a newborn, but I am very much committed to keeping this as a design/DIY blog. Heck, it's what I love doing and writing about!
-Some of you don't like the monthly recap posts. I started doing those about 6 months ago, and I have actually found that it's really nice to summarize the highlights of the month. If anything, at the end of each year I'll have a really nice "yearbook" of sorts. So for those of you who find them boring, just skip 'em! No hurt feelings :)
-A lot of you mentioned that you liked how my projects use easy-to-find materials and are usually totally budget friendly (and "skill" friendly). I know sometimes the big renovation posts aren't as accessible to everyone, so I will always try to maintain a nice balance of those "big project" posts with lots of easier, realistic projects.
-Better tagging of my posts so that archives are easier to find. This is one of those tricky things. I try and tag my posts with as much detail as I can, and always put them into the appropriate "category" (which you can see on my sidebar)… but it's not the best solution. Things like DIY projects and house tours get their own pages (see up in the main header bar), but the others can get a little lost. I'll keep my thinking cap on about that one!
So awesome guys. This was really so helpful for me and there are lots of great ideas to incorporate. And the oh-so-sweet comments you left for me gave me tons of encouragement and motivation. So not to make this into too much of a cheesefest, but I love you guys! Thank you so much for popping in here on the regular and making my little corner of the blogosphere such a happy place.
Now go out (or stay in if you're in this snowy Ontario weather right now), and enjoy the weekend! Have fun!