I don't usually have guest bloggers, but when Brittany (a fellow Ottawa gal) got in touch about her latest project – I couldn't resist! Brittany is a local photographer – you can check out her photography site/blog here (she even throws in a DIY every now and again, like this nail art – totally adorbs). She is sharing her book crate today, which she made as a baby shower gift. Over to you, B…
Hey there fellow The Sweetest Digs readers! I'm excited to be guest blogging a little DIY project for you today. Although photography is my thing, DIYing is definitely a close second.
A friend of mine recently had her first baby. His name is Oliver and he is an endless pile of adorable-ness. She is a pretty amazing woman and she is a spectacular Momma Bear.
I was trying to figure out what to get for the little guy, and since she has Toys R Us rage burning deep inside of her – she didn't have a typical baby registry. So I decided instead to make Oliver a little crate for books and personalize it just for him.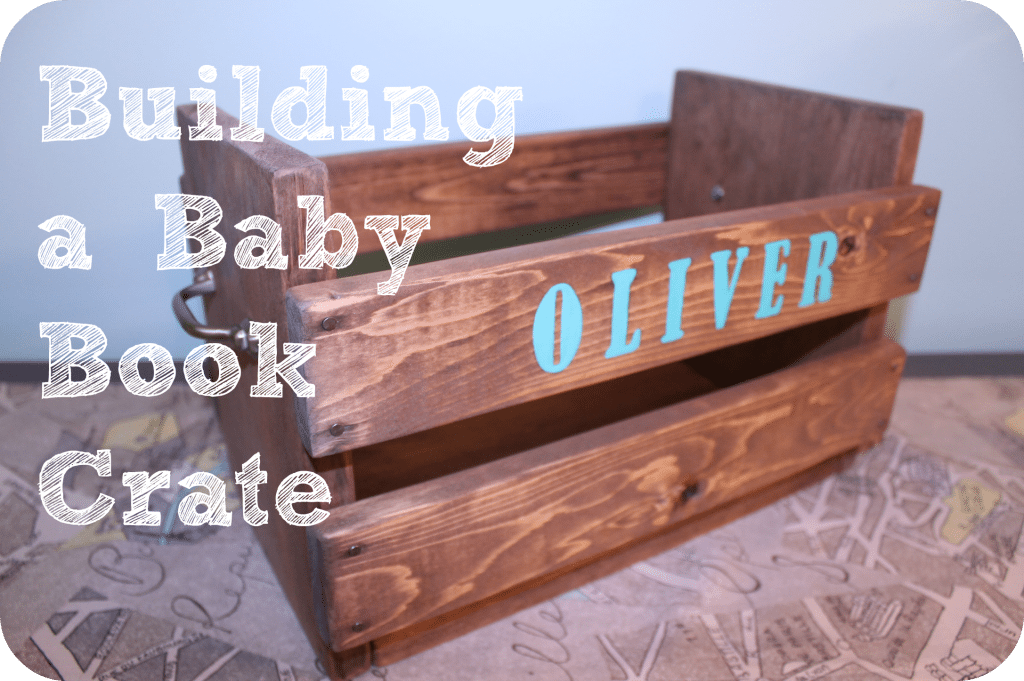 I fought the temptation to fill the crate with the Twilight books… I will probably wait until Ollie is older and will appreciate the literacy masterpiece that is the Twilight saga. (Please read the previous sentence with a sarcastic tone while at the same time accepting the fact that I have indeed read the Twilight series… now try not to judge).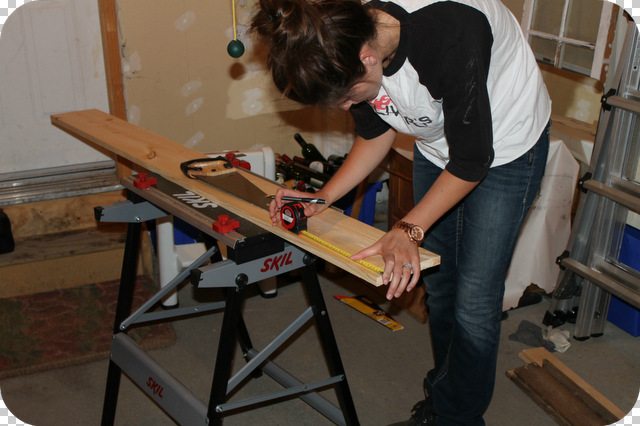 I made the base and two sides of the crate with a 1×8 knotty pine board. I used a 1×3 for the pieces along the front and back. I cut the base piece 12 inches long and the side pieces slightly shorter at 10 inches. You can easily do this project without any big tool – I just used my hand saw instead of getting out my circular saw.  
I know what you are thinking…. and yes I always wear my Michael Kors watch while working with tools, I feel like it gives a good balance to the paint splattered baseball t-shirt. Sometimes you need a little bling to class up the garage.
(Again… that last sentence needs to be read sarcastically)
We sanded down all of the boards so that the edges and corners were smooth. (Not exactly a rocket-science idea since it is for a baby… but I still thought I should mention it)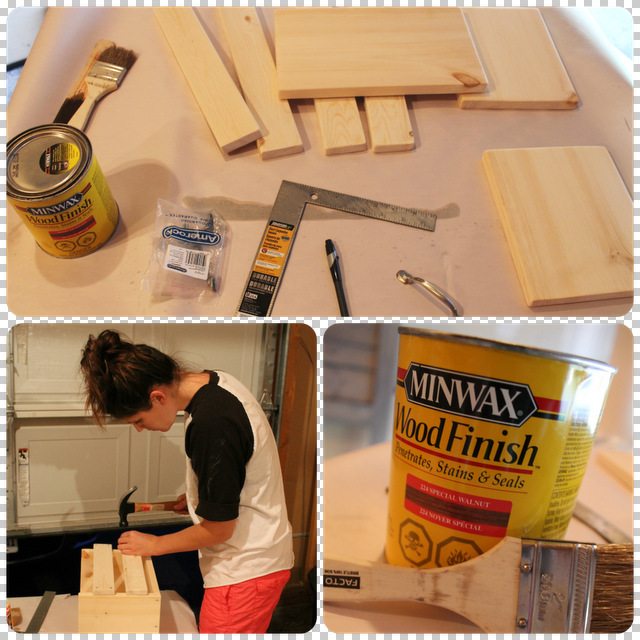 Once all the pieces were ready to go I measured out the holes for the side handles. I bought the handles in the hardware section at Home Depot and the screws they came with were the right depth for my board. I pre-drilled the holes for the handles (but didn't actually put the handles on) and then assembled the rest of the box.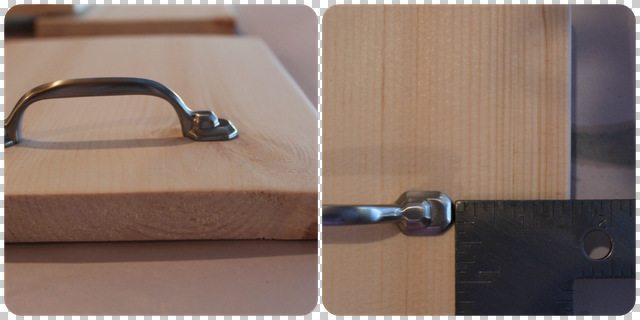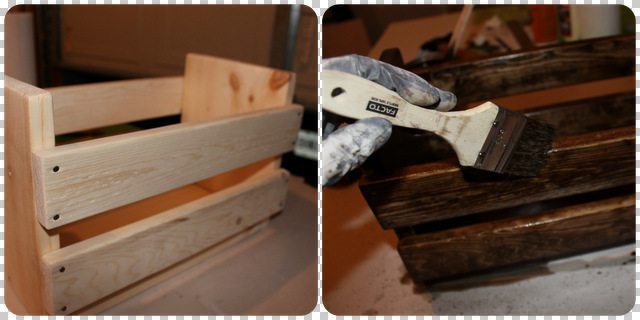 I gave it two coats of Winwax Special Walnut and once it was dried I added the handles and got ready to paint.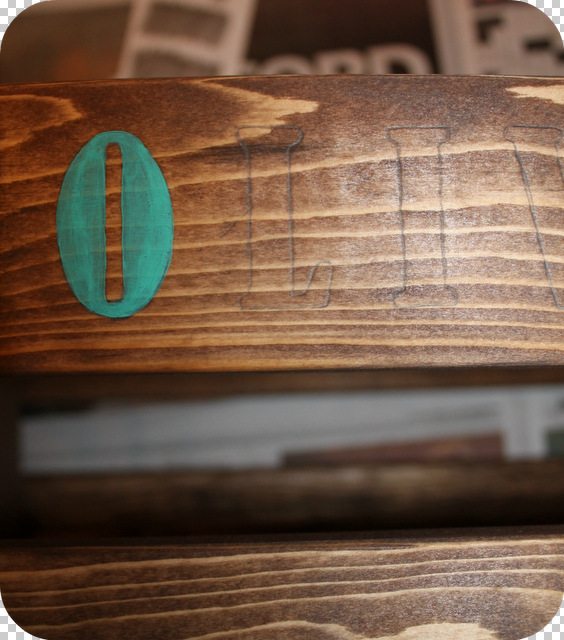 I printed 'OLIVER' off the computer and coloured in the back of the letters with a pencil. Then I laid the stencil along the front 1×3 and traced around the outline of the letters with a pen. This transferred the pencil from the back of the paper onto the board. And Viola! I had an outline to paint.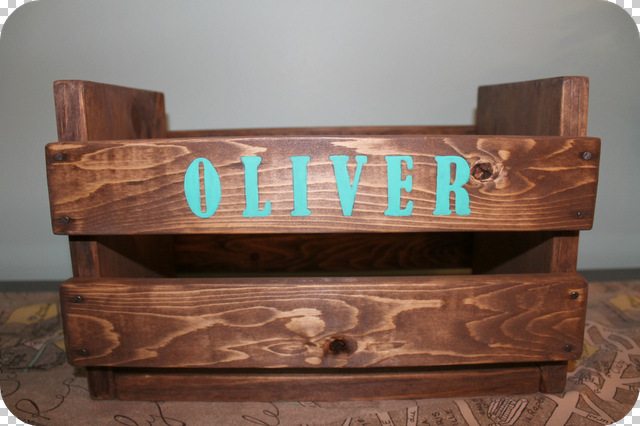 I did two coats of the paint and let it dry over night. In the morning I sanded over the name very lightly with a 320 grit sandpaper. It just gave it a bit more worn look which I liked.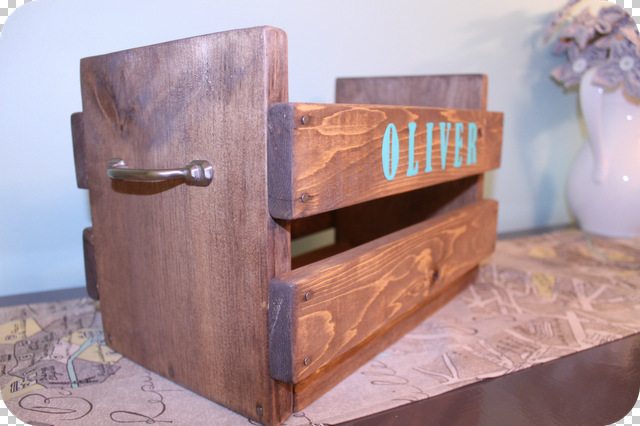 Big thanks for letting me hang out with you today. Feel free to check out my Blog over at www.BsmythPhotography.blogspot.com
Happy DIYing!
Brittany
How cute is that? Wouldn't that be just the best baby shower gift? Love it. Thanks a million, Brittany. It was such a pleasure having you pop by the blog! What about you guys? What do you do for book storage in your place? Ever DIY'd a baby gift?