We're back today with the in-progress post about Meredith's nursery makeover. Remember how I posted here about the office I was helping turn into a nursery for some friends? This was the original moodboard to guide direction in the room.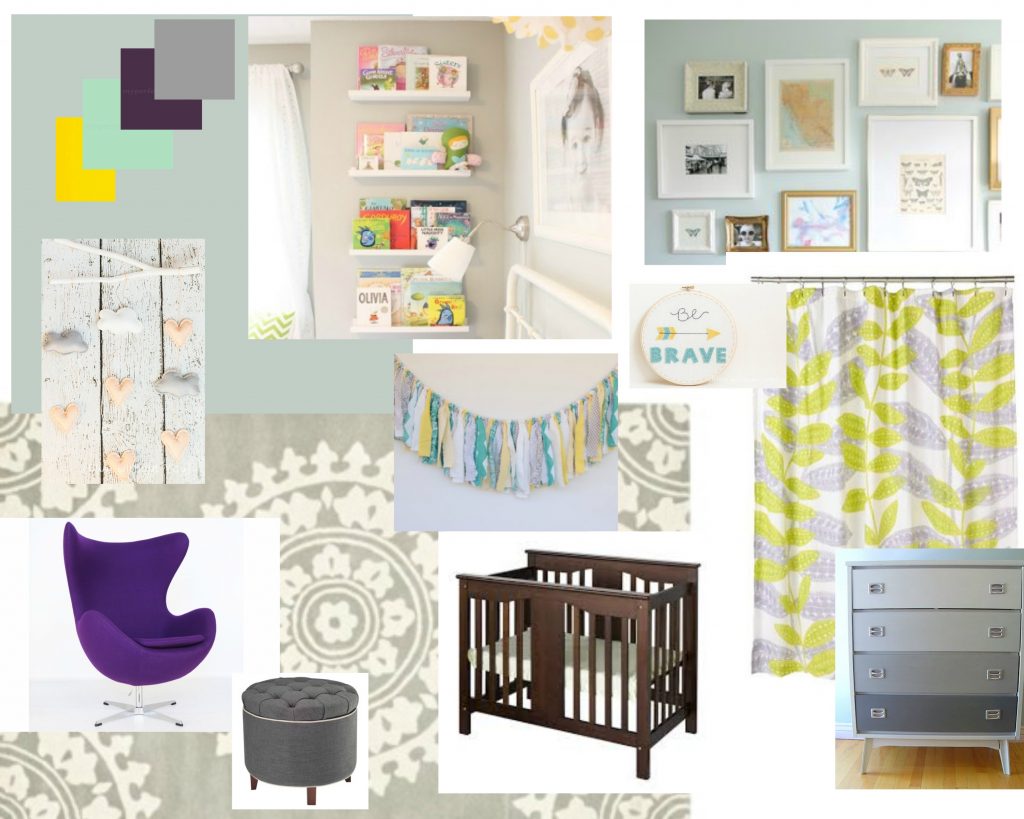 Since we already had some of the big stuff done – the paint colour (the blue was staying), the crib (had been used by their older daughter), the purple egg chair (cause really, how fab is that piece?) – it was really about bringing accessories into the room. We needed to add the life and fun into the room, you know?
First up was this dresser. Sarah and Jeremiah had had it for ages, and it didn't have to stay in the room… but it was a perfect size and I knew a refresh was would bring it back to life.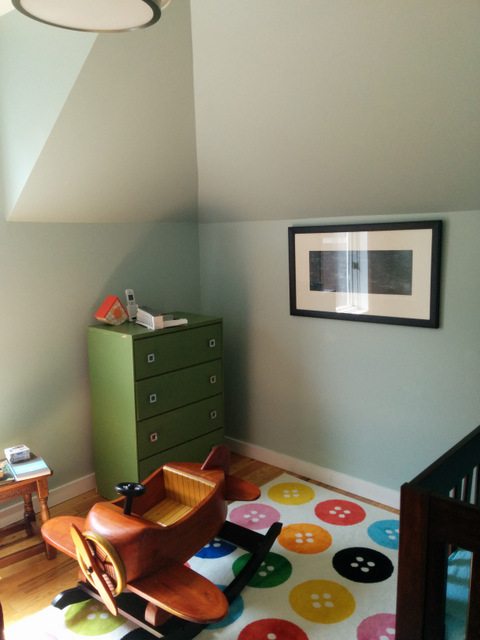 The plan? Paint the drawer fronts a light grey and the body of the dresser white. The two-tone effect will totally turn this dresser around. Inspiration was this dresser from Overstock.
The window was in need of some coverings. After browsing every single fabric on the Tonic Living website (they are a Toronto based fabric company with gorgeous stuff!), and pouring over the choices, we settled on Varenna Ash.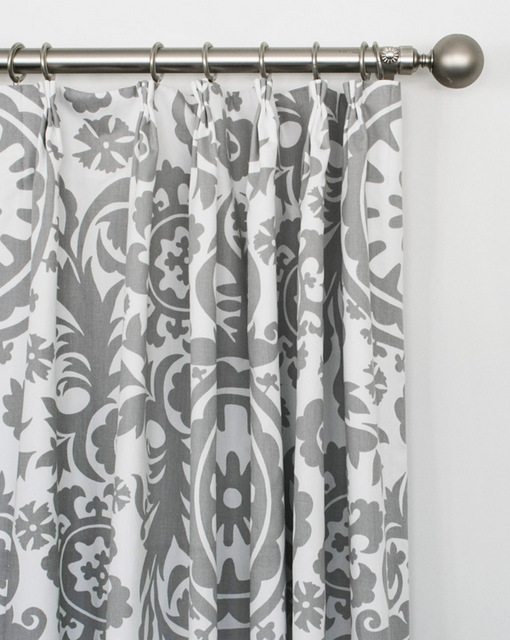 I was originally thinking something with some punchy yellow (see my original moodboard), but Sarah and Jeremiah liked that it was a bit more toned down in the grey and white scheme. I liked that it still brought some pattern into the room, so we went for it. Oh, and we asked for Tonic Living to also add some blackout lining to the panel – this is a baby's room after all and let me tell you, anything to get some extra sleep in those early months is a must (ya feel me, mums and dads?).
The window is in a narrow little nook – see the ceiling angles in this before pic?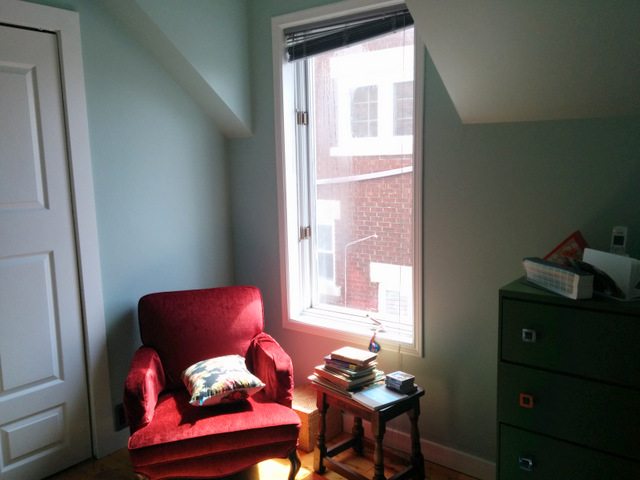 Because of this, it made sense to only do one panel that would drape across the window and then pull back to one side when not in use. Kinda like this DIY curtain found on Design*Sponge. A good solution for a small window, and it has a sweet, cottage-y vibe, don't you think?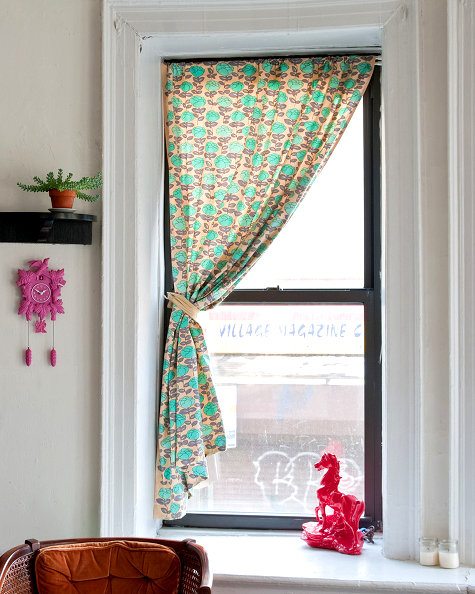 Now, for the walls. I wanted to bring in a mixture of elements. My mind started to veer toward gallery wall, a decal, bookshelves, and some fun garlands/buntings/etc.
Gallery wall – I taped out an appropriate space on the main empty wall and grabbed some white frames from IKEA and a 'sweet pea' sign from Target. Because this gallery wall was pretty small, I didn't bother taping pages cut to frame size up on to the wall to get the placement right – I just laid everything on the ground and eyeballed it.
For behind the crib? I thought a decal would be the right solution as it wouldn't be able to fall down into the crib or be something that the baby could grab at. I have been DYING to use this big heart decal from Urban Walls. Have you guys seen Urban Walls decals popping up all over the place? I looooove them.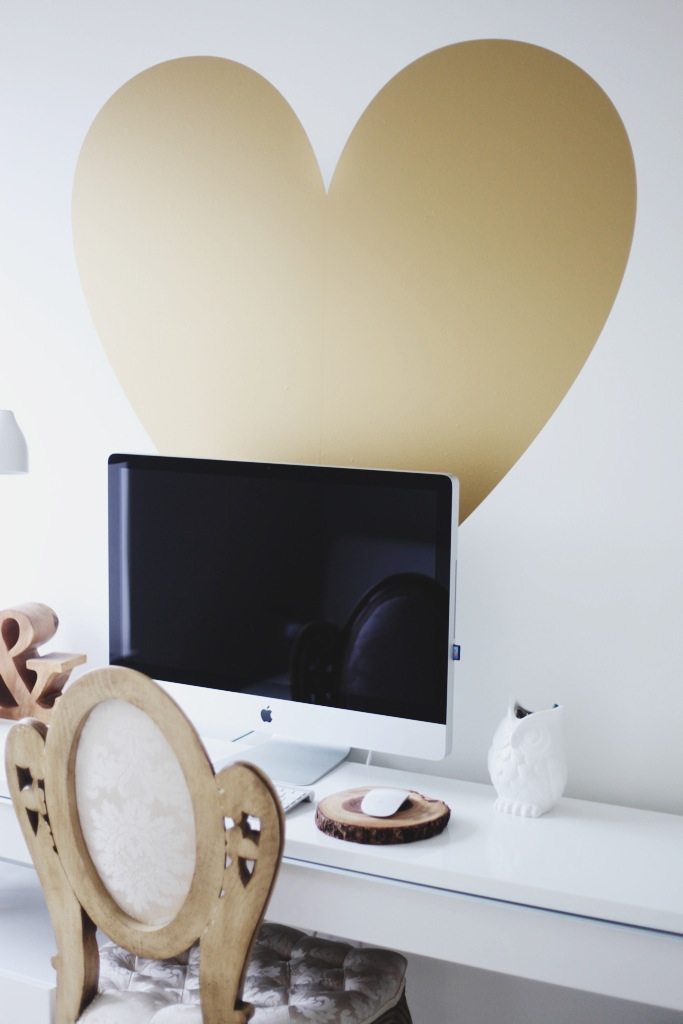 The only space to squeeze in some bookshelves was on a small patch of wall beside the closet, with the chair in front. So to accommodate the narrow space, I decided to grab some IKEA Ribba picture ledges, which can hold books upright. I love the way this designer styled them in her daughter's room.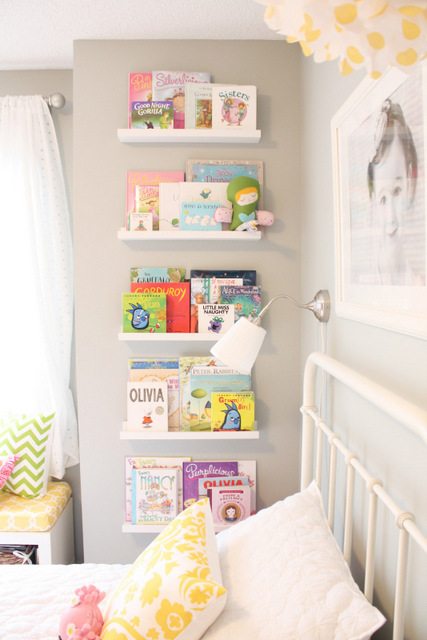 On the rest of my shopping list was a side table for beside the purple chair, a throw pillow, an ottoman, a rug, change pad cover, crib sheets, and baskets for laundry and toys. This is one of my favourite parts of doing a room. The hunt. The traipsing around town for the perfect thing. Love it.
It turned out really cute, guys! I'll post the whole 'after' early next week., so stay tuned.
In the meantime – have a great weekend! Doing any special? We're off to the 613 Night Market event here in Ottawa. Hello, date night! Oh and hitting up the pumpkin patch with Maya on Sunday.