When Maya was first born – almost 15 months ago – I thought it would be sweet to get her hand and foot prints. I think I have my footprints in my baby book somewhere. Just so teeny tiny and sweet. Well, you know what this procrastinating mama did? Leave it and leave it and leave it, until last weekend when I realized she would be 16 before I knew it and I needed to get my butt into gear and do this little crafty project.
I don't have pictures of the scene because we needed all hands on deck, but it went a little something like this: Dan sitting on the toilet (we did this in the bathroom for proximity to sink – very important), holding a naked Maya down on his lap, me grabbing a foot trying to put black paint on it, while Maya kicks her other foot and wonders what is going on. Foot prints actually go OKAY (not perfect, but okay), but black paint gets on Dan's clothes. We wash feet. Now hands. Maya getting very tired of not being able to be let loose. I'm holding her hand (Dan holding other one so there is no clapping action), and I start to paint it black. Maya wonders what on earth I'm doing to her hand and starts to cry a little. Thinks hand is going to be black forever? Starts flailing. Dan freaking out that he is going to get more paint on his clothes. Should have thought of this earlier and changed into grubby clothes. I try desperately to press Maya's hands down on multiple pieces of paper. Maya flailing around more, and hand prints go everywhere. Maya tries to bite me to get her hand free. I yelp. Disaster.
So my lesson learned? There is a reason people do this project when babies are BABIES, not toddlers.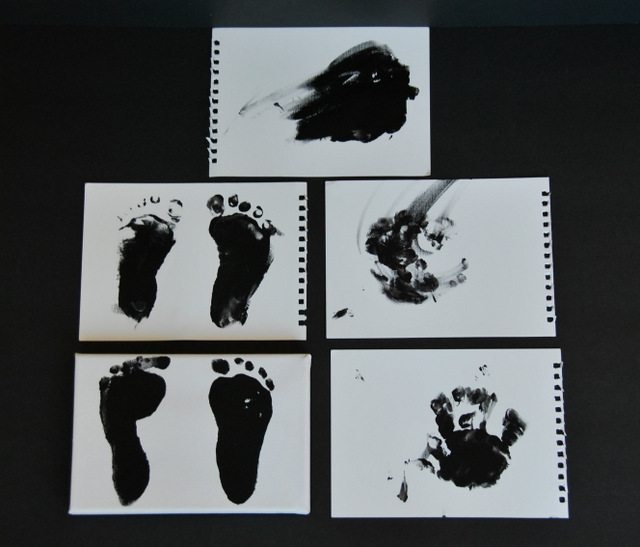 Maybe I'll just call the hand prints one abstract? My little Picasso?
This set of foot prints, which happened to be the ones on the canvas I had lying around, are actually a bit of a success. Will be making it up onto the wall.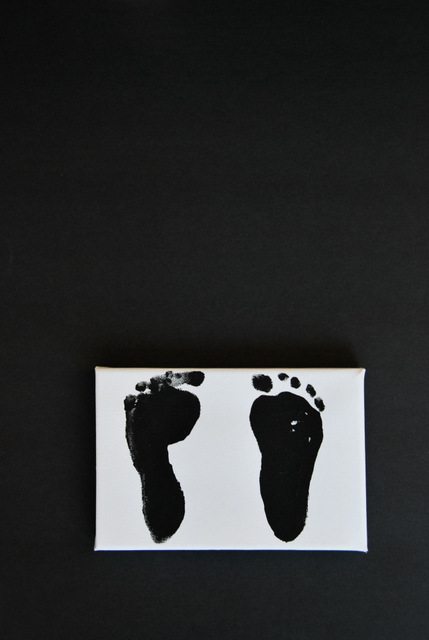 If you're going to tackle this one at home, you don't need much in the way of supplies. All you need is paint, paper, and a cooperative little person. I used black acrylic paint (washable!) and some watercolour paper and one small stretched canvas I had from the dollar store. I chose black because I knew I could always scan and digitally edit the colour afterwards. Plus, I like the graphic impact of the black on white.
Not my finest parenting moment. Hopefully we can try this project again when Maya is actually into doing crafts?