The bathroom is inching sooo much closer to that finish line. In a house with tools and dust everywhere, and many not-even-close to finished spaces, this room feels like a little gem.
We didn't do things in the right order in this room as we just desperately needed it to be functional, so one of the last tasks was getting it painted. Obviously this would have been much easier before all of the fixtures and everything else were up, but it wasn't that big of a deal to pull the mirrors off, pull the vanities out a bit (we hadn't caulked them yet), and unscrew the light bases.
I wanted a really warm, light gray for this room and discovered "Runway Coach" by PARA Paints. Guys, it's the perfect warm gray. It has a stone look to it and would work in just about any space. Gray can be so hard as it can have undertones and look totally different when up on the wall. With gray almost more than any other colour, I really recommend painting a sample area on the wall to make sure it works. I love this gray so much that we are using it throughout the basement too – details on that soon.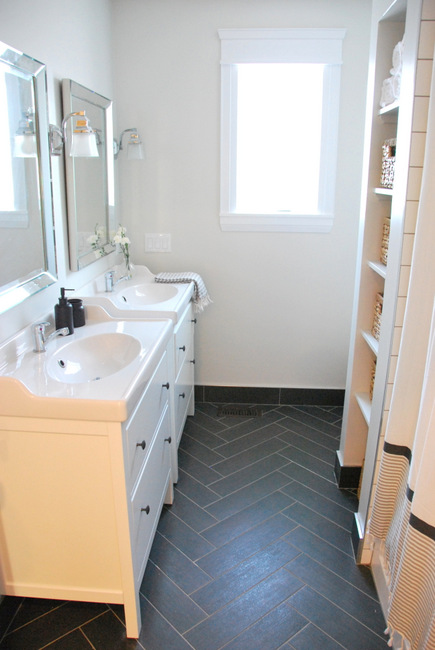 I like how the colour brings some warmth next to the white and chrome and charcoal. Oh and see that black soap pump and toothbrush holder? I didn't get my dreamy black faucets, so I figured this was the next best thing (purchased at Target – Canadian Target, don't go!!!! *sobs*).
The mirrors were picked up at HomeSense (Canadian version of HomeGoods). They have a bevel on the side that I like, but overall they are quite simple. The price tag was good too (about $45 a mirror).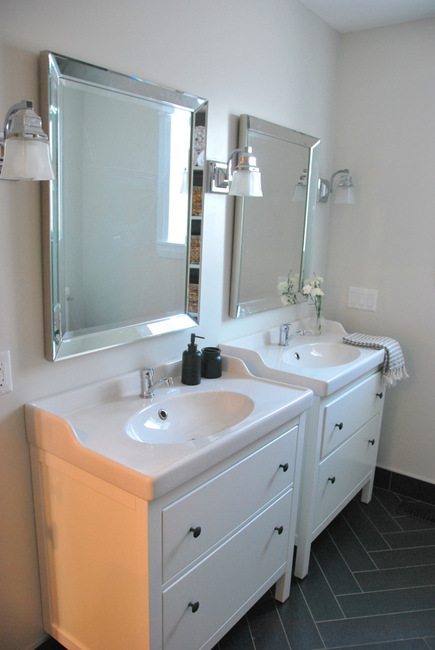 I carried the paint colour onto the open shelves so that it all blends. Those baskets hold everything from medicine, to Maya's bath toys, to extra toilet paper (baskets were from Michael's when they were having a 40% off baskets sale). I still need to put a clear coat of varathane on top, as I know that sliding those baskets in and out will chip the paint eventually.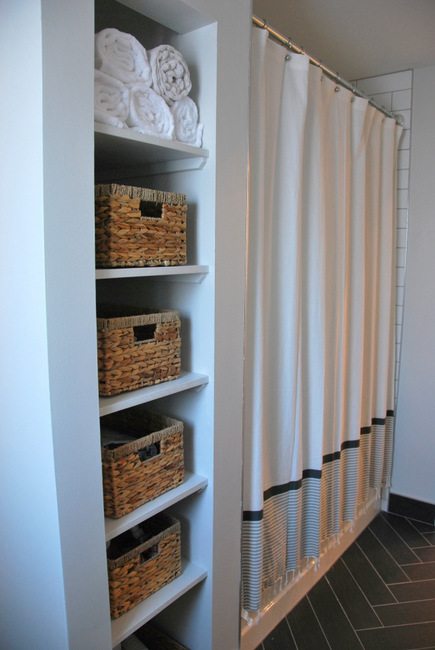 And because I'm still slightly obsessed, let's have a look at those floors again, huh? Oh and that West Elm shower curtain is a beaut. Best shower curtain I have ever purchased for sure – totally recommend it.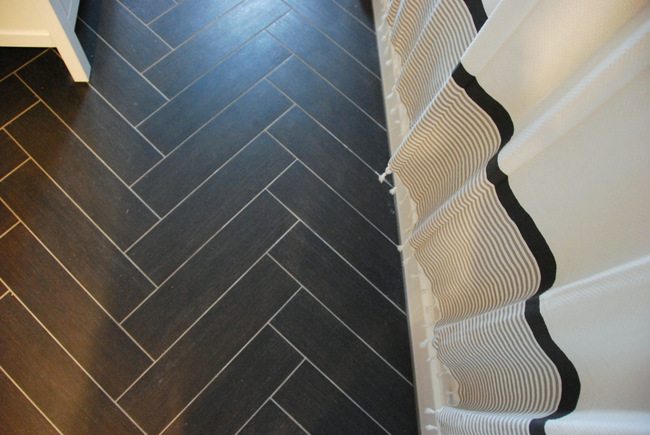 So although it's looking fairly finished, there are still a few basic things to do in here, plus some more personalization. Here is the to-do list:
Put up a toilet paper holder (currently we have the roll sitting in the window sill)
Put up a hand towel ring and a hook for a bath robe (going to go for matte black for these)
Add some artwork on the wall above the toilet. It's looking all kinds of bare there right now.
Paint the door leading into the bathroom –> To be honest, this won't get done for a while. All of the doors in the house are hung but we still need to paint them. Again, it was a we-need-to-just-get-these-in kind of thing. In the spring when the weather is a little warmer, we will take them all out into the backyard and paint them with our paint sprayer.
Do something about the window.
Okay so here is where I have a question for you guys. I'm finding that the window looks so bare in the bathroom right now. I hadn't originally thought about any kind of drapery because the window doesn't look out onto the neighbours, but I feel like it needs something. What are your thoughts about a faux roman blind? Should I do that in some kind of fabric that ties in with the dark grey of the floors? Any fabric suggestions? Or maybe I should paint the trim a dark grey? Feedback, please!