Art is one of those things that totally personalizes a house. I love to walk into somebody's pad and see personal photos, pieces picked up during travels, their own paintings maybe, and artwork that just feels like them. It can really help to turn a bland house into a unique home, you know? We have been slow to put up much in the way of artwork in our house since the reno, because so many of the walls remain un-painted. We're chipping away at it, but I can't wait to get a big gallery wall going up our new staircase and Dan's office covered in some old family oil paintings. One of the things that I'm incorporating more of now (obviously!) is kids artwork. Maya churns out paintings and drawings like crazy, so I plan on making sure these are dotted around the house.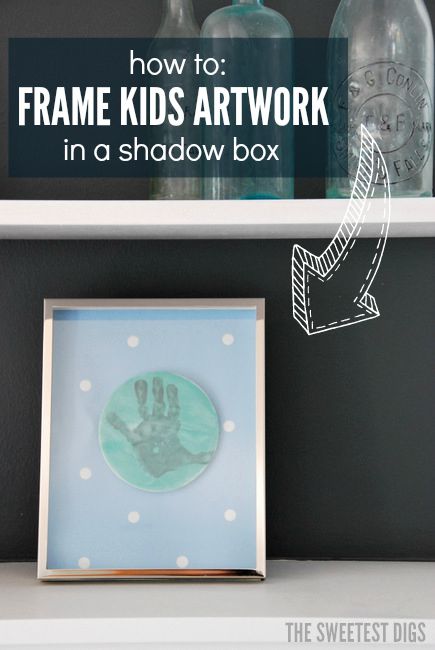 For Mother's Day, Dan took Maya to one of those "paint your own ceramics" places where you can choose from mugs, bowls, etc, paint them, and then they bake them in the kiln for you. I told Dan that I wasn't keen on a mug (we are overflowing with mugs as it is!), so to surprise me with something else. Let's be honest – I was expecting a plate that was muddy brown from too many colours mixed together. I still would have treasured that plate, but it might not have been given an ultra prominent spot in the house, you know?
I was pretty shocked when, on the big day, I opened up two ultra sweet round tiles (coaster size) painted in beautiful colours with Maya's handprints on them. Do you remember my failed attempt at getting Maya's hand and foot prints back when she was turning 1? Well, Dan totally won on this one. How he got her to do her hands so neatly, I don't know. Clearly he steered the colour direction (!!), but apparently Maya sat quietly and took her time carefully painting the discs. I can barely picture it – ha!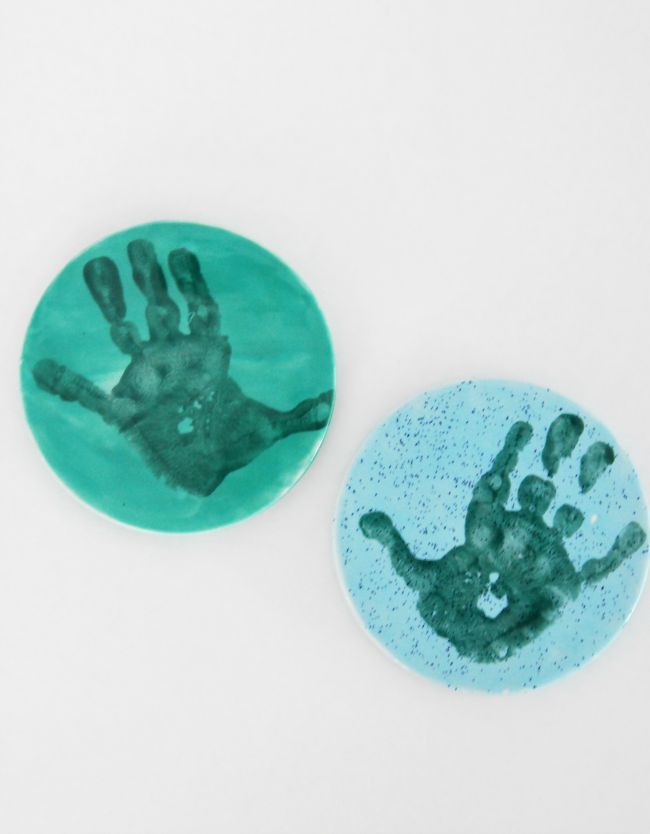 I have been wondering how I was going to display the tiles, and realized that a shadow box frame would be perfect. I had one on hand already, but IKEA sells this one that could totally work.
I had a piece of Graham & Brown wallpaper from a sample pack I had ordered, and knew it would make a great backing. This is a fun way of incorporating some extra colour and pattern. Use a piece of wallpaper, wrapping paper, or a sheet of scrapbook paper.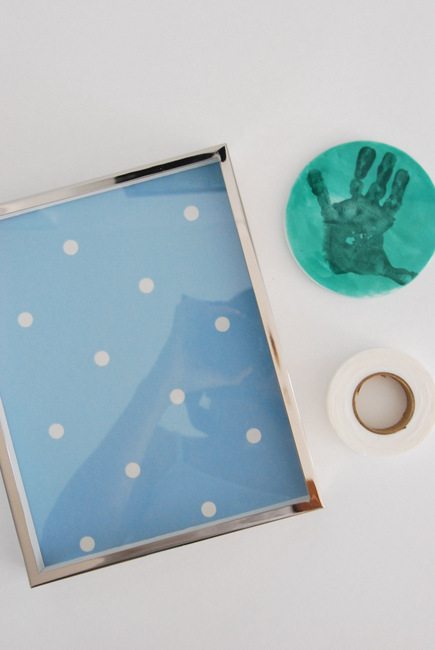 I used some heavy duty double-sided adhesive tape to affix the tile to the piece of wallpaper. Two small pieces did the trick.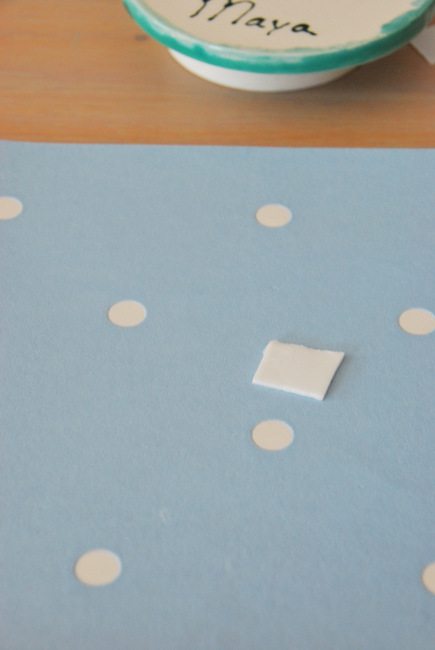 Affix the tile, slide into the frame, and call it a day! Shadow boxes are amazing for framing objects – things that are too big for regular frames, but you'd like to somehow display. I have seen cute ones with baby shoes, hospital bracelets, and all kinds of sweet memorabilia.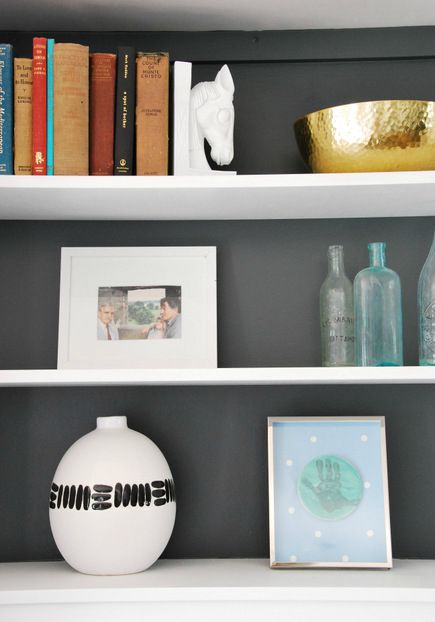 Graham & Brown's trend for this month is "Precious". I thought about what was really precious to us in our home, and it isn't the furniture or the stuff, it's the artwork and a few things handed down from family. We have all of our photographs and files backed up and stored online so we are well protected when it comes to pictures, but I would be heartbroken to ever lose some of these handmade pieces by Maya or some of the family heirloom paintings that we have.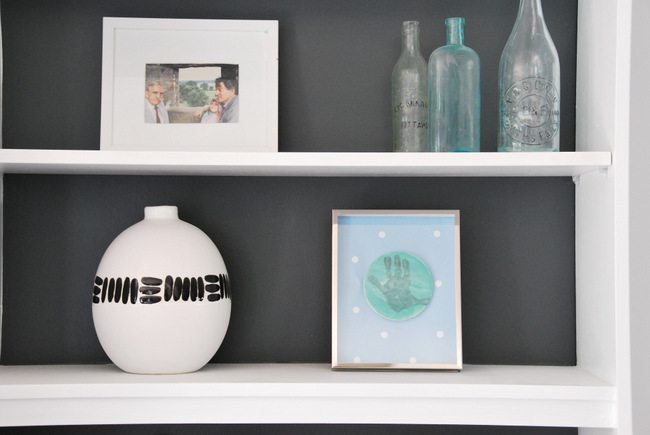 Have you guys used shadow boxes before? Do you have any clever ways of displaying your kids art? I saw a project on Pinterest a while ago where a parent took a picture of all of their kids artwork (before recycling at least half of it – I think you would need a second house to store every single piece!), and then created a huge photo collage of the artwork. There must have been at least 50 photos in the square collage and it was such a neat representation of their kid's creativity that also looked stylish framed and hung on their walls. You could also do a photobook with all of the pictures – cool to see the progress in your kiddo's drawing and painting ability over time.