Now that Maya totally has the prettiest and most functional closet in the house (you can see how we wallpapered her closet here, and then outfitted it with storage systems here),  I'm officially jealous. All of a sudden, my own closet in our bedroom has jumped up the priority list. I have been living with two clothes racks and a jumble of plastic drawer units since we moved back in in January, and although they are totally fine, the closet has so much more potential. There are lots of other rooms in the house higher up on the list – baby #2's nursery's, for instance (I'm 23 weeks and it's still a full fledged guest room! whoops!) – but I can't help it. I'm dreaming of my closet, you guys.
Before embarking on this project though, I really wanted to sit down and think it through. I think anytime you are planning a closet (or any room, really), this is a smart thing to do. What are the items I plan on storing in here? How do I want it to function, and feel? What is the overall aesthetic I'm going for?
Step 1 // Take an inventory
I needed to figure out exactly what I wanted to store in my closet, how many of those things I had (approximately), and how I wanted to store them. It doesn't make any sense to have a perfect spot to store belts, if in fact I don't actually own any. Or 15 dedicated spots for purses, when I only own 2. Here was what I came up with for myself:
Clothes:
-Pants: hung up (approx 15 pairs)
-Tops/Blouses: hung up (approx 30 items)
-Dresses: hung up and need more space for them to hang down lower (approx 15 items)
-Sweaters: folded on shelf (approx 10 items)
-Shorts: folded on shelf or in drawers (approx 15 items)
-Tank tops and Tee shirts: folded on shelf or in drawers (approx 20 items)
-Swimwear: small drawer or basket needed for 2-3 bathing suits
*underwear, bras, socks, PJs, and stockings are all stored in the dresser in our bedroom, and I don't plan on moving them in here
Other items:
-Jewellery: rings and bracelets in a drawer, necklaces and big earrings hung up
-Purses: about 5 purses to be on top shelves
-Scarves: Hung on wall (own about 10)
-Shoes: Boots can be stored somewhere else and my "everyday" shoes are in the main front closet, so I only need a spot for my fancy footwear. Own about 15 pairs and they could be on a shelf, in boxes, or pull-out shelf/drawers
-Belts: Don't own any!
Step 2 // Plan your system
There are lots of different options out there for closet systems. Maybe you're working with something already in place that you just want to tweak, or are starting fresh like I am. Either way, it pays to do your research into what you like and what you can afford. From custom closet companies, to the big box hardware stores, to just adding in some better storage solutions with items from an organization store, sit down and think through what you need and want. For me personally, after seeing Dan's IKEA PAX wardrobe in use for the last several months, I have been mighty jealous at just how well things have stayed organized and how good it looks. There are so many clever storage solutions that integrate with the PAX system, it's relatively easy to put together, and for us, the price point is right. We can't afford anything custom, and don't have the time to build anything ourselves. So, PAX it is!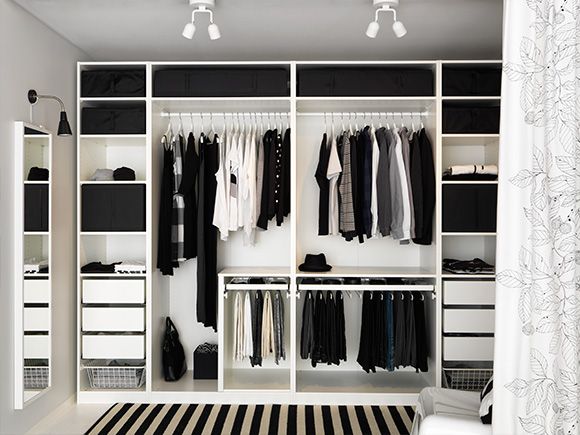 I sat down and spent a few hours with IKEA's planning software to think through my options, and kept referring back to what I actually need it to do for me (step 1).  Ultimately I have landed on this design, which uses a few inches shy of the whole one wall of the closet. I didn't do the rest of the closet in the right dimensions in this drawing, so just imagine it going to either end of the closet and butting up against the walls.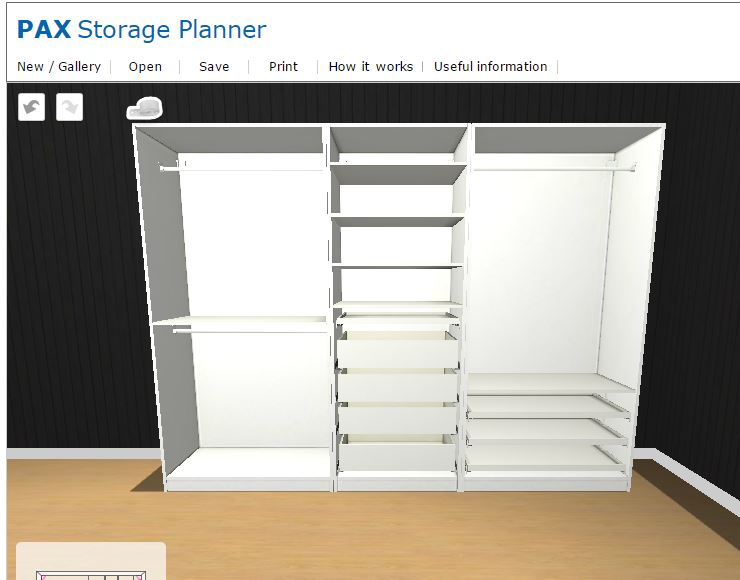 The two hanging areas on the left will be for my tops and pants, while the right hand hanging area will be for dresses and any longer tops I have that need that extra hanging space. The middle section will provide shelving for things like sweaters, and the drawers will house tee-shirts, shorts, etc. I also added one of those ultra slim tray-like drawers in there for my rings and bracelets. The bottom right has three pull-out drawers meant specifically for shoes. Along the top of the whole unit, I plan on putting my purses.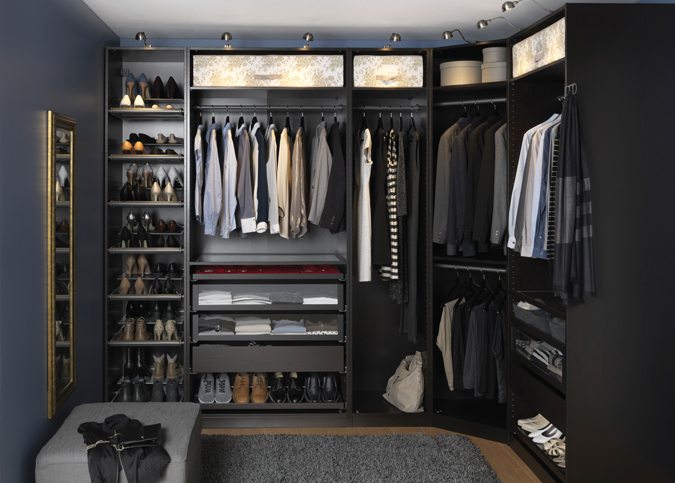 A few things to remember when you're planning your closet system: First is to think about your lighting. I knew that I couldn't go with the ultra-tall PAX system, as it would cover up our existing pot lights. Second is to think about width and depth. I knew that I was still going to need enough room to be able to walk by the PAX easily to the back of the closet and still wanted to hang things on the opposite wall. Luckily I have enough width in my closet to do this. I don't have enough room to have doors on my PAX though, so it will just be an open system (makes sense since I'm doing a walk-in closet).
As for the other two walls in the closet, I'm going to hang a mirror on one, and use the other (the one opposite the PAX system) to do a big jewellery and scarf display. I haven't figured out exactly what I want to use, but I'm inspired by this (minus the shelf part):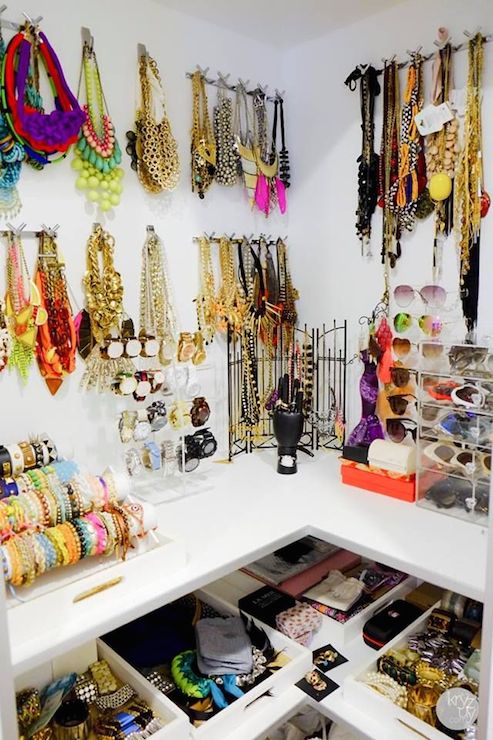 And this, where she used a thread rack as a jewellery organizer. Clever! 
And I definitely want to install one or two long rods where I can hang my scarves in knots, like they did here (so smart!):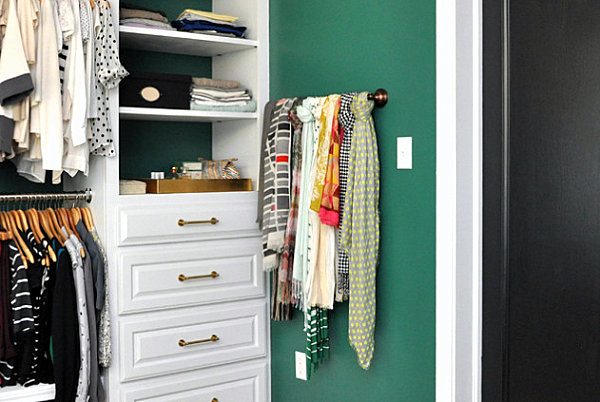 Step 3 // Looks
The last step in figuring out your closet design is to think about the aesthetic. How do you want it to look and feel every time you open the door? For Maya's closet, we went with an ultra pretty, garden feel, full of pastel colours. I hummed and hawed about my own closet, from super white everything, to a bold colour like fuschia, but in the end I kept coming back to moody and dark. I haven't ever done any space in black and not sure I could commit to it for a room in our house, so I figured this was my opportunity.
The plan is to wallpaper all the walls in this gorgeous matte black paper – 'Vintage Flock Black' by designer Kelly Hoppen, carried by Graham & Brown. The damask pattern is really subtle but still adds that texture to the walls that will make them feel ultra luxe.
This week is actually "Wallpaper Week" with Graham & Brown. Saturday's theme is "Glam", which totally inspired this closet design. Creating a spot in your home that feels luxurious and decadent and just for you (even if it's small!), is such a treat.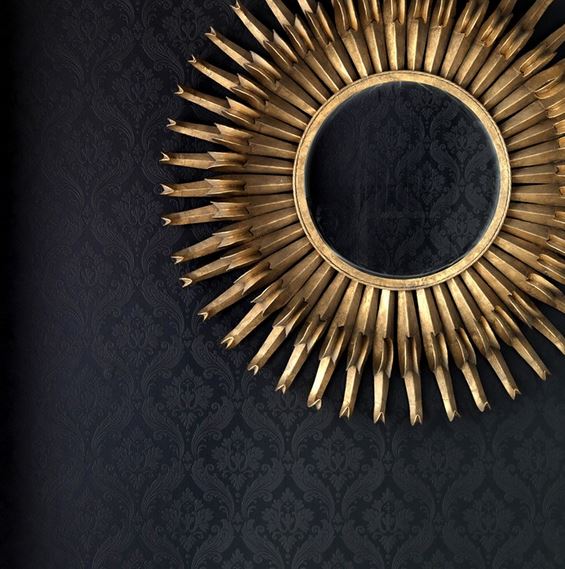 I thought about going with a darker PAX system, but they only have that "black-brown" option that IKEA is famous for, and I don't love it. If it were a true black, I think I'd go for it, but since it does have a bit of a brown/wood feel to it, I'm going to stick with white. Most of my clothes are black and gray anyway, so I feel like it'll look a lot like this space (image via IKEA).
All of my jewellery hanging on the wall will add to that glam look, but I might bring in a few gold accents, too. A kilim or similar style runner with a great pattern and those gorgeous dark reds and burgundys will finish it off on the floor.
Oh my goodness, I am SO excited just thinking about it. First up is to paint the trim in there and then start getting the paper on the walls. We just missed the IKEA PAX sale, so we'll need to wait until the next one rolls around… hopefully won't be too long!
Do you guys have a closet you love? Any tips on how you planned and designed it? Or keep it organized on a day to day basis? I'm all ears if you have some great advice to share!