We have come a long way in this little lady's room – from four bare walls to a room bursting with love, fun, colour, and cheerfulness. This space makes me instantly happy when I come in, and Maya seems to dig it too (thank goodness!). Here is the full scoop on her bright and cheerful DIY nursery.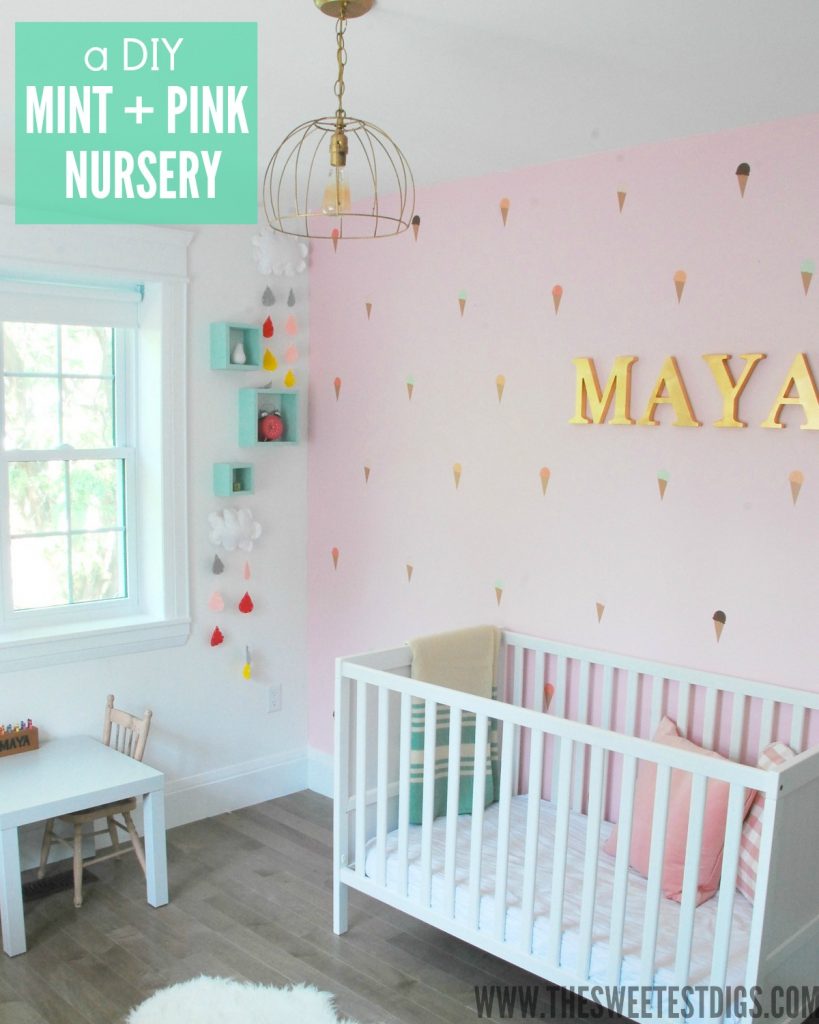 Just a reminder of what the room looked like pre-makeover. Fresh walls and floors… but dying for a little life!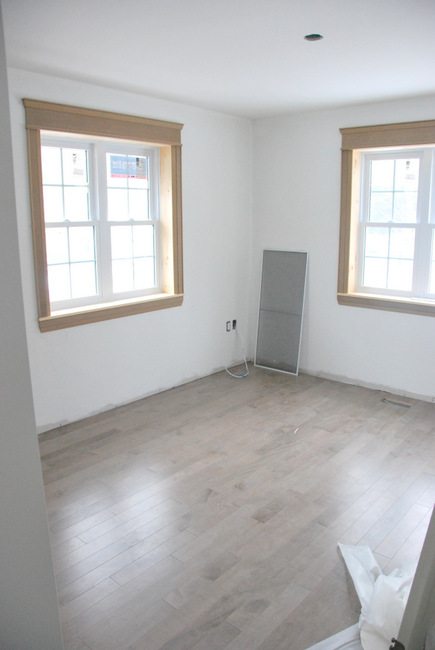 As you saw in last week's post, we started out by creating an accent wall with paint and decals (paint colour is PARA paint's "Flushed"). The ice cream cone decals came from Urban Walls (on etsy) and I LOOOOVE them. They definitely set the tone for the rest of the room.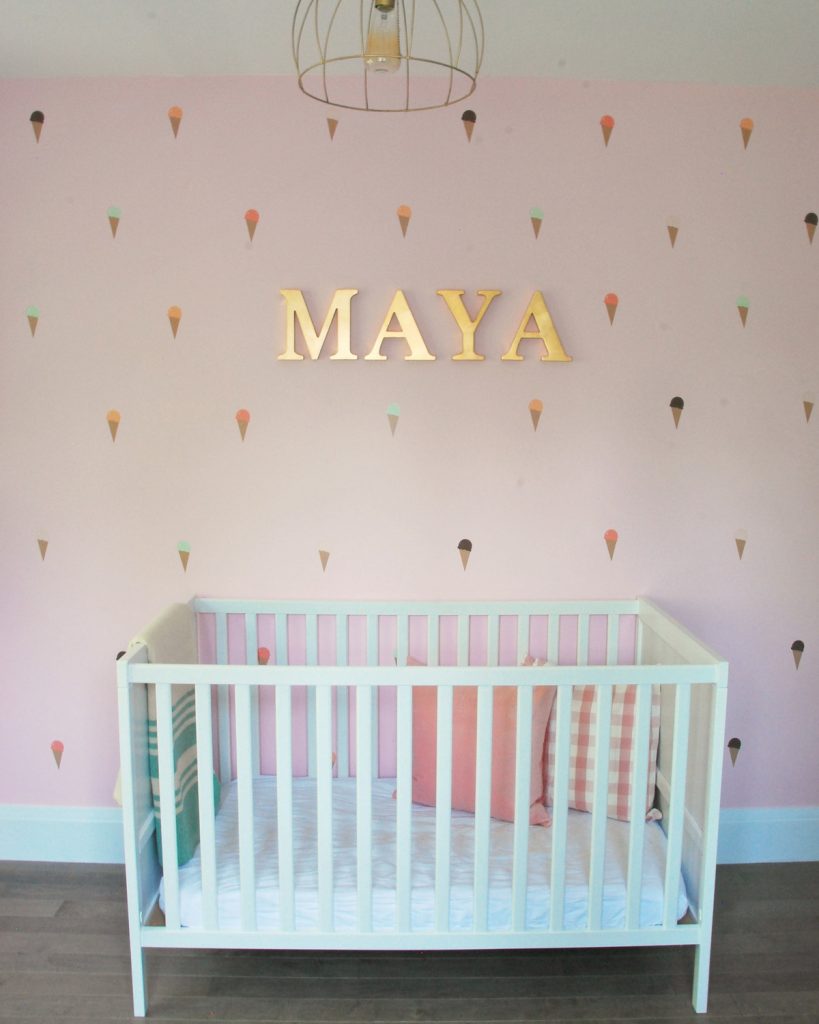 Usually I would always do drapes in a room like this, but for some reason I just wasn't feeling it for Maya's room. We have roll-down blackout blinds already installed, and I plan on installing some bamboo blinds in front of those eventually, so I was pretty OK to leave the windows bare for now.
I maximized the little wall space to the right of the window with some mint-painted boxes, and also hung up two of the pieces from her original DIY raindrop mobile. I couldn't find the right spot to hang the mobile in its' original form, so I took it apart and did this instead. Cute, right?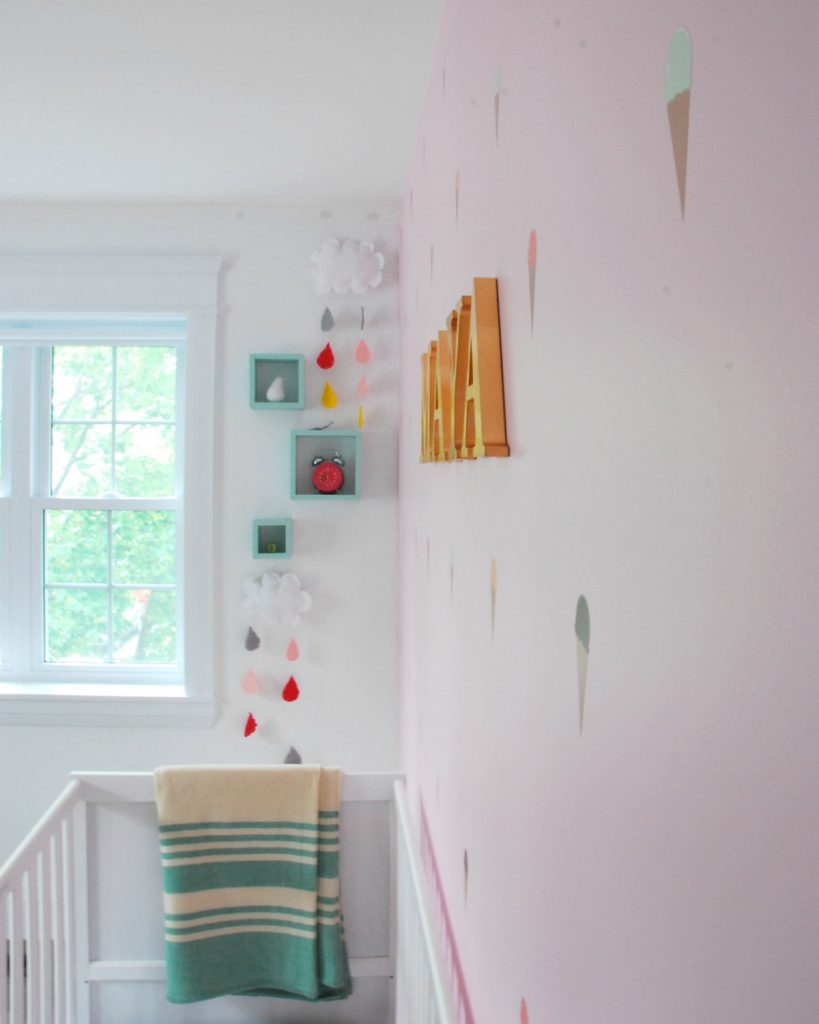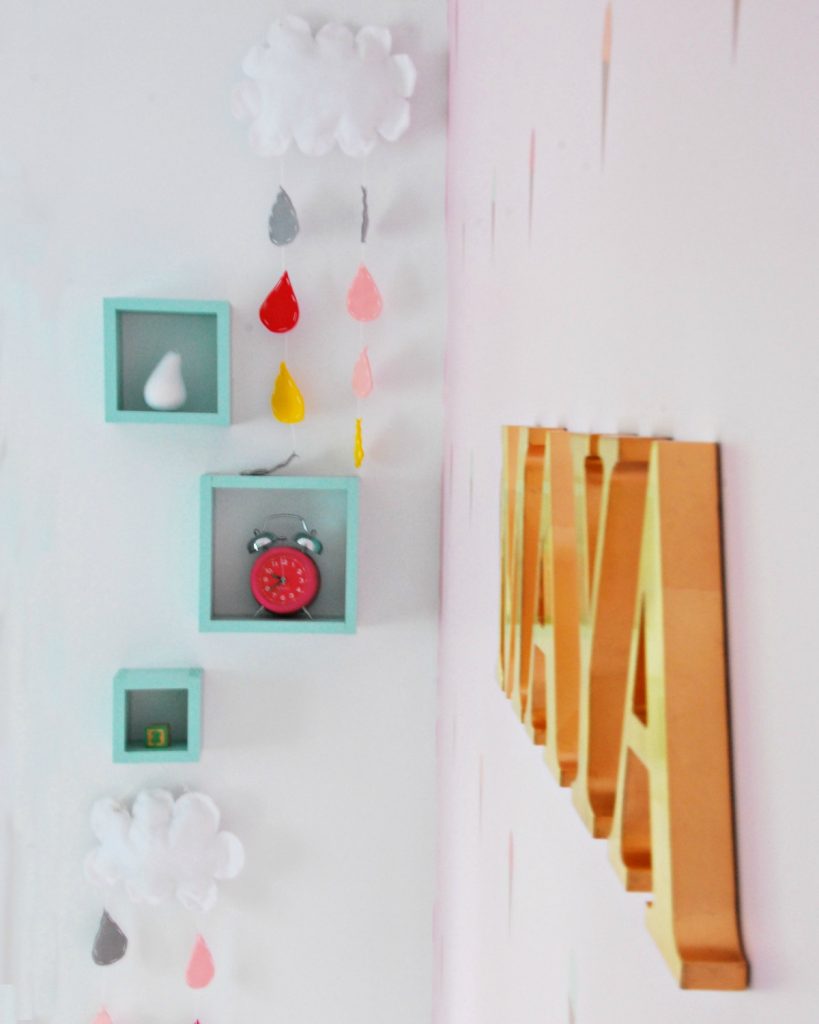 Then as you pan around the room, there is a reading/crafting spot. I used an IKEA LACK table under the window (I prefer the look of these versus the specifically kids tables at IKEA – cleaner lines or something), and paired it with some vintage kids chairs I found at the flea market.
We put some of Maya's fave books up on the wall, and I also had the space to hang two framed prints ("dream big little one", and "think happy! be happy!" from my etsy shop).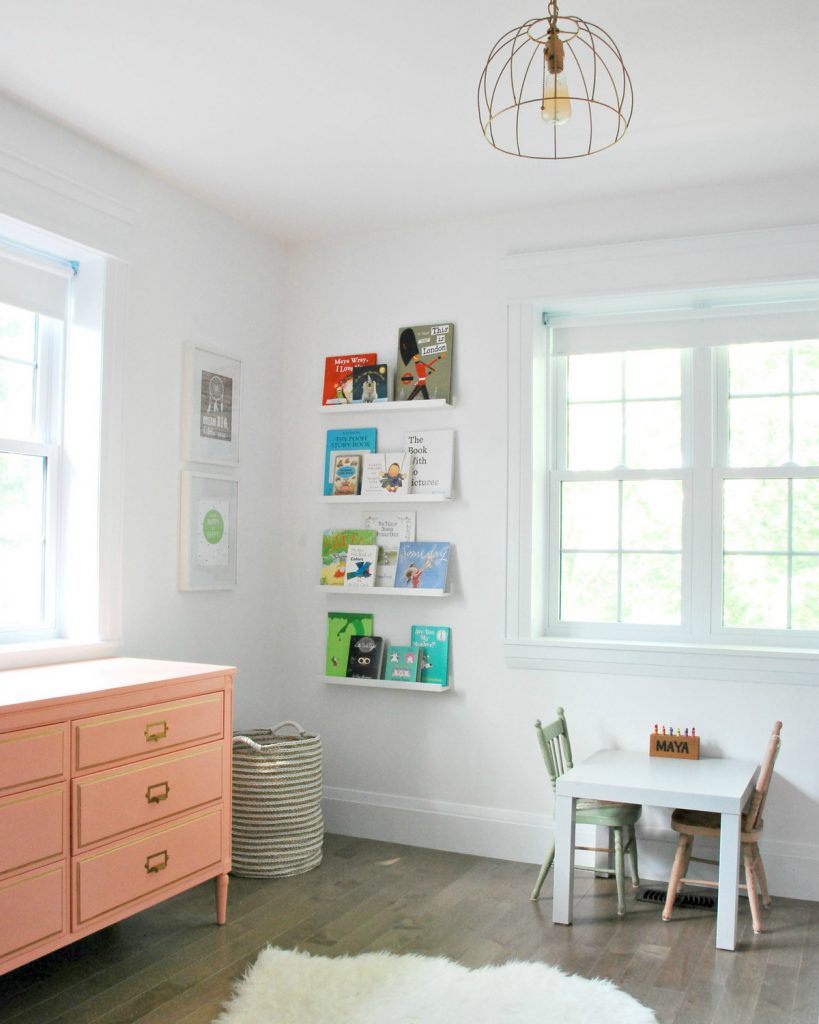 As you continue to turn around in the room, you get to her closet on the opposite side. This area was screaming out for colour, so I got out my fave mint paint (PARA paint's "Baffling Behavior") and gave those puppies a dose of the happy hue. There is just something about white walls and brightly coloured furniture and accessories that does it for me.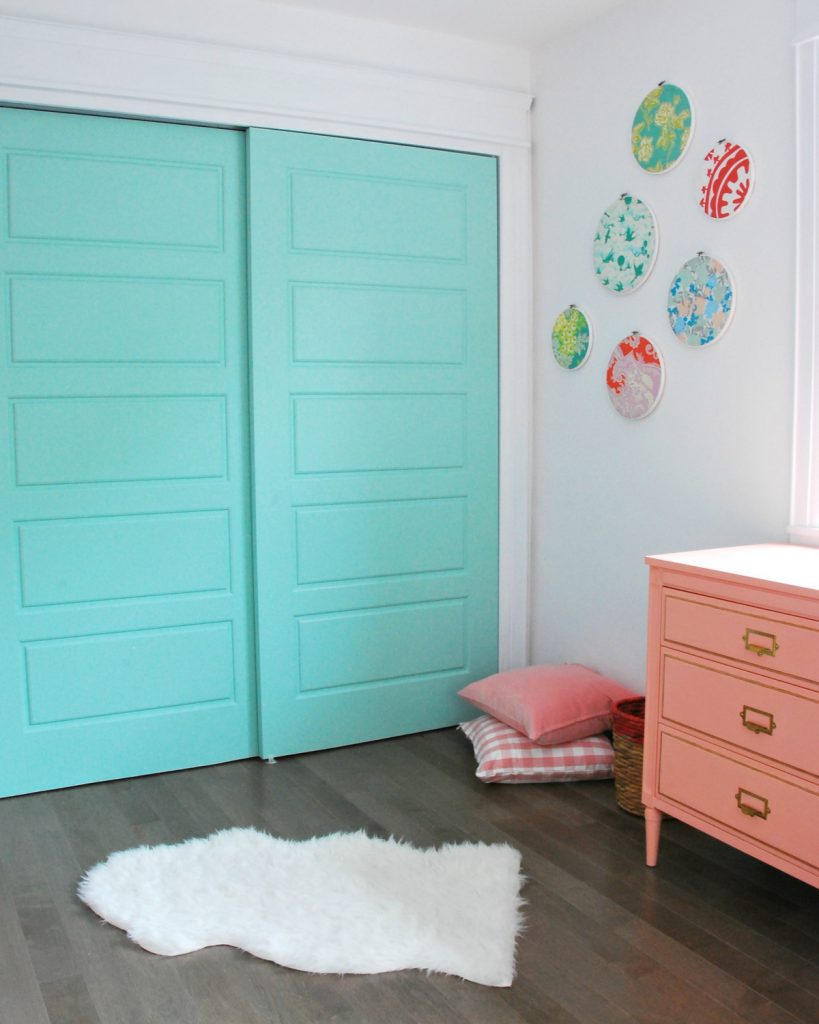 The embroidery hoop art has a mixture of fabrics that related to the room's colour scheme. An easy and inexpensive DIY (tutorial here).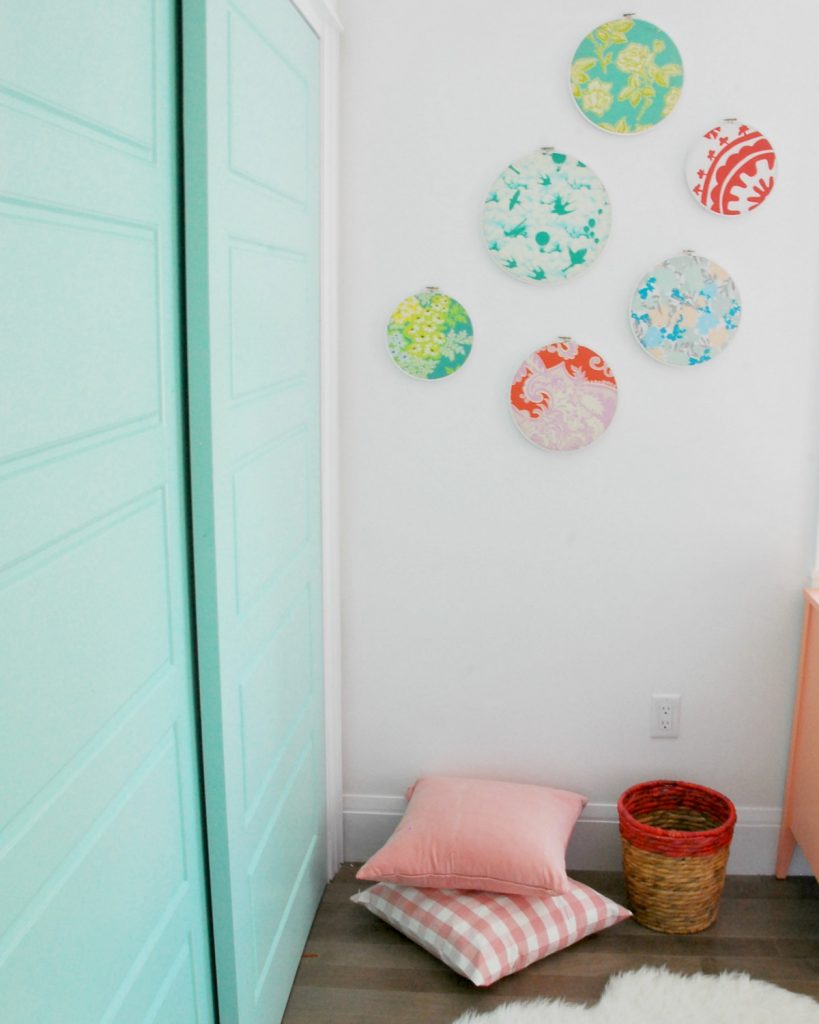 There are still a few things in here I'd like to do down the road. One is a larger area rug (saving up our pennies for that), finishing the interior of the closet (I'm thinking wallpaper!), and potentially painting the window trim out in a colour. I might do light gray or go really crazy and keep the mint thing alive. Oh, and hanging the bamboo blinds like I already mentioned. For now though, I'm pretty pumped on how the room has come together.
Now for some more fun stuff. First up, MERRY MAG!! The day is here, guys. Maya's room is featured in the magazine (ahh! blushing over here!), and the issue is JAMMED with amazing project ideas and inspiration. Melissa from the sweet escape pulled the whole thing together and worked her magic to make one spectacularly gorgeous issue. Head on over and have a read!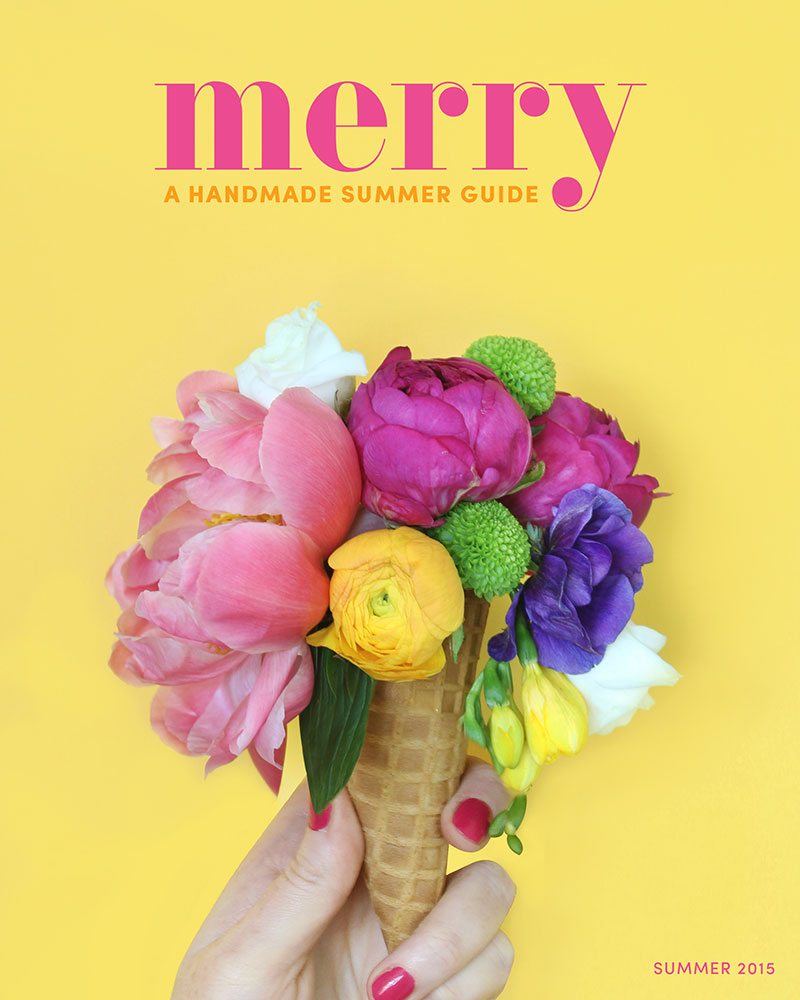 Secondly in the "fun stuff" category, to celebrate the launch of Merry, I'm going to do a giveaway for 3 free prints from my Etsy shop, THE SWEETEST DIGS CO!! Winner gets to choose which ones they want, and prints will be shipped anywhere within North America. Giveaway runs till the end of this week (Friday June 12 2015). Enter below:
Merry Mag & THE SWEETEST DIGS CO. giveaway!

Good luck! Are you digging Maya's room makeover? It definitely hit the "cheery and bright" criteria, which I hoped it would. Luckily the girl LOVES it. We pick books out every night and read them on the floor with pillows, she loves to draw at her table (and ON the table… thank god for washable crayons!), and she thinks the ice cream cones are pretty silly. I'd say it was a win.