Between the etsy shop, prepping for spring craft fairs, my contract work, chipping away at the house, getting our apartment rented, and you know, regular life, finding time to take photos and write up blog posts about our renovation and latest DIYs has become a challenge. Sometimes I feel like I'm not keeping you guys up to date enough! Forgive me? Let's get back to the kitchen today, k? I never gave the scoop on our backsplash tile.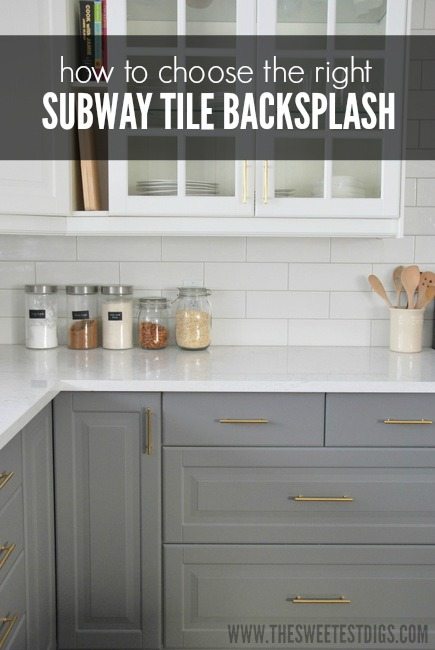 As our kitchen was coming together, I really hadn't settled on a backsplash. My dream backsplash is one large slab of marble (like this, and this). I love the strong veining and the impact it has on a room. The cost of that option though, was totally out of the budget.
In the earlier stages of kitchen planning, I kept flip flopping between either going with a marble tile backsplash (more affordable than one big slab) and plain countertop, or a countertop with veining and a more plain backsplash. I didn't want pattern + pattern – too busy for me. Kind of like how you don't want to wear a skimpy top with short shorts- you need to pick where you're going to show off the goods, you know?
Once we found our marble lookalike quartz countertop, I brought home a zillion samples for backsplash. Some grey, some white, some large, some small. I really didn't have a clear vision of what I wanted. I laid them all out along the countertop and just lived with them for a while.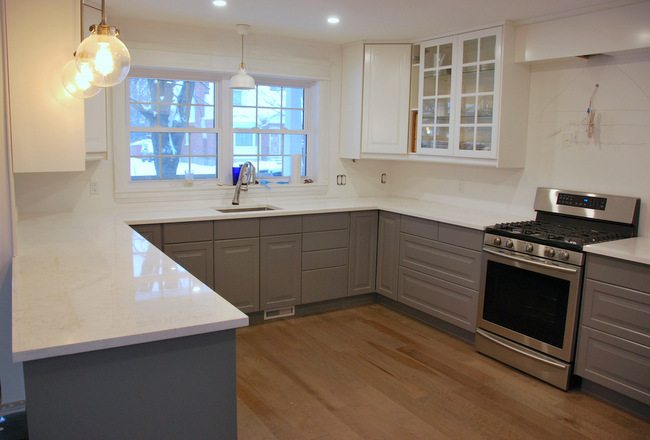 Some of the white ones got knocked out quickly because they really didn't match the white of the cabinets (making them appear more yellow). Some of the grey ones clashed with the grey of the lower cabinetry and so got veto'd. Grey is sort of like white in that there are so many tones behind the colour and if you get two that aren't in the same "family", they can look awful. The marble tiles also got nixed as the veining was too strong next to the veining in the countertop. I also realized that I didn't like anything too small as I didn't want to see too many grout lines.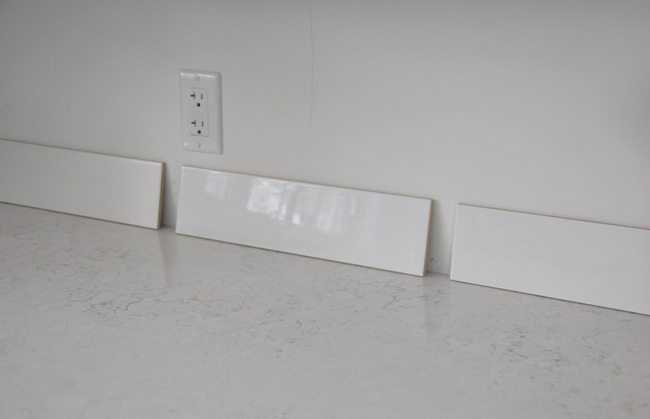 As much as I wanted something other than subway tile (I felt like that was too predictable), I ended up down to two choices: an elongated white subway tile and a grey subway tile. What can I say? Clearly the reason why so many people like subway tile is that it is just a classic choice. I liked the simplicity and that it wouldn't steal the show from the other elements going on in the kitchen.
Ultimately I chose some of the longer white tiles – the "Manhattan" 4×12 tiles in white by FAP (I purchased them through Euro Tile & Stone here in Ottawa). I liked the longer look, and they have a cool glazed texture that was different from the usual uniform look on subway tiles. The white won out, as I felt like the kitchen might come off as TOO grey if the whole backsplash was grey, along with the lower cabinetry and stainless steel appliances.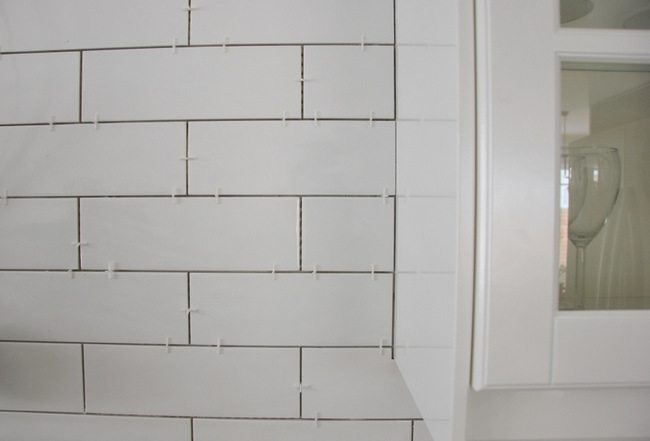 We had our tile guy put these up, all the way to the ceiling with a plain white edging and medium grey grout. The white of these tiles almost perfectly matches our white IKEA cabinets and look great next to the countertop. I really like how they extend to the ceiling, helping to bring the eye up and make it look like a really polished space.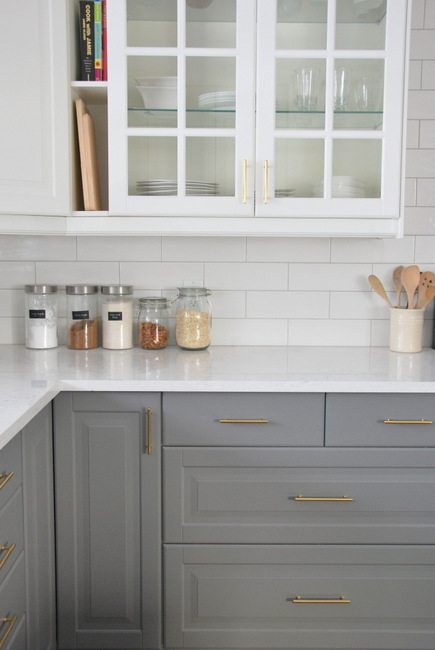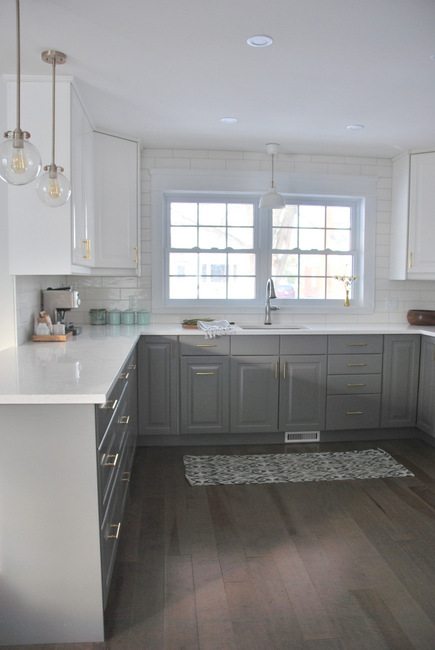 Left on the kitchen to-do list?
-Installing our range hood and custom box to cover up the exposed duct work above the stove.
-Spray paint the white vent cover below the sink cabinet grey. Sticks out like a sore thumb, huh?
-The white trim around the window is waaaaaay too white now compared to the backsplash. Rather than painting it a more subdued white, I was actually thinking of potentially going grey (similar to the cabinet colour). I have very crudely photo-shopped it in in the photo below. What do you think? I'm pretty sold on the idea. (I also photo-shopped out the white vent cover below the sink in this photo – so much better).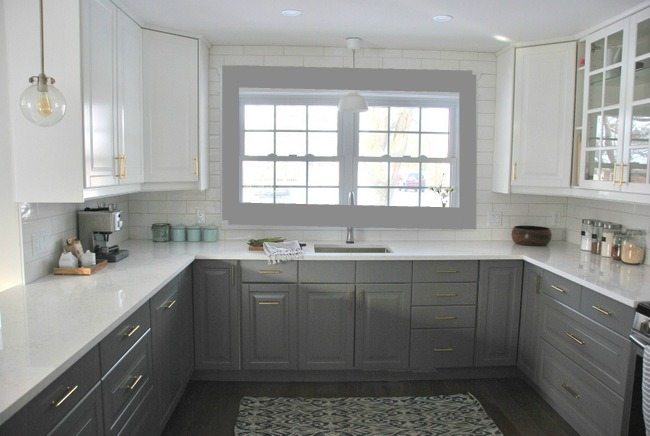 Other than that though, I think we're just about there with the kitchen. Feels really good to have one space in the house that is so close to the finish line.
In case you're looking for them, here are the other kitchen posts on designing our IKEA kitchen, installing the cabinetry, choosing our marble-lookalike quartz countertop, and installing slim gold hardware.
What do you guys have as backsplash in your kitchen? Do you love it? Are you bored of seeing subway tile all over the place (I thought I was… and then of course I put it all over our house.. ha!)?