When I had my black chalkboard paint out the other weekend – remember how I gave this tray a makeover? – I did another quickie DIY project on a globe I had picked up at the thrift store. Apparently I was on some kind of chalkboard paint kick?
Here was the globe pre-painting. I really liked the vintage colours of the globe itself, but wasn't so crazy about the faux wood base. It doesn't look too terrible in these photos, but in person it was definitely erring on the side of tacky. Plus it was all scratched up.
It took two coats of black chalkboard paint that I applied with a small brush. No sanding or priming necessary. I was careful so I didn't need to tape anything out. Then as with any chalkboard paint application, after it has dried, you want to cover the paint in a layer of chalk for a few mins, then rub off. This "sets" the chalkboard paint so that the first message you write on doesn't leave an imprint forever. I usually try and do this with the side of a piece of chalk, but this base was tricky to get at so I just had to lightly draw all over it.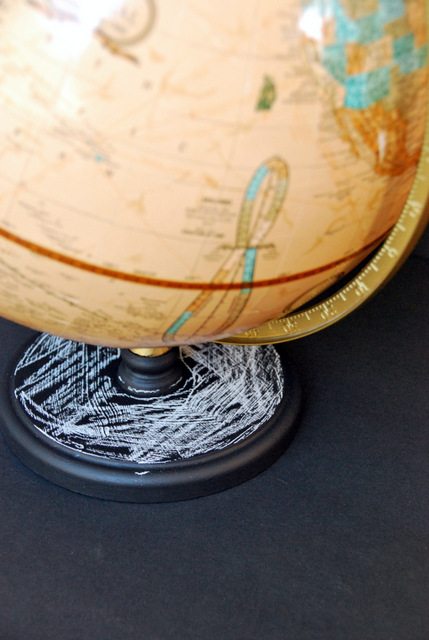 After I rubbed off the first layer, I decided to write a little message. Ideas included "adventure", "travel", "see the world", "oyster", etc, but in the end settled on "Explore".
Nothing fancy – just my handwriting and an arrow to loop around.
The fun thing is that you can totally switch up the message over time, or just leave the base black. Kinda has a cool library vibe, don't you think? It'll definitely be making it up onto the built in shelves that we are planning in the main floor office.
Have you used chalkboard paint on unconventional items? I have been on a total kick. I just love the matte texture, even if you don't use it to actually write on. Now, what to paint next ….