I've got a pretty easy and budget-friendly handmade gift for you guys. Well … not to actually give to you guys (though I wish I could!), but you know what I mean.
With time a little short this year (between baby + leaving on Dec 1st for Florida), and always being budget-concsious (we are saving hard for that addition/reno!), I needed to whip these off without too much trouble. The idea? Some chalk label canisters for the kitchen, filled with goodies.

I knew I wanted to use glass containers, but wasn't exactly sure of what style. At first I had thought of apothecary-style jars, and then ones that had a flip lid to them, but in the end I went with these square ones with a steel lid from the dollar store. At $2 a pop they fit the budget, and I knew that the squared edges would work well for painting on the labels.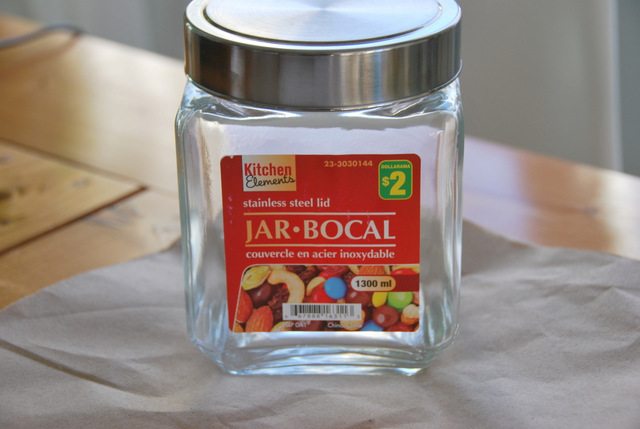 I got things prepped by cleaning the jars, and then affixing some painter's tape to each. I didn't measure out the labels, but just eyeballed it when I was putting on the tape. I made sure to press down really well to minimize any paint leakage.
Then I got to painting. I used a can of black chalkboard paint that I had sitting around from past projects (can't remember what brand, but I bought it at Home Depot).
I had painted a test label and left the tape on for too long as the paint dried. Big mistake. When I went to take off the tape, off came most of the chalk paint along with it. So the trick was to get the first coat of chalk paint on, and then just a minute or two later, peel off the tape. 
One coat wasn't enough coverage, but I took a smaller paint brush and went over the labels with paint a few more times to get them nice and opaque black. You just need to do this carefully as you don't have the tape on there anymore to keep a straight line.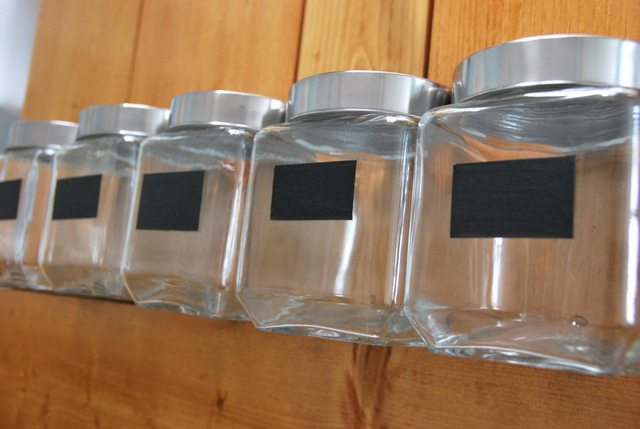 Once they had totally dried (I left them for a full day), it was time to "cure" the chalk. The idea here is to rub chalk – I use the side of a piece of chalk – all over the new paint. Leave it there for a few minutes and then rub off. I actually do this a few times, just to be sure. If you were to skip this step, you run the risk of having a permanent outline of the first thing you write on the label in chalk.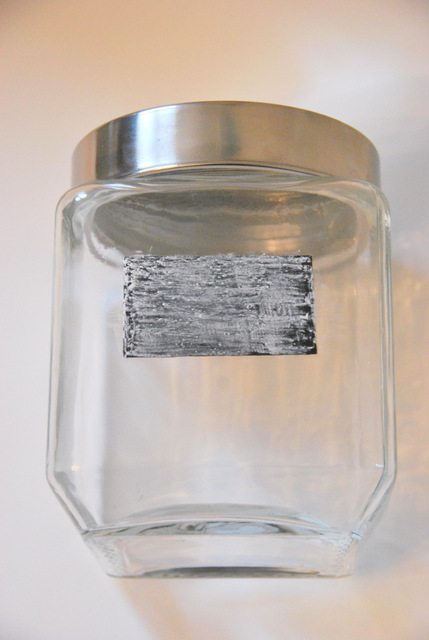 Once they were all ready to go, I broke out some yummy stuff to go inside. I didn't have time to make/bake anything myself, so I went out to Bulk Barn. I hadn't actually ever been to a Bulk Barn before, and OMG they have everything. I meant to run in and out and in the end, was there strolling the aisles for a good half hour. My mind was swirling with all of the things I could make with their different grains, nuts/seeds, and other goodies. As for my canisters, I didn't want them to be full of candy as most of these will be given to folks after Christmas day, and I figured everyone would be chocolate/candy cane/cookie-d out.
I ended up with some dried soup – perfect for a cold winter's day lunch.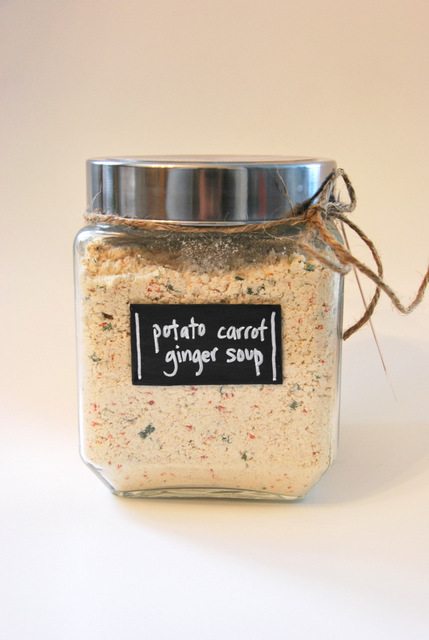 And made a little card with the directions for cooking.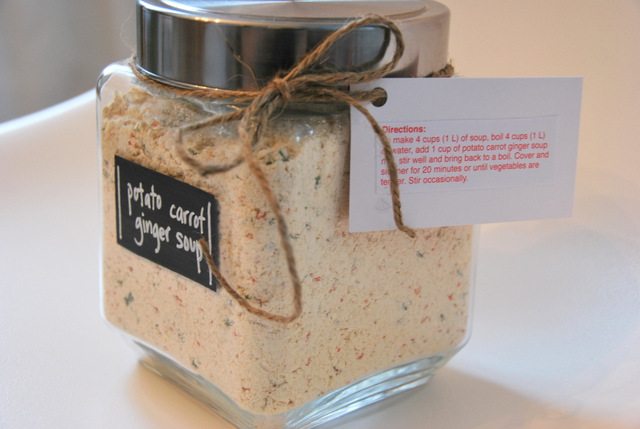 Some hot chocolate – a  classic.
And some banana chips! (FYI – I wrote out the labels with a chalk marker instead of piece of chalk… easier to get nice letters that way)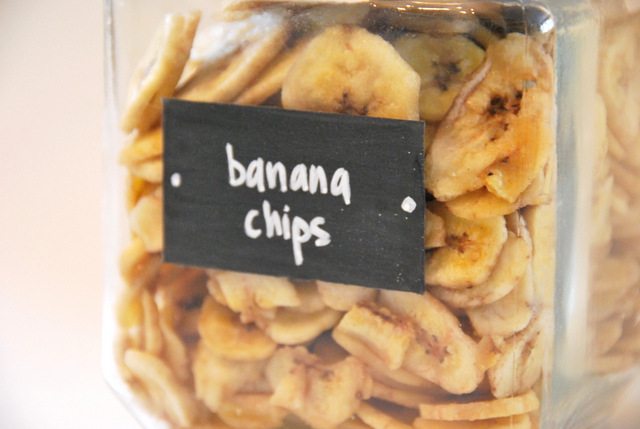 And that's it! Super simple, not too time-consuming, and hopefully something that everyone will enjoy and use in their kitchen pantries for a long time to come. 

 What about you guys? Doing homemade gifts this year? Ever received a homemade gift that you absolutely loved? I wanna hear about it!