I took my daughter shopping at the party store a few weekends ago to get stuff for her 3rd birthday party and the first thing she picked up? A blow-up flamingo ring toss game. Even though she was also wearing a tiara, red feather boa, and blowing into a circus-looking horn thing by the time we were through the store, I stuck with the flamingo theme. Talk about being on-trend and cute, right?
I knew I wanted to get a flamingo pool float to throw in our kids pool for her backyard party – because really, who DOESN'T want one of those?! But once I started searching for one, I got totally sucked into the world of flamingo party goodies. Seriously, my amazon cart started to get ridiculously full.
So, if you're thinking of hosting a "let's flamingle" party at your pad… I've got you. Just check out all these goodies!!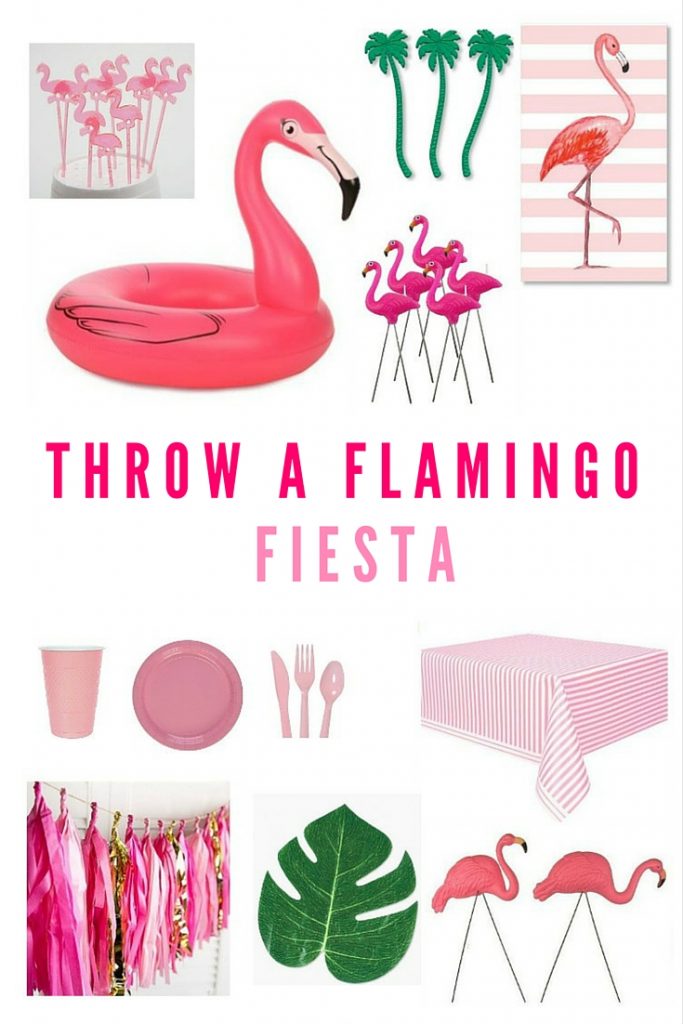 The best part? You can order everything from Amazon at once, and I only stuck with stuff that was budget friendly.
You'll have your party planned within a few minutes!
Decor items:
> Flamingo pool float ($30, currently on sale for $19.95) –> I ordered this one!
> Flamingo candles for the cake! ($12.50) –> These too!
>  Flamingo picks for appetizers ($9)
> Flamingo Lawn Ornament 2 pack ($19.99)
> Pink tissue tassel ($12)
> Tropical leaves (pack of 12 for $5.35) – Place these down the center of the table as a runner or scattered across buffet table – so cute!
For the Table:
> Palm tree swizzle sticks for drinks (pack of 12 for $6)
> Pink dinner plates (50 plates for $8)
> Pink party cups (50 cups for $9)
> Pink cutlery (16 sets for $5.50)
> Flamingo striped napkins ($10)
> Pink stripe plastic tablecloth ($3)
To wear?
If this came in a bigger size, I would 100% be ordering it for my daughter, Maya. I mean really, how cute is this flamingo romper? I'm dying.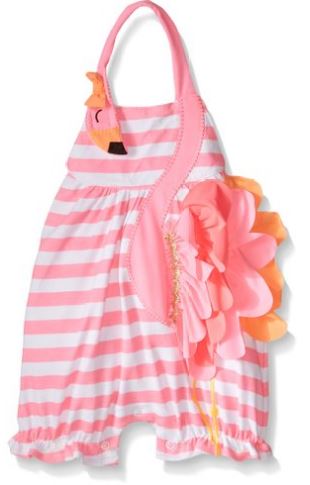 SO fun, right?  Don't you kinda want to get a cocktail and hang out by the pool right about now?