Are you guys Christmas/Holiday card people? My Dad is super diligent about it – always getting them printed in early December, sits down one Sunday and writes them ALL out. Like probably 100 cards? And not the exact same message in each, either. Then he hand writes all of the addresses, and mails them off before most people even have their decorations up. I have (not surprisingly) developed a deep love for holiday cards – getting them in the mail, reading the little messages, and then proudly displaying them all over the house during the month of December. So cheery.
Have you guys heard of Minted? They have a huge selection of holiday cards, all designed by different indie artists. They are gorge.
For our holiday cards this year, I was obviously going to be featuring our 2013 addition! With the photo cards at Minted, what is so nice is that you upload the photo you want to use, and then it shows you all of the card options with your photo in it. Of course some aren't going to work (the text isn't in the right spot, the orientation of the card is wrong, etc), but you can get a quick visual of your favourite options.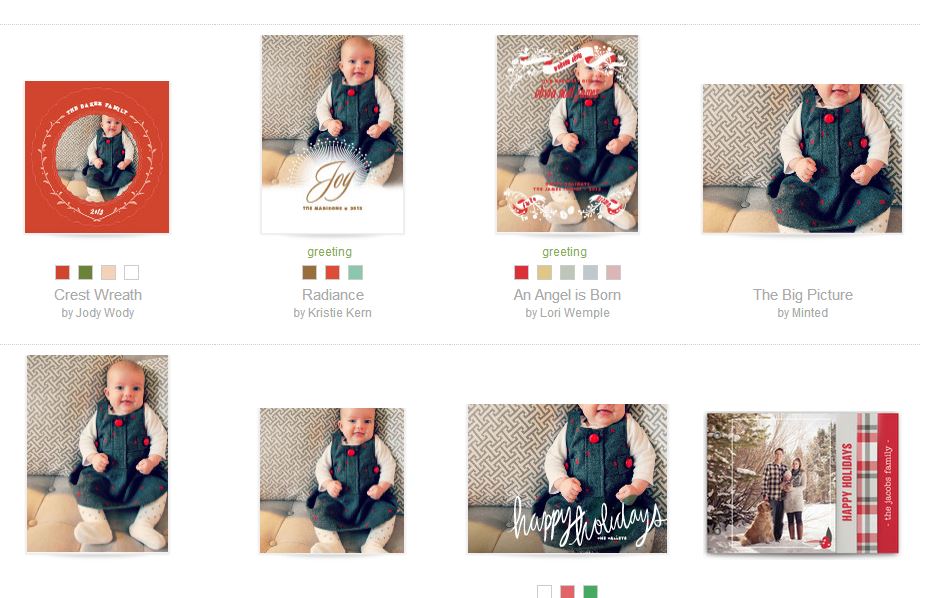 Here were some of our contenders (before editing – hence the dotted lines, etc)…
And the one we went with in the end? This beauty!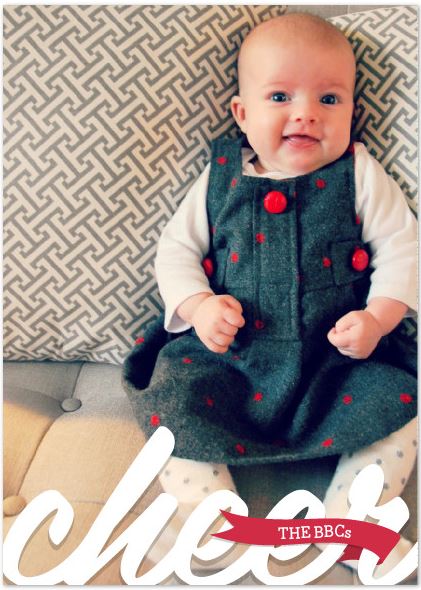 And when I got the cards in the mail, they were seriously lovely. The quality is amazing. Thick cardstock paper, beautiful envelopes (all pre-printed with the addresses, by the way!), and packaged sweetly. Couldn't have asked for more.
If you're looking to get some cards done for yourself, I would definitely recommend Minted. Until Thursday, they are offering a 15% off orders of $150+ and 10% off orders over $100 (check here for coupon codes).
Are you guys holiday card people? Do you send any around? Do you include a family letter, or hand write in each one? Or just forget the whole thing? 
**Disclosure: 25 free cards were received for free from Minted, but opinions are all me. I have been crushing on Minted for a good long time!