The other weekend I was going to a friends' baby shower (well actually, a "welcome to the world" celebration, as the baby has already been born). My girlfriend has a lot of stuff for baby already and didn't register for anything in particular, so I decided to have a little fun with her gift. Have you ever seen those "cakes" that people make out of diapers? They are totally cheesy, but I thought it might be kind of fun to try making one myself.
First step was to roll up a bunch of diapers. I had some decorative washi-style tape from the dollar store, so decided to use it instead of elastics (mostly because I didn't actually have enough elastics at my place). I did a test one first to make sure that the stickiness of the tape didn't ruin the diaper, and since it's a pretty low-tack tape, it wasn't an issue.
You want to roll up the diaper like in this pic, and then just wrap a piece of tape around the middle of it.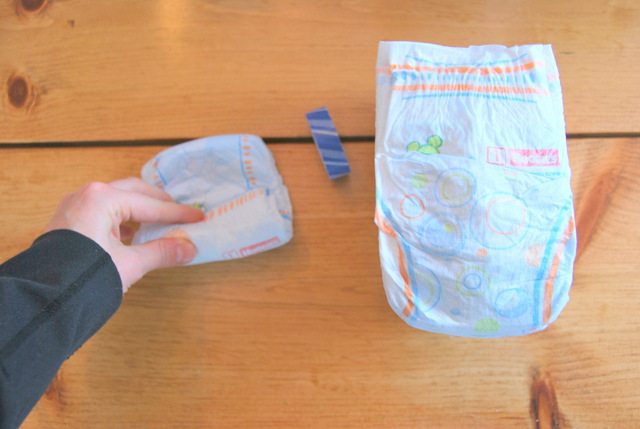 After a while, you'll start to have a big stack…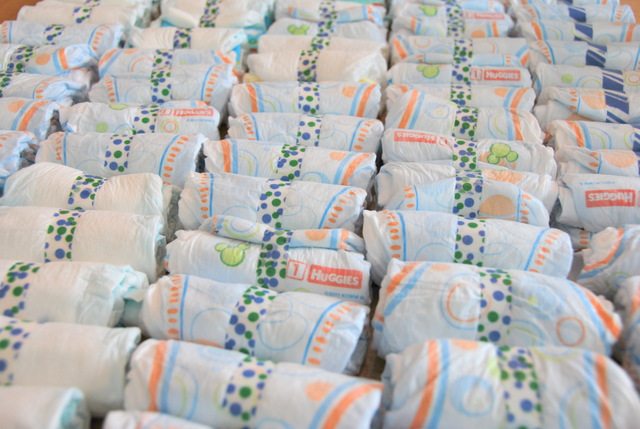 I knew I wanted to make three tiers, so I counted out how many diapers I had and then split them into three groups. I can't remember the exact number, but it was something like 60 for the bottom tier, 40 for the middle, and 20 for the top.
I took a cardboard tube leftover from a roll of paper towel to use as the middle of the cake. Then I would place rolled up diapers upright around the tube, and tie a piece of ribbon around them quite securely.
After that, it was just a matter of doing another layer on top of another layer, etc etc, until you end up with the size of base that you want. You need to make sure they are quite tightly tied on so that the shape really stays in place, and you don't have rogue diapers dropping out from below.
I made a second tier on top of that one in the same way, and then the top tier. I stuck a single diaper in the top of the cardboard tube so that it wouldn't show, and then took a wood skewer and popped it in the top. Cut out a little flag out of cardboard, taped it around the top of the skewer, tied some fancy ribbon around the three tiers to dress it up, and it was looking cute and festive!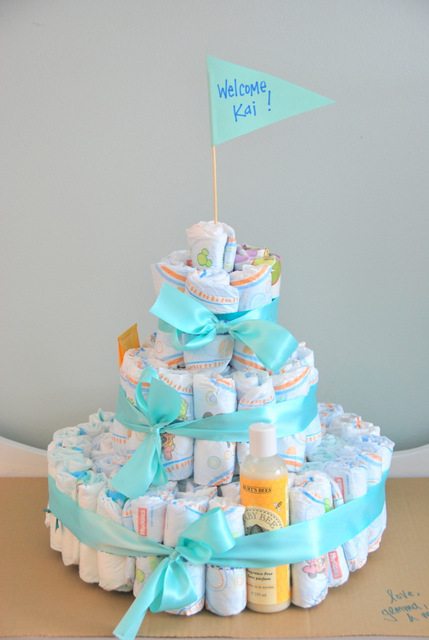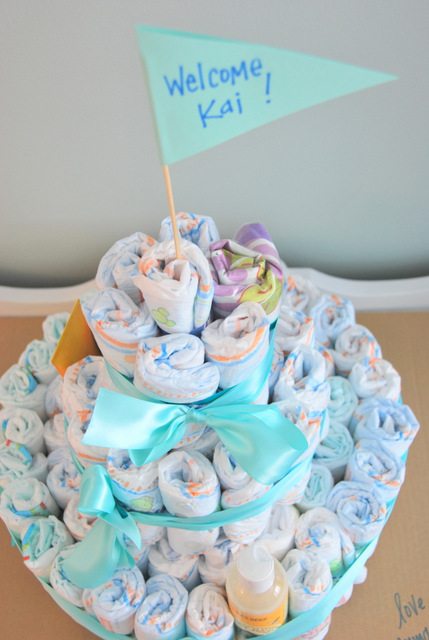 I wanted to include a few other goodies as well, so squeezed in a few of my favourite baby products around the cake.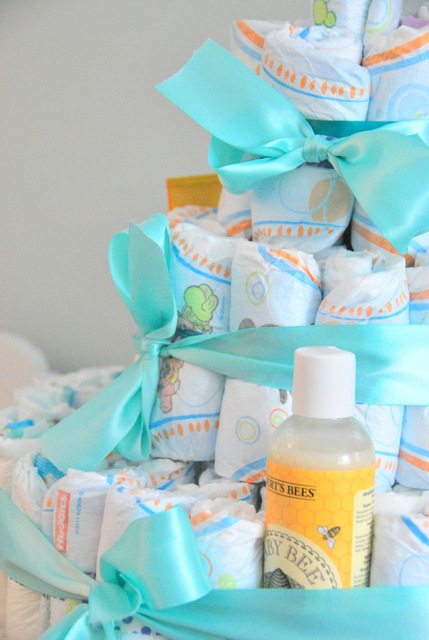 A piece of cardboard from the recycling bin cut to size made the perfect tray to hold the cake on.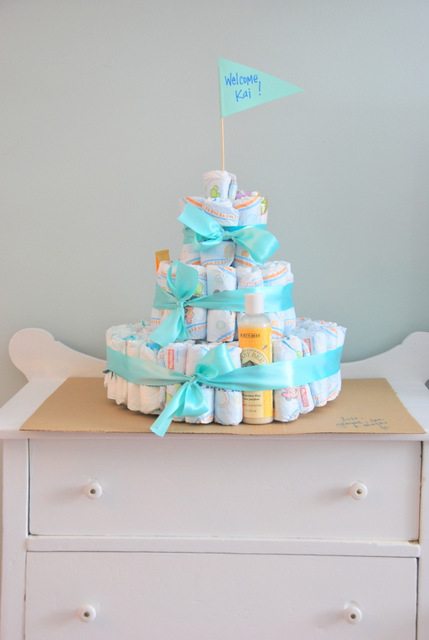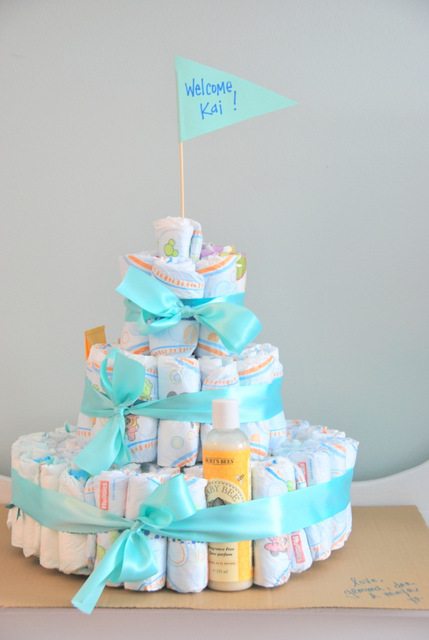 It ended up being a big hit! And hopefully all of those diapers will hold her over for a little while. Diapers are one of those things that are so annoying to constantly buy, so getting a bunch for free is always nice.
Ever made a "diaper cake", or received one? Any other favourite creative baby gifts?