A little while back, I posted about our new living room goodies (see that post here). To add to our little living room transformation, we were desperate to get rid of our futon and replace it with a more substantial couch. I have had this beige futon since I was 15 — yep, it was in my teen basement hangout pad, and has followed me in my various apartments since. Well futon, thanks for more than a decade of service, but it's time to take a step up in the couch world.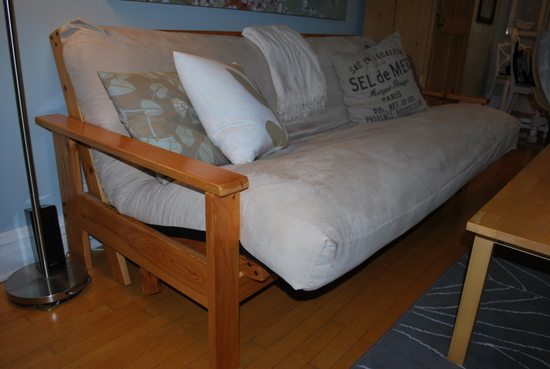 We looked around at some of the higher end furniture stores and definitely fell in love with a few couches, but not their price tags. We couldn't spend much dough, so we did a little trip to budget-friendly IKEA (where we had some wedding gift cards) and decided that their Karlstad model was a winner: it has classic clean lines, is comfy, and we like that you can easily clean and switch up the covers. Since we needed a truck to transport the couch, we had to wait a couple of days before we could make the big purchase. I decided in the meantime that I would check out the used furniture sites (kijiji, craigslist, and usedottawa). I've always had a bit of trepidation in buying sofas used since you never know about things like bed bugs, stains, etc. (sort of like buying a used mattress), but a few days later I stumbled across a sale ad for the karlstad sofa that had been barely used. The previous owner had moved to Ottawa, bought the couch, and 6 months later was moving back to Toronto and didn't want to bring it with her. We went and checked it out, realized that it really was in near-new condition (no bed bugs to report!), and brought it home. The best part? The $150 price tag. That's a whole $350 cheaper than it would've been at IKEA, not even taking the taxes into account. And the kicker? We threw our futon up on Kijiji and sold it for $100 to some students. So for $50 our living room got a much-needed spruce up.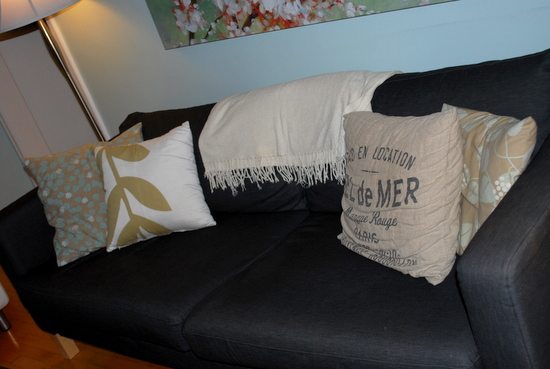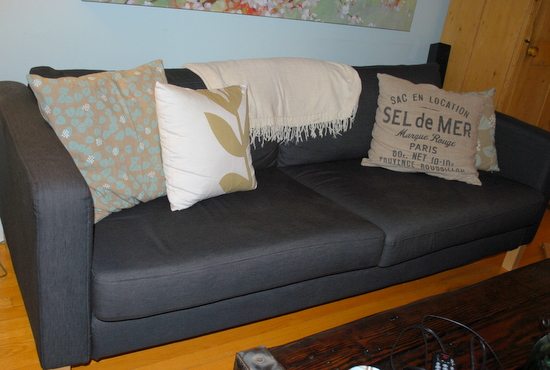 We have had one other project up our living room makeover sleeve, which I'll post about later this week. Stay tuned for photos of the new and improved space!
Get Access to The Vault.
Get FREE organization printables, art printables, design guides, and more. There is SOOOO much good stuff.
You know you want in!