The two flush-mount, ultra boring light fixtures that we had in our front entryway and hallway had been on the "to replace" list since we moved in 3 years ago. So it was kinda funny that both got upgraded within a matter of days of one another (the front entryway got this thrift store upgrade recently). Sometimes things just come in pairs, huh?
Here was the under $10 light fixture that had been in our hallway since the early days. It did the trick, but wasn't much to look at.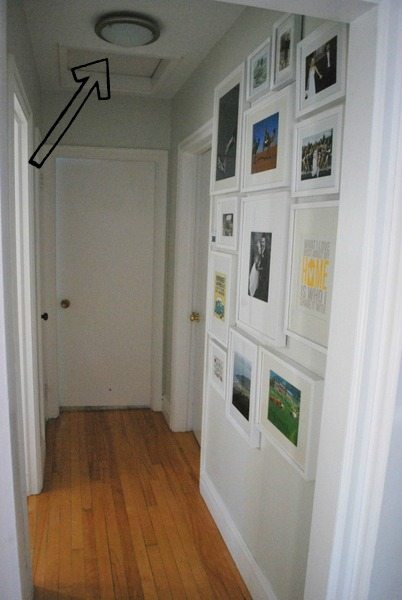 Since it was perfectly functional and not high on the priorities list, we needed something budget friendly. Enter: free yard sale find.
After a day of yard sale'ing in my parents neighbourhood, I came across this yarn light fixture in a bin labelled "free". It didn't look like much, and I think my parents thought I was a little nuts to drag it around and out to lunch with us, but I had a good feeling about this guy.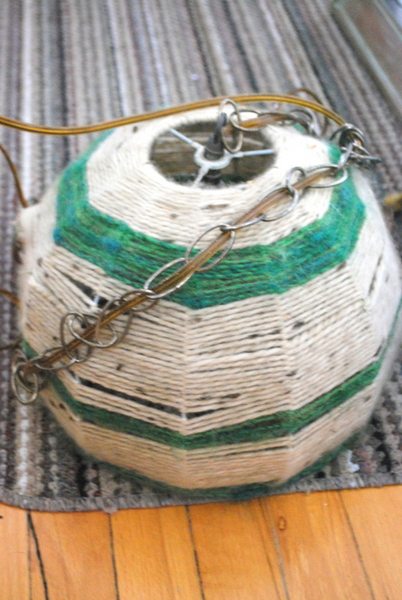 When I got it home, I took the scissors to it and started cutting away at the yarn. My apologies to whoever crafted this guy a few decades ago – it was probably actually super fun in it's heyday, but the yarn had gotten old and danky and it was time for a trim.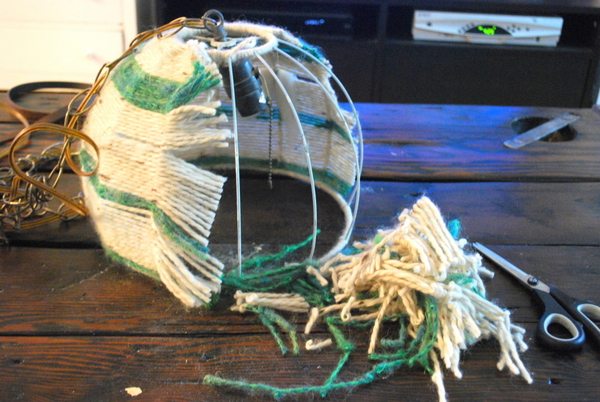 After a few minutes of cutting and yanking, and having tons of old dust fly up in my face, I was left with this. I knew this guy had a good shape underneath all that yarn. I love the skeleton of the shade and thought it would look great as a single bulb pendant.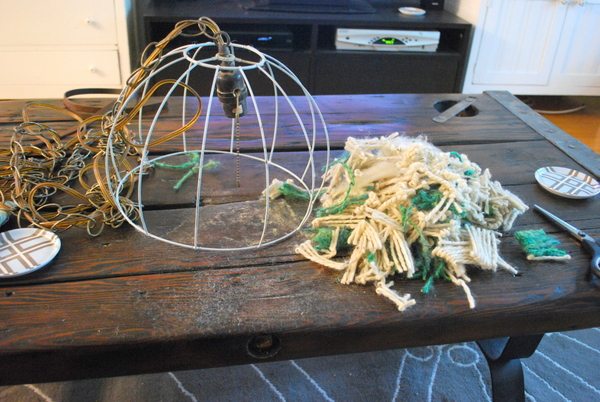 So I got out the matte black spray paint, and gave the whole thing a couple coats. I made sure to get all the wiring too, so that it would look seamless up to the ceiling. We had to buy the canopy for the fixture (that black round piece at the top) at Home Depot, which ran us about $5. Here's how things were looking after the install.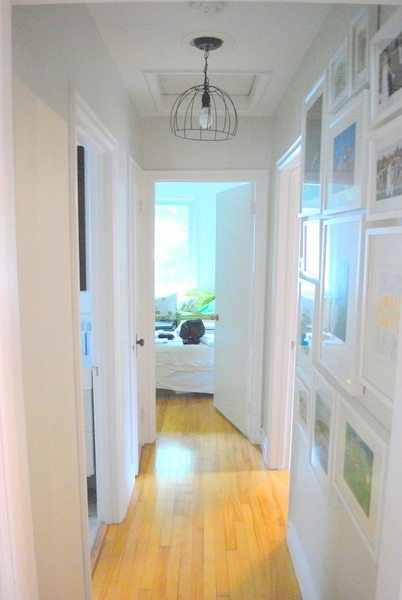 Loving the light fixture, but seriously needing to deal with the ceiling issues. Not only is there a big ring left around where the old fixture used to be, but there is some major patching needed around our smoke detector. I knew I was going to have to do some patching and painting, but the second "wop, wop" moment of this makeover was that the light wouldn't actually turn on. Whoops. Maybe that's why it was in the free bin?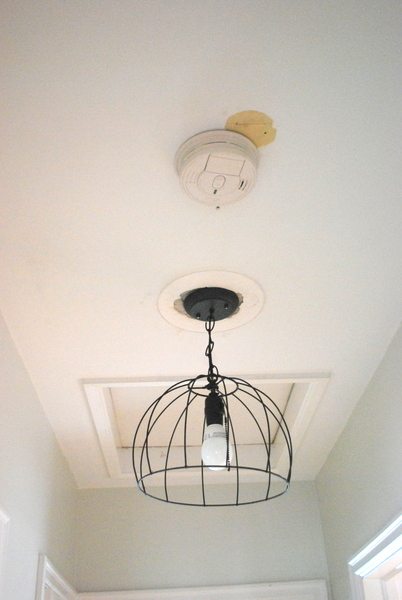 …And now we are left with a dark hallway (at least that way you don't see the patchy parts of the ceiling?!). So part 2 of this project is to hop on back to the hardware store and get a replacement part for the fixture (we're thinking it's the piece that the bulb screws into that is kaput). Hopefully we can solve this one sooner rather than later, and it doesn't end up being a total #DIYfail. I'll keep you posted!
**Update: We fixed the electrical issue. You can check out the light in all of it's lit glory here!**
In the meantime, have a great weekend folks! Happy Thanksgiving to all of my Canadian friends out there. I'm so looking forward to getting out and enjoying the fresh air and beautiful colours that this time of year brings. What are you guys up to? Any big turkey dinner plans or outings with the fam?