A new niece arrived into our lives a few weeks ago – little miss Mae. She is so sweet and cuddly and we are smitten. Her parents' are Dan's younger brother, Doug, and his wife, Ginny. They also happen to be some of our besties and live in the same neighbourhood as we do (we talked up the neighbourhood for years to them, so when they finally came back to Ottawa they were sold!). Actually, you might remember Doug and Gin from their Toronto apartment tour back in the day, here.
Anyway, Ginny is a superstar decorator and always makes her places feel beautiful and welcoming. Little Mae's room was no exception. They didn't know if they were having a boy or girl, so they did this in a "gender neutral" way (I'm not a big fan of that term… but you get the idea).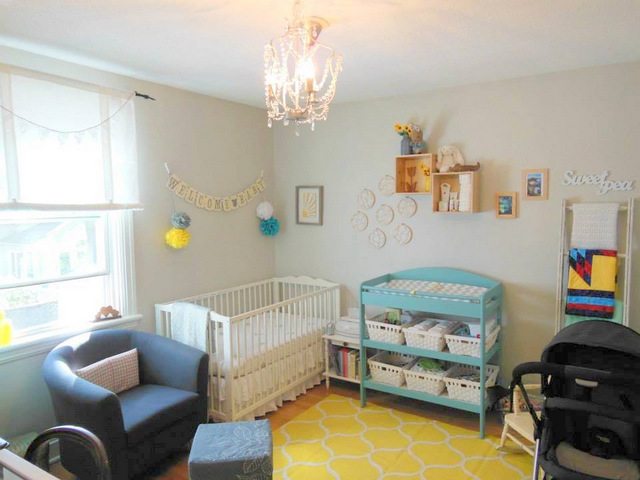 The room was already painted a soft greige colour, and so Ginny added in elements of white, grey, yellow, and robin's egg blue. A pretty and soothing palette.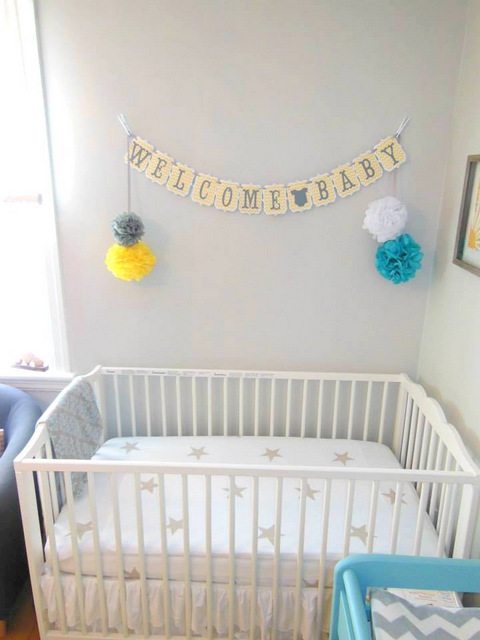 Everything was done by hand. They painted a bunch of furniture (the blue is 'Provence' by Chalk Paint® decorative paint by Annie Sloan), sought out vintage-y pieces, and put up cute artwork. Those lace-filled embroidery hoops were actually from Ginny and Doug's wedding decor!
Oh and most of the "big" pieces in the room (crib, rug, chair, etc) are from IKEA. Just another demonstration that you don't need a big budget to create a lovely looking space!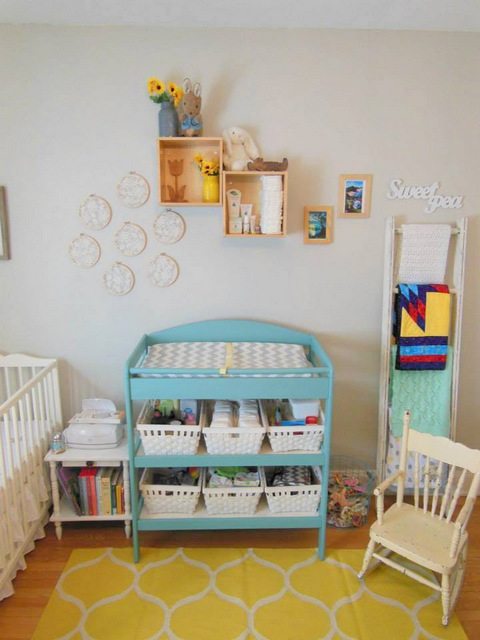 So – remember the vintage frame that I kitted out with wire to hang photographs from a few weeks ago? This guy (see that post here)?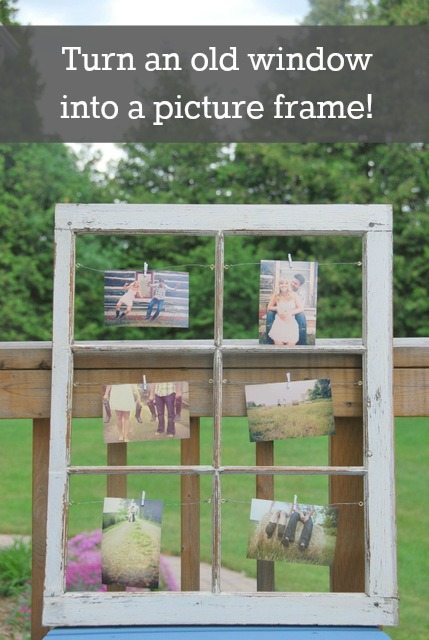 Well, after I used it for my friend's seating chart at her wedding (this frame has gotten great use lately! More on that one another time…) – Ginny's 30th birthday was around the corner and I suddenly realized that the frame might make a really sweet gift for my vintage, rustic chic – loving sister in law.
I had been sent a free pot of the 'Provence' Chalk Paint® decorative paint by Annie Sloan, the colour Ginny had used in her nursery, and so decided to give the frame a coat of paint. I knew this was the right paint for this project as it didn't require all of the sanding and prep that other paint requires – one of the features of the Chalk Paint®. With a crackly vintage frame, this was key. I sanded off anything that was super flaky, but pretty much left it as-is.
The paint was really easy to apply and goes on like butter. Seriously. This stuff is like cream. The blue looks much more vibrant in this photo (outdoor lighting) than it does in real life. The photos of the frame in the nursery are way more true to the colour.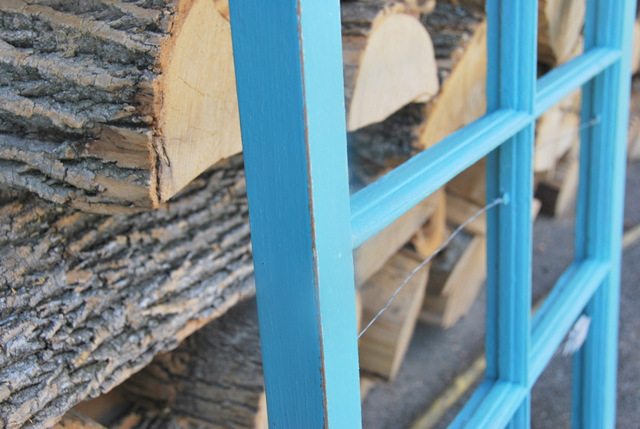 I did two coats for really good coverage, but I probably could've gotten away with just one. I sanded the corners down again a little bit to let some of the wood show through.
There is a second stage in the process when you're using this paint, and that is to wax the surface (I had a pot of the clear wax). I gather there are special wax brushes you can use, but I just used a rag cloth I had in my paint supplies stash. Worked like a treat.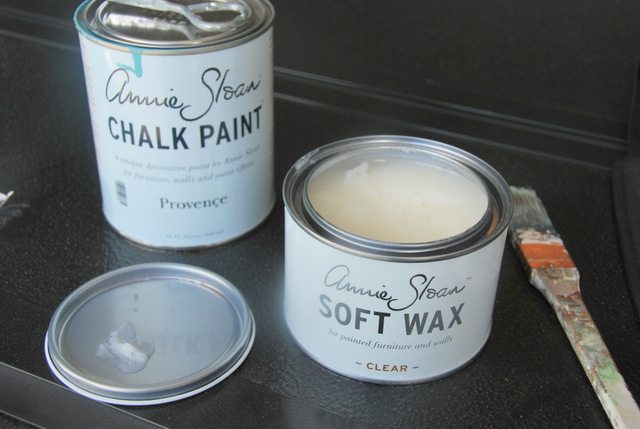 I had some 5×5 photos of Ginny, Doug, and Mae printed and popped them into the frame. The great thing about this type of frame is that they can switch out the photos to newer ones of Mae as she grows into a little girl. Maybe even put some of her pieces of artwork in it down the line.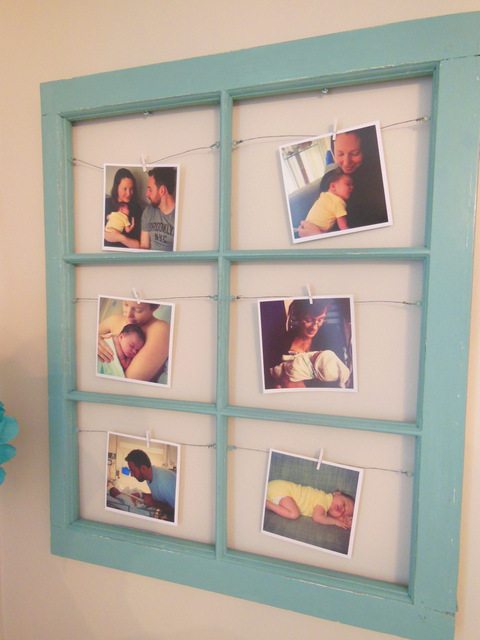 In terms of a review of the Chalk Paint®, I was pleased. Like I said, it goes on really really smoothly and the coverage is excellent. You really don't go through a lot of paint. And being able to skip the whole sanding and priming stage is amazing – particularly for older pieces that would require major prep. If you were working with a perfectly smooth, finish-free piece of wood furniture though, I'm not sure that this type of paint would really provide much of an advantage – whether you're doing chalk paint + wax or regular paint + poly, it's the same number of steps, and the Chalk Paint® is going to be more expensive. One difference though is the more matte finish that the chalk paint gives – again personal preference, but I dig the un-glossy look. Oh and if you're into the French antique look, you can get all creative with the dark wax and mixing colours to create all kinds of finishes. That's kind of what I always associate with Chalk Paint®, but you don't *have* to go that route (I didn't). I have yet to try out the paint on a big piece of furniture to see how it wears over a longer period of time, but I'm definitely going to give it a whirl. All in all, I'm digging it.
And the frame? Went over *really well* with Ginny (yay), and it looks like it was meant for the room.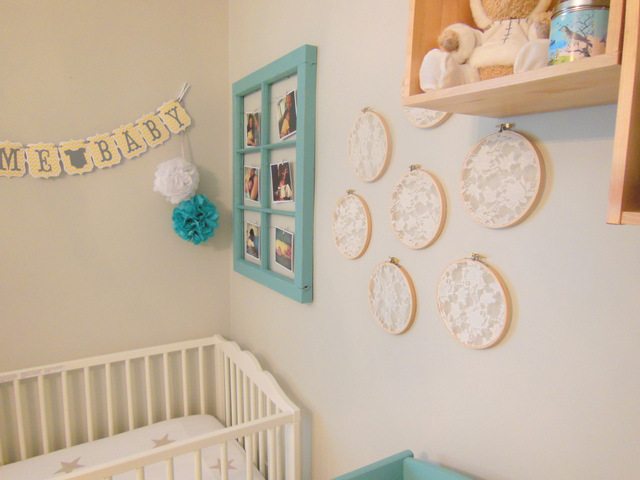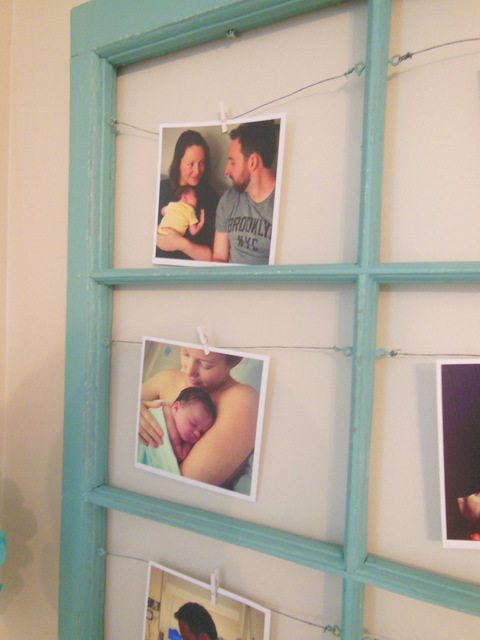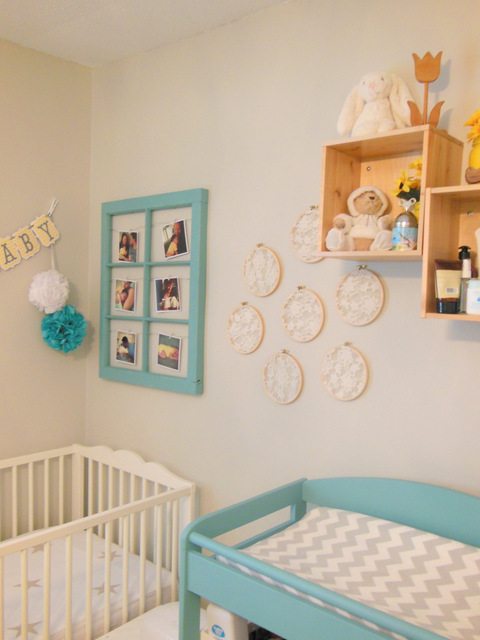 Sweet nursery, right? What's your favourite part? Mine are the embroidery hoops and crates on the wall.  
Disclaimer: I was sent some Chalk Paint® decorative paint by Annie Sloan for free, but was not required or compensated to write this review. I just thought you'd be interested to hear about my experience using it – all opinions are 100% me.