Remember that bathroom we just gutted and re-did?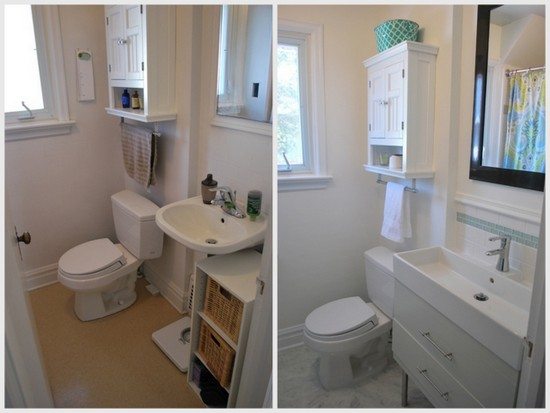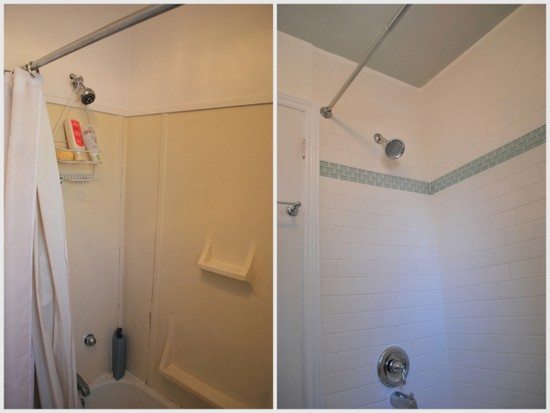 Well, in case you didn't know, that's the only bathroom in our little pad. Yes, there is technically a second bathroom downstairs, but it's in the basement apartment that we rent out to a tenant… so although it's "ours", it's not really ours. Luckily it's just the hubs and I – no kids, roommates, or other family/friends living with us, but still, being a one-bathroom household has it's challenges. Case in point? When you want to renovate it.
I had a few people ask me how we coped with this during our reno, so thought I would give you a bit of an idea of some of our strategies, in case you are planning something similar in your pad.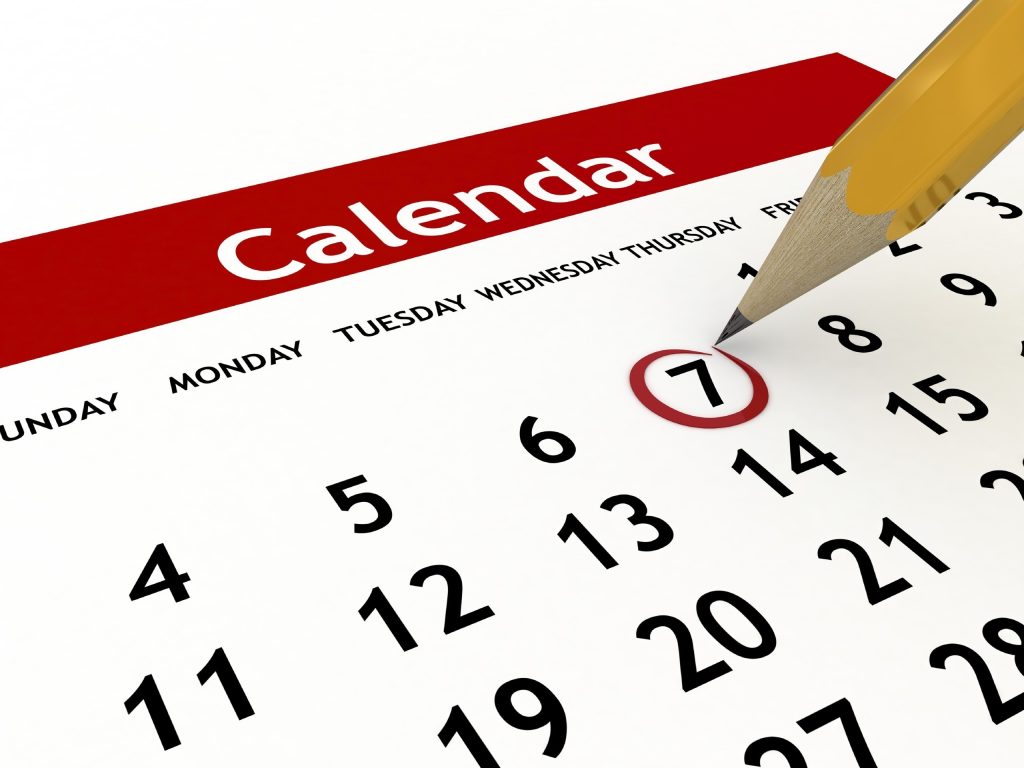 So first off was to do some really careful planning. We timed the beginning of our reno – the demolition and removal of the bathtub when our tenant was going to be away for a weekend. This meant that we could turn the water off, make a lot of really loud noise, and (thanks to having a REALLY great tenant), use her shower at the end of the day when we were covered in dust and debris. We also planned to have our plumbing slash handyman extroadinaire friend give us a hand that weekend. The boys worked long, long hours to get the plumbing done and the new tub in. So come Sunday night, we had a demo'd room and a tub installed, but not much else.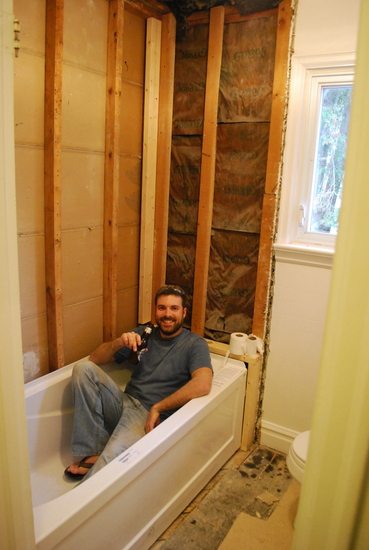 The week that followed, we would come home from work around 4pm or 5pm, have a very quick bite to eat, and then go to work on the bathroom until 10pm or so. For those first couple of days, I showered at the gym and Dan went over and used some friends' showers in the evening (not just because he was sweaty, but because usually he was covered in tile-cutter dust/water). We did this for a few days, but it got old. Fast. So we went and got some heavy duty plastic (it comes in a roll) from Home Depot. It's probably usually used for painting, like a heavy drop-sheet, but we stapled it up to the drywall around the tub. Our tub was in and the plumbing was working, but we hadn't finished the tiling around the tub. Yay – showers! They were sort of grimey showers, but showers nonetheless. We plowed through the tiling and got the bathtub all finished at the end of that second weekend. Once it was done we threw up our old shower curtain liner until we were finished the room.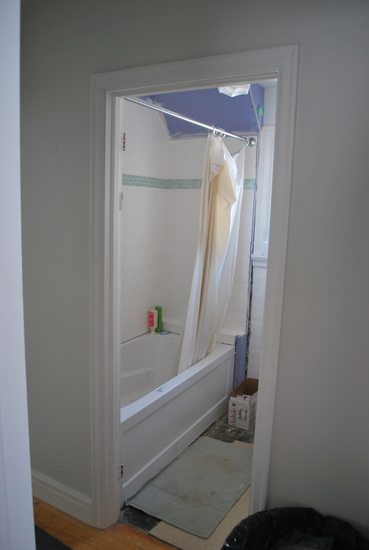 The other particularly tricky bit was the floor tile. Tiling the floor meant removing the toilet. Removing the toilet meant we would have to pop a squat out in the backyard. No thanks. So again, this had to be really well timed. We chose a weekend day when we could go out and stay at my parents' place for the night. We got all the floor tile ready and everything prepped, used the toilet for one last time, removed the toilet, and laid the floor tile. Then that night when we were finished, we booted it on out of our pad. The next day when we came back, we did the grouting right away (the tile had set by that time), and then plunked the toilet back down.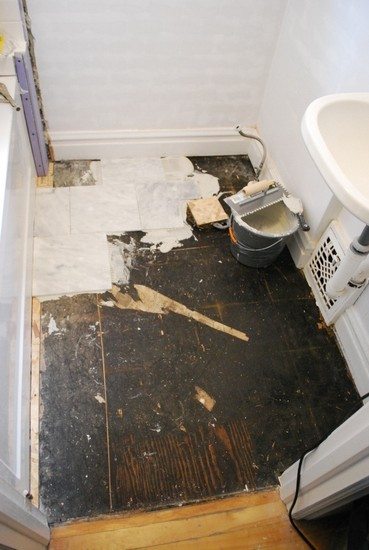 Other than those two big things that required some careful planning and timing, the rest was just more annoying than actually a problem. There were tools, tile, garbage, and various project things everywhere. There was dust on every single thing in our little house. Frankly, I'm still dusting. We tried to keep brooms on hand so that we could easily give things a quick sweep every night when it was time to call it quits, and an easily-accessible garbage bin.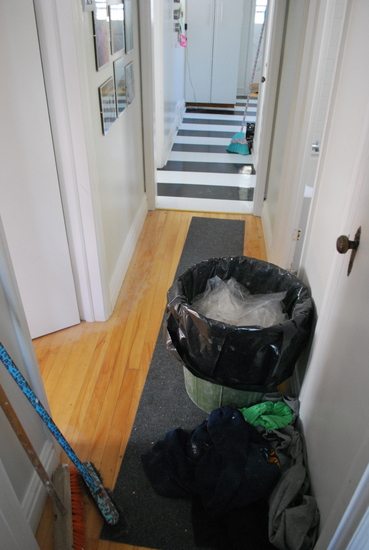 Our other strategy was to try to keep all of the bathroom stuff in particular zones. We used the area to the right of our front entryway as a spot for supplies, and we used the office/guest bedroom as a spot for all of the bathroom furniture/parts and toiletries with no home. That meant we could hang out in our living room or go to sleep in our bedroom and not be surrounded by the clutter.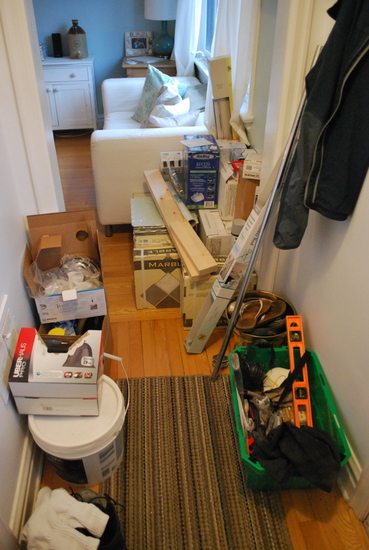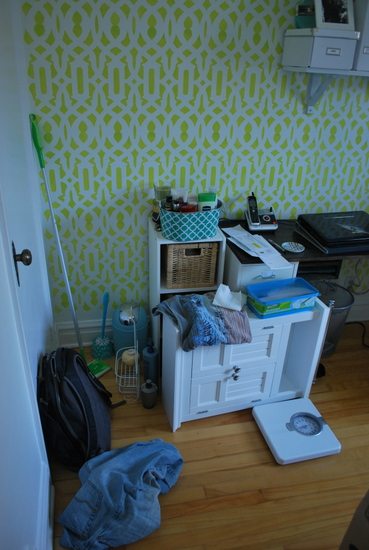 Our other strategy was to keep a laundry basket at our bedroom door for "reno clothes". We usually just have a wicker laundry basket, but since we were going through so much clothing (it would get wet, really dirty, full of paint, etc), it was easier to just be able to dump it in this basket.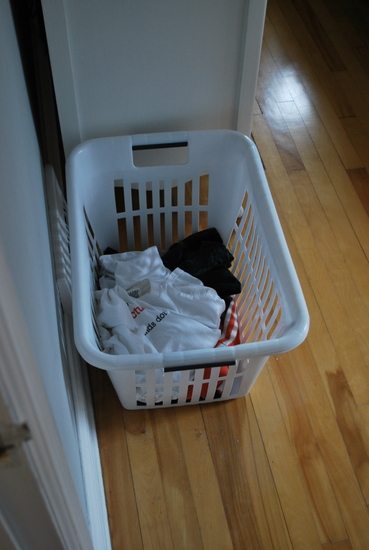 And that was about it. We made sure not to have any social plans for those few weeks and just basically plowed through it. On the one hand, it's great to have only one bathroom because it forces you to move quickly. But on the other hand, it's a pain and kinda stressful. Anyway, it's over and we have a nice sparkling bathroom to show for it. Totally worth it!
What about you guys? Done any reno's lately? Have any strategies about living in a reno zone? Do you try to continually clean up like we do, or do you just do one big clean at the end? I think my nightly clean doesn't actually make much of a difference to anything but my sanity. 
On a different note, it's the LAST day for votes for the EQ3 Blogpodium contest that I'm a part of. I'm still trailing in second place by a few votes, and would LOVE any support! If you have Pinterest, please-oh-please leave a comment on my moodboard here. Every comment helps! Thanks guys.