IN PROGRESS 2014/2015 >> We are currently doing a major renovation and addition to our sweet little house. We are adding an attached garage, second floor, and third story loft! Stay tuned for the progress on the build, and as we start from scratch with decorating our kitchen, bathrooms, and living spaces. This is going to be fun!
Here is an idea of where we are headed…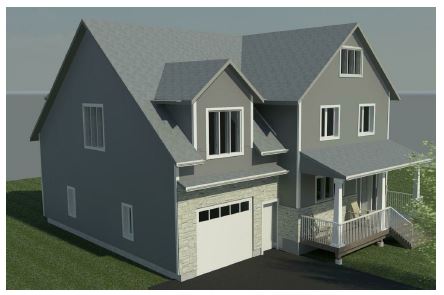 ———-
The Bungalow House Tour – Here is where we ended up with our sweet little bungalow. We worked on this house, bit by bit, over the course of 4 years, before we did our major renovation, adding the garage and second story in 2014.
-the exterior-
We never did as much to the curb appeal as I would have liked, but a few key projects made the house nice to come home to:
–Adding window shutters
–Painting the screen door
–Painting the front door turquoise
–Building garden boxes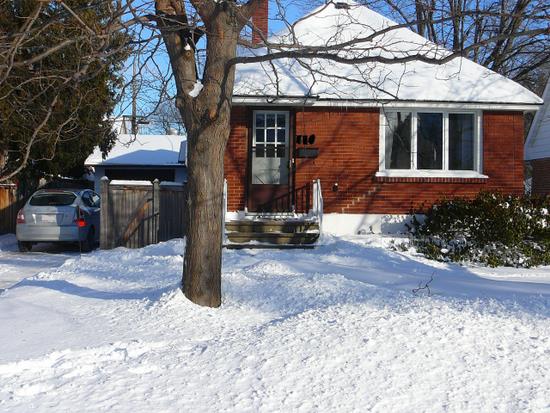 -the front entry way-
Although the front entry-way isn't huge, we do feel lucky that the house has this space at all considering it's age (many similar homes in the area don't). So far we have cleaned it up, added a rug, painted a minty mirror, put up a coat rack, DIY'ed a narrow wood shelf, replaced the light fixture, and the most fun of all – painted a chevron pattern on the ceiling. Still left on the "to do" list? Add a medallion to the ceiling, do something about the shoe storage situation, and paint the front door a fun colour.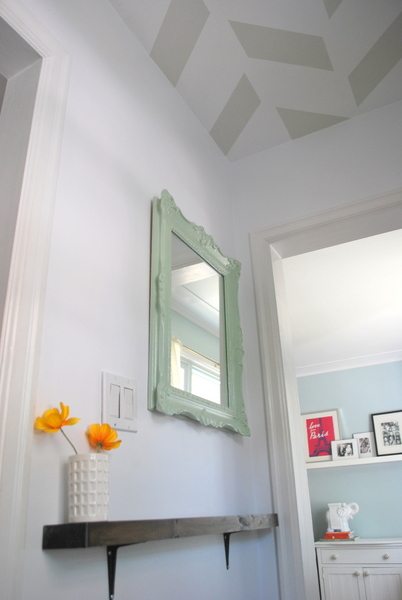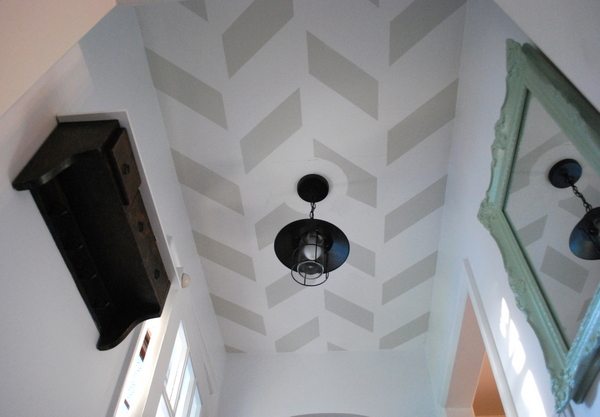 -the living room-
The living room is the heart of our house. When we moved in the room was stark, all-white and lacked personality, but we loved the sunshine that poured in through the big windows. So far we have painted the walls (grey leaf by CIL), added in our furniture (including a couch I won from EQ3 and  our karlstad IKEA sofa), hung artwork and accessorized,re-finished an old coffee table, and got a new rug. This room still isn't feeling totally finished yet (we'd like to replace the Poang chair, get some new curtains, and our constant tweaking), but it's come a long way and is definitely one of our favourite spots to hang out.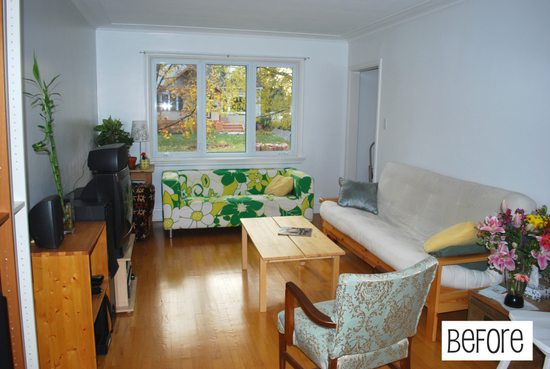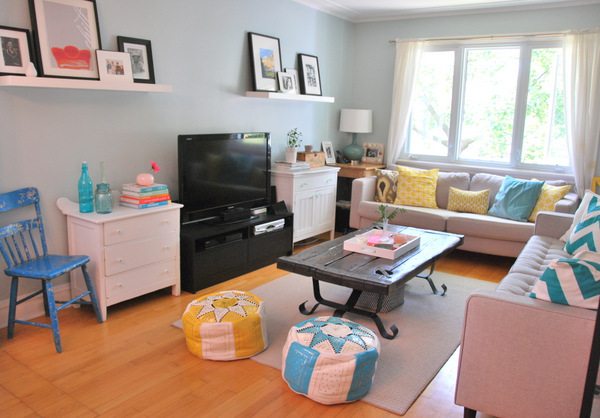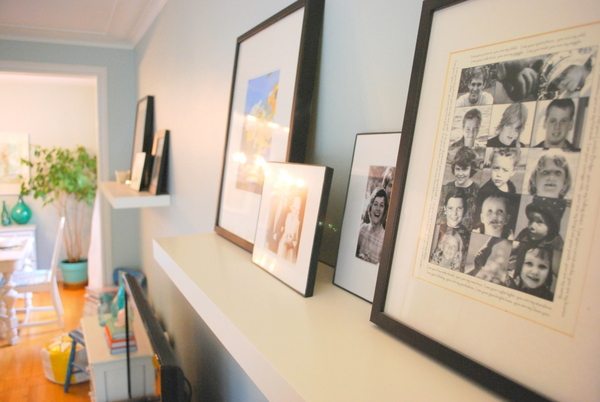 -the dining room-
The dining room is right off our living room and is a great space with lots of room for family dinners. We've done a few things in this room, but are still plowing through projects. So far we have given new life to a used chandelier, re-upholstered some hand-me-down dining room chairs, painted a two-tone dresser/buffet, then re-jigged the furniture, and best project of all? Built a farmhouse table. We still have dreams of getting new dining room chairs, DIY'ing a huge orb pendant, and other little niggles. Stay tuned!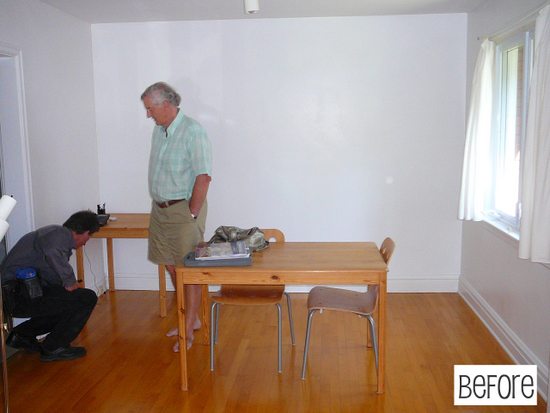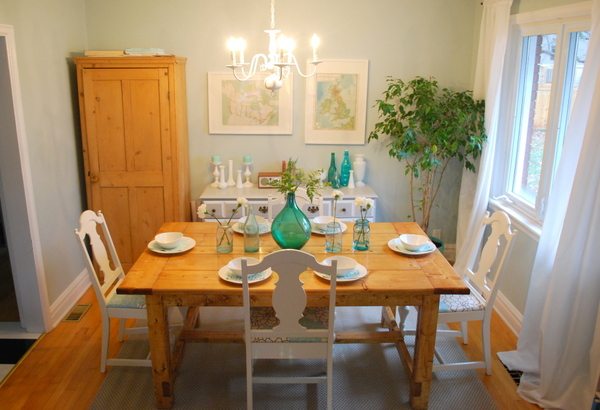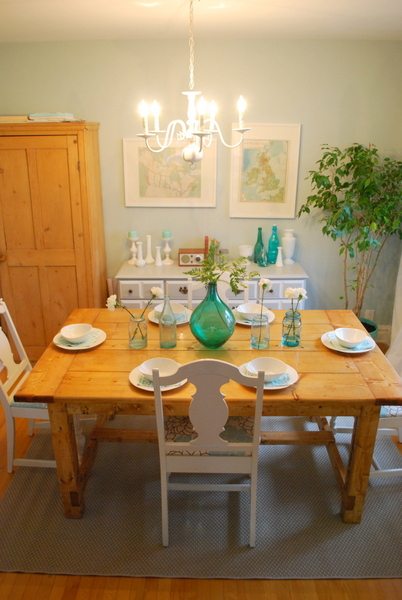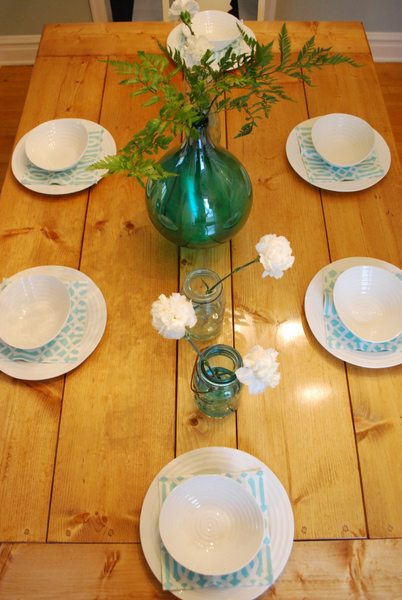 -the kitchen-
The kitchen in our pad needs a total overhaul. The outdated cabinets, bizarre layout (like the pantry that opens sideways..?), and the lack of "umph", have all put the kitchen into our "major reno" category. While we save up our pennies for new cabinetry, appliances, countertops, and all of those lovely things, we figured we could make a few improvements in the meantime. So, we painted out the wood trim on the cabinets, added some modern hardware, threw in a DIY message centre and spice rack, lay some black and white vinyl tile, and painted the built-in shelving apple green. It's still awaiting it's renovation, but it's a much more fun and happy space for now!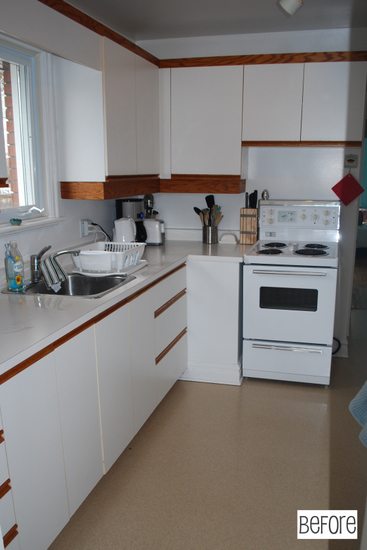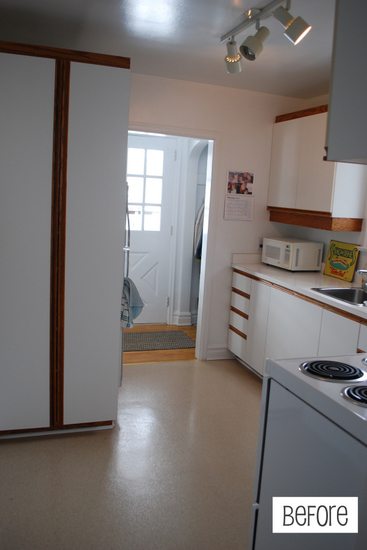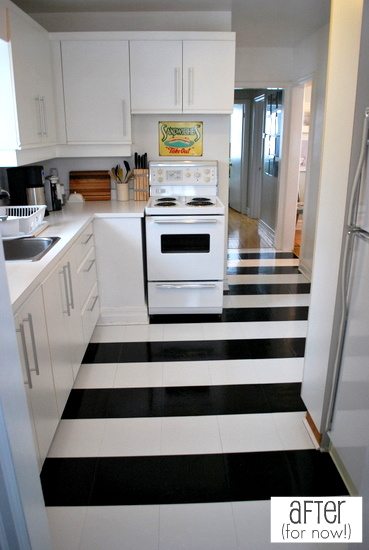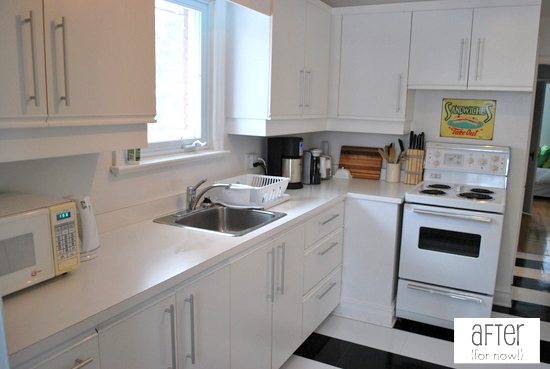 -the master bedroom-
What a great blank canvas the master bedroom was. After initially painting the room a deep charcoal and realizing it was just a bit too dark for a small house, I re-painted the room a soft, light grey (coventry gray by BM). Some no-sew curtains, a spray-painted "new-to-us" chandelier, and some snazzed up dressers and nightstands, turned the room from bare and boring to cozy and comfortable. We have recently DIYed an upholstered headboard, added new lamps, hung a gallery wall around the TV, and painted our closet doors. Still on the "to do" list? Getting some throw pillows, doing window coverings for the small window, and add some artwork above the bed.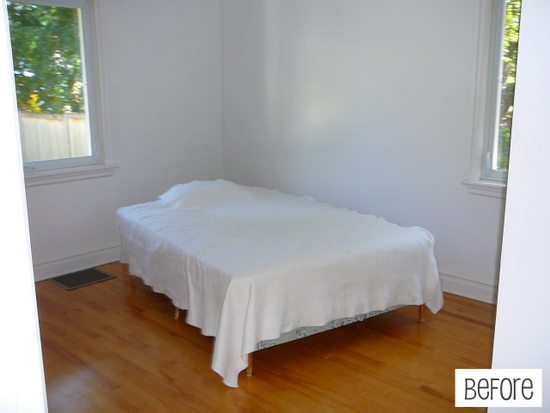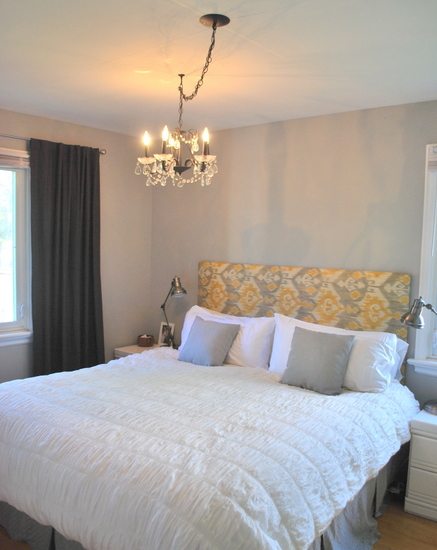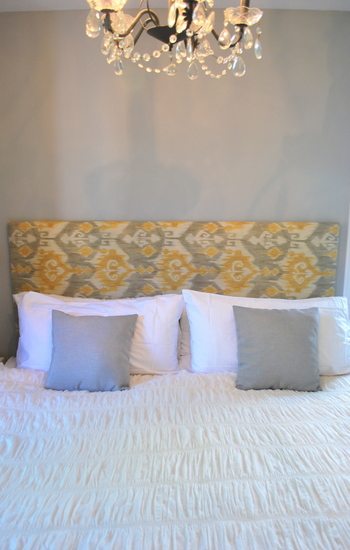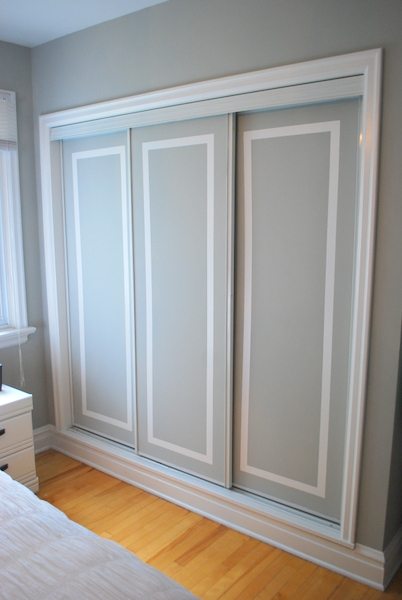 -the office/guest bedroom-
This room has undergone a few makeovers since move-in day.
For our first few years in the home, this second bedroom upstairs acted as a double-duty office and spare bedroom. It started out with a slightly neon turquoise (yes, I actually chose that colour originally – yikes!) and was crazy cluttered. In makeover #1, we stenciled the wall, built a desk, DIYed a capiz shell chandelier, added some fabric artwork, a headboard, and some cute storage solutions (you can check out the whole room 'reveal' here).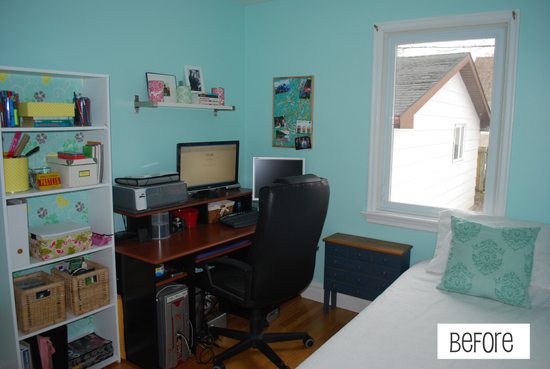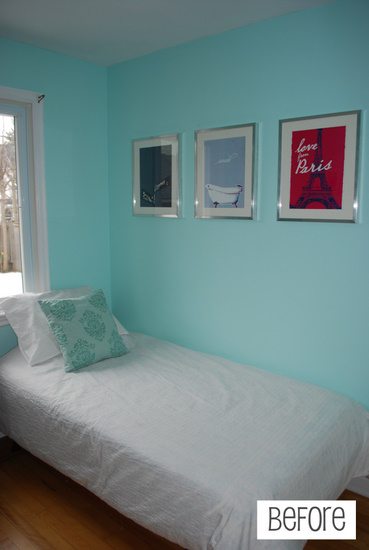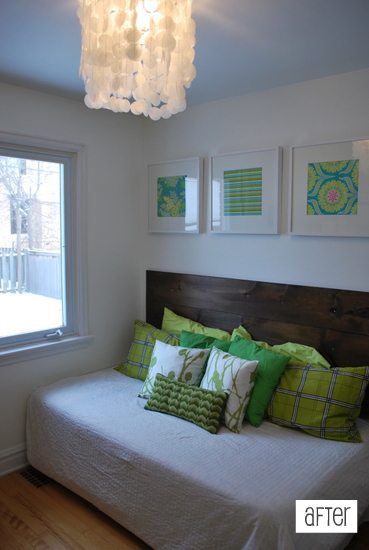 Then when our little lady came along in August of 2013, we needed to now make the room a nursery (with small office space remaining). With a limited budget and some space saving tricks, we ended up with a sweet room for Maya that we (and she!) totally adore. Check out this post for the full before + after, with budget breakdown and all of the DIY tutorials.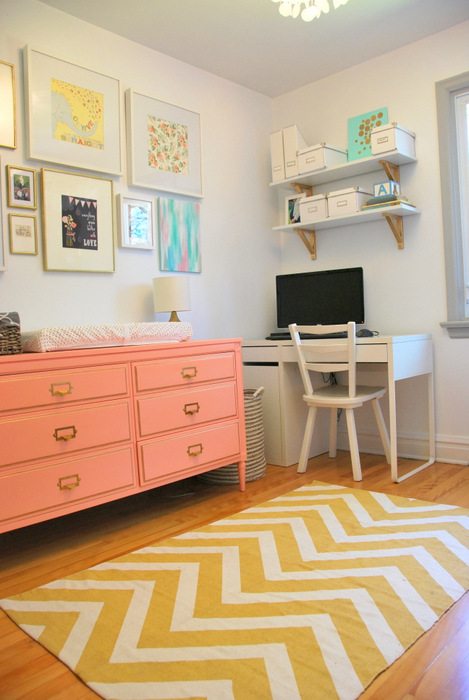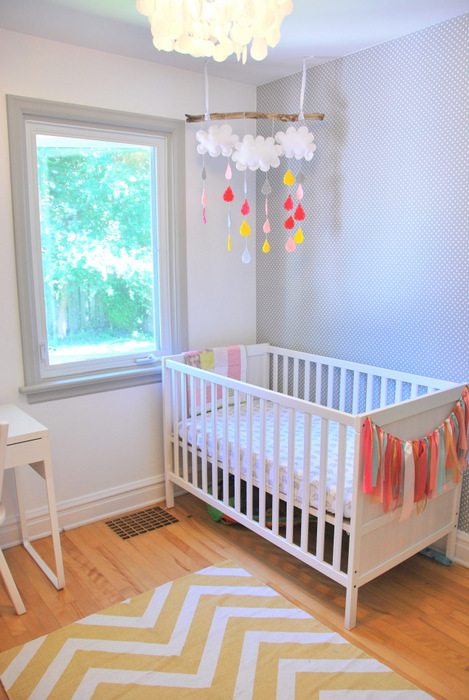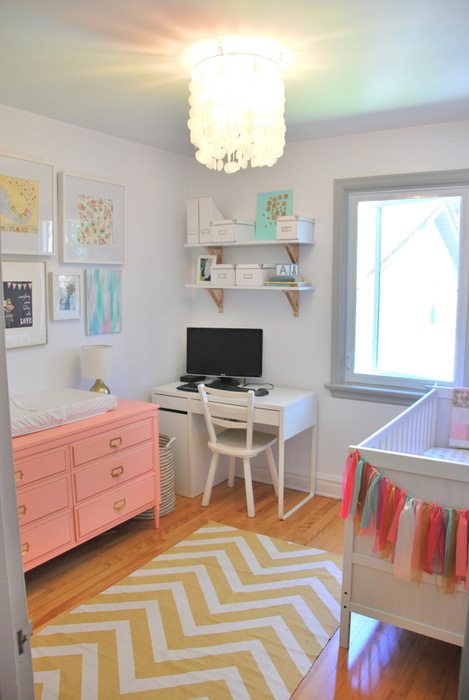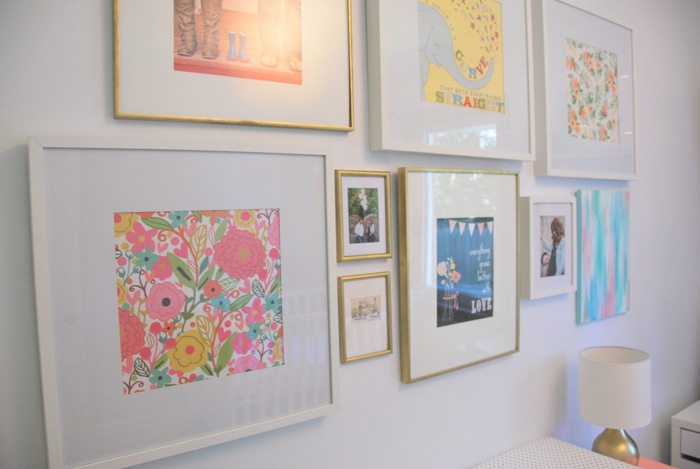 -the main floor bathroom-
The bathroom was boring, beige, and pretty grimy. After living with it for a few years, we did a full gut-and-reno job of the room. We splurged on a few things (hello, carrera marble!), but DIY'ed a lot too, like the vanity. Check out this post for the whole reveal and all the steps in between.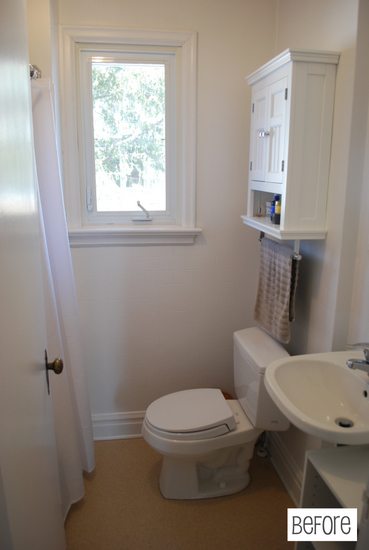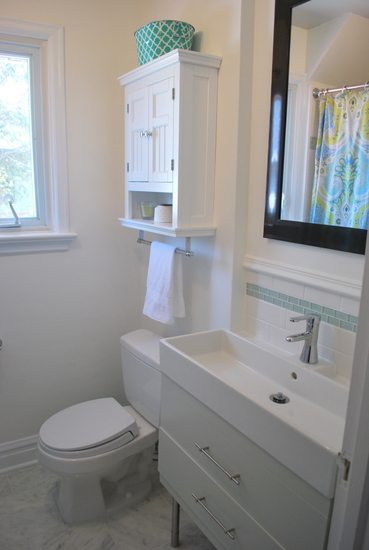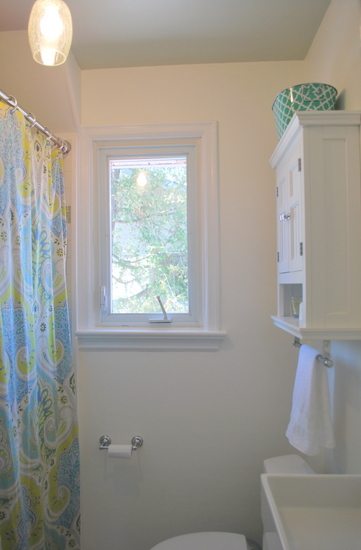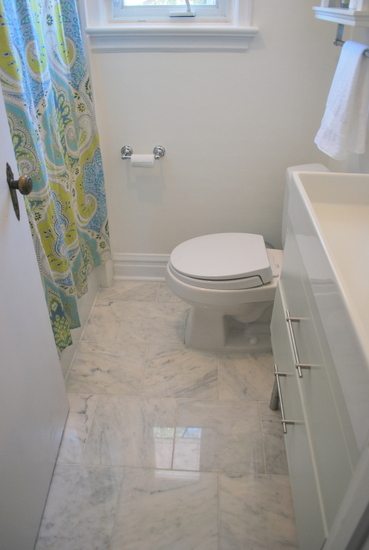 -the hallway-
We left our hallway space pretty bare and boring for quite some time, but eventually got around to giving it some love. First up was a coat of light gray paint (Silver Drop by Behr), followed by a wall gallery of our fave photos and prints. We still have to do the opposite side of the hallway and change out the light fixture, but it's getting there!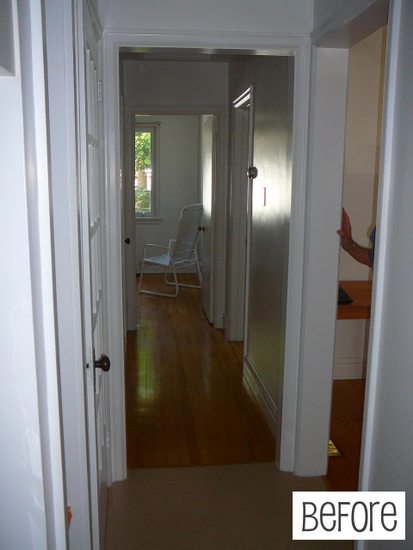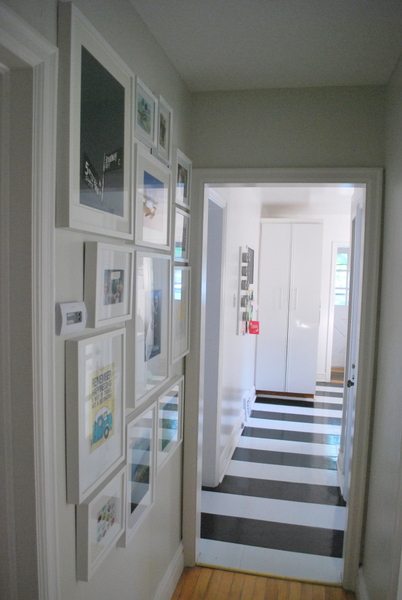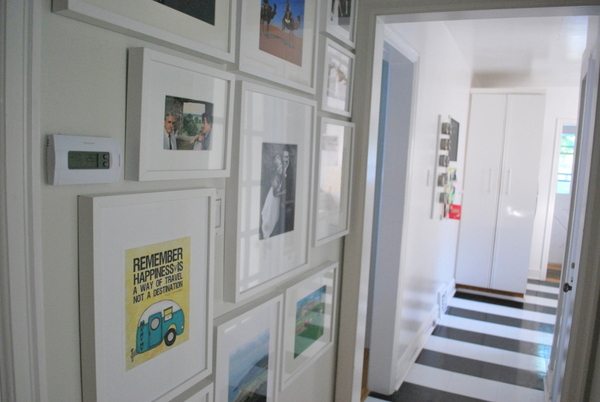 -the basement-
The basement was one of the main reasons why we bought this house. We knew we wanted a fixer-upper (but one that we could live in easily while we renovated) and a house that offered the potential for an income suite. After 7 incredibly busy and exhausting weeks over the summer of 2010, we completed the basement renovation. We turned a dingy and dark space into a modern one-bedroom apartment by:
–Ripping out the carpet & tile
–Demo'ing the space (ceilings and walls)
–Expanding the 2 existing windows
–Framing the whole space, creating a new layout
–Putting additional insulation into the walls and ceiling
-Re-wiring the house
-Plumbing work
–Drywalling
-Replacing our old oil furnace with a high-efficiency natural gas one
–Installing all new flooring
–Designing and installing a kitchen (appliances, sink, faucet, cabinets, countertops, pantry, etc.)
–Giving the bathroom a facelift (new vanity top, faucet, toilet, lighting and paint)
–Adding a made-over electric fireplace
–The odds and ends (painting, hanging doors and trim, building new laundry area, etc)
-the basement living room-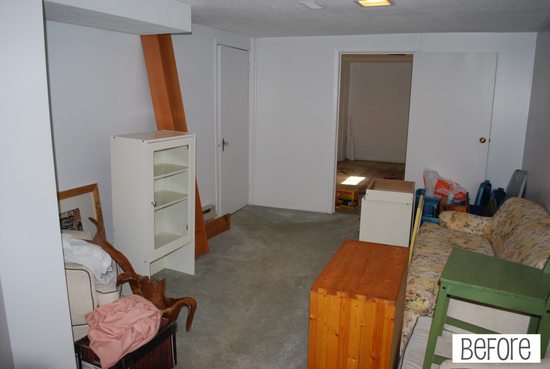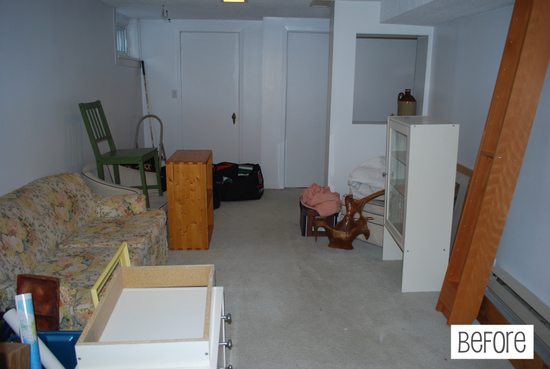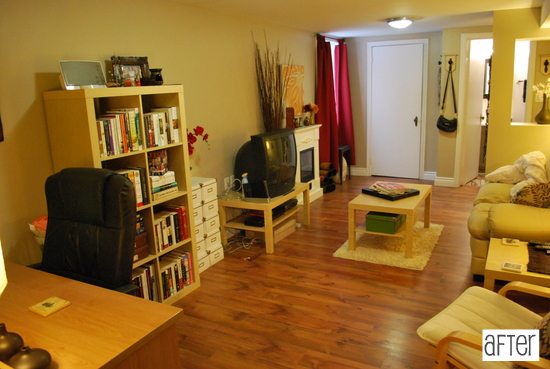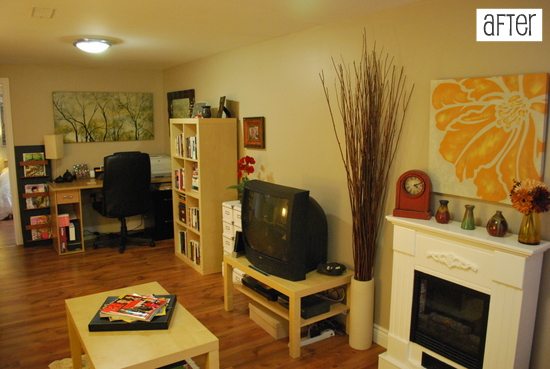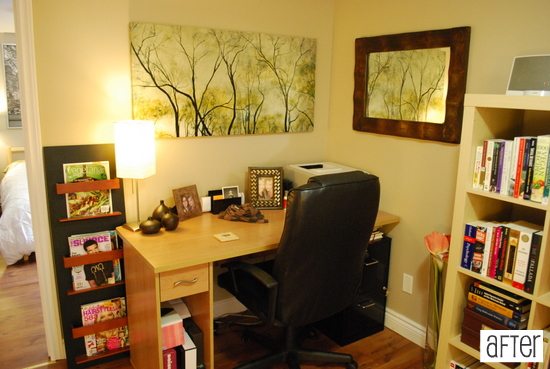 -the basement bedroom-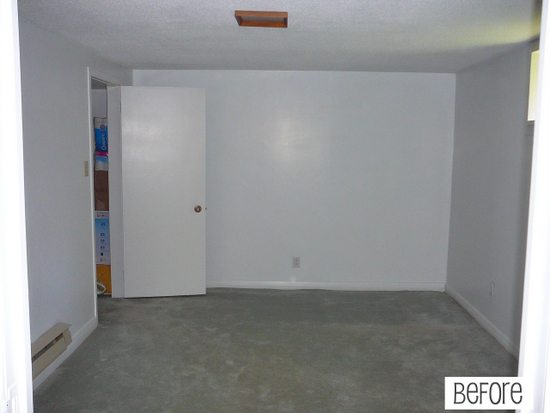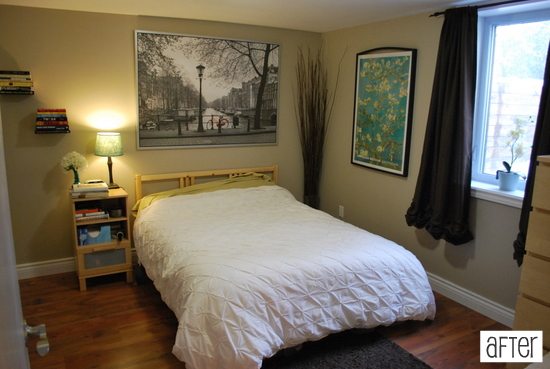 -the basement bathroom-
During our basement renovation, we gave the basement bath a quick makeover to make it  more clean and contemporary. Replacing the bisque toilet and sink, updating the lighting, adding a mirror, and painting the vanity made a pretty big difference for the time being.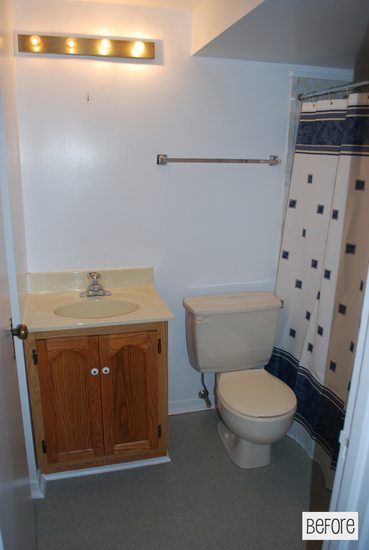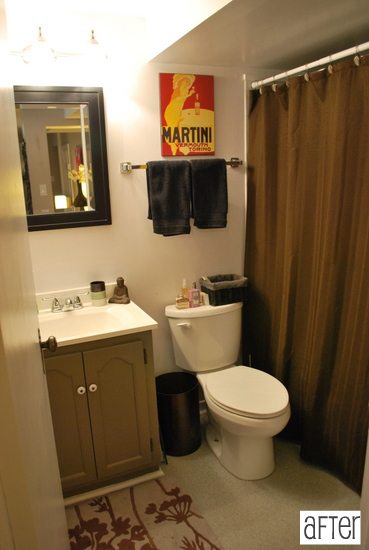 -the basement kitchen-
The basement kitchen was the real cinderella story of our renovation. What was originally an ugly laundry/furnace/storage room was completely re-designed to become a darling little kitchen. With white cabinetry and some peppy lime green accent walls, it is bright and so much fun.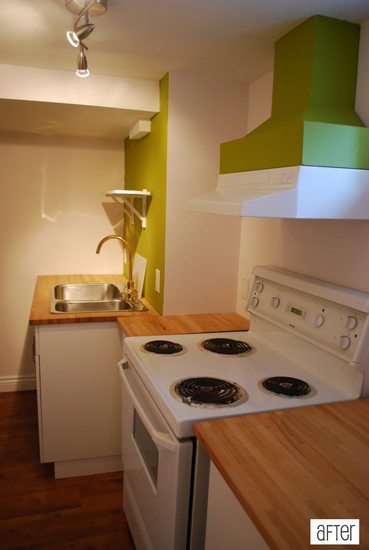 -the laundry room-
We created the laundry room (err, closet, really!) during our basement renovations since we turned the former laundry/furnace room into what is now the kitchen. It is small but totally functional. I have plans to wallpaper or paint it a super fun colour and add some storage, but it does the trick for now!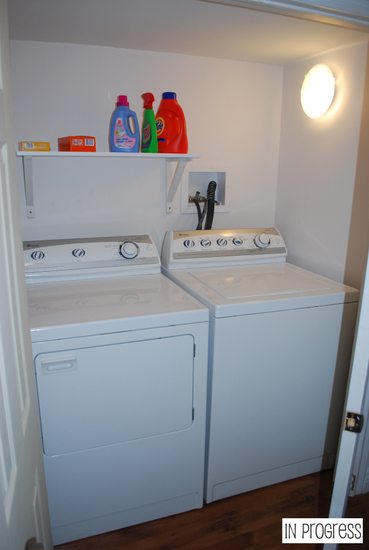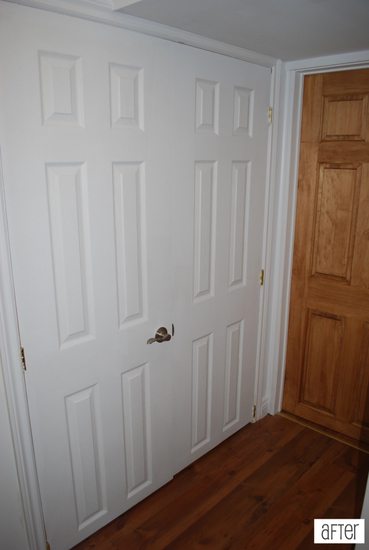 Stay tuned as we continue to transform our house, room by room, on a shoestring budget!