After getting a new or "new to us" sofa, TV, artwork and table lamp, the last thing on our little living room makeover project was the coffee table. Until now we have had an IKEA one that we bought used for about $10 for our first apartment. We had never loved it, but it was the right size, right price, and did the trick. It's okay, but pretty b-o-r-i-n-g and a bit on the small side in our current living room:
Luckily we didn't have to go on a big shopping trip. Instead, we set our sights onto an old coffee table that we fished out of Dan's parents farm (perfect for our zero-dollar budget!). It was made by Dan's uncle back in the day as a wedding gift for Dan's parents. The top part was a boat hatch that he added metal legs to. Unfortunately it had been collecting dust out in the barn for a number of years (Dan's parents had moved it out there when it no longer fit in their living room), but all it needed was a bit of elbow grease. Dan and Gemma to the rescue.
Here is what we were starting with (it's a bit wet in these pics cause I had just sprayed it down to get all the dust and gunk off)…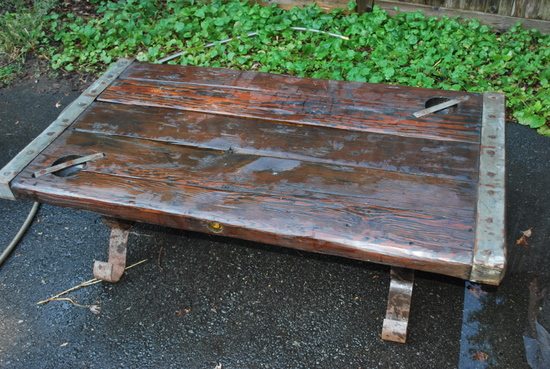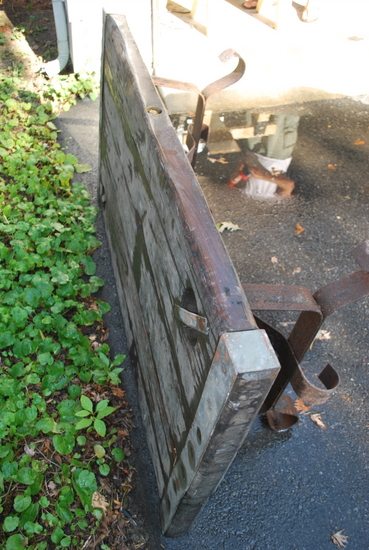 You can't really tell in these pictures, but the wood had developed a thick layer of dust/goop/general wear and all the metal was super rusty.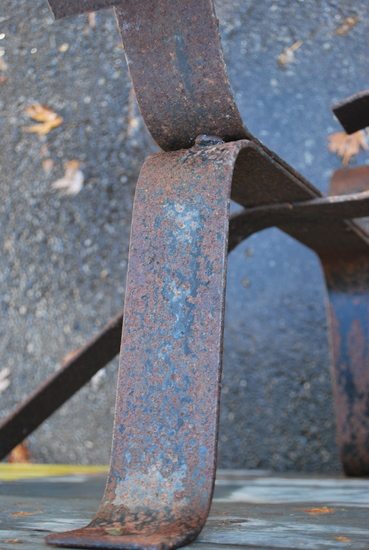 After the power wash with the hose, the first step was to de-rust. We used these special rust pads you can get from any home improvement store (they are sort of like strong steel wool) on our drill, and then later on our angle grinder (we realized that using the angle grinder provided more surface area and things would go much faster). You just basically rub the metal over and over with these pads going on high-speed and the rust just comes right off. It's like sanding down a piece of wood.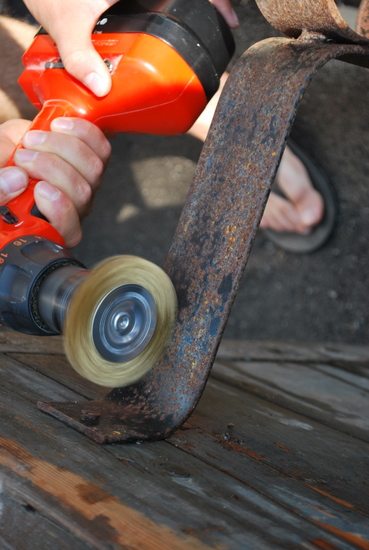 Speaking of sanding, that was next up on the list. Here I am with our handy dandy power sander havin' a go. We went through about 4 or 5 sanding pads to get the years of built-up gunk off, but it was pretty quick and painless. PS. Don't make fun of my shoes.. they may not be beautiful, but they are perfect for working outside around the house.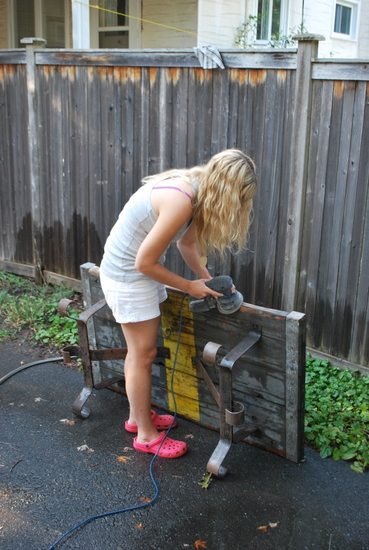 You can see here the sanded planks on the left and un-sanded on the right. Serious difference, huh?!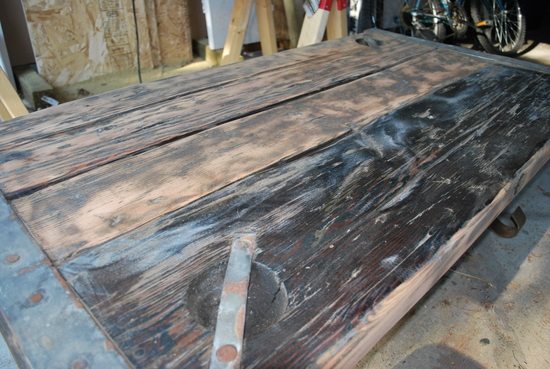 And here she was all sanded and smooth (well as smooth as super worn wooden planks were going to get). There were still lots of dark patches, which was fine since we were planning on going with my favourite dark wood stain: Minwax dark walnut (the same one I used on our wedding signs here).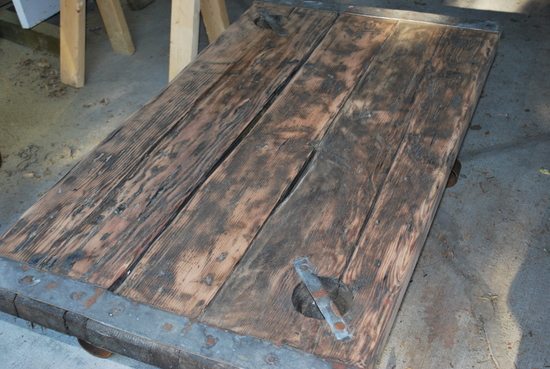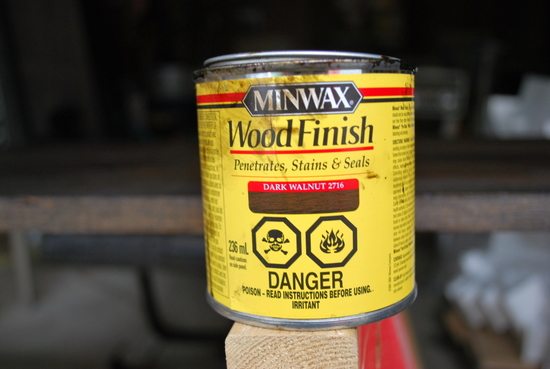 As with any staining project, I applied the stain with a brush and then wiped it down after about 15 minutes. Since the wood was so dry, it just soaked this stuff right up.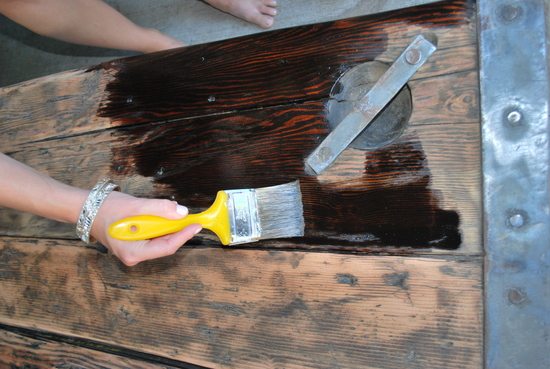 And here she is lookin' all dark and lovely…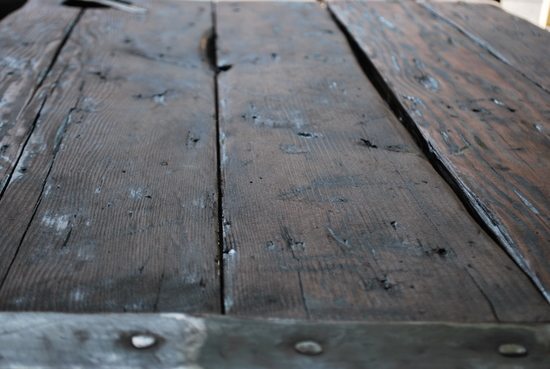 Then we put on a couple coats of the rust paint onto the metal legs in matte black.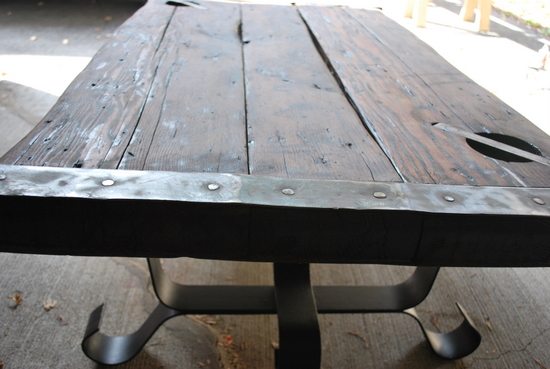 And last but not least, the varathane. This is important, especially for something like a coffee table which gets a lot of use. Basically it acts as a top coat layer of protection for your piece of furniture. I applied 3 coats of varathane on the wooden surface. It goes on with a bit of a milky bluey/white colour, but it dries clear. Let it dry for about 4 hours between coats (you want it to be dry and not still tacky).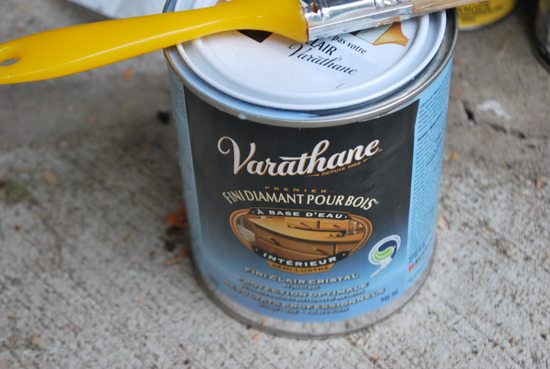 And here she is in her new home. We are totally smitten. The table grounds the whole space and adds a lot of depth and character to the room. I'm a big believer in having a mixture of old and new items — you want your place to have heart and soul, not just all shiny new things that make it look too much like a showroom.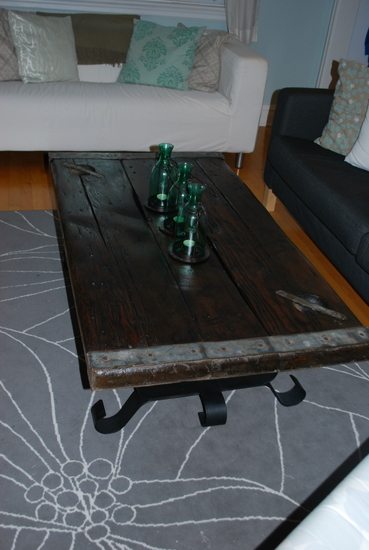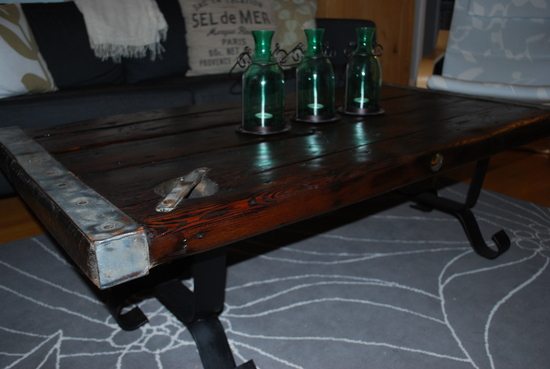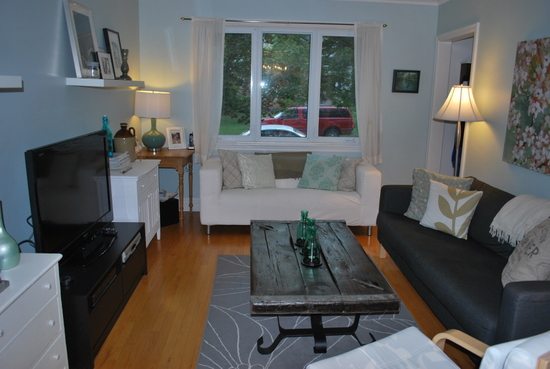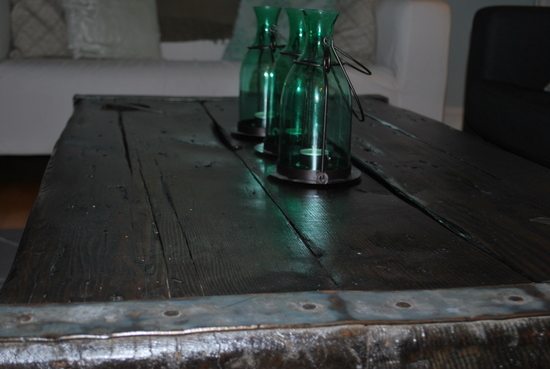 We feel pretty happy with the way the room is coming together. Let's take a little trip back down memory lane and see how this room has evolved, shall we!?
Here we are on moving day. Oh boy… crazytown. This lasted for about 48 hours.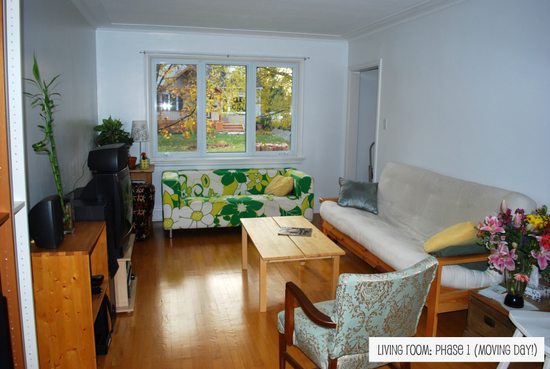 With some paint on the walls, a new slipcover, and some furniture re-arranging, we were starting to see the direction we wanted to go.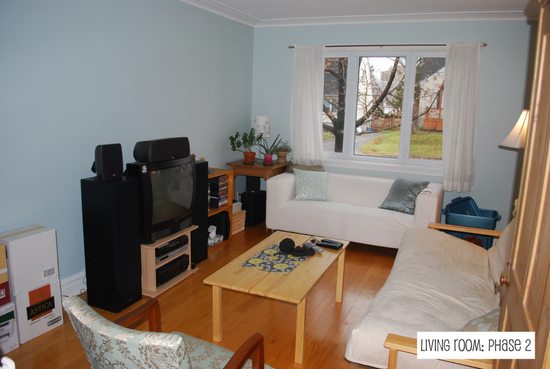 Now with cabinets, shelves, artwork, and other goodies, the room was feeling very homey. This was how we left things last year when we moved to England.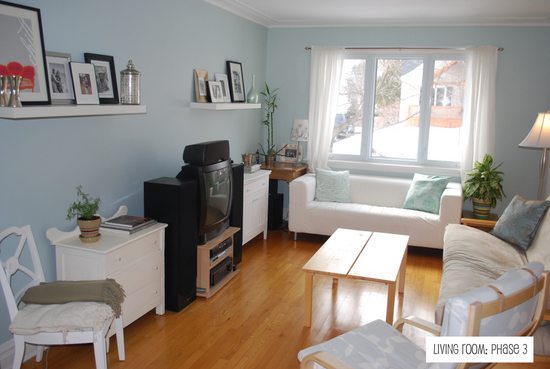 Post-England and post-wedding, we tackled our latest round of additions. Ultimately I would still like to get a bigger area rug (and move our $30 IKEA stand-in to somewhere else in the house), a few new throw pillows that are more coordinated (the ones there are a mish mash that I've collected over the years), and nicer curtains… but for now this room is done-zo. This room has seen many-a-happy evening lately.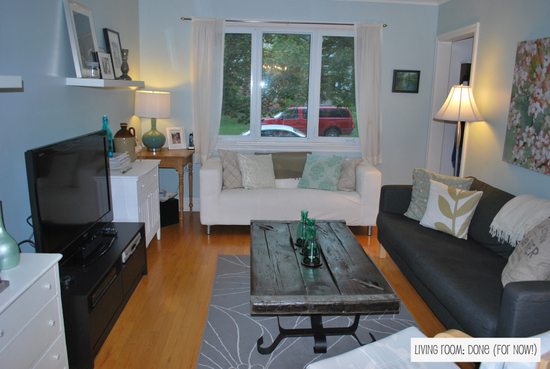 What about you guys? Have you tackled a room makeover recently? Do you tend to do things in stages or all in one go?