The IKEA kitchen and bathroom events are on right now (for us anyway, not sure if that's coordinated across the country or North America?). But anyway, we have some serious shopping to do for our renovation. We are planning on going with IKEA for our kitchen cabinetry and bathroom vanities – we have heard such good reviews, like the look, and obviously the price is right. Custom or higher end stuff just ain't in the cards for us right now. Anyway, I have been pouring over the options and planning out our kitchen and bathrooms. So exciting, but also a bit daunting to have to do it all at once! Today I'll let you in on what I'm thinking for the kids bathroom – french industrial bathroom design.
If you follow me on Pinterest, you might have seen my kids bath board. I like to gather inspiration this way – create boards for the room, pin away without doing too much thinking, and then look it all over and see the themes that pop out at you. In this case, I have been really drawn to bathrooms that have a monochromatic and industrial vibe, with what feels to be as a French influence.
Here is what I'm thinking.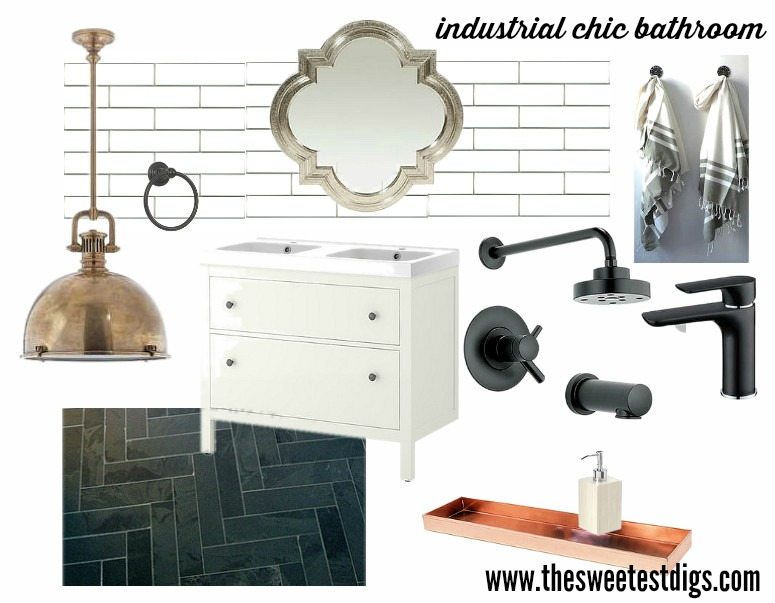 >> Subway Tile. C'mon, subway tile has a lot going for it. Super budget friendly, and paired with a dark grey grout it has a cool vibe that I'm totally digging. I'm thinking of subway tile in the shower, and on the wall behind the vanity.
>> Dark grey floor tiles. I want something that is going to hold up well to the wear and tear that a kids bathroom takes. I think some dark grey ceramic floor tiles will be a good choice. I would die to have them laid in a herringbone pattern (the dream!). Again, paired with a grey grout to ensure that I'm not having to go at the grout with a toothbrush to clean them all the time. I have learned my lesson on going with white grout on floor tile (NOT GOOD!).
If you are a reader in Australia, you may have heard of ABL Tile & Bathroom Centre. They have a huge selection of tiles, many like the ones I am imagining for this bathroom, so you should pop over to check them out! 
>> White vanity. I want to keep the vanity simple, and the IKEA Hemnes double vanity in white is the winner. I like the classic look, double sinks, and the fact that it has drawers rather than cabinets. Plus, the price tag is right (with the sale right now it's marked down to $381).
>> Black faucets. To keep with the french, industrial vibe I am keen to go with black faucets. I love the look, plus I figure they will be good at not showing finger and water prints as much. I'm all about the low maintenance.
>> Copper accents. I like the way this metal warms up the black and white scheme, so I'm keen to bring in a pendant and accessories in copper, and potentially DIY a towel bar out of copper piping.
What do you think? Are you with me on this one? Think it'll hold up well to the little feet of kiddos and guests?  Do you have this vanity from IKEA, by any chance? It'll be our main bathroom on the second floor, so needs to function well. You can follow me on Pinterest to see what else I've been lusting after as we plan the rooms for our renovated house.
Disclaimer: This post has been sponsored by the ABL Tile & Bathroom Centre.