In our dining room (which I'm going to give you more deets on later this week), there was this nook next to the window that had been left bare. Between it looking un-finished, and the fact that I had been in desperate need of storage to unpack things like our table clothes, napkins, candles, etc, I was keeping my eyes peeled for a piece of furniture we could use as a buffet. The one that we had used in the bungalow was too long for this space, and also broken. Womp womp. Enter, a perfect opportunity to make over a yard sale find!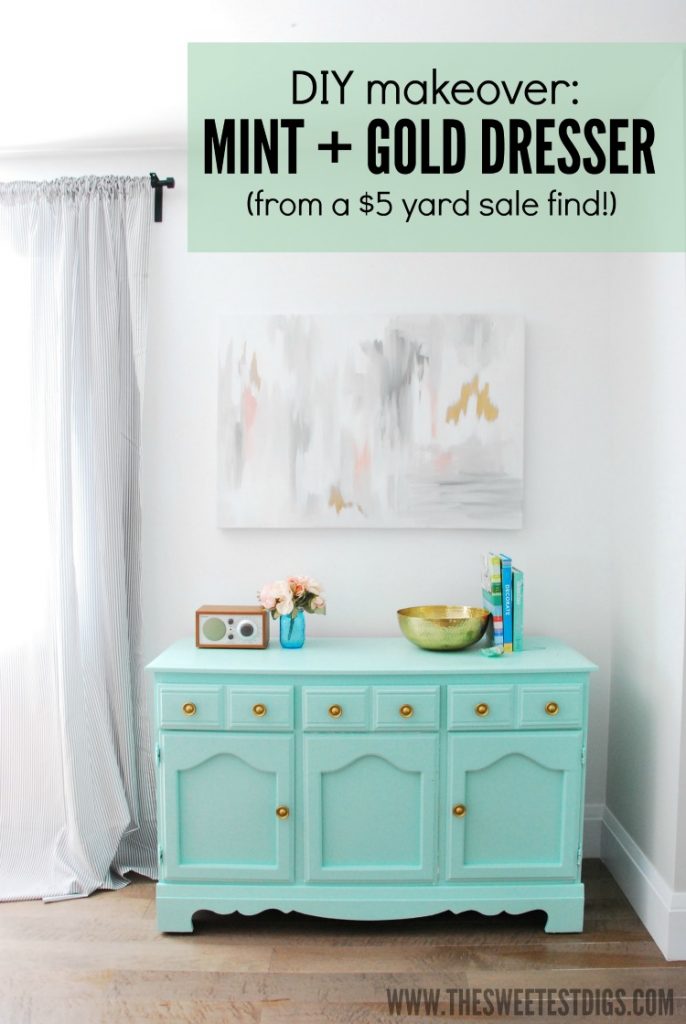 I came across this solid wood dresser at a garage sale in my neighbourhood. The asking price? $15. Oh, and that $15 also included a wooden coffee table and a round table that I plan on eventually using as a kids craft table. So basically, it was more like $5 when you divide by the 3 pieces I got. Amazing, right? This is why I ADORE garage sale-ing.
Dan was maybe not as thrilled about my finds, as he had to go lug them home with a borrowed truck and put them in our garage, which looks like an episode of Hoarders right about now. Sorry honey!
I got to work on making over this bad boy right away. I took out the drawers, and the middle cabinet door, which was affixed with some flimsy nails (it doesn't open with a handle like the others). As with any wooden piece of furniture that you are re-finishing, I gave the dresser a light sanding by hand. There weren't any major dings or holes, so no need for wood filler. I also gave it a once-over with a wet washcloth and a bit of water and vinegar. I find that this helps to take away any musty been-in-the-basement-too-long kind of smell.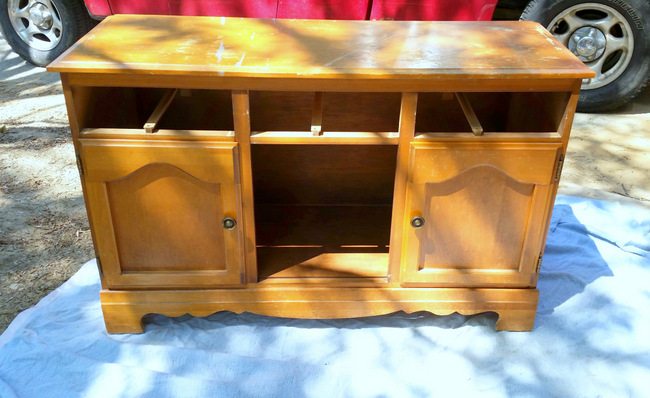 As you have seen in Maya's room, I have fallen hard for a particular mint paint lately – "Baffling Behavior" by PARA Paints. Not only is the colour so damn sweet, but I'm in LOVE with the paint. It's PARA's Cabinet and Furniture paint line and I have been finding it amazing to use. It covers really nicely and has a finish that isn't too glossy but yet is durable. No adding a layer of poly on-top, this paint is the primer, colour, and top coat all in one. Perfect for this lazy DIYer.
I gave the whole thing two coats. I use a brush to get into the nooks and crannies, but then a small foam roller to roll everywhere I can. That way you get the nice finish of the roller, with no visible brush marks.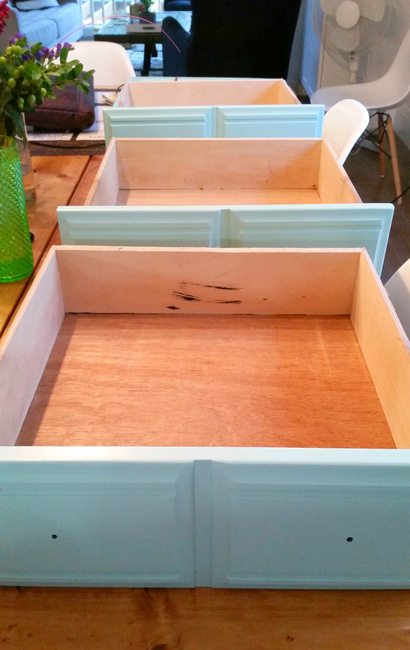 Clean-up is easy as the paint is latex and can be washed out with water. I throw out my rollers after each use, but rinse out my trays so that I can re-use them for multiple paint jobs. Quick tip: keep your roller and brush wet between coats by wrapping them in saran wrap.
As for the hardware, I was tempted to replace it all with something a bit more special… BUT we are working on a budget over here, so instead I pulled out a can of Krylon gold spray paint from a previous project and gave the knobs a quick coat. Gold + Mint is pretty much a match made in heaven, don't you think?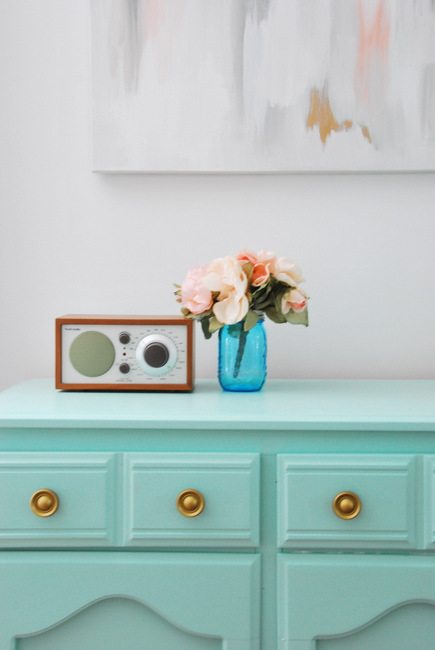 Even though I wasn't crazy about the curly lines of the feet or door fronts of the dresser, when it's all painted and in place, they don't bother me as much. For the $5 price tag, I can relax about it not having more straight-lined edges, which would have been my preference.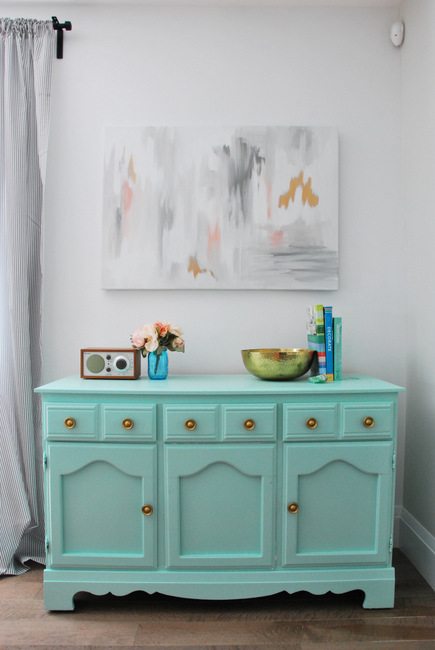 It holds a surprisingly large amount of stuff – the perfect spot for napkins, tablecloths, placemats, notepads, batteries, etc.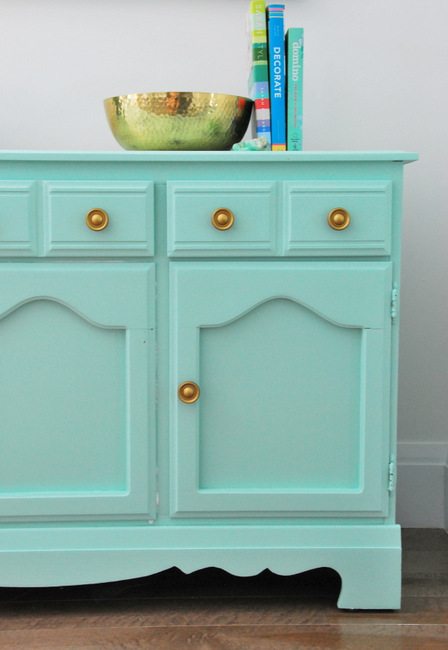 Are you guys making over any furniture lately? Finding some good stuff at yard sales or curb-side? I'm totally one of those crazy ladies who slows RIIIIGHT down when I see a piece of furniture in the trash. Is it solid wood? Can I paint or stain it? Will it fit in the car? Ha. Tell me you guys are the same?