Our kitchen (which we haven't done anything to since we moved in – you can check it out on the home tour here) was starting to get seriously cluttered. We didn't have any kind of message board or system of organizing cut-outs, coupons or other small papers, so we inevitably ended up with a stack of junk lying on top of the microwave, or lists galore taped up on the fridge. It just wasn't working. So I figured it would be good to spend a little time creating a little message board area. We decided it would be most useful to have a bulletin board to keep all of those coupons, lists and cut-outs in one spot, and then have a writing board (either chalk or white board) to do our weekly meal planning. So when I spotted a cork board and an old framed whiteboard — both around the same size — at the thrift store for a buck a pop, I snagged em and got to work.
First up was the cork board. The frame was pine, so I gave sprayed it with a high gloss white paint.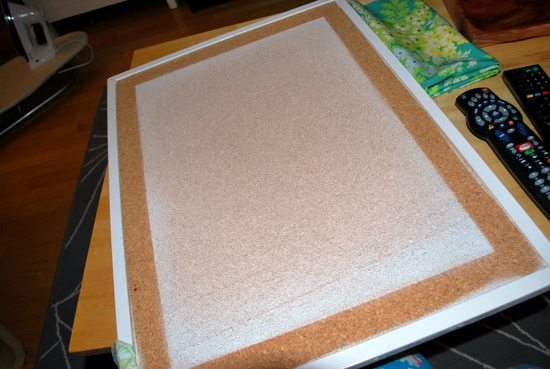 I had a scrap bit of fabric leftover from an old project, so I decided to cover the board with it (which would also add a pop of colour and pattern to the pretty boring white wall). Since I wanted the white frame to show, I tucked the fabric under the frame instead of carrying it over to the back, like I did in the jewelry board project a few months ago (see that here). I cut my piece of fabric to size, applied some spray adhesive to the board, lined the fabric up, and then tucked it under the frame. I used a knife to really get the fabric to go smoothly underneath. You want to make sure that there aren't any wrinkles in the fabric, so you have to pull it pretty tight.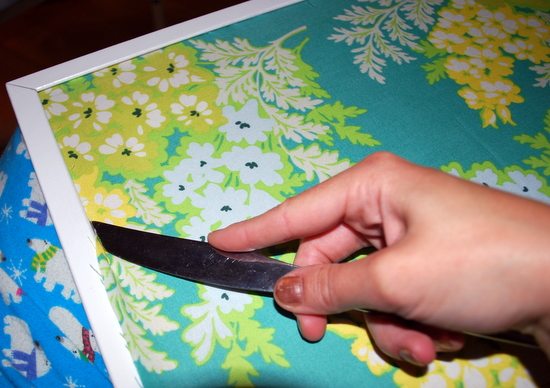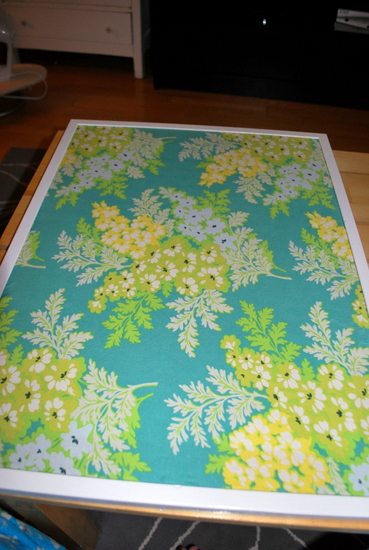 I wanted to make sure the fabric was really going to stay put, so I decided to add in some decorative push pins around the border. I didn't have a ton of pins (and didn't want to go out and have to buy any), so I made sure to space them out evenly before pushing them in. Once they were in, here's how she was looking…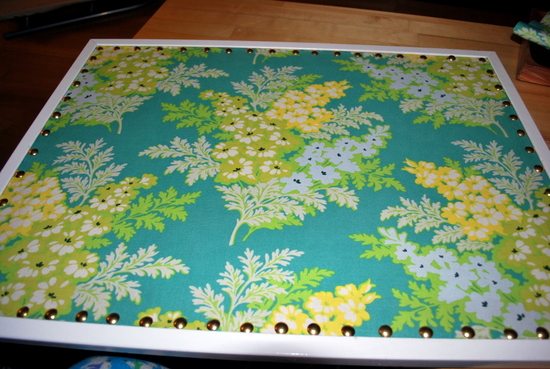 Not too shabby.
Next up was the chalkboard. I got out the frame/whiteboard that I had grabbed and decided to pry off the white plastic part. It was pretty badly dented, which I knew a layer of chalkboard paint wouldn't cover.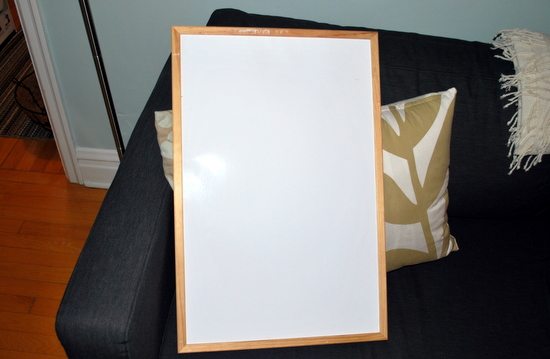 After prying, I was left with the hard backing of the frame (it's some sort of pressed wood).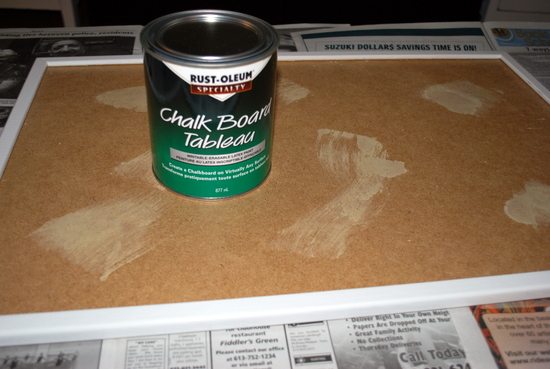 And two coats of chalkboard paint later, this puppy was ready for some meal planning. When you are painting a chalkboard, you need to prime it for chalk when you are finished. This means taking a piece of chalk, rubbing the side all along the new board (covering the whole surface), and then wiping down with a damp cloth. Then it's ready to go!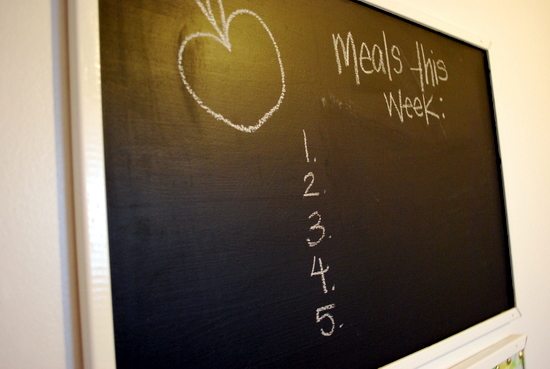 Here's how things were looking after hanging them up in our kitchen.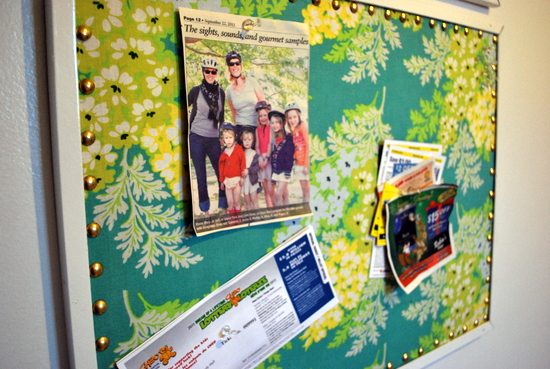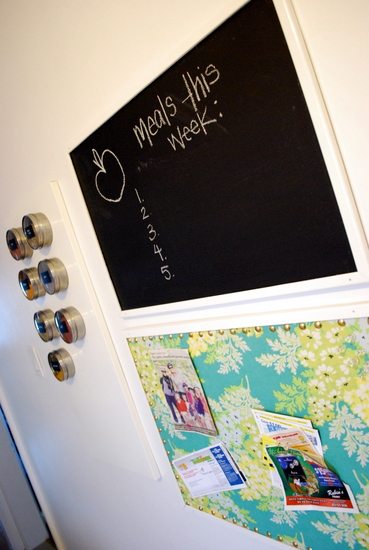 It's become a super-functional space in our kitchen. Oh and I'll give you the scoop on those tins in the pic above shortly. Stay tuned!
Psssst — Our giveaway to Easy Canvas Prints closed last night. Congratulations to Joanne (comment #3), who is going to use the free 8×10 canvas for a photo she took along the great ocean road in Australia. Sounds amazing!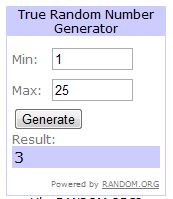 Get Access to The Vault.
Get FREE organization printables, art printables, design guides, and more. There is SOOOO much good stuff.
You know you want in!