Before I get into this post, I just wanted to say a huge thank you for all of your comments from Monday's post. Seriously… you guys are just the sweetest. Feeling so good about this little blog community!
Okay so this is a long overdue project post that I had completely forgotten about. Can I blame pregnancy-turned-baby-brain? My pal Courtney and I had been out garage sale-ing last summer and had a decent haul (mostly smaller stuff, from what I can remember). But often the secret to a really fabulous garage sale day is to drive around the neighbourhood when the sales are wrapping up, and picking up the freebies that are now on everyone's lawn. That particular time I scored a huge stack of kids books, a badminton net for my parents, and the subject of this long forgotten post – a nice little nightstand.
Our bedroom has had THE WORST nightstands for a long time. I grabbed them for a few bucks when we first moved in, painted them white, and called it a day. They are ugly, heavy, and outdated (and not in a cool, vintage way). I have been wanting to replace them ever since, but it hasn't been a big priority and I haven't come across anything that I loved that fit the budget. So when I stumbled upon this little guy with a big 'free' sign on that lovely summer day, I happily and quickly scooped it up…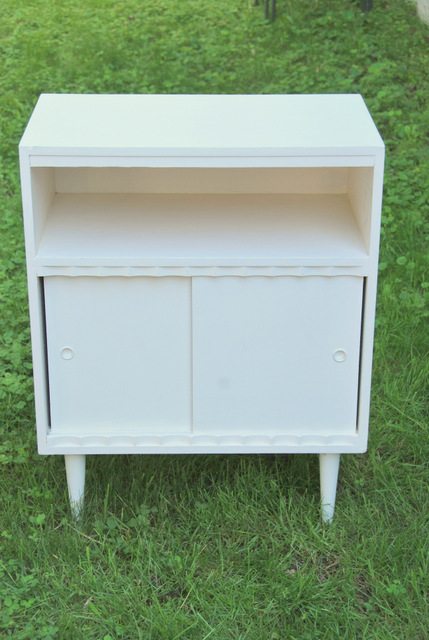 Sure it's not a matching set, but it was better than nothing. The size was just right, and I liked the mid-century vibe. What I didn't love was the grungy interior and weird 'organizers' (I think they were probably meant to hold magazines). **Update: Records! They were for storing records! Duh. Thanks to Nancy for pointing this out!!**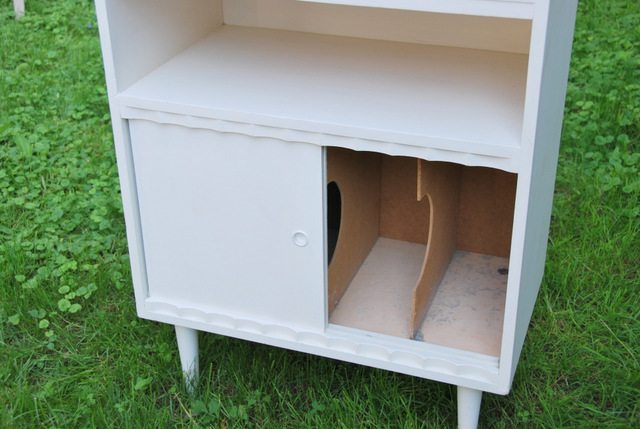 So I got my woman-power on and wrangled with those organizer thingies until they came out. Lots of pulling and tugging and ripping… but they eventually they were toast. I left the one in the middle up, as it didn't get in the way. Then I wiped the whole thing down with some vinegar and water. Not only does that get things nice and clean, but I find that the vinegar takes away any "been sitting in a granny's basement" smell that can linger on thrifted goods. You know what I mean… that same smell that often thrift stores have when you walk through the door?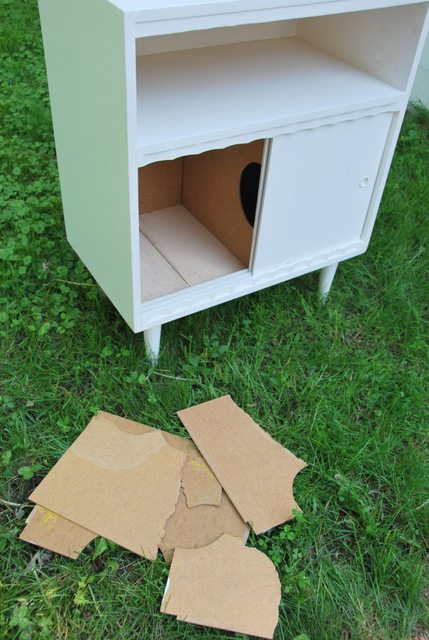 The white paint was in pretty good shape, so I decided to leave that as-is. What did need some sprucing up was that interior. I got out some wrapping paper I had sitting around and cut it to size.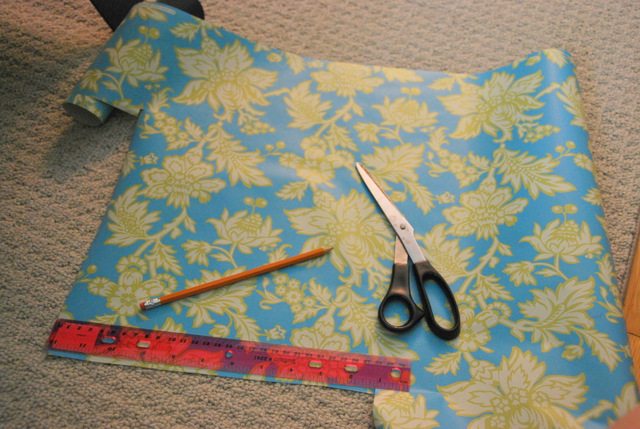 I took some double-sided tape and put pieces of it around all the edges and down the middle.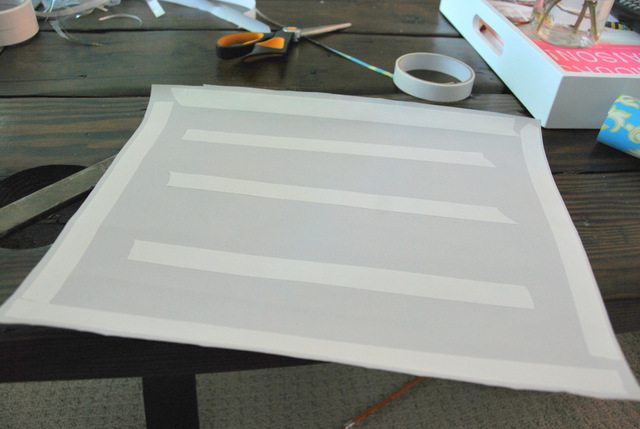 Then it was just a matter of placing the piece of paper in place, and smoothing it down really well.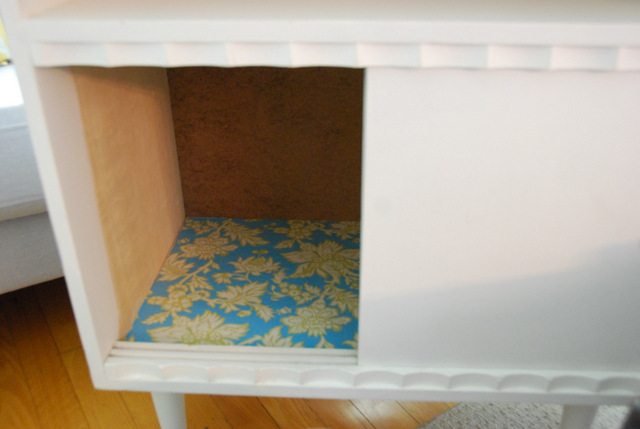 I did the back and sides too, to make it all feel new and fresh and fun.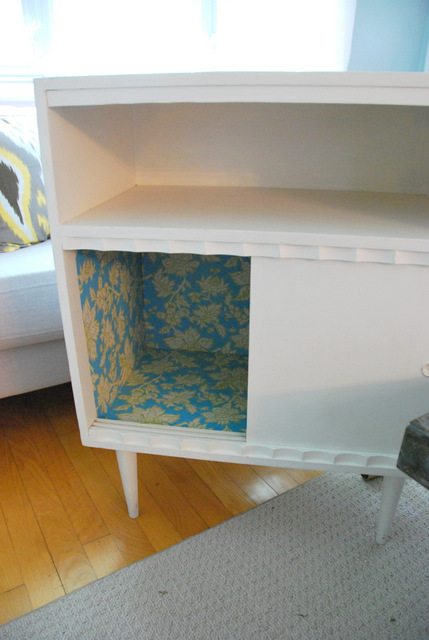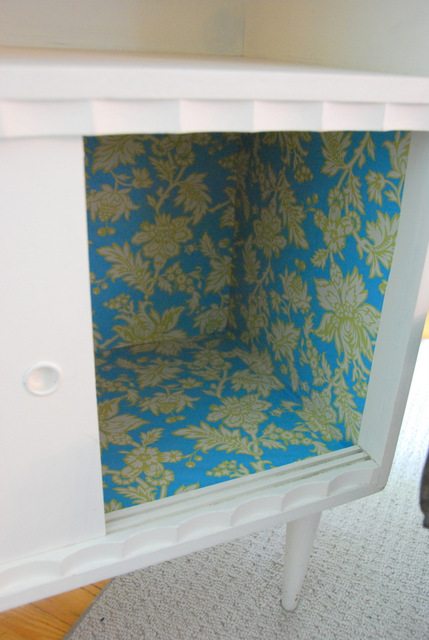 You can see that it is just the right size for under that window, and without being too wide that it infringes on the closet door.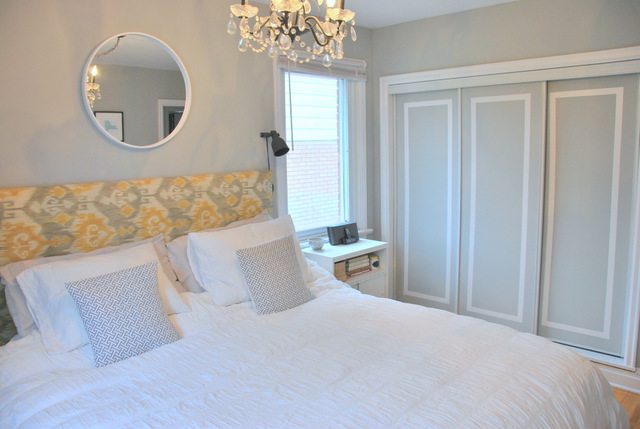 Unfortunately I don't have any beautifully styled pics for you, but here is one I snapped on my phone. As you can see, I have books and magazines in that nook, plus a basket and bowl for things like my mama journal and my sleeping mask (yep, I am one of those sleepers…). I really need to get a smaller, preferably not black, alarm clock.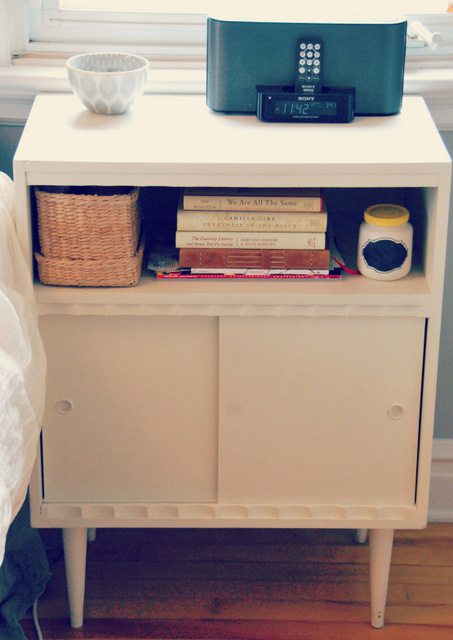 Anyway, now we are all up to date with the long forgotten nightstand.  One day I would still like to get or build some matching ones, but for now this little guy is a great stand-in. Plus I can totally envision this one eventually in a kid's room or something.
Do you guys ever drive around to get the freebies post-garage sales? Any really fabulous hauls? I always go into garage sale withdrawal in the winter!