I haven't ever been one to set major resolutions at the beginning of each year. I think because I set goals and make lists throughout the year (this girl LOVES a list!), sitting down at the beginning of each year and writing out resolutions just hasn't done it for me.
Plus, I wrote down a bunch of goals and things to do in my 30 before 30 list that I'm still working on hammering out. Better take another look at that bad boy. Here's a resolution: I'd like to be halfway done that list by the end of the year. Time to get crackin'.
This year, I thought I'd throw a few things down on paper…. er, blog.

When I started the blog, I focused solely on decorating/inspiration/DIY tutorials. Since then, I have started to branch out a little more and write about other random stuff (whether it's travel, things you might not know about me, our quirks and traditions, etc) and you lovely folks seemed to dig it. This year – more of the personal stuff. No, I won't be starting posts with "Dear Diary," or get too cheesy up in here, but let's get to know each other a little more. What do you say? Anything you want to know about me? Would you be down with filling out a reader survey?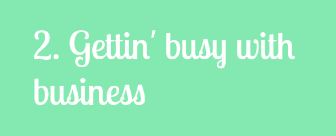 I never went to business school or took a commerce class, but I'm definitely an entrepreneur at heart. I had all kinds of little businesses when I was younger (lemonade and brownie stand, anyone?), and that passion has re-surfaced recently with my little etsy shop and even this blog (I have started to monetize a bit over this past year). In 2013, not only do I want to continue to focus on etsy and the blog, but I also have big plans of launching another business. Something that's been in the works for a while. Clue: it involves collecting and decorating. I'll spill the beans sometime before February. Promise!

There is a ton of stuff on the 'house list' for this year. Somehow, no matter how many things we finish, the list never seems to get shorter. How does that happen?! Things we'd like to accomplish over the next 12 months include creating a much better storage/laundry area in our basement, replacing the interior doors in the house, landscaping, deck-building, getting drawings done for the second story idea (we like to plan and dream!), turn the garage into a more functional space, and tons of other small stuff (like room tweaking, which is constant in this pad). And who knows when we'll throw in a whole room makeover in for good measure.
Daniel and I set some other personal goals too. Things like doing sports/exercise class/gym at least 3 times a week consistently (it's the consistency we have an issue with!), eating more "clean" (cutting down on processed foods, sugars, etc – we're pretty good in this department already, but there is always room for improvement), and adding to our savings account (safety net, peeps!).
What about you guys? Do you set resolutions? Why or why not? Lived up to your 2012 resolutions? Set any for 2013?