Alright fasten your seatbelts folks, we're going on a little house tour.
Enter the lovely apartment of my brother-in-law, Doug and girlfriend, Ginny. Their apartment is located in a trendy Toronto neighbourhood and is packed with charm. For me, the beauty of their place is in all the little details.
First thing upon entering are these vintage keys hanging up on the wall. So sweet.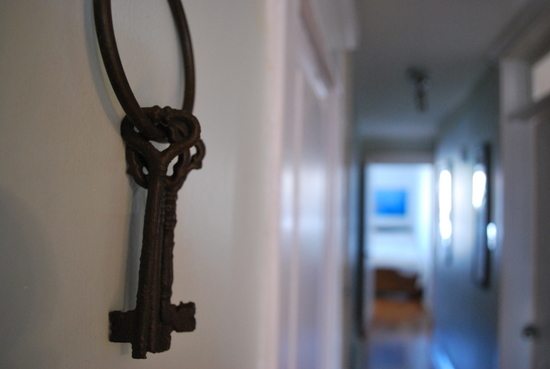 For their dining room, Ginny found an old booth seat from a bar that was closing down and snagged it for pennies. Then she hunted down some durable fabric and had it professionally reupholstered. It is definitely one of those pieces that makes the room – it's super funky and provides tons of seating space.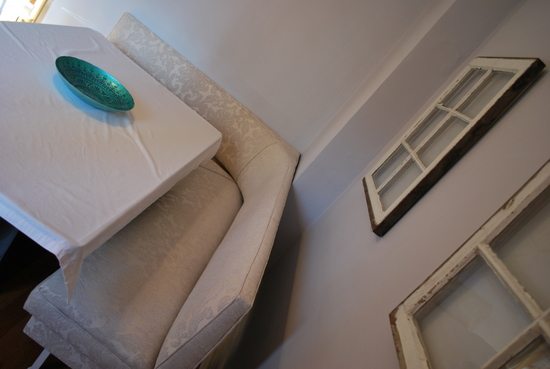 Ginny has a thing for jewellery (she's a stella + dot stylist!), so there are gorgeous bobbles all around their pad. So pretty.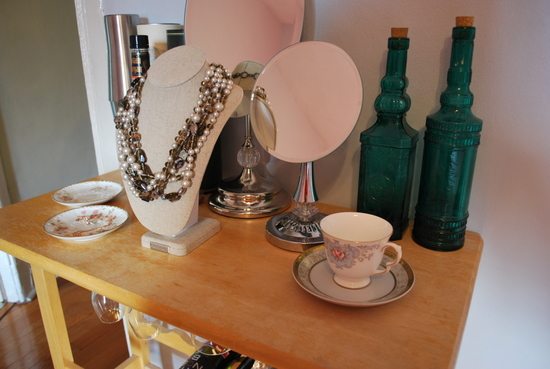 Their kitchen is a totally cool space. Yes it's small and none of the fixtures are great, but by adding the chalkboard paint to the wall (aren't those drawn-on frames cute?), the red mirrors, and the hanging pot rack, the space becomes so fun and inviting.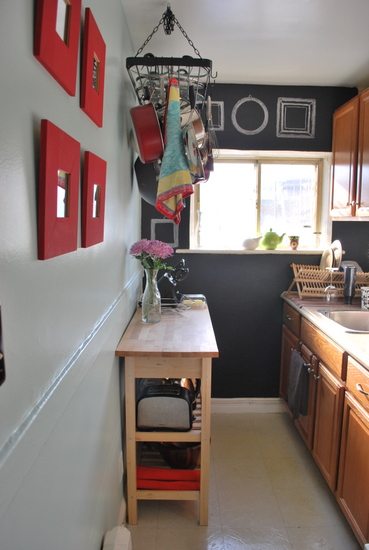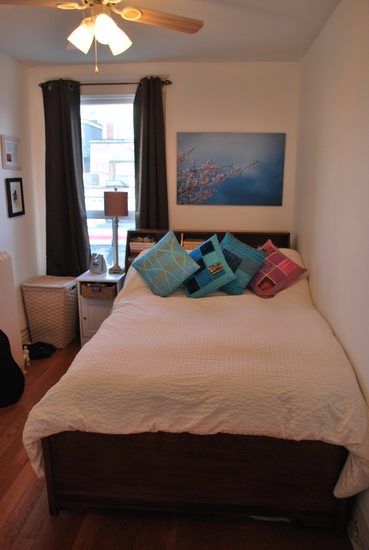 The bathroom is another space full of sweet little touches. They added the chandelier and the pops of orange to what was a boring blue bathroom. Those two canvasses are simply covered in fabric that Ginny picked up – making inexpensive but effective artwork.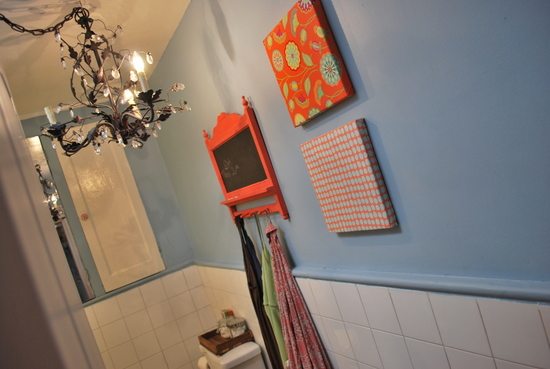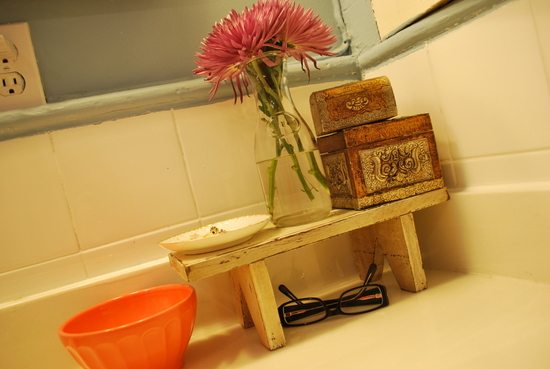 The living room is mostly white and gray and feels super light, bright and airy. The two big bookshelves flanking the couch is a great way to add some storage without overpowering the room. And those cubes that are acting as a coffee table can double as extra seating when they've got a bunch of  people over. Smart ideas for small spaces!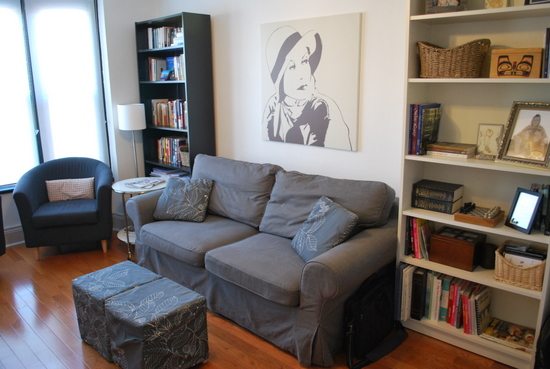 They have also added a small desk on one side of the room, which allows the space to do double duty as an office.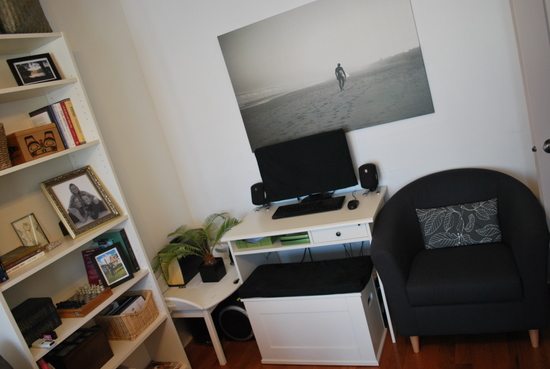 I was kinda digging this old retro vanity and chair of Ginny's — again, full of cute bobbles and hats and all sorts of goodies. Notice how she uses little china tea cups to hold her jewellery? Cute, right?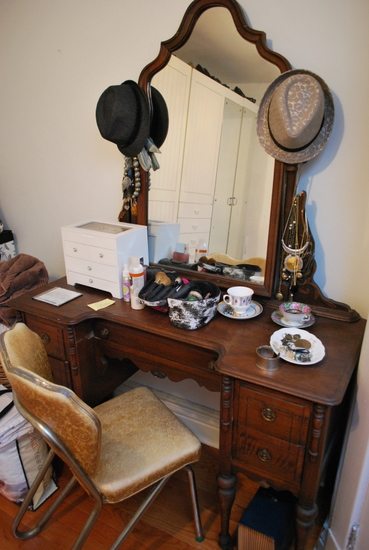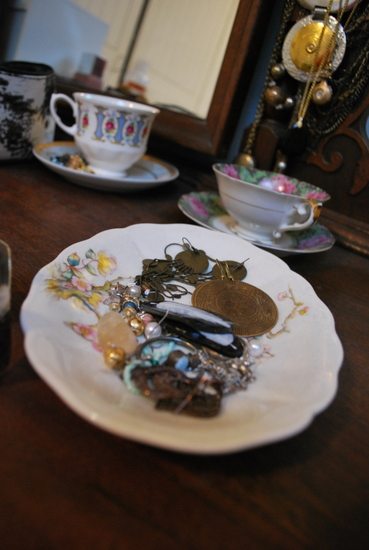 Thanks for the tour, you two!!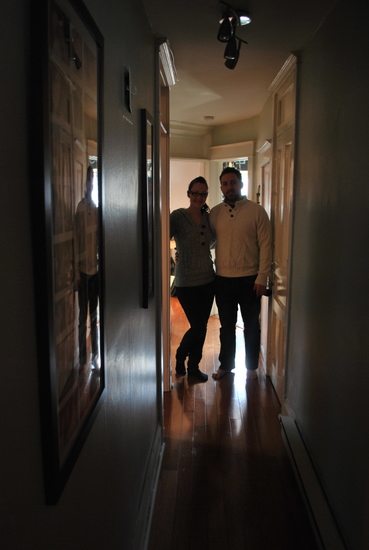 What do you guys think? Haven't they done a nice job of injecting their personality into the space with fun details? Their projects are definitely affordable ones, and are mostly things you can easily do in a rental space. Have you guys been painting any chalkboard walls or DIYing some art lately? 
Pssst – don't forget to enter the stella + dot giveaway for some seriously gorgeous earrings. It closes tomorrow!
Get Access to The Vault.
Get FREE organization printables, art printables, design guides, and more. There is SOOOO much good stuff.
You know you want in!