Considering I had looked through our wedding pictures about a hundred million times since our August wedding (please tell me I'm not the only one who does this?!), I figured it was time to put together some sort of "wedding book". I used to make big elaborate scrapbooks of trips and other events, but not only did I want a couple of copies to give to our parents, I also just didn't feel like spending hours making a scrapbook. So I started looking around at the photo books that you can design online. I searched around for a while at the different options, but I found that a lot of them had pre-determined designs that you slotted your pictures into (and the designs were a little too cheeseball for me!), the quality just seemed low, or you couldn't add in enough photos. Then I stumbled upon Blurb.com. They offer a ton of book sizes, custom design options, and the books just look so professional. Perfect.
So I got to work choosing the pics I wanted to put in the book and laying it all out with the Blurb book design tool. I definitely had too much fun doing this and am now thinking about doing all the events, trips and basically anything I could put into book form. It was so easy to move the pics around, add text, and make it look just the way you want it. It's safe to say that I'm hooked.
I was like a kid on Christmas day when that package arrived in the mail. The printing is so beautifully done and the book looks super professional. Seriously, I was head over heels.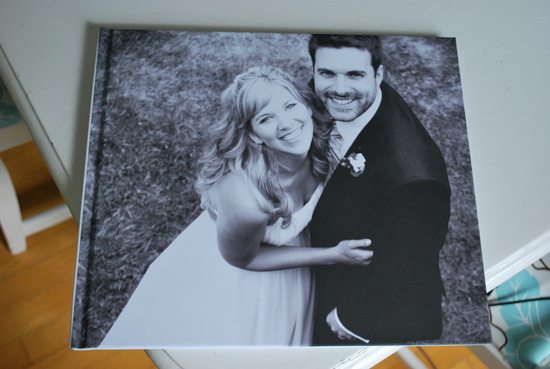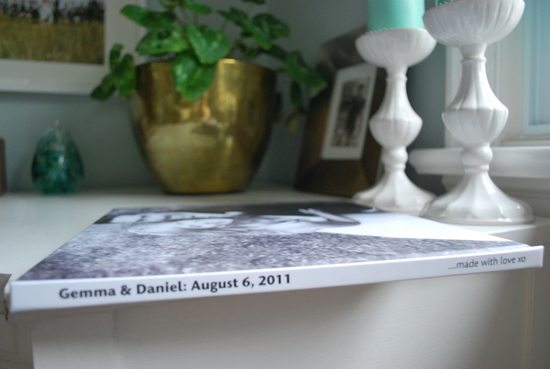 I kept my design pretty simple – I didn't want to add too much text or crazy graphics – elegant and long-lasting was what I was going for. I included things like our wedding vows (we wrote our own), the digital copy of our wedding invitation, the reading we had at our wedding, and then of course all of my favourite pics.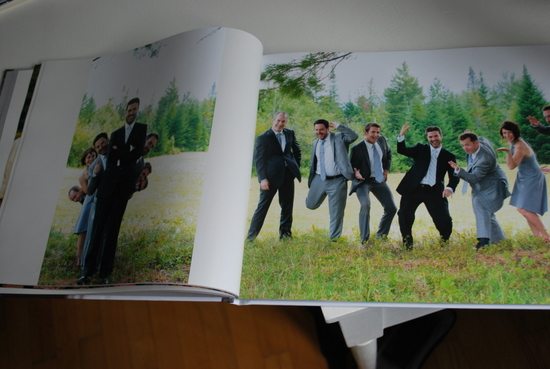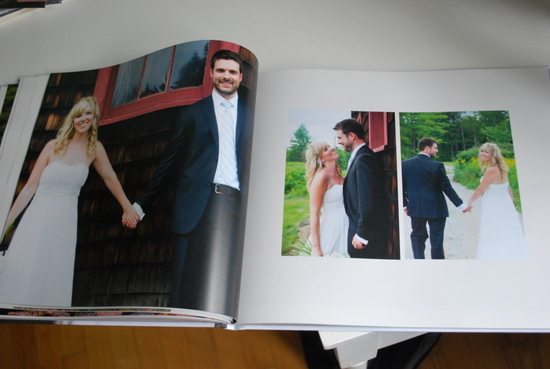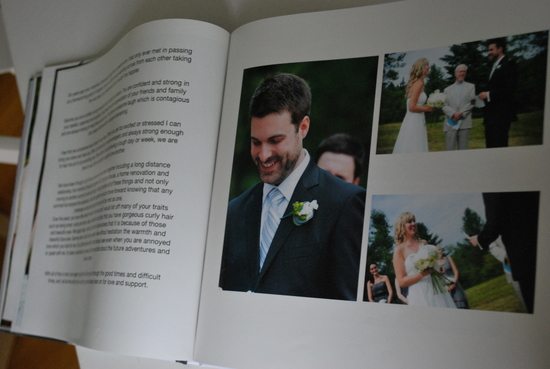 The cost of the Blurb books is a tiny bit higher than other ones I was finding online, but it's definitely worth it. I googled and found a 20% off coupon code, so that helped. I think each book came out to around $75 (the price depends on the size of book, how many pages you use, and whether you want to upgrade any of the finishings). I didn't get any of the fancy upgrades and the book is super high quality – beautiful pages and great colour.
We have given one to each set of parents and they totally loved it. If you're looking for a good gift idea, this is definitely it!
What about you guys? Have you ever designed photo books online? Any other online stores you would recommend? 
Get Access to The Vault.
Get FREE organization printables, art printables, design guides, and more. There is SOOOO much good stuff.
You know you want in!