So two of my all-time fave blogging gals, Sherry from Young House Love and her pal Katie from Bower Power, have brought back their super popular pinterest challenge for the fall season. The scoop? Basically we all go and check out the various things we've been pinning on pinterest, and quit-pinning-start-doing. A blogging kick in the butt to do one of those projects on your "to do" list. Oh, and if you have no idea what Pinterest is, check it out here… but be warned that you may lose many-an-hour pinning your heart away.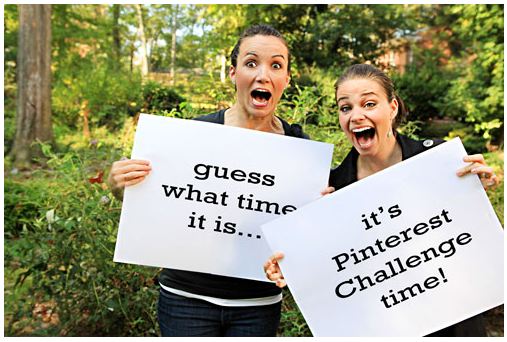 In case you don't know those two overly excited gals above, that's Katie and Sherry (pic via Young House Love). Also joining up for this round of the Pinterest Challenge are Erin and Ana.
So I browsed through my pinterest boards and realized that I had pinned more than a few yarn wreaths.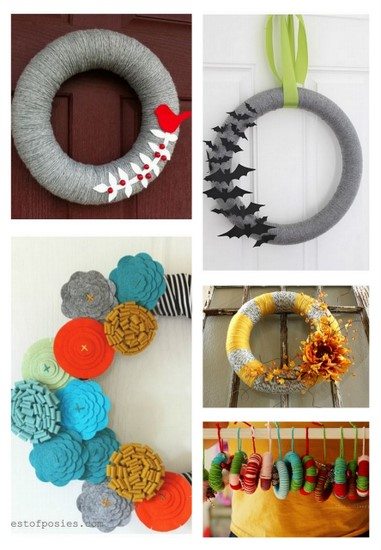 Clockwise from the top, these beauties are from here, here, here, here, and here (found via pinterest).
So I started out with one of those basic wreath forms that you can get from Michael's. I got one of the green harder foam ones, but white styrofoam (or anything else in wreath shape) would work just fine too.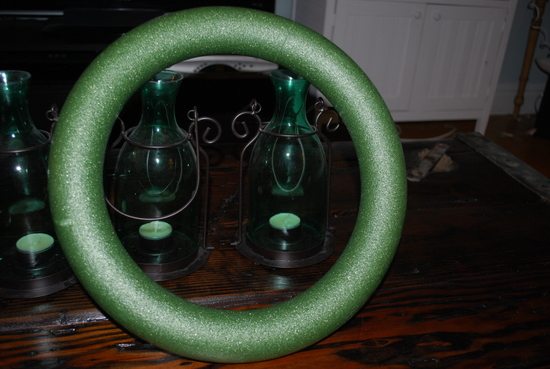 Luckily I had a bunch of yarn in my craft closet – probably because not-so-luckily my knitting has taken a bit of a backseat of late. Whoops. Anywho, I grabbed a medium gray and golden yellow yarn – one of my favourite colour combo's and a very fall-appropriate scheme.
I started off with the yellow and simply just hot glued the end of the yarn to the back of the wreath, and then got to wrapping. Warning: this project doesn't really need any crafty skills. Seriously. Once I decided I would throw in some gray, I cut the yellow, and tied the two ends (gray + yellow) together. I tried to make sure that the knot would lie on the "back" of the wreath (ie. the side where I had originally glued the yellow down) and also tried to carefully wrap the first few layers of gray slightly over the knot so that the transition would look seamless.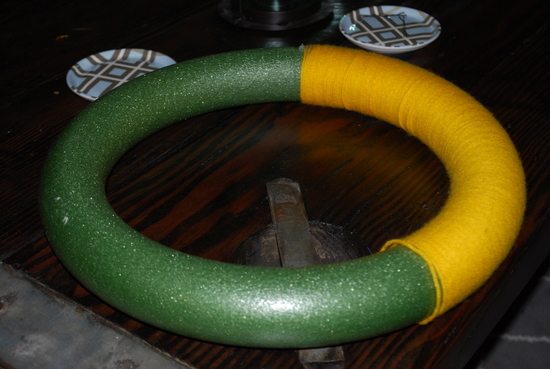 Then I wrapped, switched colours, wrapped, and switched colours until I had gotten all the way around. To finish it off, I cut my last piece of string and then hot glued it down. Again, I did this on the back of the wreath so that no one would see my gluey mess.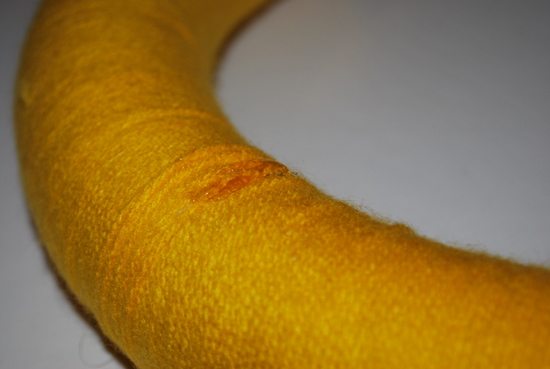 This is how she looked post-yarning.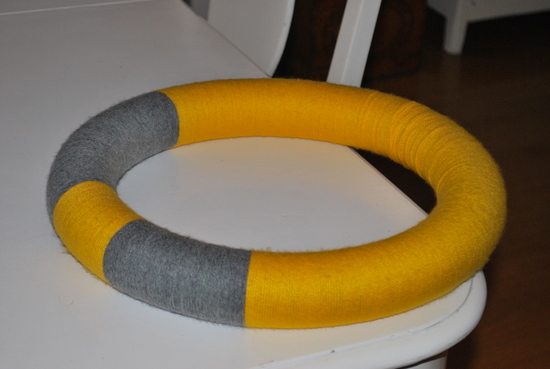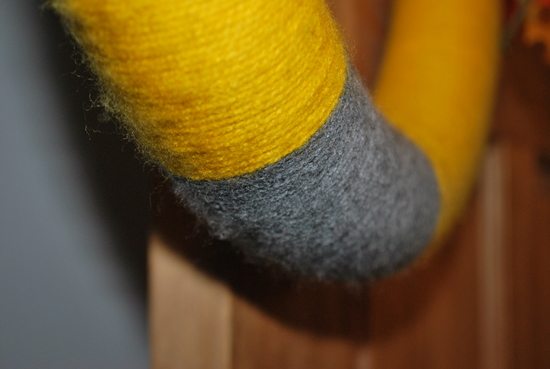 I had grabbed an autumn leaf bunch from the clearance bin at Michael's (with my 25% off coupon it came to a total of 34 cents. Boo-yah). Then I just cut a few individual branches off of the bunch and squeezed the ends through the yarn, poking into the green foam. No muss, no fuss.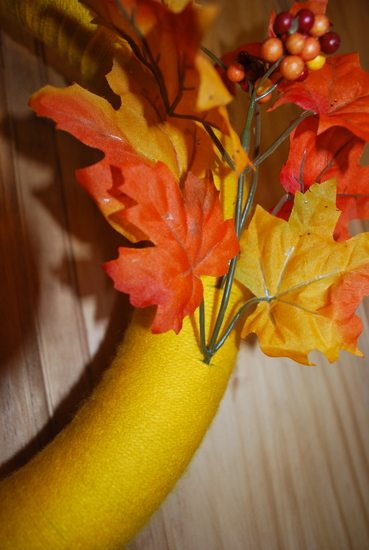 And here she is. Ain't she a beaut? I'm pretty pleased with how it all turned out, and it's always nice to add a little something new every year to your holiday decorations.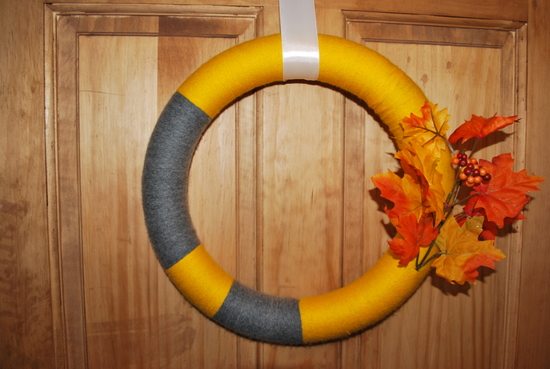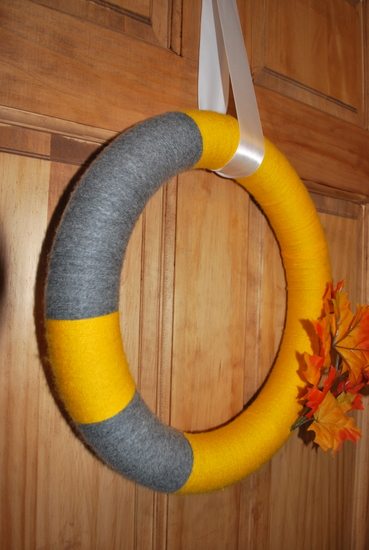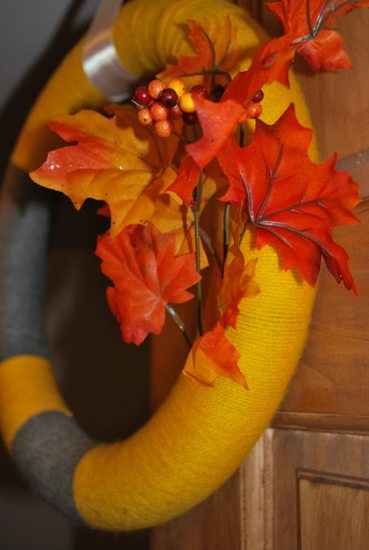 Thanks to Sherry, Katie, Ana and Erin for kicking my butt into gear on this project! Did any of you guys get into the Pinterest Challenge fun? I have been browsing some of the other projects that are linked up and there is some amaaazing stuff out there. I may have knocked one thing off my "to do" list, but I have just added three more! 
Get Access to The Vault.
Get FREE organization printables, art printables, design guides, and more. There is SOOOO much good stuff.
You know you want in!