So after DIY'ing our office desk and adding shelving, I wanted to make sure that there were smart storage spots (say that three times fast) for all of our office stuff. We had a bunch of pens, pencils, markers, and ribbon that I really didn't want to shove into a drawer. See that blank bit of wall to the left of the window? Well we figured that would be a perfect space to add some functionality. Our house is pretty tiny, so every little spot counts.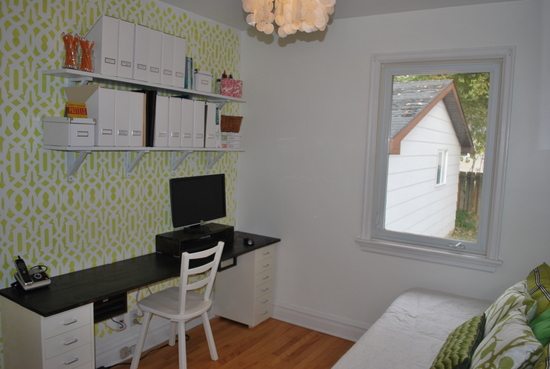 First up was to cut some pieces of wood to size. We actually had this wood leftover from our desk and headboard projects, saving us a trip to Home Depot.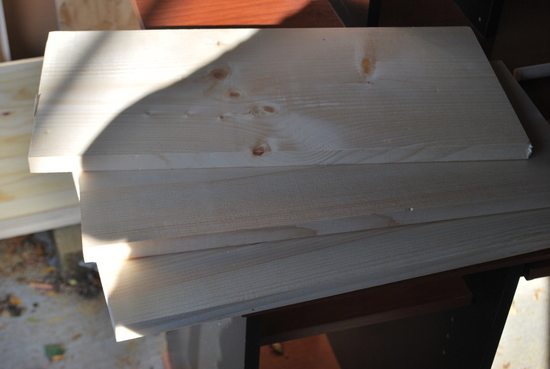 And wanna guess what stain we used? Yep, good old 'dark walnut' by minwax plus a coat of clear varuathane on top, like these projects of yor (here, here, and here). No surprise there.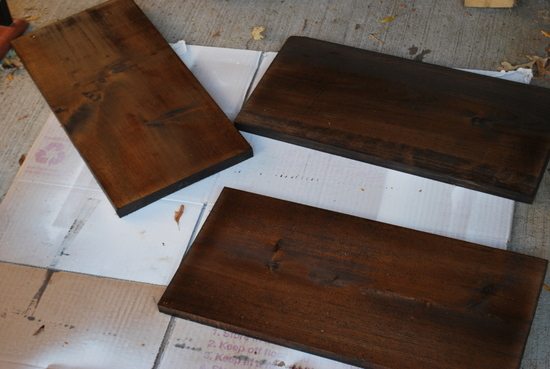 We had some tin cans leftover from our wedding (check them out as vases here), so we decided to give them a fresh spray of white spray paint.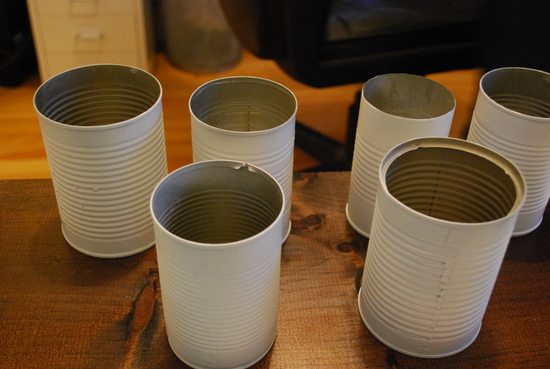 Next step was to screw the wood pieces up onto the wall, and then to hand screw the tins to the wood itself. When screwing the tins on, you just use screws that are pretty short (you don't want them to go all the way into the wall).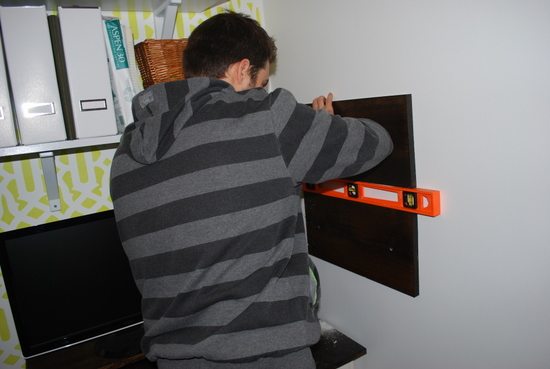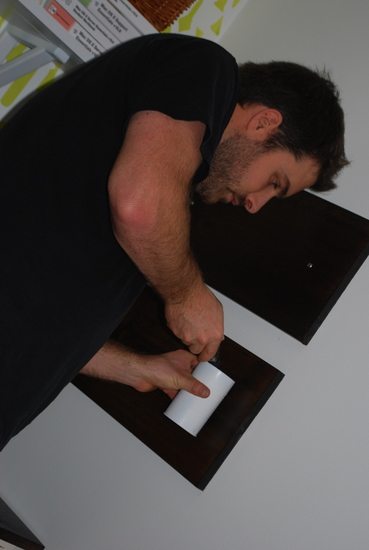 And here's how we were looking after getting the two pieces up.  Having separate spots for pencils vs red pens vs blue pens vs markers vs sharpies was music to my ears. This girl loves some organization.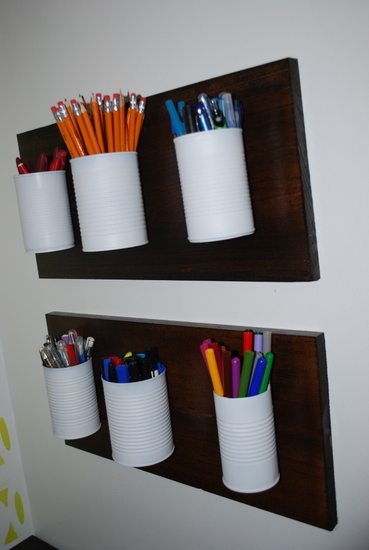 Then since I wanted somewhere for our miscellaneous ribbon that hides in various drawers around the house, we used the third board to fandangle a ribbon-holder. The hubs cut out four small pieces of wood and used a router to cut out grooves that a piece of dowel could sit in. In case you can't picture it, here's what I'm talking about…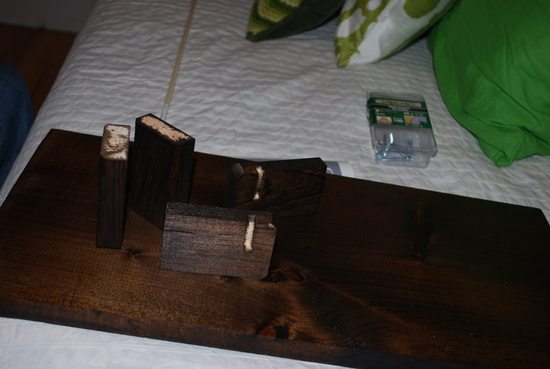 Then it was just a matter of screwing them to the board…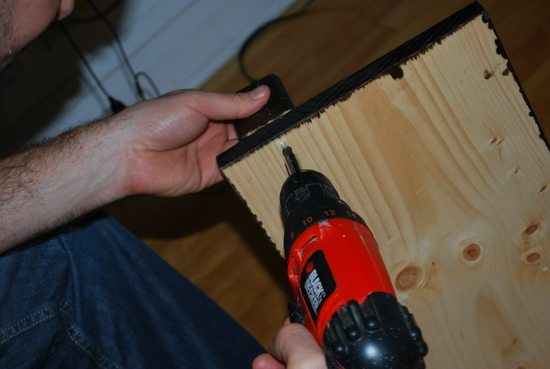 …and when you turned it around, the dowel sits perfectly in those grooves. It means you can pop it off easily and add/remove spools of ribbon.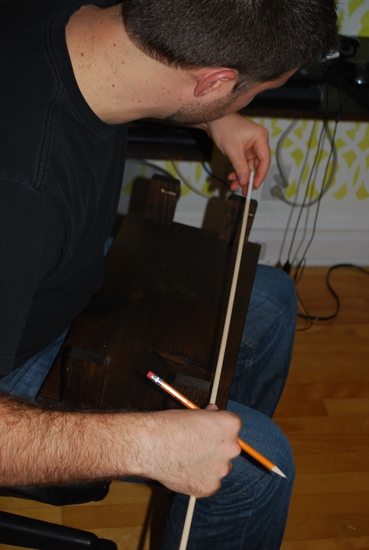 Once we screwed it up onto the wall, I rustled up all of our ribbon and added it to the new masterpiece.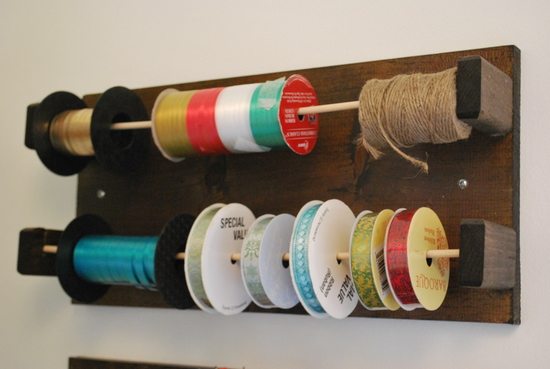 And here is the final product. It's a fun take on regular office storage, and costs next to nothing to make — the wood and stain was already owned, the tins were leftovers from meals of soup (or anything else you eat from a can), and the dowel was a big 1 dolla dolla bill. Happy days.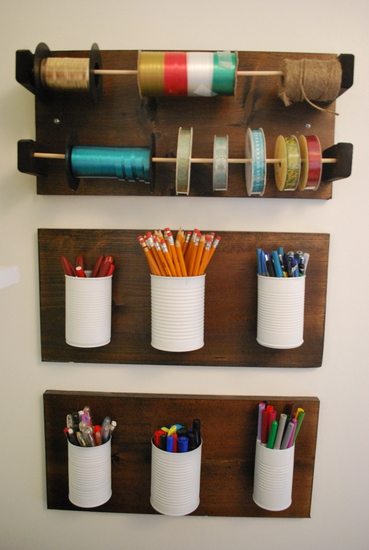 Next up is to organize the shelves and hopefully get some curtains up (though I think those may take a bit of time since I have grand plans to sew them myself… need to actually figure out how to use the sewing machine first!). Wish me luck with that.
What about you guys? Have any good office storage solutions? This one was definitely inspired by similar projects I had seen floating around on pinterest. Please tell me I'm not the only one who is crazy for uber-organization. I just can't help myself.
Get Access to The Vault.
Get FREE organization printables, art printables, design guides, and more. There is SOOOO much good stuff.
You know you want in!