So here is the not-completely-finished-but-we're-going-to-take-a-break-from-this-room final reveal of our office/guest bedroom makeover.
Back in November I started off the project with a coat of paint and a stencil. Since then we have built a desk, added shelving, DIYed a chandelier, built some custom storage solutions, DIYed a headboard, and added some fabric artwork.
Remember how crazy bright and totally cluttered the room was?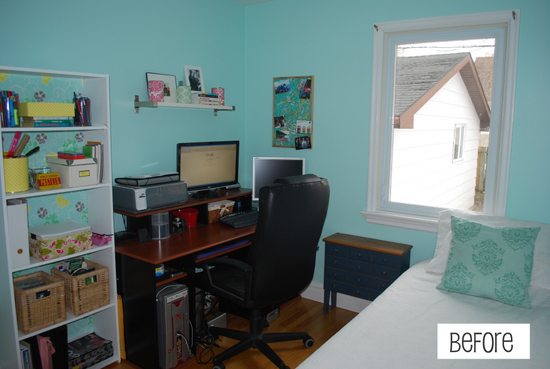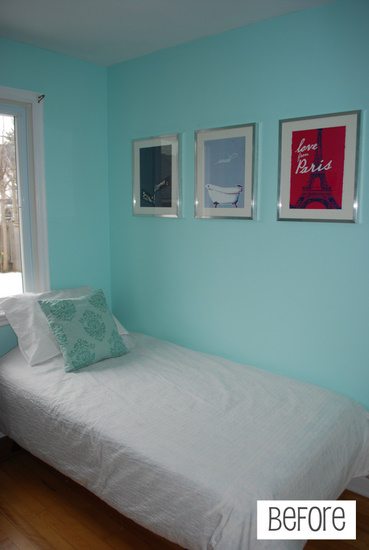 Oh man, that hurts my eyes.
Well, here is the new and improved room.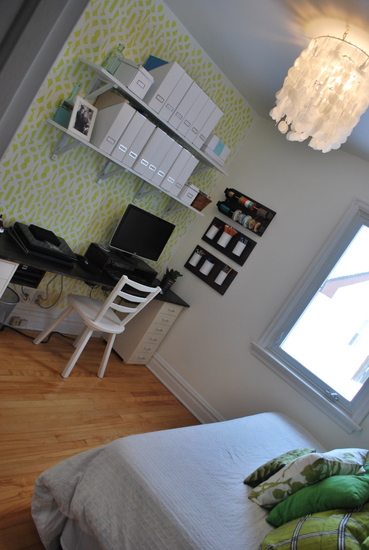 With our super narrow new desk, the whole room feels so much bigger and definitely feels like a more multi-purpose room (whereas before the monster desk took over).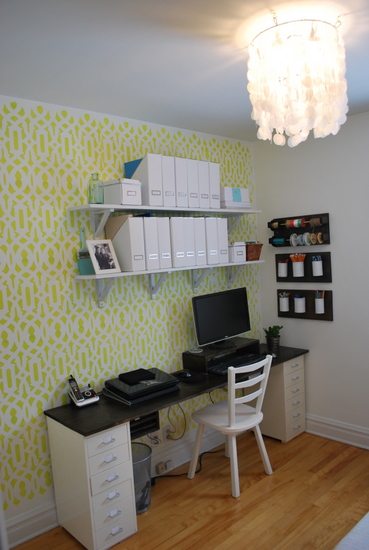 Since our main filing system is now housed on those shelves above the desk, we've realized that we probably need a few more of those magazine files and boxes (both come from IKEA). We've labelled them all so that when we get receipts, invoices, or any other important paperwork it's quick and easy to stick them in the right spot. We have a "his" and "her" side of the drawer units under the desk, so my side is full of my paint chips, design clippings, and pretty post-it notes, whereas the hubby's side is full of tech stuff.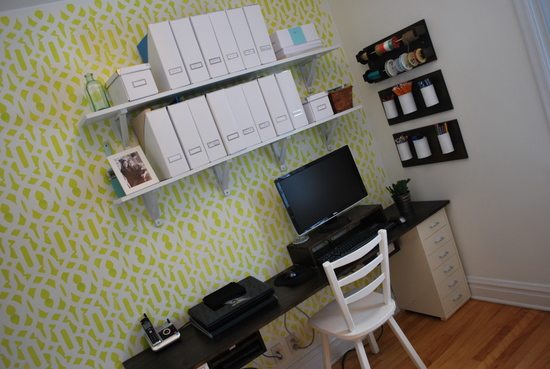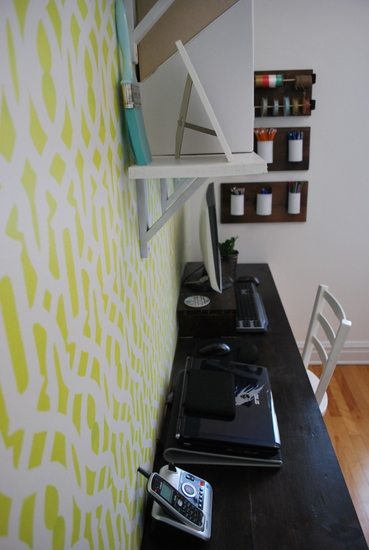 It feels fun, fresh, and welcoming. It's definitely a cozy little spot for guests (my mum is a frequent flyer at our pad and loves it).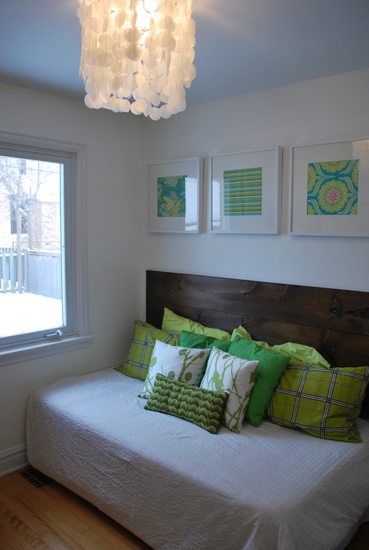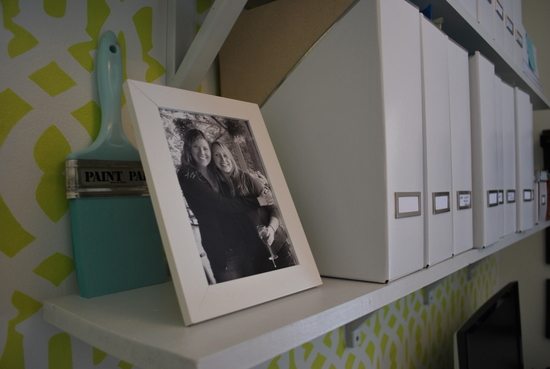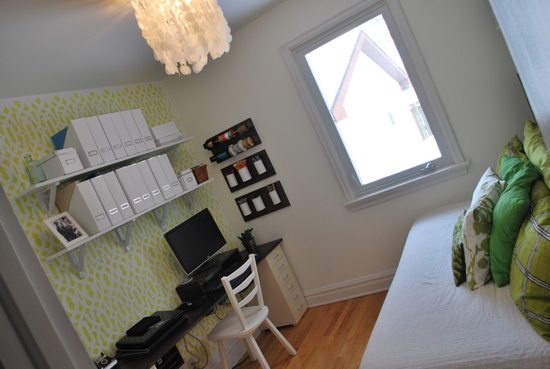 There are still a few things I want to do – like get a new office chair, add a small rug, and put up some blinds and curtains – but we're going to put those things on hold until they are in the budget. But for now, the room is pretty cheerful.
Check out the links below for more info on each of the projects:
This was definitely a low budget, use-what-you-have kind of makeover.  Here is the budget breakdown:
Paint & stencil: $100
DIY chandelier: $2.50 (add another $15 if you didn't already own white spray paint, string, hot glue gun, and wax paper)
DIY fabric artwork: $0 since everything was already owned (but would have been about $60 for the three frames and $10 in fabric)
the DIY desk: $130 (we already owned the stain, varathane and painting supplies)
DIY headboard: $20 (this was for the wood; we already had the stain, varathane and painting supplies)
Pencil/ribbon holder: $1 (since we already had the scrap wood and paint)
Throw cushions: $10 (I owned a few already and then snagged a few of those green puppies from the dollar store and the sale bin from my local fabric shop)
Magazine files and storage boxes: $20 (but we'll probably go back and buy a few more..)
The grand total: $313.50
(but… since we had some IKEA gift cards, it was actually only $193.50 out of our pockets. hollaaaa)
So there you have it. What about you guys? Done any mini room makeovers lately? Any re-organizing of your office? Any stenciling? Do tell. 
Get Access to The Vault.
Get FREE organization printables, art printables, design guides, and more. There is SOOOO much good stuff.
You know you want in!