Before diving into this week's crafty stuff – I just wanted to say a huge thank you to you guys for the overwhelming support on my post about my breastfeeding experience on Monday. I was completely surprised about the number of comments, facebook messages, and even private emails that I received from other parents out there who could connect in some way with the post. Clearly we need to talk about this stuff more, and throw all of that judgment out the window! So anyway – thank you. It was lovely, humbling, and touching to hear from so many of you.
Okay – back to the usual fare around here. We are kickin' it old school today, guys. Remember how you used to make paper mache as a kid? Well I don't quite know why I got a hankering to do some recently, but I did. I kept it to a basic bowl… but you know what? I'm kinda loving it.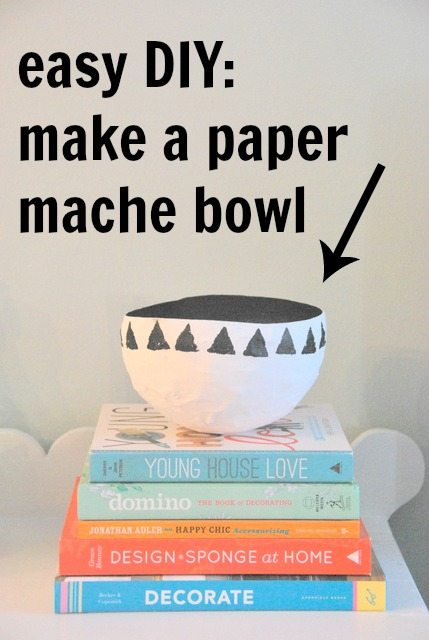 First up are the supplies. You can make your own paper mache solution with flour and water, but had some modpodge hanging around so opted to use it instead. Along with that you need a balloon, some newspaper, and a paintbrush unless you want to get messy and use your hands (this is admittedly the more fun option!).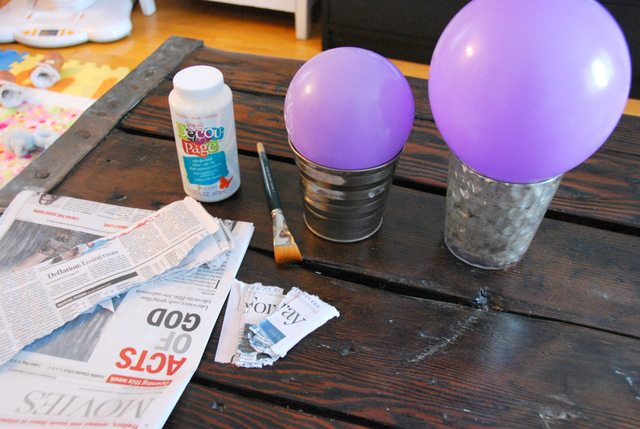 It's pretty simple. Smear modpodge on the balloon, put your strips of newspaper down, and cover them with more podge. If you had a bowl of the flour and water paste, you just dunk in the strip and then stick it to the balloon. I would do a layer, let it dry overnight, and then do another. In total I did 4 layers as I wanted the bowl to be reasonably sturdy.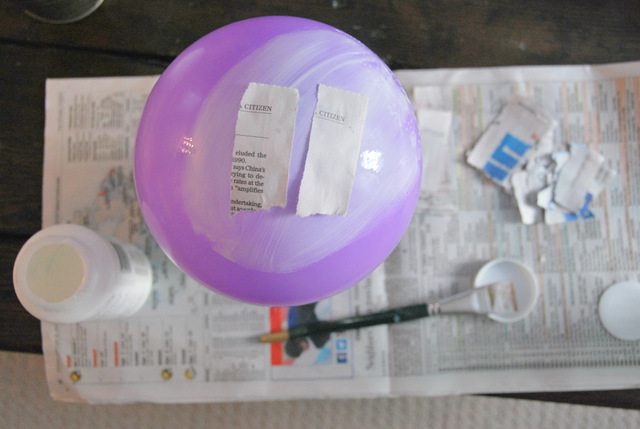 In a craft fail, the smaller balloon did not hold up. When I popped it, the whole bowl collapsed into itself (you can see it on the right). Good thing I had that bigger guy to keep me going. After you pop the balloon, you need to cut around the edges of the bowl to get it smooth.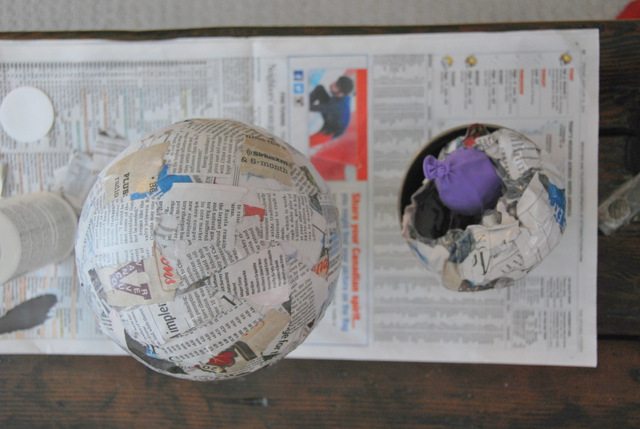 I got all the bits of the balloon out from the inside, and then gave the exterior a coat of white paint. It took a few coats to totally cover up all of the newspaper.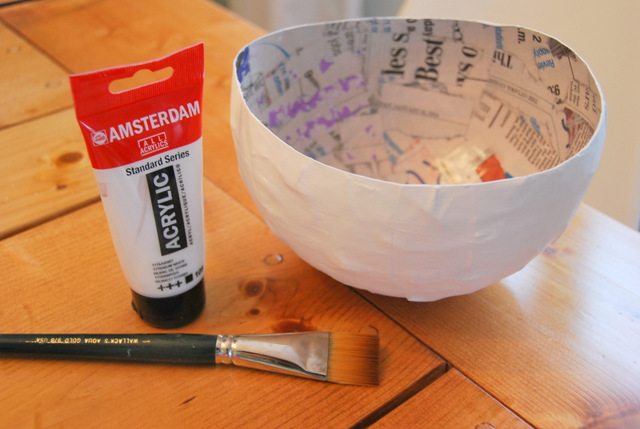 I had planned on doing the inside in gold, but then was craving a little black + white action, so did the inside in a matte black. I loved the look – it's pretty striking – but it was lacking a little something.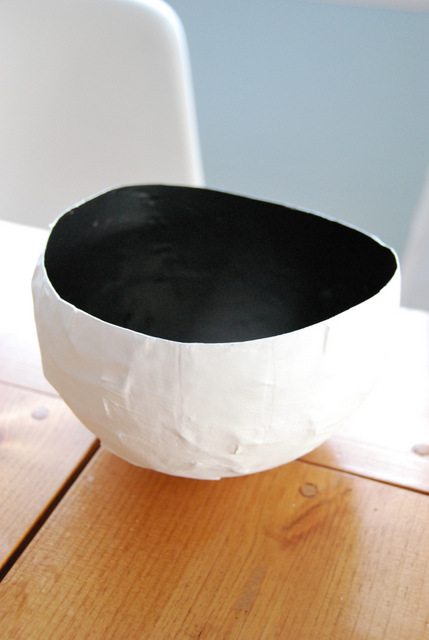 Time for some stamping! I cut a sponge into a triangle shape, dabbed it into my black paint, and stamped around the edge of the bowl.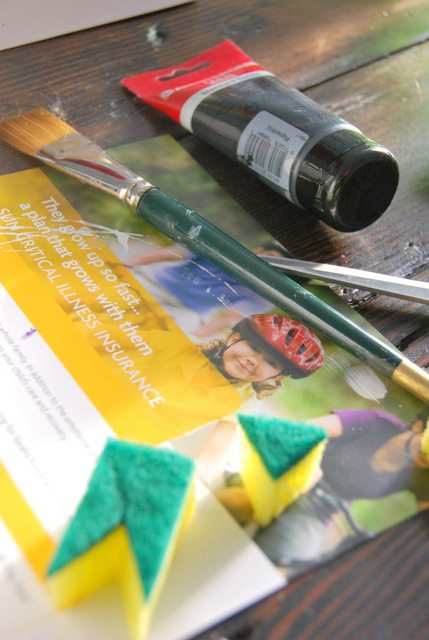 The result is actually pretty cute. I had totally thought that this might end up in the ugly craft category, but I'm happily digging it. I like that the stamps aren't totally perfect, and that you can see the texture on the bowl. I haven't put a coat of a sealant on it, but might down the road if I notice it's getting marked up.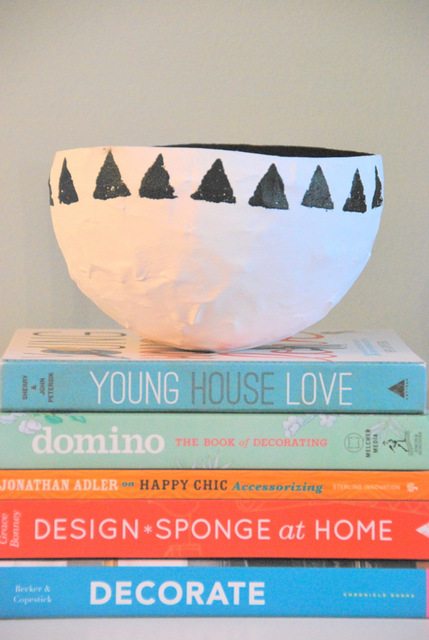 I haven't quite figured out where I like this guy yet, so have been moving it around from spot to spot over the last few days…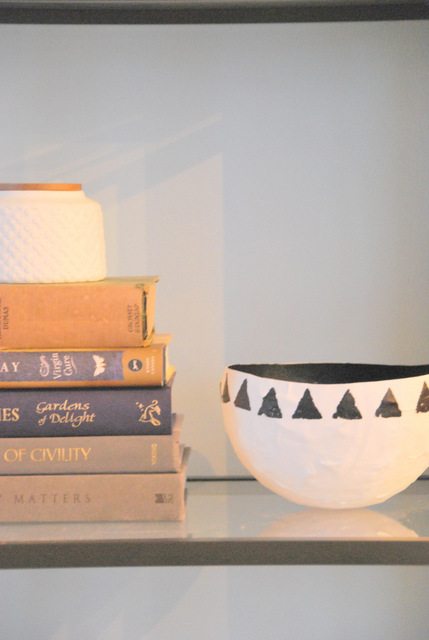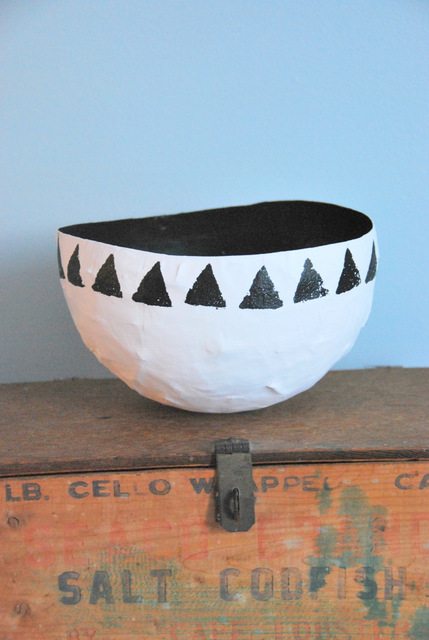 So easy, right? And for free? Love those kinds of projects.
Have you done any paper mache-ing since graduating from 8th grade? Any stamping? Any other little crafts lately?