Our living and dining room are open concept and the first rooms you see when you walk through our front door. In order to keep the entire main floor cohesive, and to get that minimalist and fresh aesthetic I love, we kept the colour palette to white, black, gray, wood tones, and lots of greenery.
Scroll to the bottom for the full list of sources!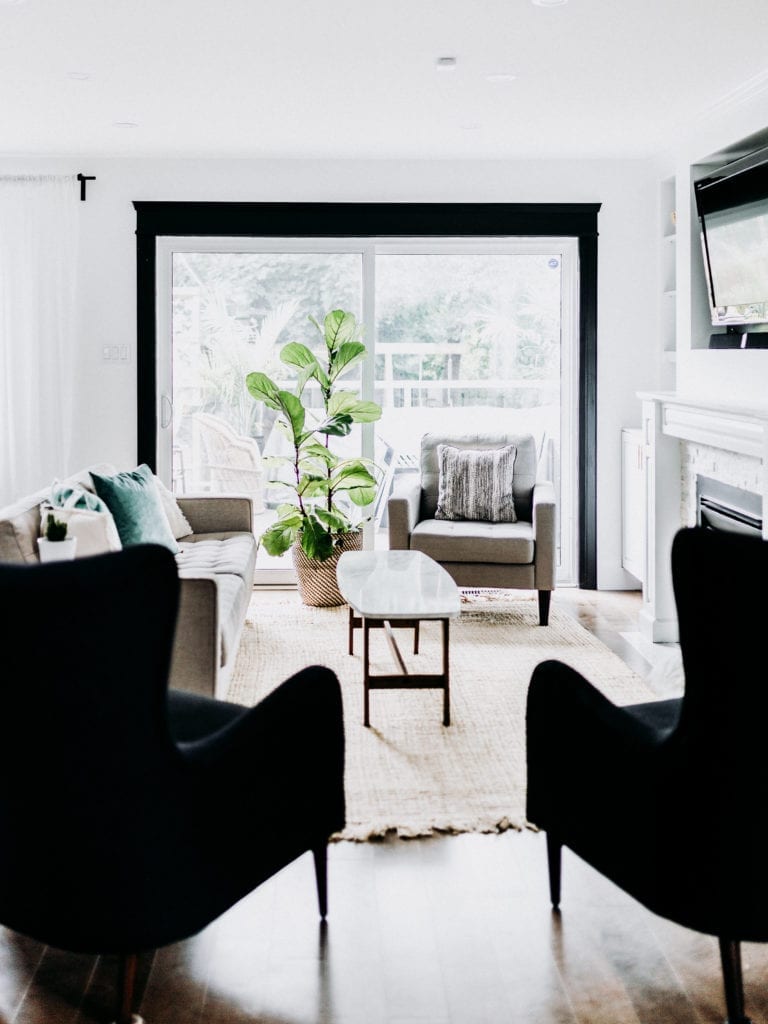 Couch / Coffee Table / Similar Rug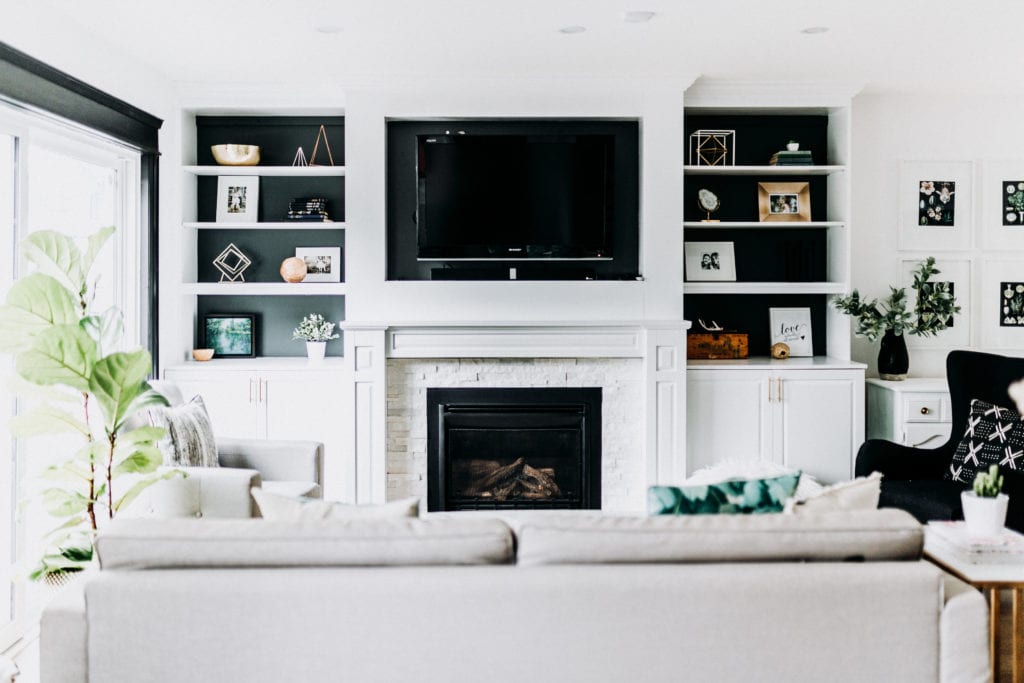 "How to Build Fireplace Built Ins" Blog Post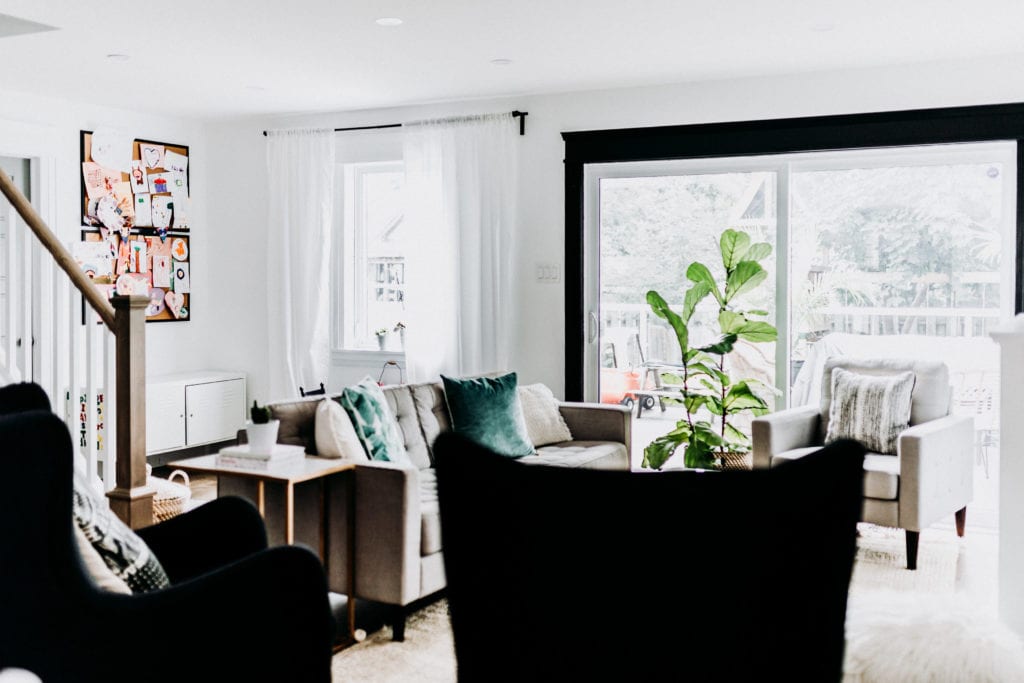 One of the things we needed to do in our space was create an area for our kids to play. They are still pretty little, but we needed a closed piece of furniture to hide away toys. The white cabinet below is from IKEA, and we also grabbed a few woven baskets and it acts as a perfect zone to keep the kid stuff under control. We also hung two plain corkboards (here are the ones with wood frames; and here are the ones with black frames) above the cabinet, painted the frames of them black, and regularly pin up the kids' latest art creations. We aren't about having a perfect house here – I'd rather a warm space that feels like a home. Showcasing the kids art pieces is a great way to do that!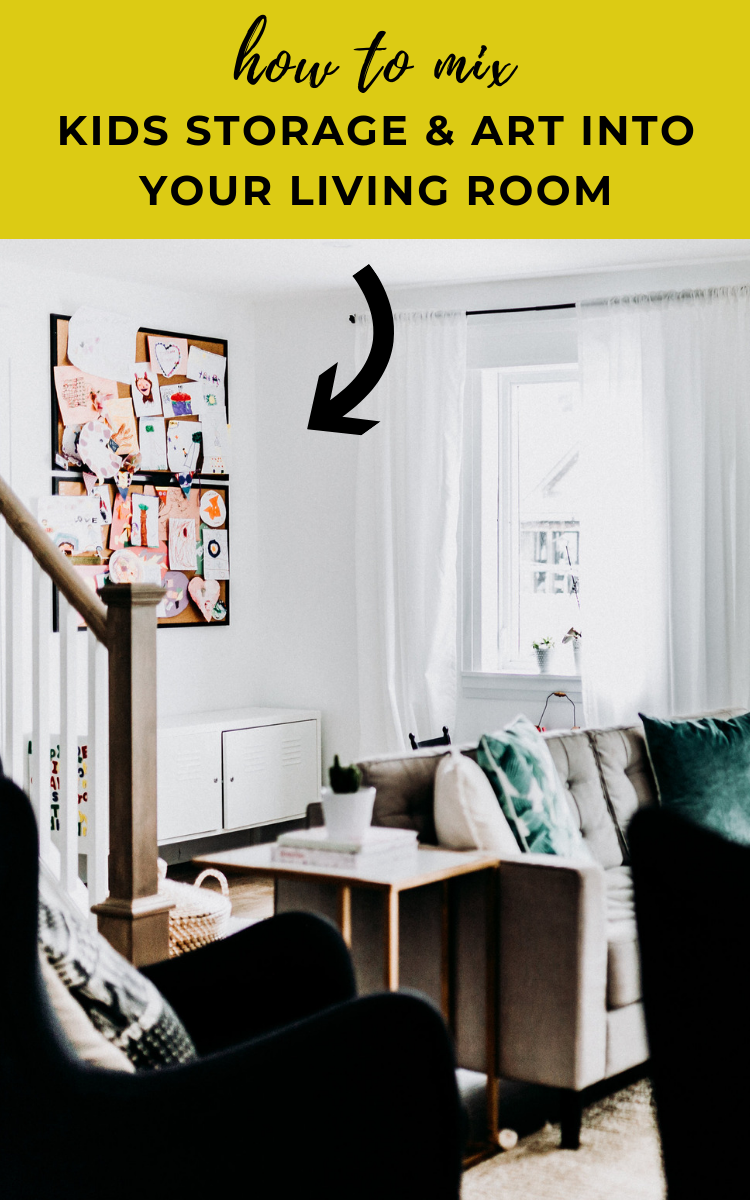 Corkboards for kid art – black framed and wood framed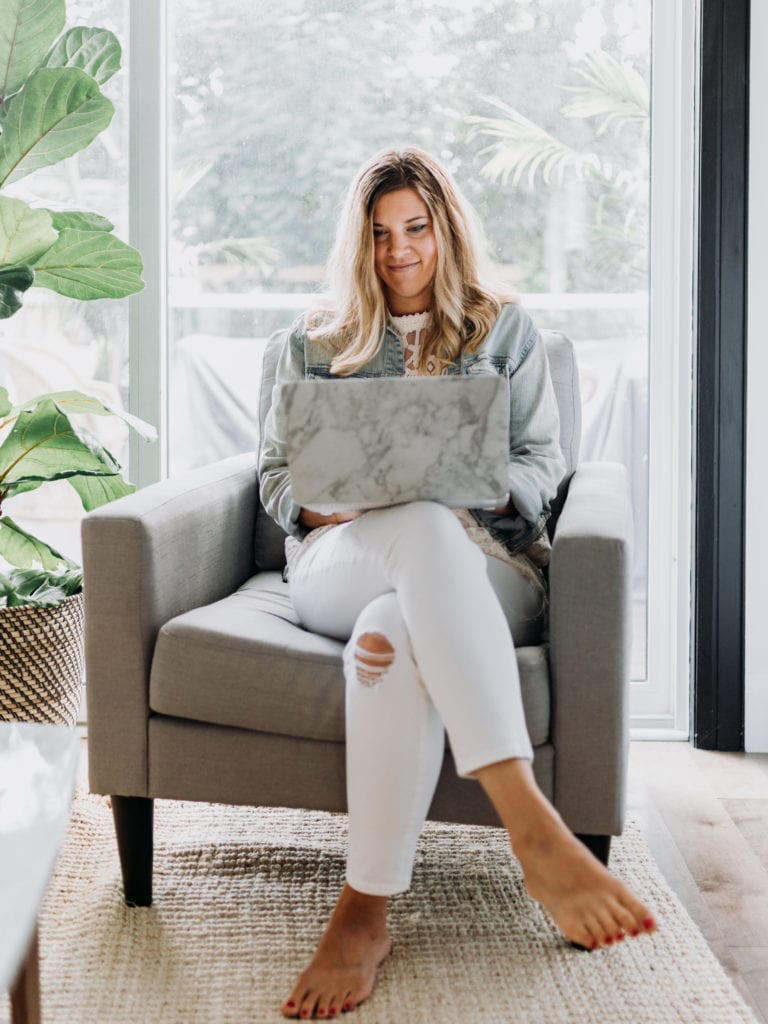 Art in simple white frames with white mats is always an easy way to go! If you are ever looking for cool (free!) art for your pad, check out New York Public Library's Digital Collections. It's an unbelievable treasure trove, and where I snagged these botannical prints.
I also LOVE to throw some faux eucalyptus stems in vases all over the house. It adds such nice greenery that totally looks real. Amazon has great faux Eucalyptus here.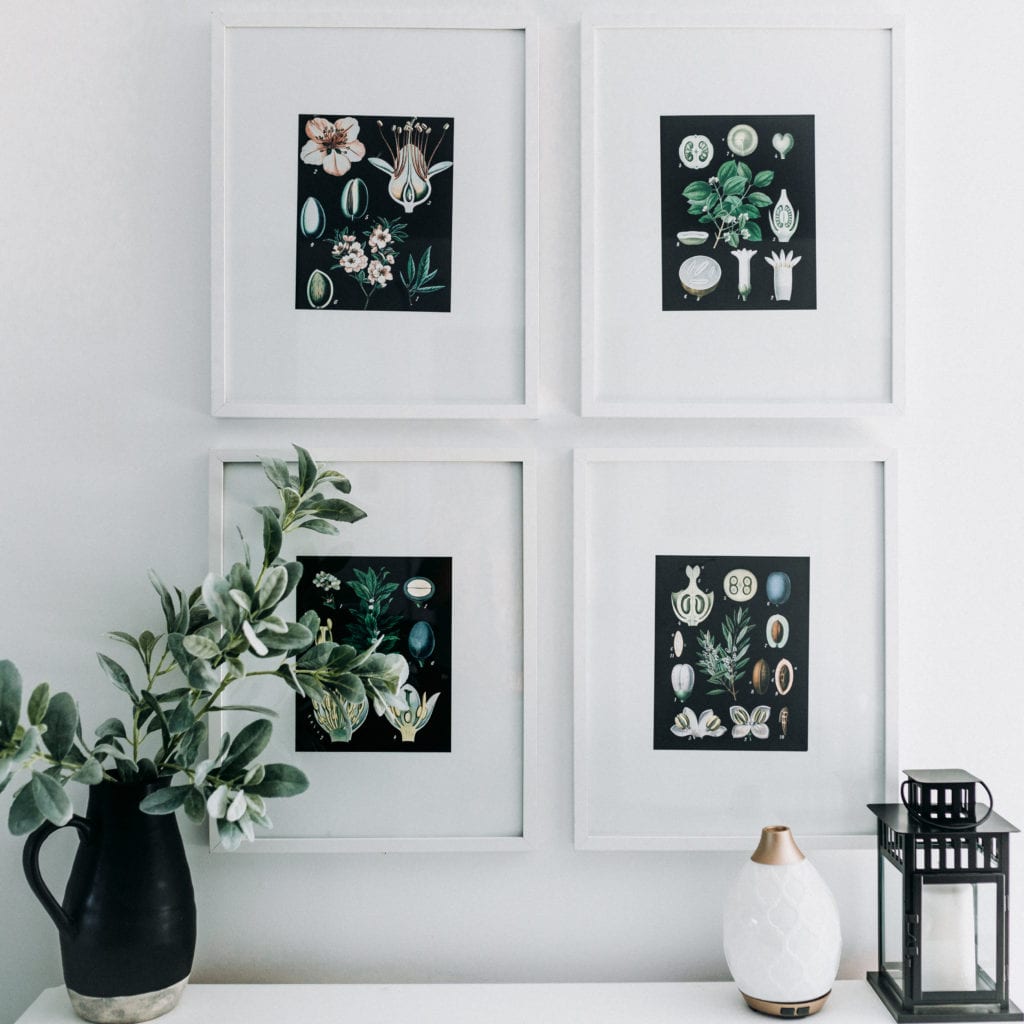 The dining room is very open concept, between the main front door and the living room at the back. We opted for a chunky wood table (hello, kid messes and bustling family dinners!) and are constantly switching out the chairs. For a while we had grabbed thrift store chairs and I painted them all black, but then a few broke. I later grabbed these inexpensive Bentwood white chairs, and now we have a bit of a mix and match situation. It's actually kinda charming!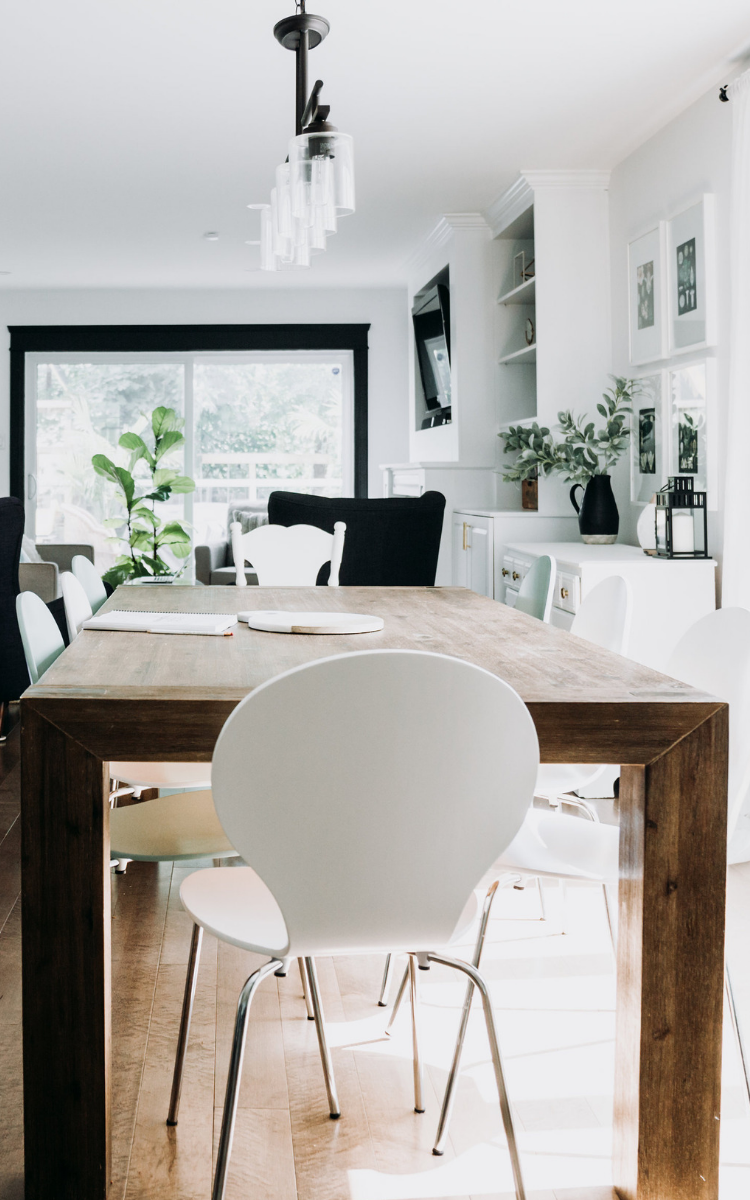 "Bentwood" Chairs (super easy to clean!)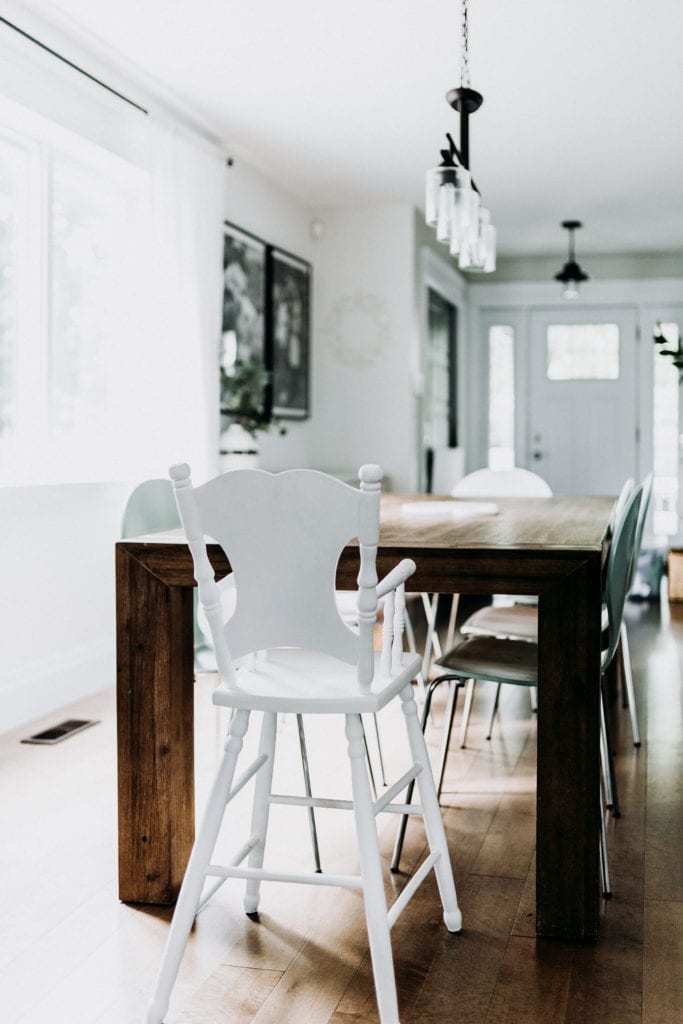 We still have a few of the black painted chairs left, so I tend to switch them out depending on the season. Here is a little shot of the table at Fall, when I had it decked out with some pumpkins!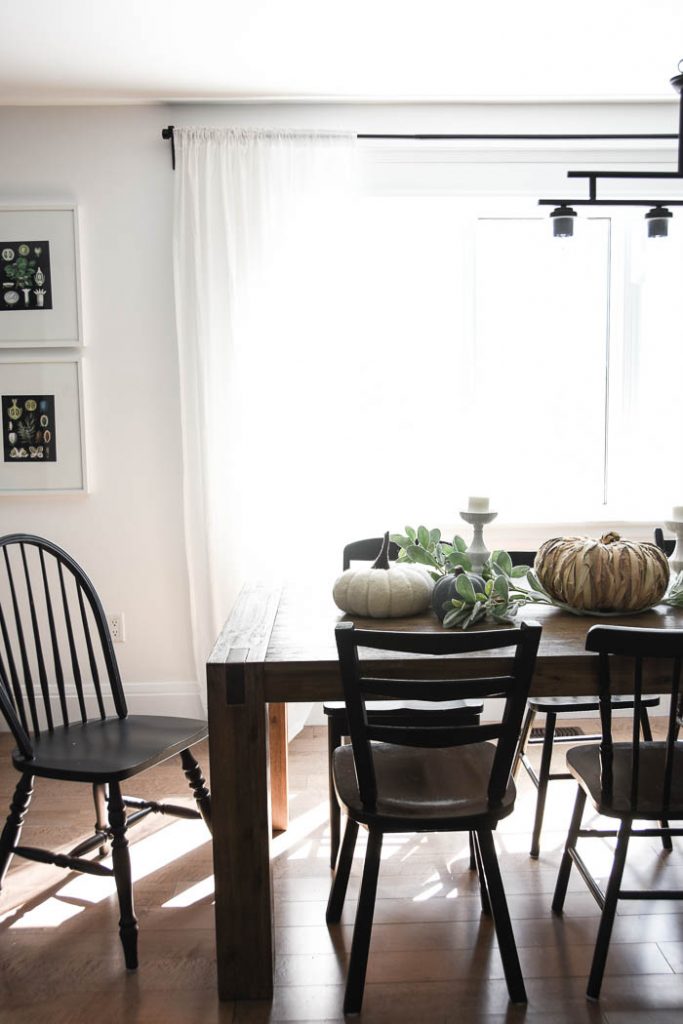 Need big, personalized art on a budget? I use "engineer prints" from Staples ALL THE TIME with family photos. They cost less than $3 each to print (in black and white) and frame them using the 'Ribba' frames from IKEA. I LOVE LOVE LOVE them (you can see here I've used engineer prints in 3 different spots in our home!).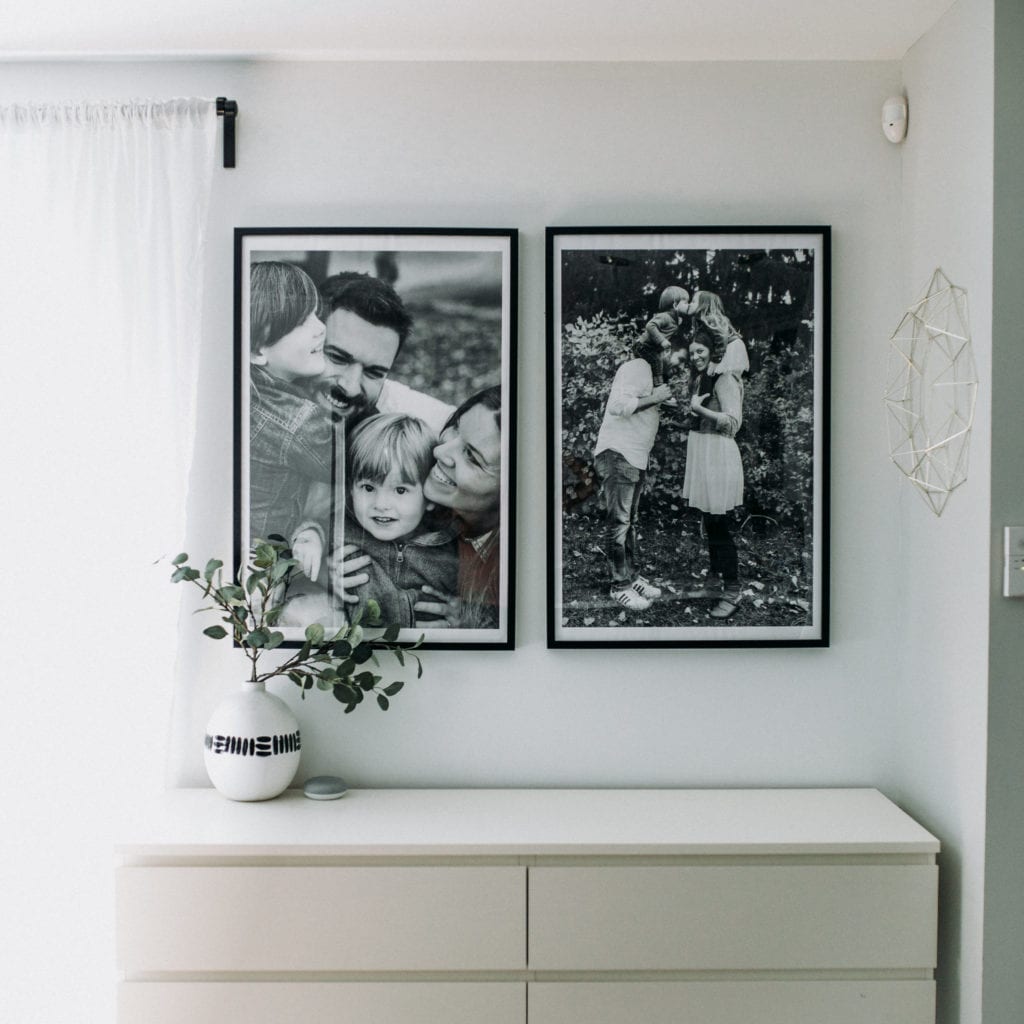 So that's it! The key with this space has been to keep everything neutral, but layer in different textures and lots of greenery (I have a mixture of faux – like these eucalyptus leaves that I'm obsessed with – and real plants throughout). Plants really help to bring a neutral space alive.
Copy the Look:

Blog Posts You'll Want to Check Out:
Tour the rest of the house:
Pin it for Later!