I think I have mentioned before that some of our best pals, Shannon and Andy, are expecting a baby (any day now!). Well, instead of the usual baby shower gift, I thought that it would be fun to help them out with their nursery design. Obviously, this is somewhat selfish as this "gift" is super fun for me (hello, a whole room to help decorate!).
Here is how the room started out. It originally had a desk in it (which moved down into the basement), and was sort of a catch-all for office supplies and other knick knacks.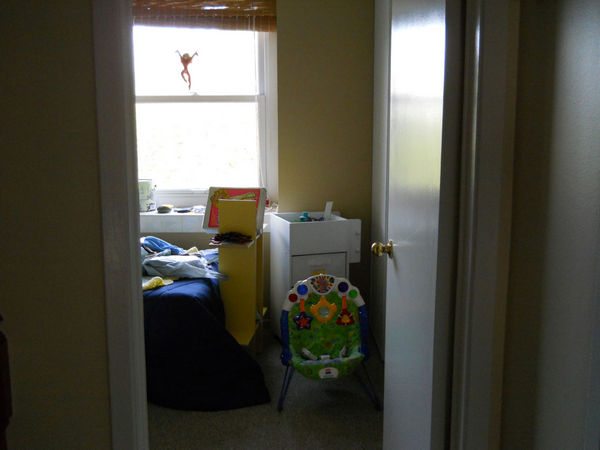 The colour on the walls was a boring beige with a slightly yellow undertone to it (it was the colour that was there when Shannon and Andy bought the house a few years ago).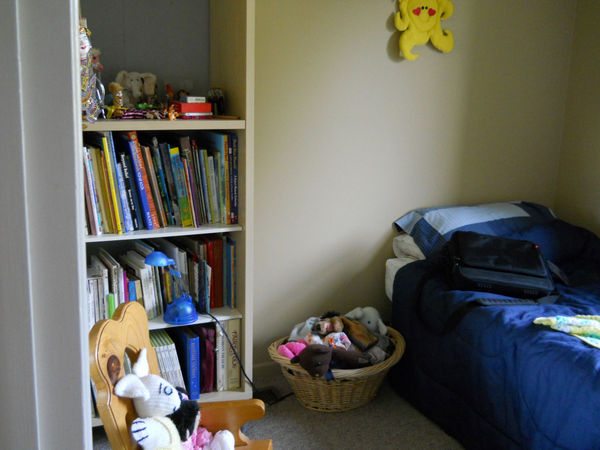 It's a small room, but perfect for a nursery where you don't need loads of big furniture.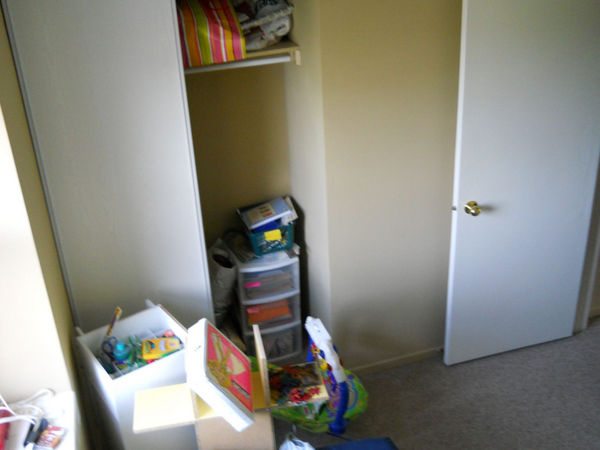 First up was to clear out the room and give it a fresh coat of ultra white paint. It already started to feel more fresh, bright, and open.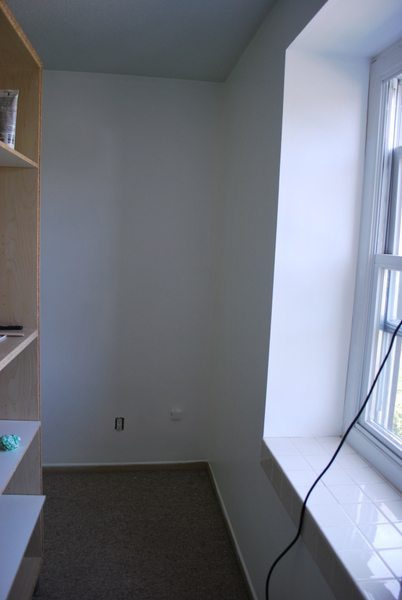 Shannon and Andy wanted something colourful and fun, using greens and blues. Their little babe is a boy, but we didn't know this when we started working on the nursery and figured that lime greens and aqua blues would be perfect for any baby (or me! I love those colours!). We looked at a few different lime greens, but ultimately settled on "fresh lime" by CIL. It's a pretty true lime, not veering too much into the "grellow" category (you know, like a yellow-slash-lime colour).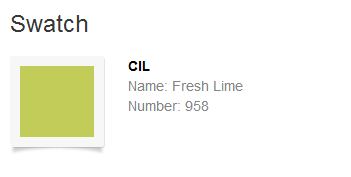 It's a strong colour, so we didn't want to go overboard and put it on all four walls. I think if we had, it might feel a little bit like walking into a key lime pie. We chose the wall opposite the window, where I knew we would have the dresser…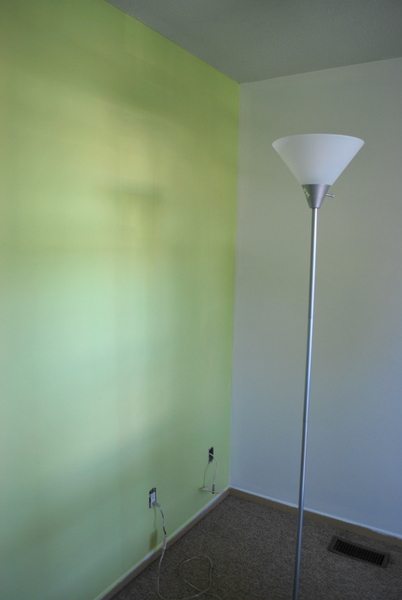 …and also decided to use it for some fabulous thick stripes. Tone-on-tone stripes can look great for a more muted effect, but bright green and white have so much contrast and I thought they would be the bees knees for a kids room.
The method for painting out stripes is pretty simple, but you want to make sure you put the time into planning them so you don't have to go back and start over. First step is to take the measurement from the floor to the ceiling. Then decided on how many stripes you want, and divide the first number by this one. This will give you the height of each stripe.
Let's do a little example, k? Say the height was 100 inches and you wanted 8 total stripes, that gives you 12.5 inches per stripe  (100/8).
Once you have that figured out, mark out the stripes on the wall (so in our example it would be every 12.5 inches).
Here's the daddy-to-be, Andy, getting in on the stripe action.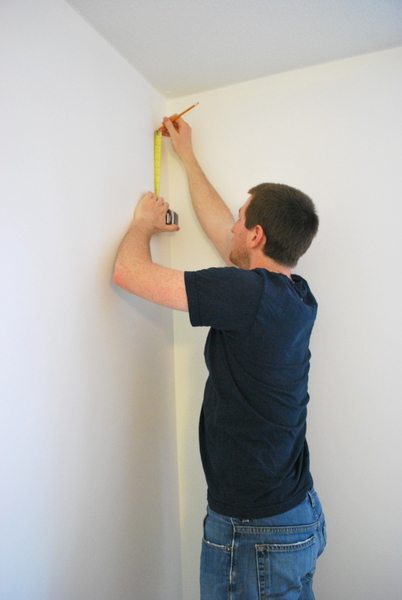 Then you need to decide where you want to start with the colour. With the way our stripes worked out, we had coloured ones at the bottom and the top (which is nice cause you don't want a white stripe at the top of the wall beside a white ceiling). The thing to remember when taping out the stripes is that the tape needs to go on the outside edge of each coloured stripe. When you look in the photo below, it looks like our stripes are different widths, but that's because those thick ones are where the green paint would go and the others were staying white. Make sense? We also used post-it's to be sure to know where to paint green and where to leave the white.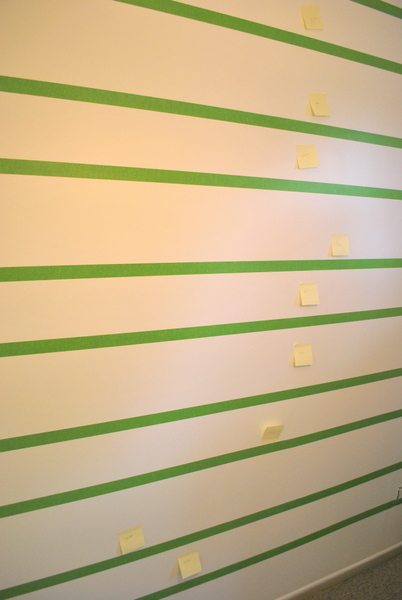 Here is how the stripes turned out! Pretty fun, right?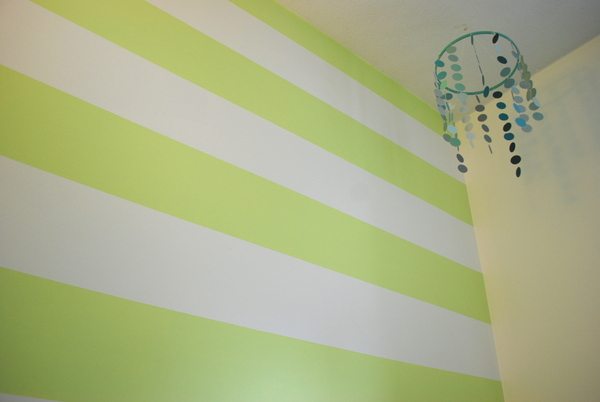 And up in that corner is the paint chip mobile I made for the little guy. This is not only a budget-friendly project, but also a great way to add an accent colour into the room.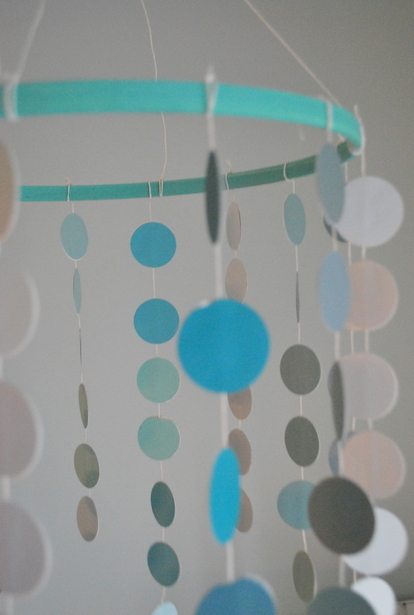 One of the other DIY projects I made for the room was a fabric-covered bulletin board, using the same process as the one I made for my jewellery here. I grabbed this batik fabric on clearance, which happened to be the perfect colour and had a sea/ocean feeling about it (perfect for my scuba-diving pals).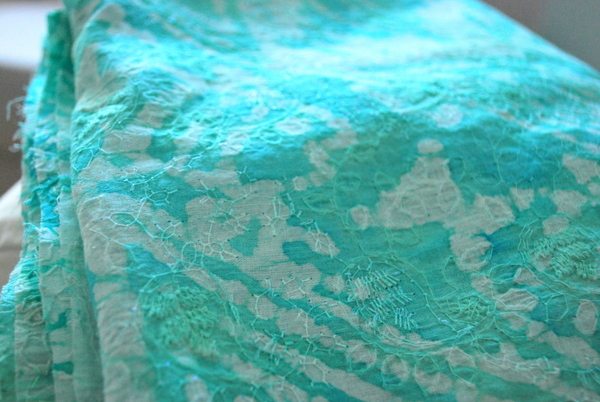 Oh, and remember that little tray project that I did with Tanya (from our "my take/her take" post)? Yep, it was for this room too!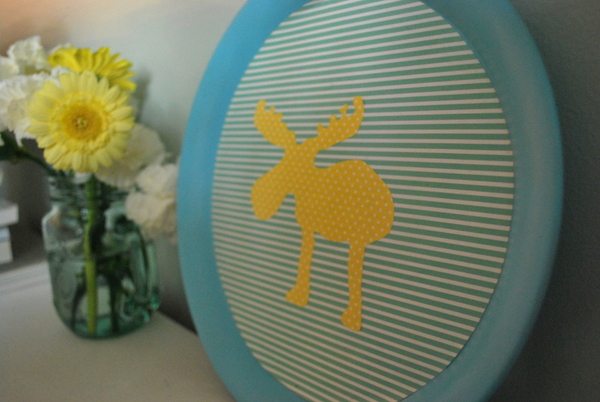 Check back here tomorrow for the all the "after" pics! The room is all kinds of fun and sweet now.
Have you guys been up to any stripe painting lately? The math part of it is slightly painful, for the peeling off the tape and revealing those stripes is such a sweet feeling. I always love a good stripe. Or maybe you've been doing some room re-decorating yourself? Tell me about it!