One of the first things we needed to tackle in our master bathroom makeover were the floors. In case you missed it, here are the before pictures and the design plans for the space.
Since the bathroom is really large, we needed the tile to be both budget friendly and not insanely time consuming to lay. With two kids in tow, we aren't able to DIY as much as we used to. To lay these floors, we decided to use our tile guy for the job, who charges by the hour.
You may remember that in our kids/guest bathroom that we did herringbone tiled floors. We love them, but I knew that doing something so intricate in this big of a space was a no-go. It would take ages to lay and just be too expensive. Plus, we'd done it already so I was ready for something different!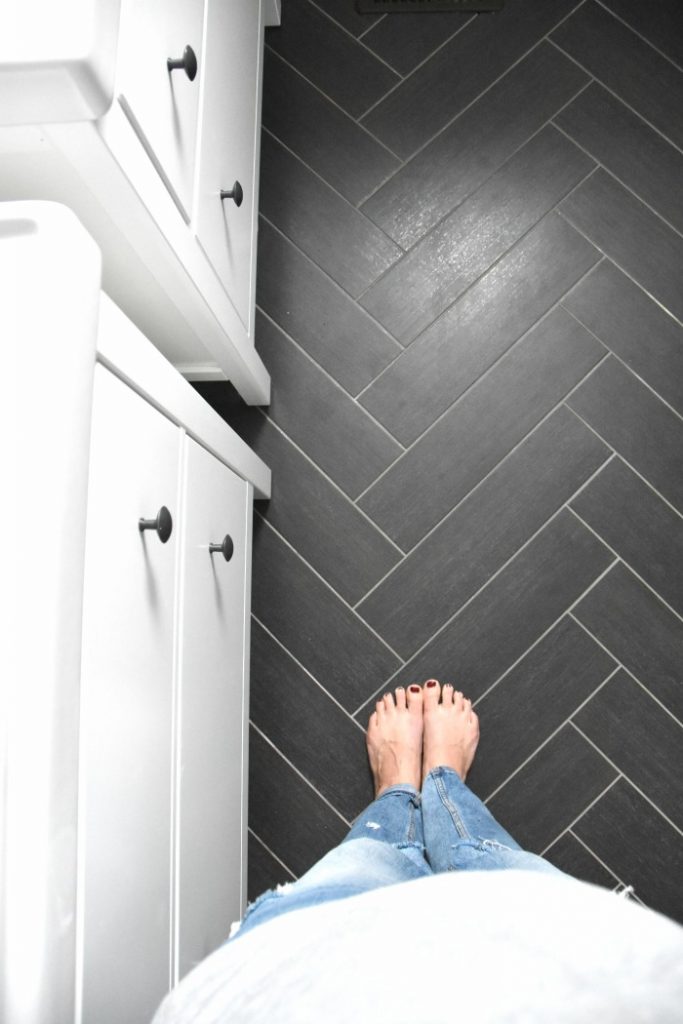 In our previous downstairs bathroom (pre-renovation), we had laid some carrara marble 24 x 24 tiles ourselves. I loved their classic look, and although we worried about them being slippery when wet, it wasn't an issue at all. We were actually really bummed when they were damaged beyond repair during the reno.
(It makes me all kinds of nostalgic to look at these old pics and go back to those early blog posts!)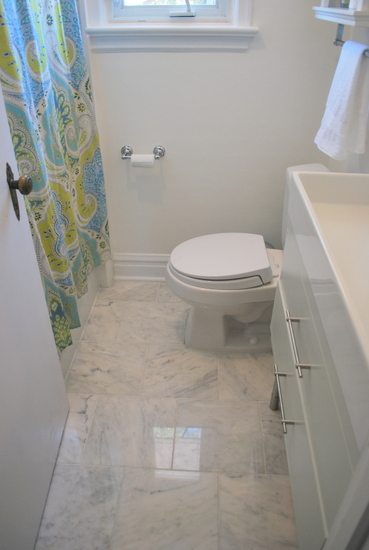 So when I went out tile shopping and found some HUGE square tiles that were ceramic carrara marble lookalikes on a killer sale, I was sold. They literally had *just* the right amount of stock left for us in their warehouse. It was fate. A total "start the car!!!" kind of moment. [For local Ottawa folks, we snagged these in the sale section of Euro Tile & Stone]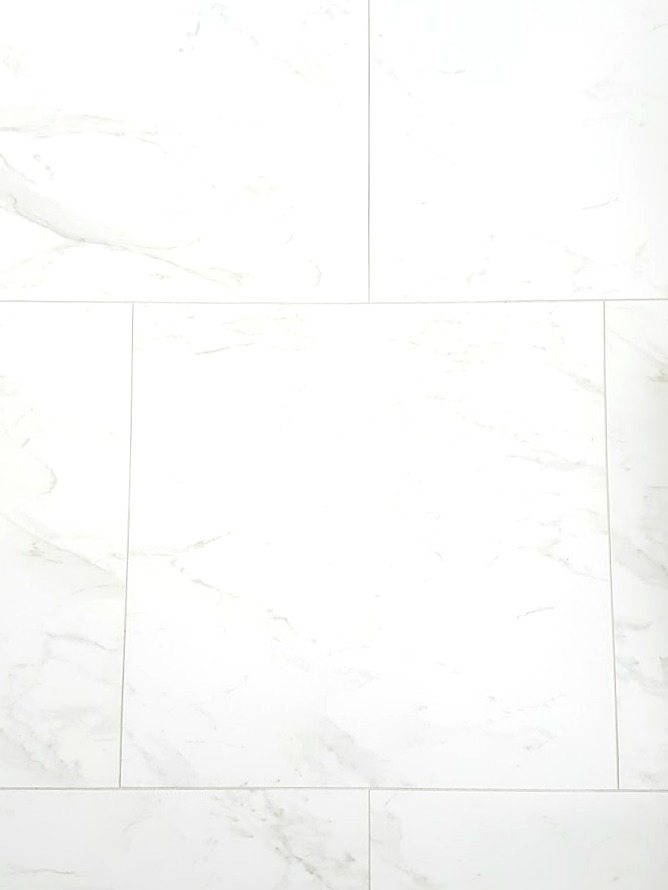 Marble Floor Tile
I loved the marble look, but also loved that they would be durable (as ceramic tiles generally are), and were waaaay cheaper than the real deal (less than $2/square foot).
The large size of the tile not only suited the big room, but meant they were very quick to lay. It was a fast job for our tile contractor. Watching him and his assistant work was amazing – it would have taken Dan and I AGES to get this floor done and they just whipped through it so quickly and professionally. I'm not trying to harp on our DIY skills, but in this instance it was so nice to pay someone else to do the job.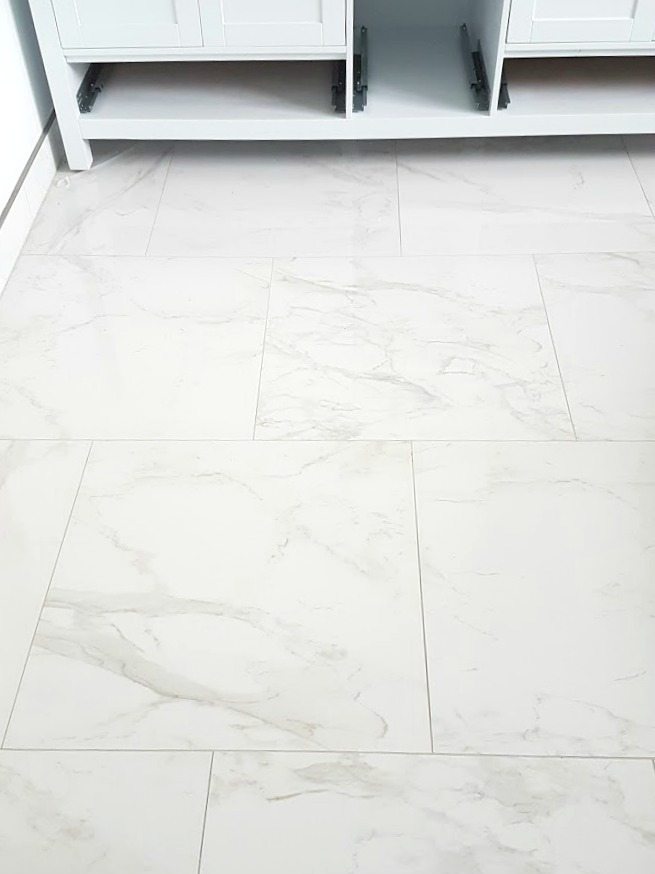 I went with a medium gray grout called "Silverado".
Tip? Don't ever do white grout on a floor. It's impossible to keep clean. I learned that the hard way with our first bathroom reno.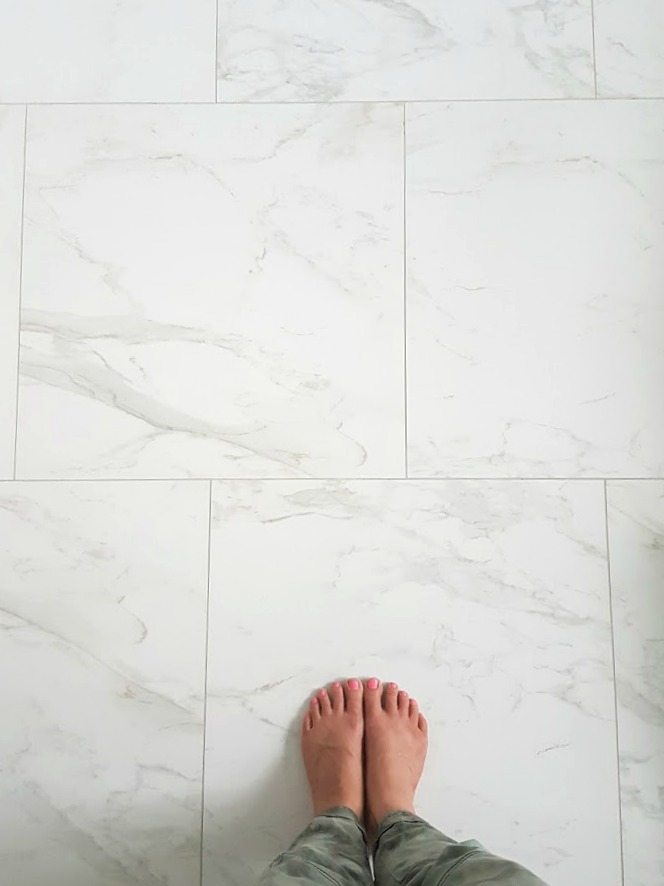 Unfortunately since these were a sale item, I don't have a link for you to get the exact same ones. I would just recommend that you hit up your local tile shop and check out what they have in person. The other option is to check online – like all of this marble tile, searching around can lead to a bunch of tile sellers who ship.
From my experience, pretty much anything that is or looks like carrara marble is a win. It's so classic and just looks good in any space.
Next up in the bathroom reno?
Installing the vanity. You can see in one of the pics above that we have gotten started – it's the Sheffield double vanity from Home Depot!
And finishing up the painting (the walls are done but I still have the trim and doors to do)
You have no idea how giddy we are at the thought of actually getting to use this space – it's been sitting there unfinished for over two years!