Regular The Sweetest Digs readers know how serious I am about creating a toxin-free home. I'm fanatic about using either homemade products or products where I can fully understand the ingredient list. After making my own cleaner for a while (a simple water + vinegar mix), I found the best natural all purpose cleaner that we now use literally EVERYWHERE in our home.
My homemade cleaners had worked ok, but this best natural all purpose cleaner delivers an even better clean.
And when I say an "all purpose cleaner", I really mean it is the best natural all purpose cleaner. I use this on just about every single surface in my home. Kitchen, bathroom, living spaces, most surfaces, everywhere.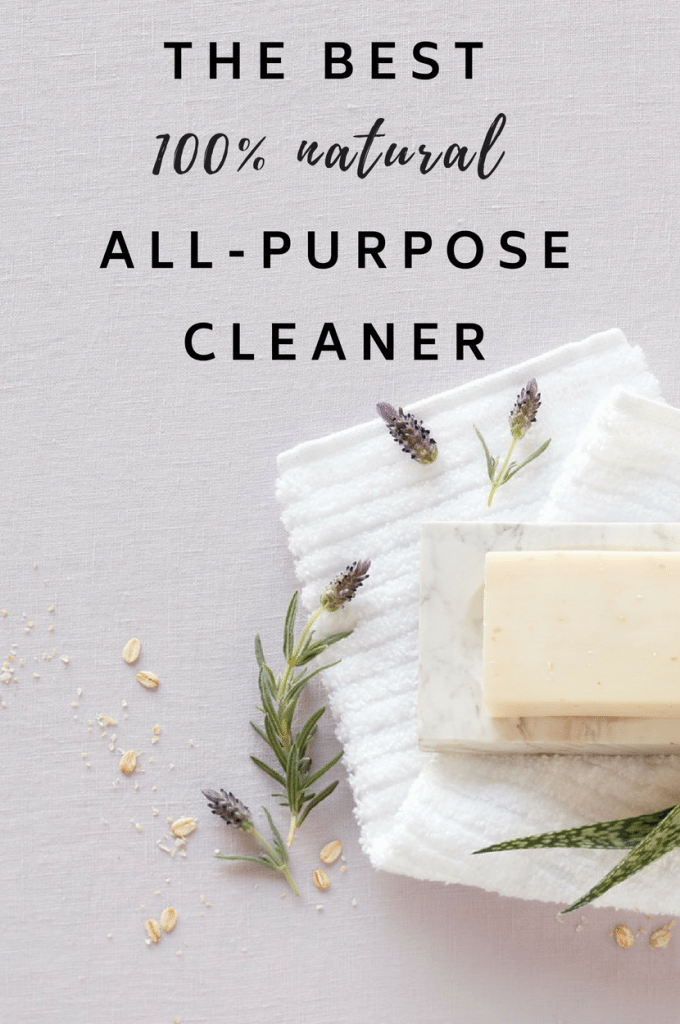 Why should you change your cleaning products?
Let's back up for a sec and talk about WHY you might want to switch the cleaning product you're using in your home.
Have you ever looked at the ingredient list?
Do you have a cleaning supplies cupboard that has like 10 different bottles in it, of various un-natural colours, and all have poisonous signs on them? 
Without going down the rabbit hole of giving you all the scary information, let's just say it's pretty frightening what is sold to us as cleaning products. There are ingredients in there that have been proven to cause cancer, disrupt hormonal systems, cause respiratory distress, and more.
Even the products that are sometimes marketed (cleverly) as being "all-natural" often aren't. I stay away from anything that has fragrance or parfum in it (unless explicitly stated that it's 100% natural). I don't want artificial dyes. No SLS or parabens. No bleach. And the list goes on.
I don't want to spray any of that in the air and have my family breathing it in. I don't want it to be on the floor or surfaces and have my kids paws all over it (god knows they are weird and will lick the floor). If you feel like you have to crack a window to clean, or that you want your kids out of the house when you've got your cleaning products out, doesn't there seem to be something wrong there? Don't you want to use products that you know are totally safe and natural? Why is it OK for you to breathe it in, but not your kids?
Just a few of the typical cleaning products… rating not very well on the toxicity scale.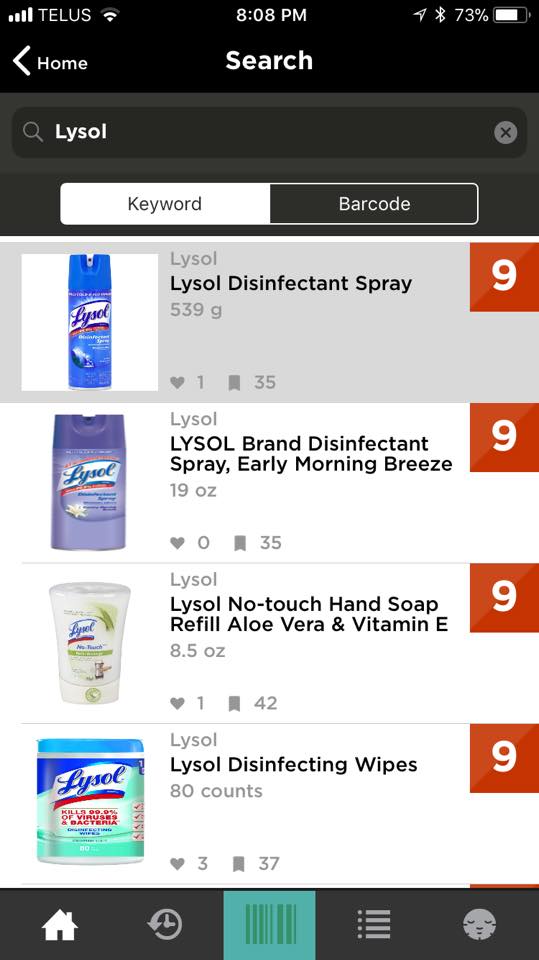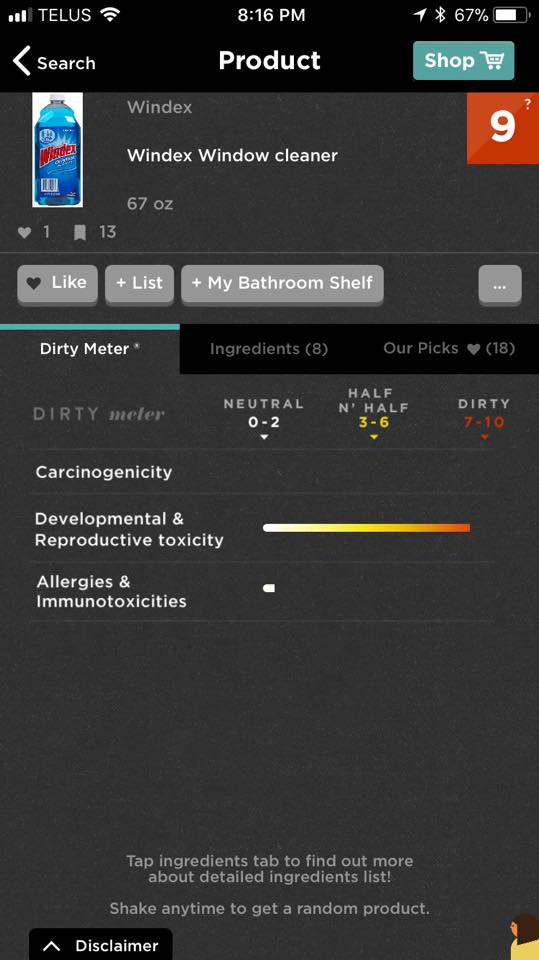 The best natural all purpose cleaner
So what is the cleaner I have switched to and love? Thieves cleaner!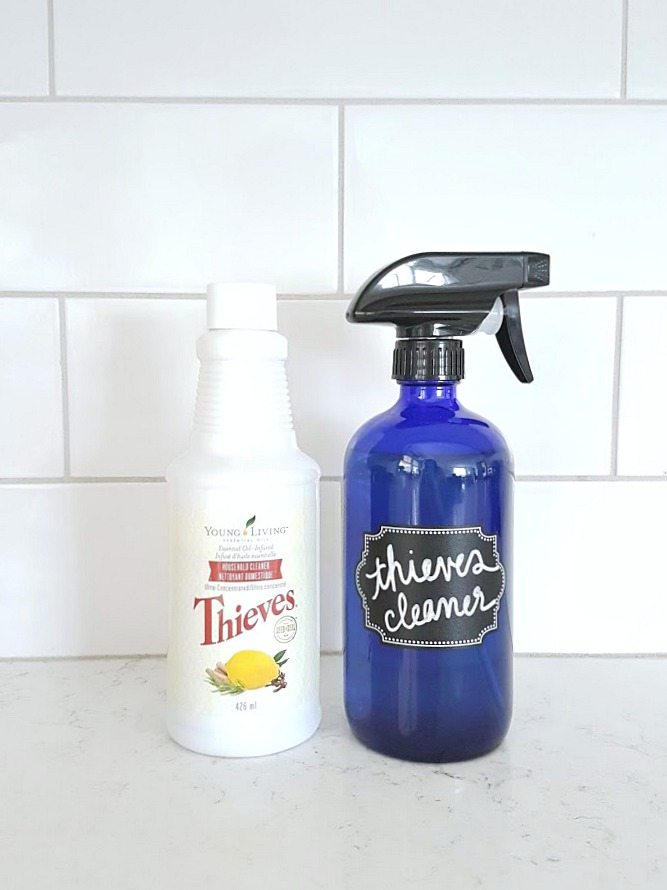 Choosing natural doesn't have to mean less effective. You don't need artificial fragrances, ammonia or chlorine to clean your home.
This household cleaner is a concentrated cleaner formulated with 100% plant- and mineral-based ingredients. It is biodegradable and complies with EPA standards.
 Thieves Cleaner ingredients:
Water
Alkyl Polyglucoside (a surfactant that is biodegradable and derived from sugars)
Sodium Methyl 2-Sulfolaurate (natural, plant-based surfactant)
Disodium 2-Sulfolaurate (natural, plant-based surfactant)
Clove Bud Oil
Lemon Oil
Cinnamon Bark Oil
Eucalyptus Radiata Leaf Oil
Rosemary Leaf Oil
Tetrasodium Glutamate Diacetate (vegetable-based rinsing agent)
All good-for-you ingredients and with the power of those essential oils. Not only does the cleaner smell amazing, but those oils really contribute to the cleaner's ability to kill the yucky stuff in your home.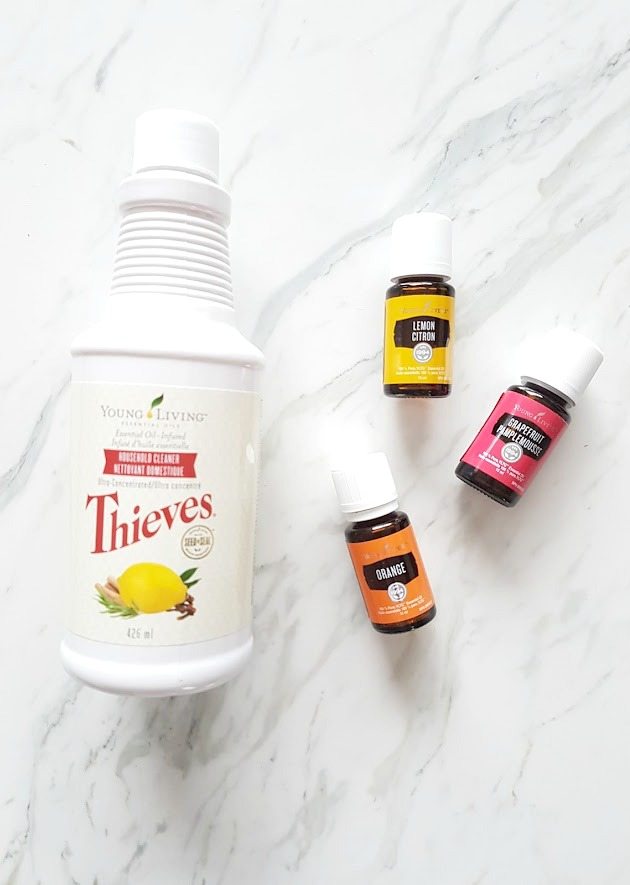 How do you use Thieves Cleaner?
The cleaner comes in a bottle of concentrate. So what you do is get an empty spray bottle (I like using these glass ones!) and put in a capful of your thieves cleaner. Then you fill up the bottle with water, mix it up a bit, and you're ready to go.
The dilution ratio depends a little on how heavy-duty you want the cleaner to be.
Here are some guidelines:
General Cleaning: 30:1 (water/solution)
Heavy Degreasing: 15:1 (water/solution)
Light Degreasing: 50:1 (water/solution)
Glass Cleaning: 50-100:1 (water/solution)
Dishwasher: Add 1 capful to the bottom of the dishwasher
Floors: Add 1 capful to 6 to 6 ½ cups water (depending on what is needed)
Carpet: Add 1 capful to 6 to 6 ½ cups water (depending on what is needed)
I was literally able to throw away EVERY SINGLE cleaner I had, and now just have this all-purpose cleaner. It means a much more streamlined cleaning cupboard AND I can feel good about what we are using in our home. Plus, the kids can help me clean as I know it's safe for them. Mom win!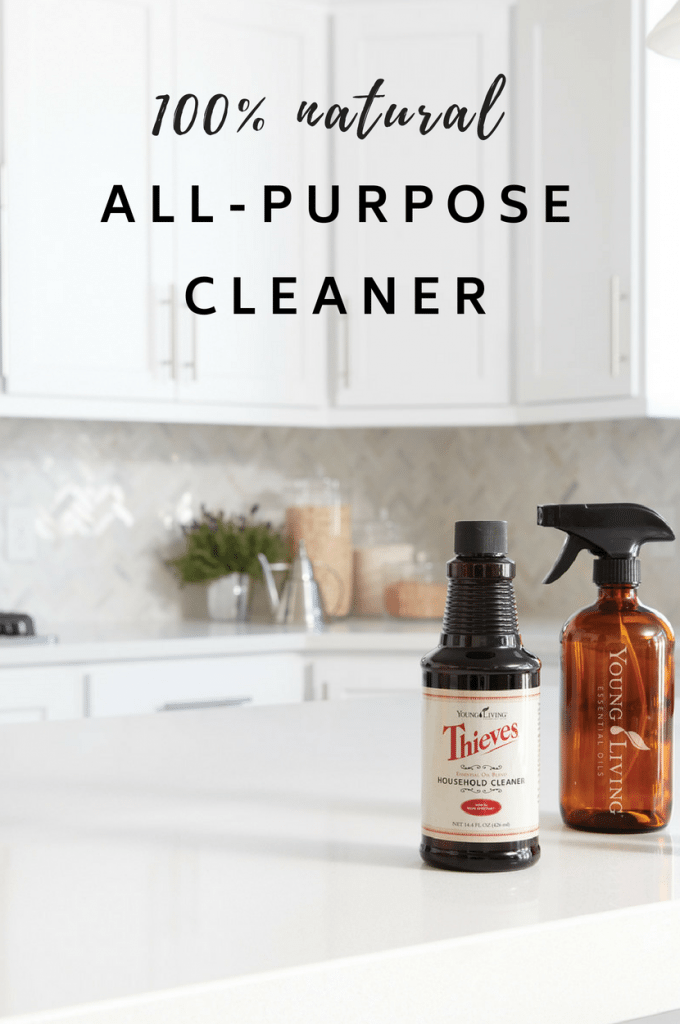 Oh and I didn't even mention how budget-friendly it is. It costs $30 for one bottle of the concentrate, which lasts me about 6 months. One bottle of concentrate makes about 30 bottles of cleaner (depending on dilution ratio, obviously).
Young Living is a membership based company (think Costco). If you want to get the cleaner at the wholesale cost, just shoot me an email and I'll help you out – gemma[at]thesweetestdigs[dot]com.
Want More all natural products and DIYs?
–Homemade Lip Balm (super easy!)
–DIY Beard Oil for your fella