OK so you want to make bread pudding but with a twist? This croissant bread pudding is a fun change from the traditional dish, and tastes amazing!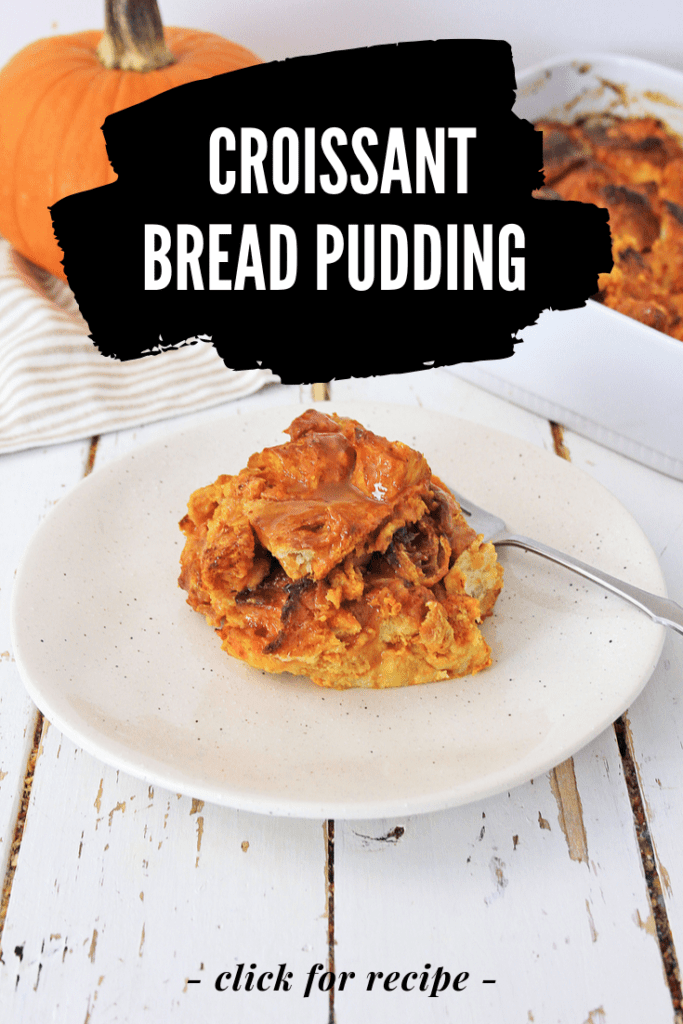 Ingredients You'll Need for Croissant Bread Pudding:
12 – 15 day old Croissants
1/2 cup of brown sugar
1/2 cup of sugar
1/2 teaspoon of salt
1 Tablespoon of baking powder
1 teaspoon of cinnamon
1 teaspoon of pumpkin pie spice
4 Tablespoons of butter – cut into small cubes
4 eggs – beaten
1 can of canned pumpkin
1 1/2 cups of half 'n half cream
1 Tablespoon of Vanilla
Croissant Bread Pudding Recipe:
Step 1: Prep dish and croissant
Butter the bottom and sides of a 9 X 13 dish, and set aside.
In a large bowl, tear the croissants in bite size pieces.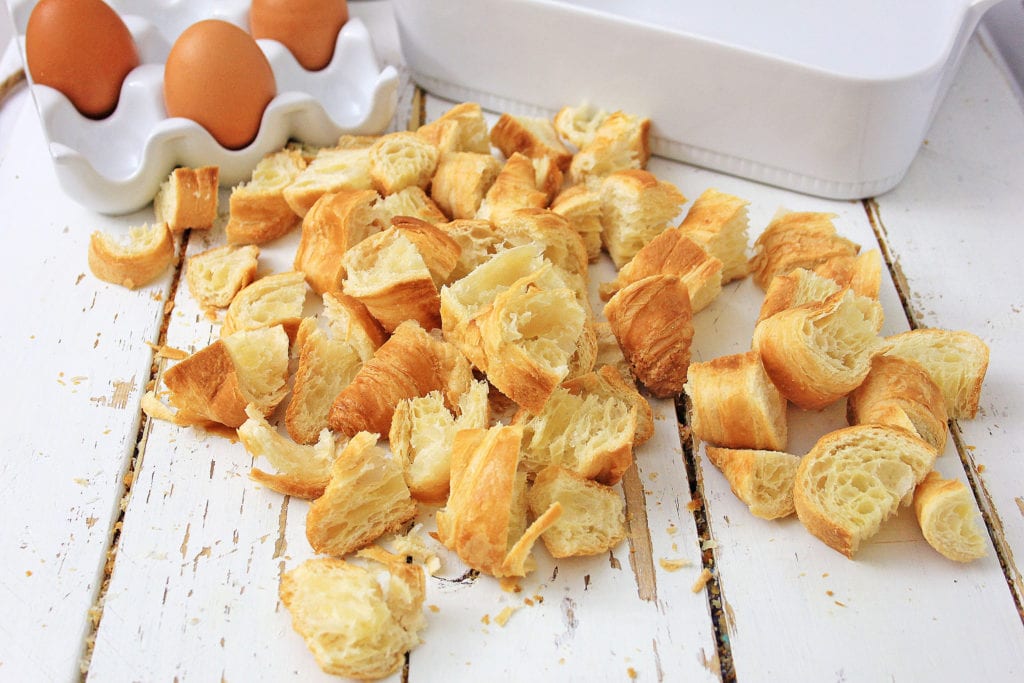 Step 2: Mix Ingredients
In a separate bowl, combine the brown sugar, sugar, salt cinnamon, pumpkin pie spice, and baking powder, and stir well. In another bowl, break the eggs, and beat them with a whisk until they're a light lemon yellow.
Add the pumpkin, half 'n half and vanilla, and stir well to blend.
Add the sugar/spice mixture to the egg/pumpkin mixture and stir well.
Step 3: Combine Croissants and mix
Place the croissants in the buttered 9 X 13 dish, and pour the pumpkin mixture over the croissant pieces. Dot the top of the dish with the butter cubes.
Step 4: Bake
Place the dish in a 400 degree oven for 40 – 45 minutes, or until the bread pudding is golden brown, and springs back when touched.
When the dish is completely baked through, remove from the oven, and allow to cool and set for at least 30 minutes. When cooled a bit, cut into pieces, and serve. Enjoy!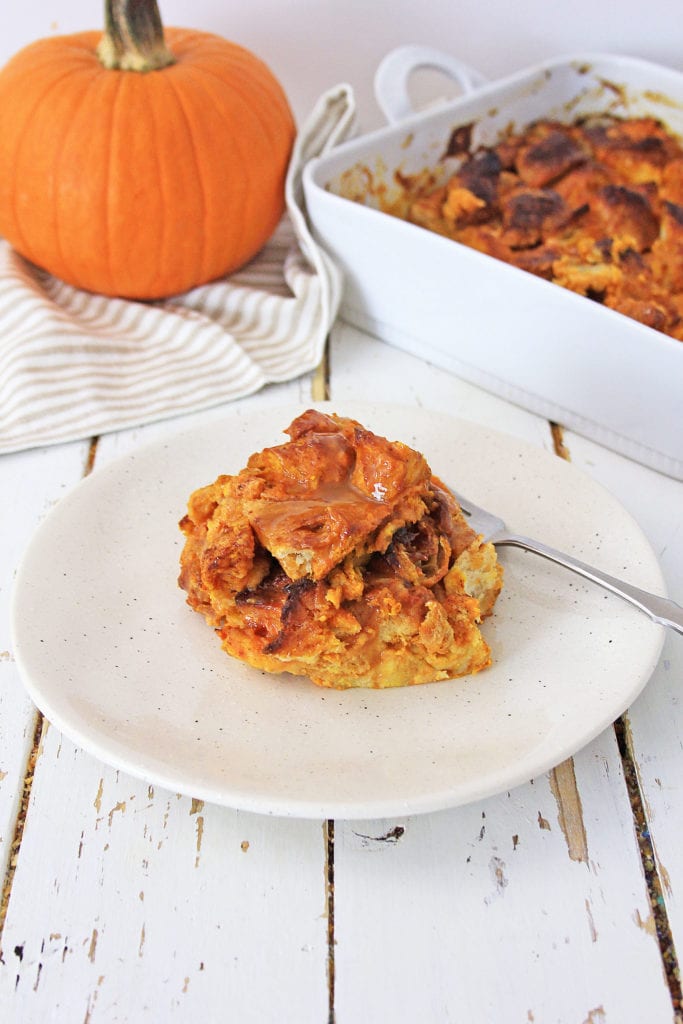 NOTE: Check the bread pudding at about 30 minutes, and if it's getting too brown on top, cover loosely with foil. Make sure the pudding is completely done – you can use a toothpick and if it comes out clean, it's done. Remove the foil about five minutes before taking the pudding out of the oven, just to make sure the top is crispy and not soggy.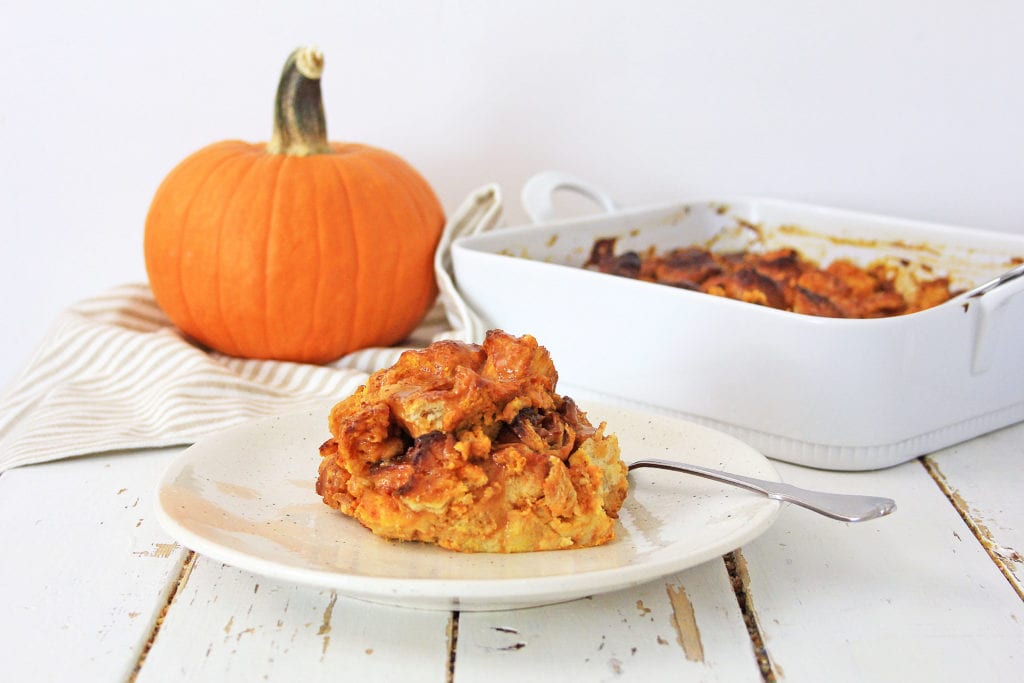 Optional Toppings:
You can top the pudding with a lot of different ingredients like:
Maple syrup
Coconut +

pecans +

brown sugar + butter (melt butter and sugar in a pan, then add the coconut and pecans and toast)
Whipped cream
Cooked apples + brown sugar + vanilla
Ice Cream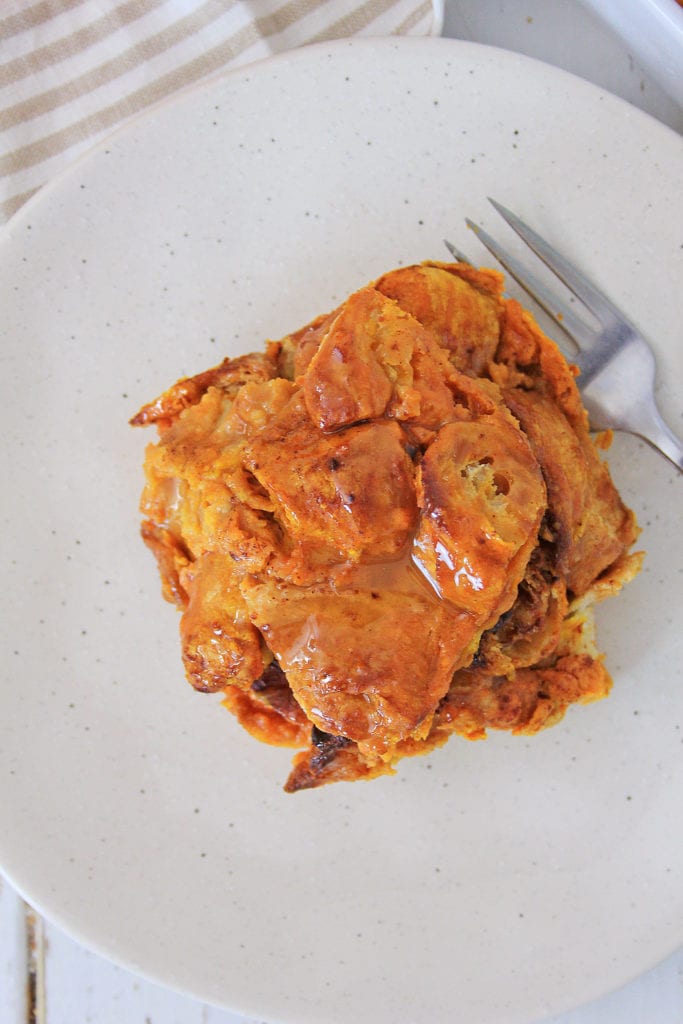 More Recipes: