Artwork is one of those things that can totally MAKE a home. Putting some artwork up can all of a sudden give a room some personality. It brings the life to a space, you know?
The challenge is that art can be expensive. If you look around and get creative though, there are so many budget-friendly ways to bring interesting artwork into your home (I even have a Pinterest board dedicated to collecting DIY artwork ideas).
DIY Abstract Art
I recently needed a piece for above our mint and gold buffet. I had a very specific colour scheme in mind but a zero budget. The solution? Paint my own DIY abstract art.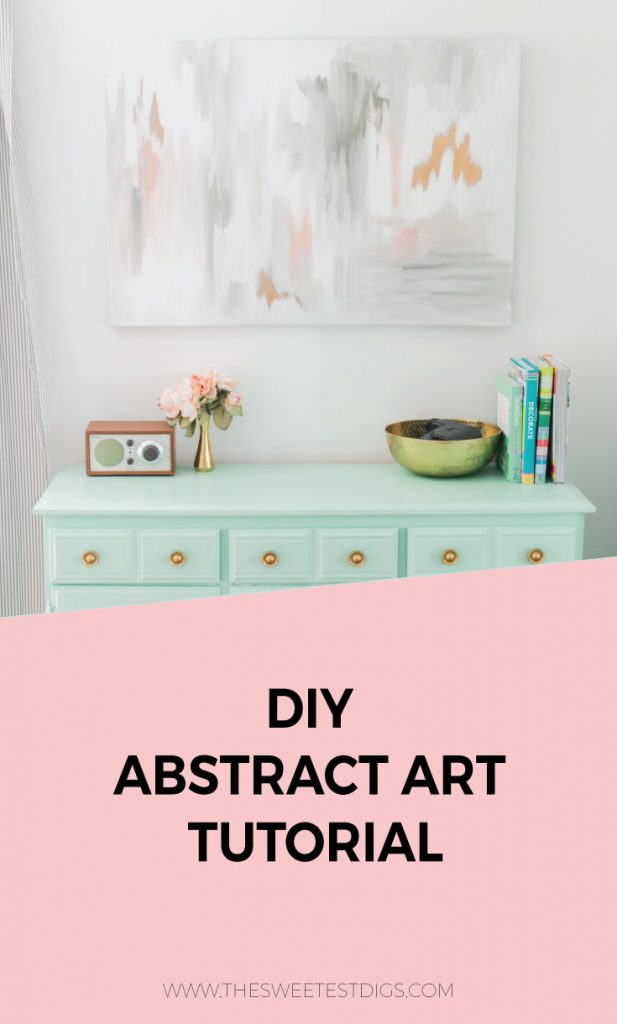 DIY Abstract Art Supplies You'll Need:
A stretched canvas, whatever size you want! I like this 24 x 36 canvas because it's big and will have lots of impact
Paint – This set of paints is a great kit to get started with. You can use any acrylic paint or even leftover latex wall/furniture paint you have on hand.
Liquid gold foil (I'm obsessed with this stuff. SO pretty!)
Paint brushes – a variety of sizes to get different strokes
A plate or paint tray for mixing your paints
I got my canvas out to get started. I had misplaced my easel (guys, you don't even want to see how disorganized and crazytown our storage area is looking right now…), so I just painted my canvas with it leaning up against a chair. #makeitwork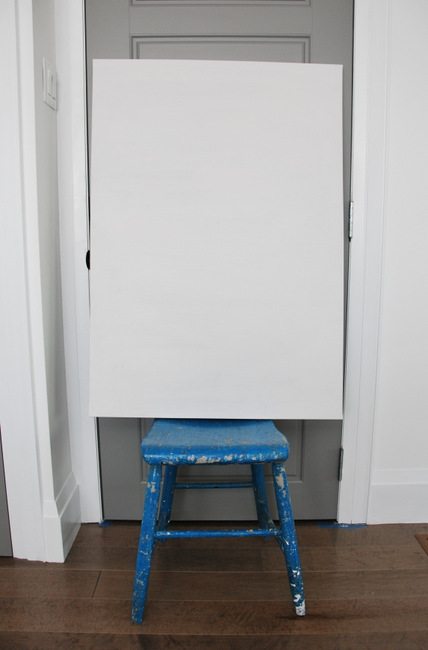 As for my paints and brushes? In order to get the exact colour scheme I wanted, I had to use a few different paint types. Some were acrylic paint that I had in my stash (my fave brand is Liquitex Basics – this pink one and this white one), and the grays were actually leftover wall paint that I had used on the doors on the main floor.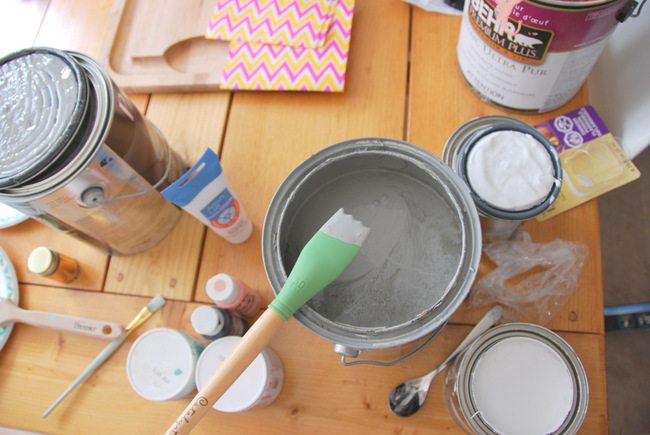 I also used a few different brushes. This green rubber one I had picked up recently gives a stripe-y look, a large brush from some past furniture painting projects, and a finer art brush for the gold.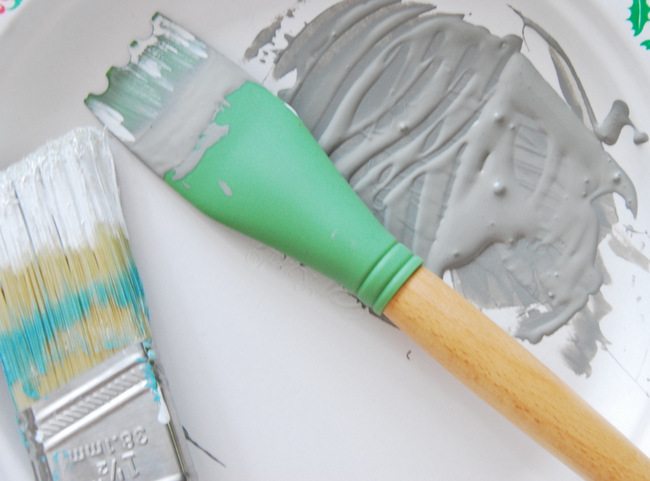 I started off by applying a little bit of liquid gold foil paint with a delicate paint brush to a few areas of the canvas. This is what adds that bit of glam and extra dimension to your piece. It's much more intense than regular gold paint, and easier to use than applied gold foil. I use this one by PLAID and really like it.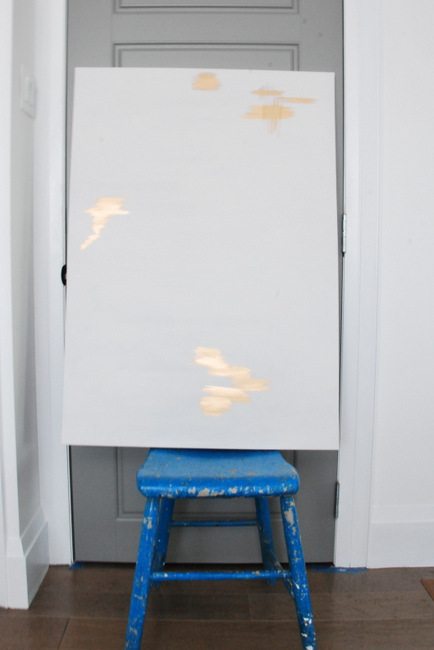 Then it's a matter of layering on paint. Don't be too rigid about this or labour over it too much. I always start out by applying the darker colours. You can see here that I added strokes of the gray and the pink to get started.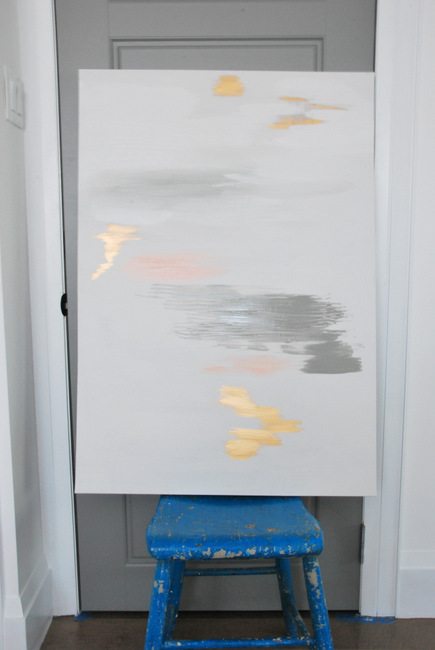 Then I layered over with white. I knew I wanted this canvas to be really quite light overall, so I was liberal with my white application.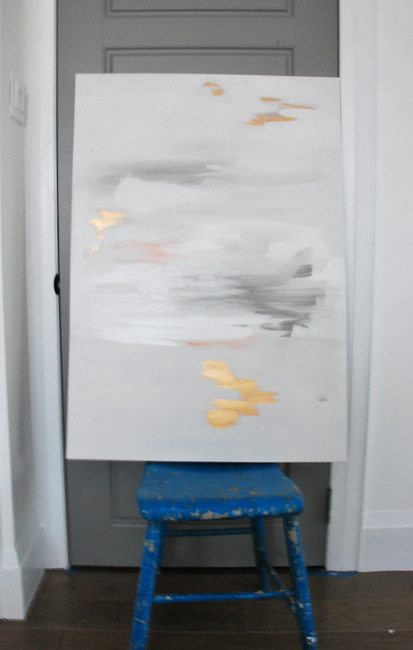 You want to make sure that your entire canvas get covered with paint so you get depth and dimension – just put lots on, and then if it's getting too colourful or dark, blend in tons of white over top.
I was going with mostly horizontal strokes to begin with, but then added some vertical in the bottom corner to again add more interest.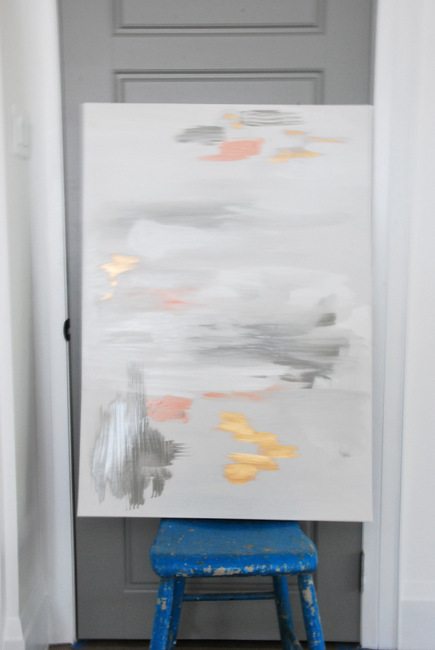 I applied my last batch of white paint and blended it all in to get the soft look I was after.
Then, even though I felt like I could keep tweaking and tweaking, I stepped back and put down the brush. The nice thing with acrylics (versus something like watercolour) is that you can always add more and cover up areas after your piece has dried.
SO – relax and let the artwork sit for a little while before you go overboard with changes.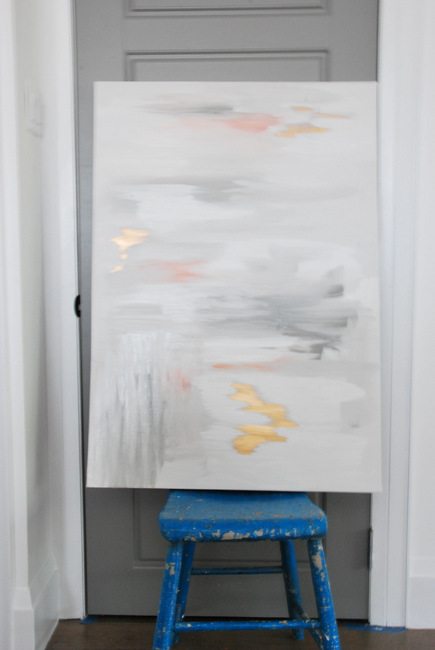 Even though I painted this vertically, I ended up liking it horizontally better over my buffet.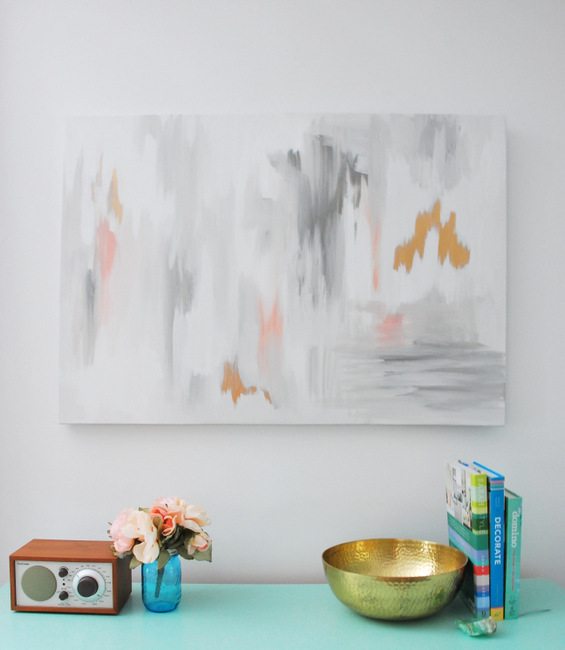 There is no major trick to creating DIY abstract artwork, but just have fun with it, use the colours you love, and make sure to blend blend blend.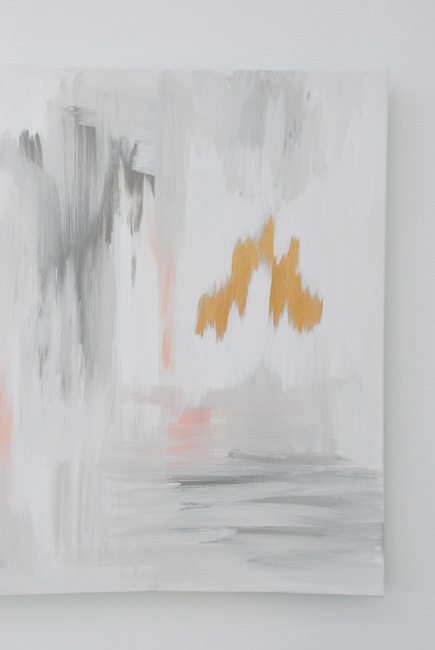 And if gold is your jam like it is for me, then seriously do the liquid gold foil thing. It adds so so much to the canvas.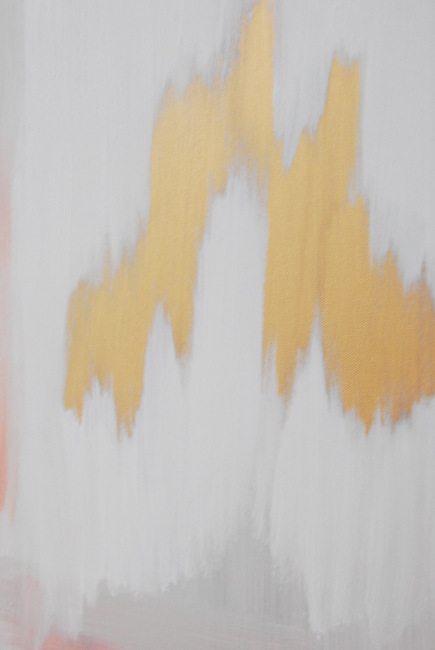 Hang, and get ready to get all kinds of comments and questions on where you got your new artwork! I promise people are going to be super surprised when you tell them you DIY'd that bad boy.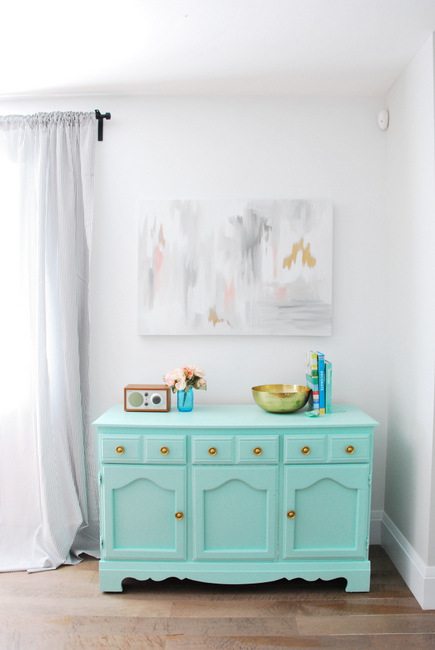 If you want more art or other project ideas, head on over to the DIY Project Gallery!
Have you guys done at DIY artwork at your place? Got any favourites to share? I wanna hear about them!