Want to decorate your front porch for the holidays?
Cool. I've got you covered with this super easy project – a DIY christmas doormat!
I've joined forces with four other rad bloggers who love black, white, greenery, and shine as much as I do for our Modern Holiday Home series. We're going to be bringing some fun holiday projects and decor EVERY SINGLE WEEK for five weeks.
This week (week #3) we are all using Krylon spray paint in our projects!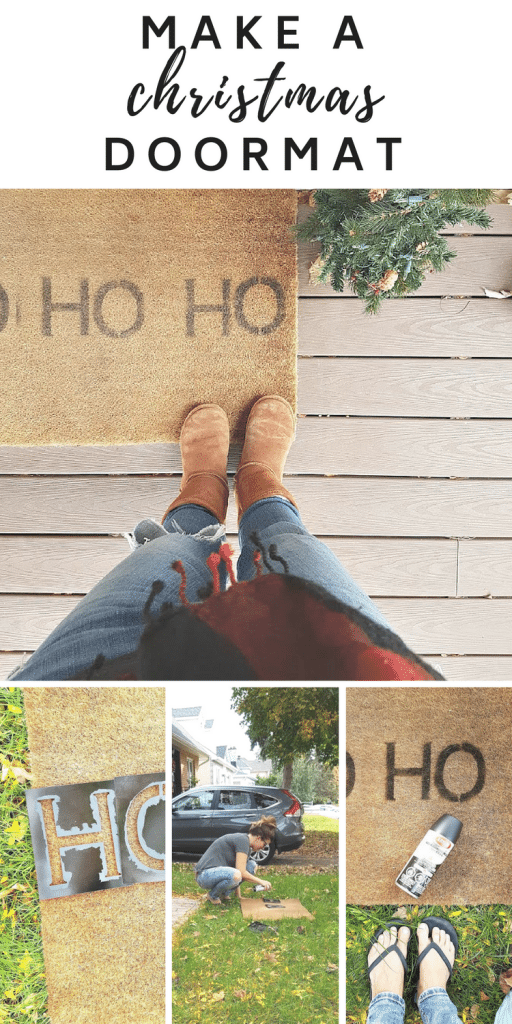 Supplies You'll Need:
A Coir Doormat. Coir is a natural fiber extract from coconut husk and makes a great, durable doormat.
Krylon Spray Paint in Flat Black. I have used a lot of spray paints, and Krylon is definitely my go-to brand.
Large Letter Stencils. The size of stencil will depend on what phrase you want to write. I used 8 inch stencils in capital letters, but you could choose any size and go lowercase if you wanted!
How to Make Your DIY Christmas Doormat:
Step 1: Get your Doormat
Start out with your coir doormat. We had actually been using ours for several months before I even did this project. I just made sure all of the leaves and dirt were cleaned off, so we had a blank state to start with.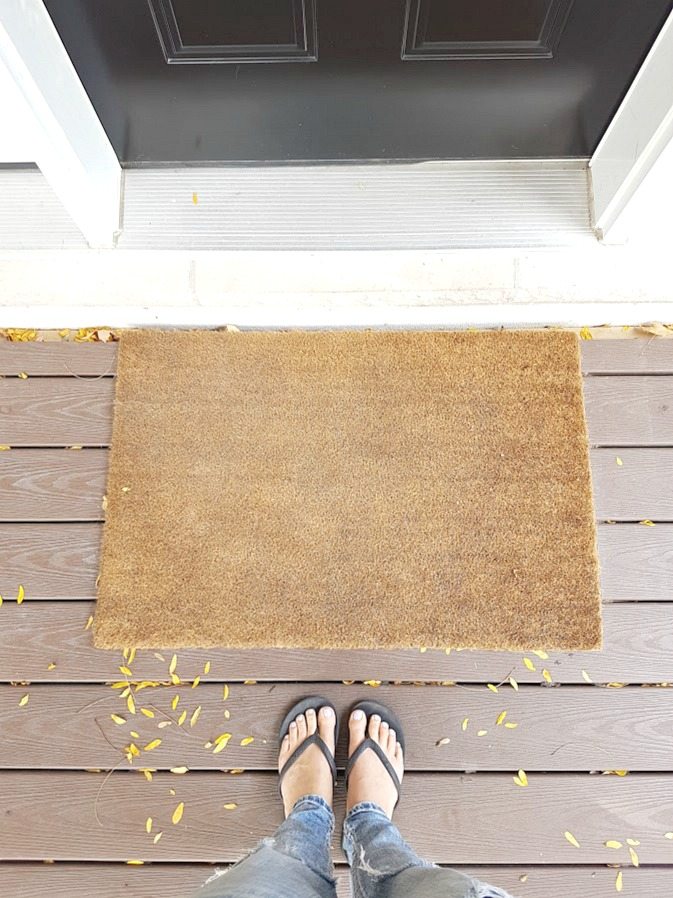 Step 2: Determine Stencil Placement
Get out your letter stencils and decide on placement before you start spraying. I knew that I would be able to fit "ho ho ho" so long as I started right up close to the border of my mat.
The nice thing about stencils like this is that you can re-use them for all kinds of projects! You can see mine have paint on them from a growth chart project I had done.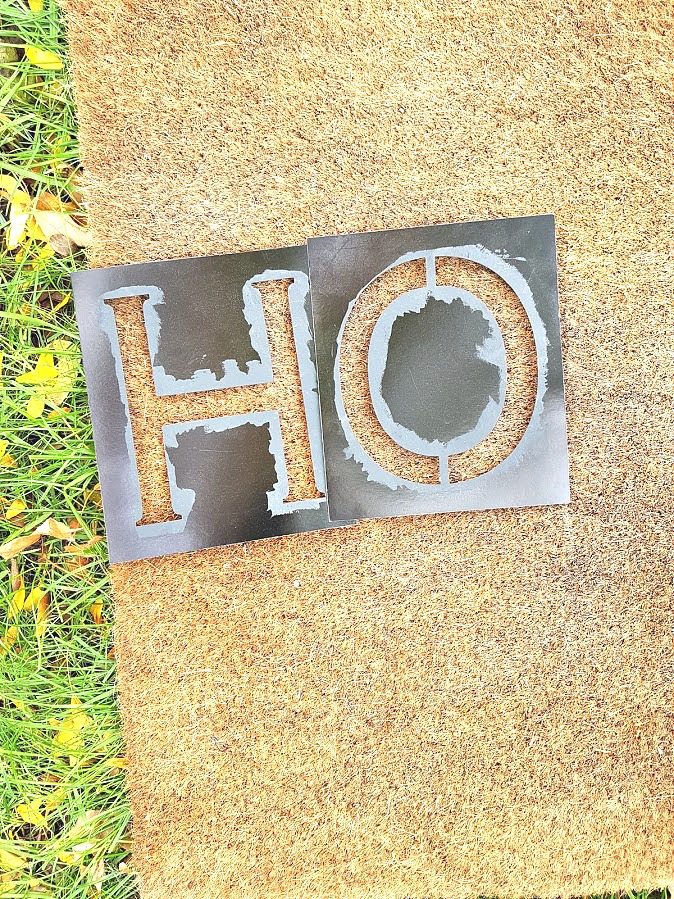 Step 3: Spray Paint
This is the fun and nerve-wracking part. Start spraying! I love the flat black paint from Krylon. Their MasterColor series is my go-to paint and I find it always goes on so well with great coverage, and lasts. No need for primer!
A few quick tips:
Don't hold your stencil down too hard. I found the more I just let it sit on the mat without my hands there, the more evenly the paint went on.
Spray quickly and evenly. You want it to stay within the stencil and not be too thick, so spray it quickly and evenly across stencil.
Don't over-spray. Be careful where you are spraying as you don't want to get paint outside of the stencil. You need to do it right up close to the mat for these.
I asked my daughter to snap some pictures on my phone while I was spray painting. The girl took a zillion pictures, and so my phone automatically made a GIF. Ha!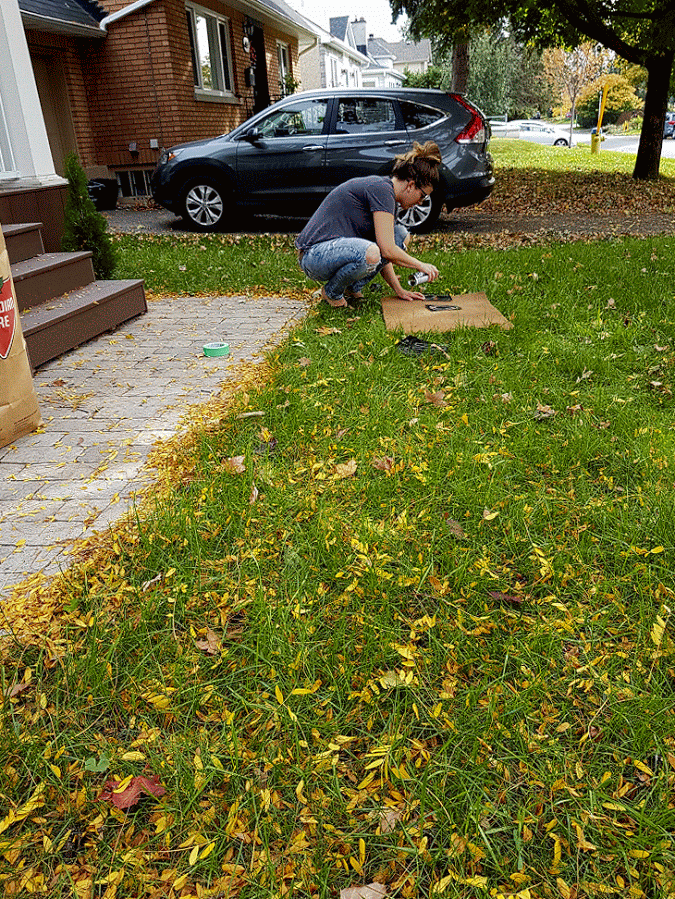 Step 4: Let Dry
I let my mat sit for 24 hours to cure before we started using it again. Even though the paint was dry to the touch after about 20 minutes, I just wanted to be sure that it had all set.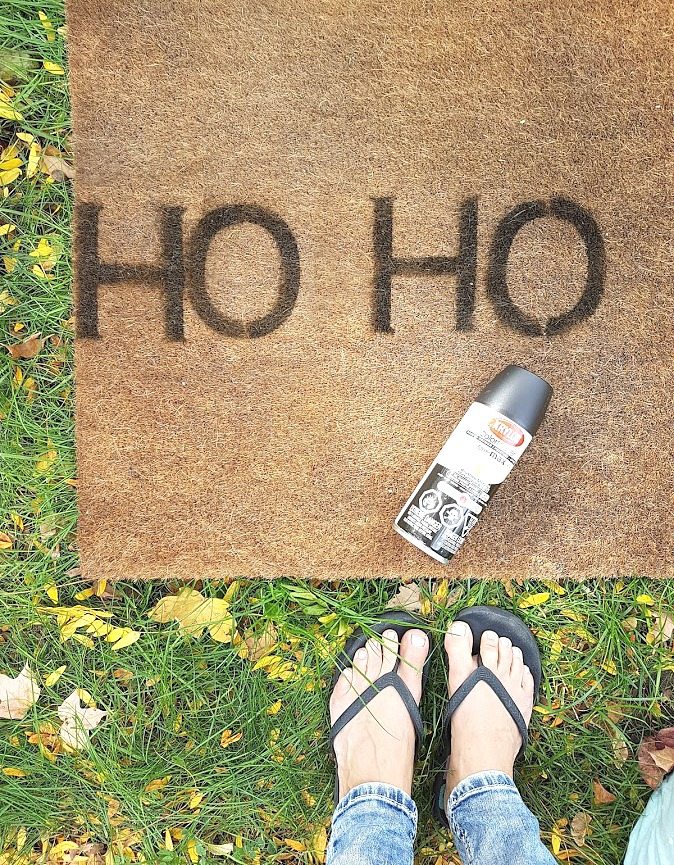 Isn't it cute? I love how it turned out.
We have been using it for several weeks already because I wanted to test out the durability before I posted the project, and so far so good! It looks just the same as the first day I sprayed it.
I think our neighbours probably thought we were a little crazy when they came trick-or-treating and we had a Christmas doormat ;)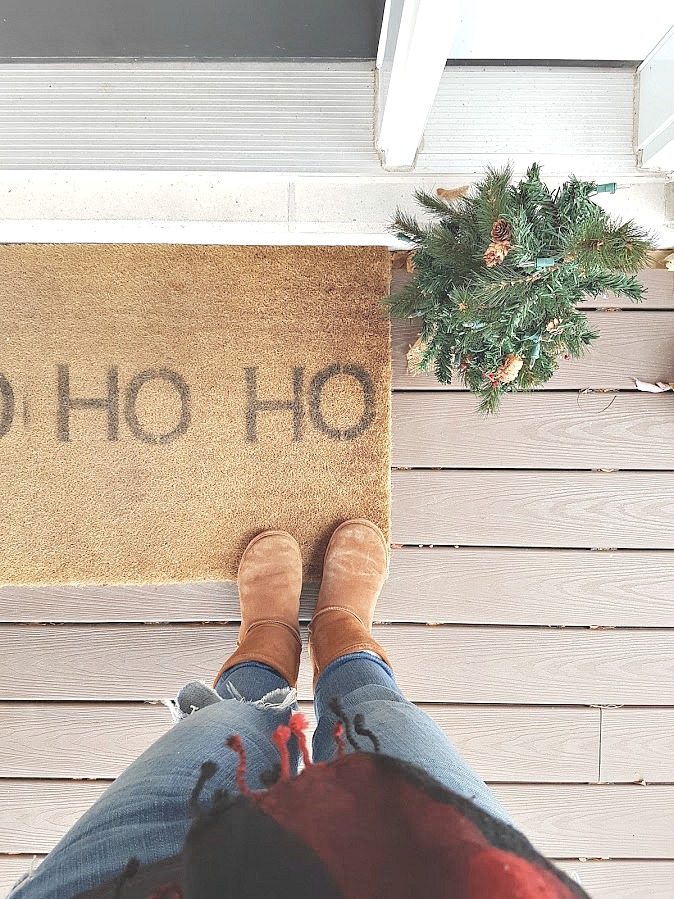 I haven't fully decorated our porch yet, but I put out a little tree for now and a wreath. I plan on making some holiday planters in the coming weeks, so I'll update you on how it's all looking out there!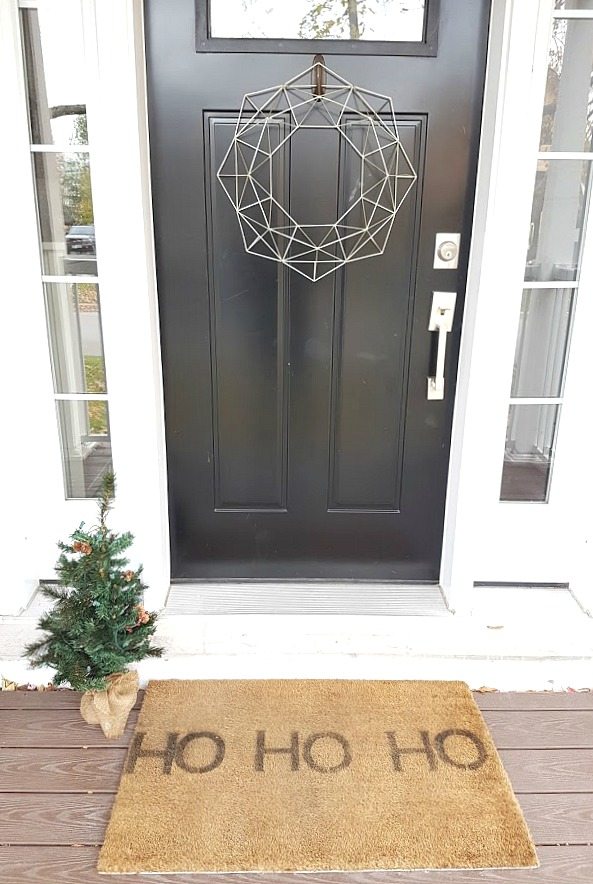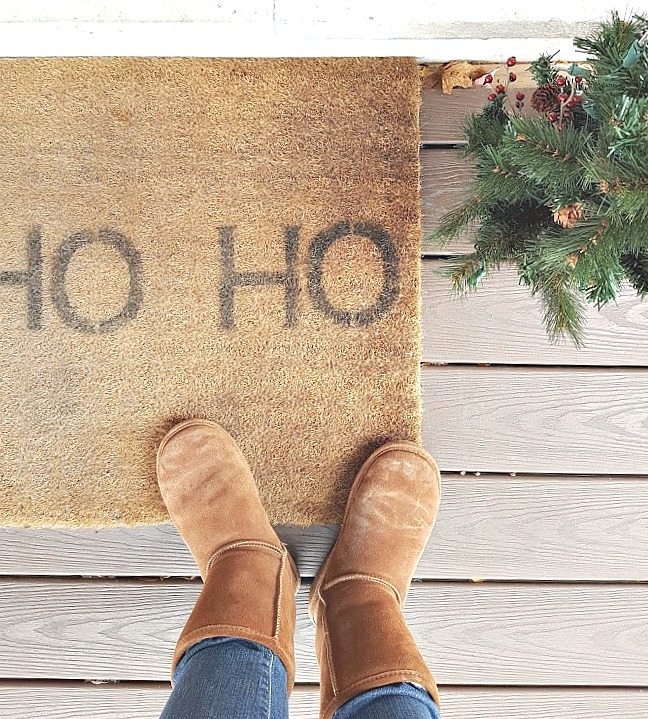 That's it!
Such an easy project, you definitely need to try it out.
Modern Holiday Home Series:
Check out what the other girls from our Modern Holiday Home series did with their spray paint this week!
Christmas Countdown Chalkboard // DIY Gold Flatware // DIY Lantern // Mini Ornament Wreaths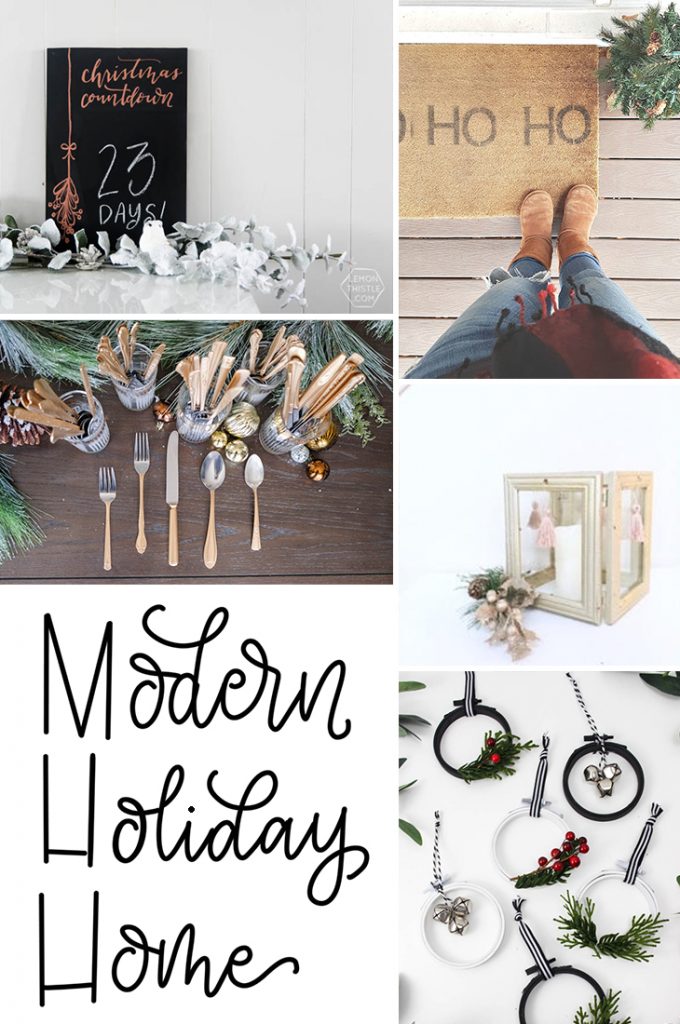 Related Posts:
-Joanna Gaines's Hearth and Hand Christmas collection (it's stunning!!!)
–DIY christmas wood slice ornaments