Father's Day is just around the corner, and I know I need to get my butt into gear. Dan is going to be away over the actual day, but I plan on surprising him with a make-up father's day when he is back. In addition to some Maya crafts (handmade card anyone?), I want to get him something nice. Thing is, I don't have much time to go shopping right now, so I plan on ordering something online. After browsing around, here are my favourite father's day gift ideas that are all easily available to order online and so are DELIVERED to your doorstep. A-to-the-men.
All products via either Amazon or Chapters/Indigo. Most are currently on sale and under $50 (except last one)!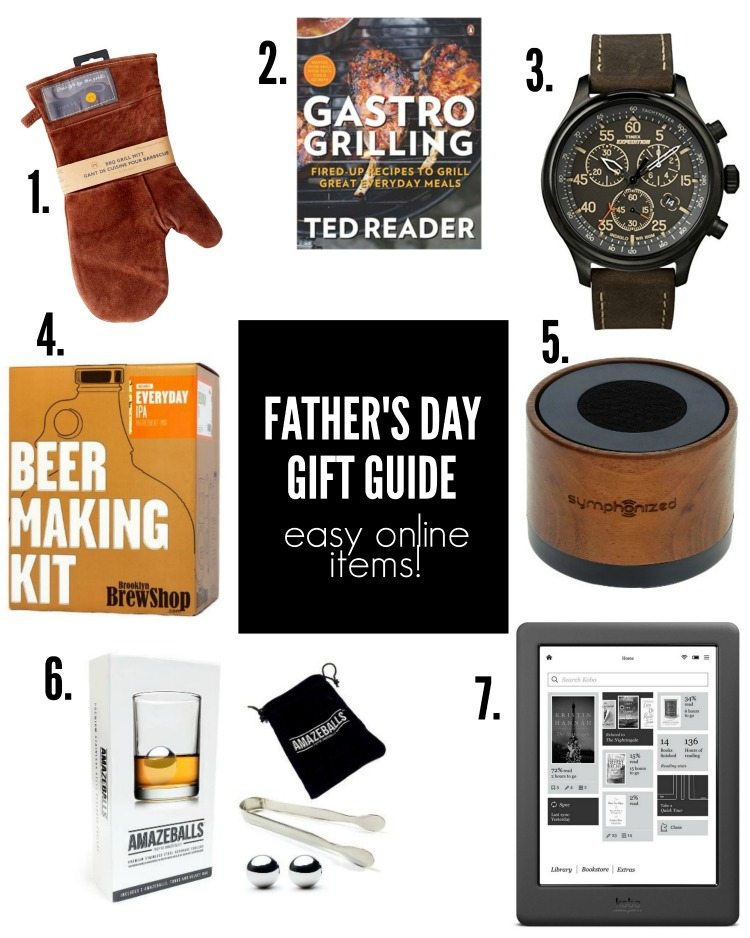 1 >> Leather Grill Mitt by Outset
. This mitt not only looks super stylish, but is handy for a dude who loves to grill. Plus at $10, it's a pretty wicked steal.

2>> Gastro Grilling: Fired-up Recipes To Grill Great Everyday Meals
. Why not pair the mitt with a great new cookbook for your fella?
3>> Timex Men's T499059J Expedition Field Chronograph Watch
. Dan has a smart watch so he doesn't need a new one, but I like the classic look of this Timex. Plus, the price point is great!
4>> Brooklyn Brew Shop Beer Making Kit, Everyday IPA
. At home beer making sounds pretty fun, don't you think? I know quite a few fellas who would love this kit.
5>> Symphonized NXT Premium Genuine One Piece Solid Hand Carved Walnut Wood Bluetooth Portable Speaker. Compatible with All Bluetooth iOS Devices, All Android Devices and Mp3 Players
. I'm really digging this small but stylish bluetooth speaker. Perfect for the back deck or to take with you when you're travelling. It's on an amazing sale right now, too!
6 >> Amazeballs – Set of 2
. The guy who started this company is actually based in Ottawa! You know I love supporting local businesses. PLUS… the product is cool (they are like re-usable ice cubes that don't melt and keep your drinks cool and lookin' sharp), and I happen to say amazeballs all the time (after watching Giuliana Rancic's reality show a few years ago – guilty!!), so the whole thing just sorta works for me.
7 >> Kobo Glo HD – Black by Kobo
. This one is a little pricier, but if the dude in your life doesn't have an e-reader, you might consider getting him one. We LOVE ours (we have the Kobo Glo's) as they are so light, easy to use, and amazing for travel.
Got any gift ideas of your own? If you are celebrating Father's Day, are you already all set? Doing any crafts with your kids? Any Dads out there have some favourite gifts they want to share?