Now that my kiddos are getting a little older, Halloween is suddenly becoming such a fun holiday. Maya kinda loves to be scared. She was thrilled with the big rollercoaster at the Fair the other weekend, and last halloween she thought that the houses with all the blood and guts was kinda awesome.
So, it's time to up my Halloween decorations game. I have been really boring up till now – only putting out a few measly pumpkins. I scoured Amazon the other afternoon to see what I could find that was spooky, but not too tacky (is that even possible when we're talking Halloween?). Anyway, here's what I found. I've got a few of these items on the way – I'll update you once we've decked out our porch!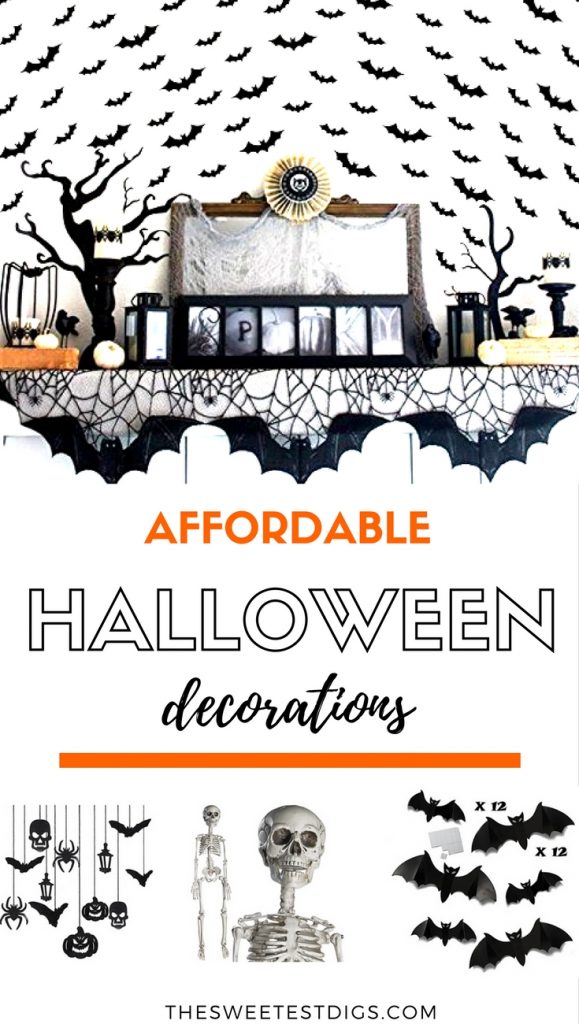 Affordable Halloween Decorations from Amazon:
The nice thing about buying seasonal decorations like this is that you can use them for years to come. I remember my parents having a box of decorations and we pulled out the same stuff every year – a sheet for our ghost, some spiderwebs, and spooky signs.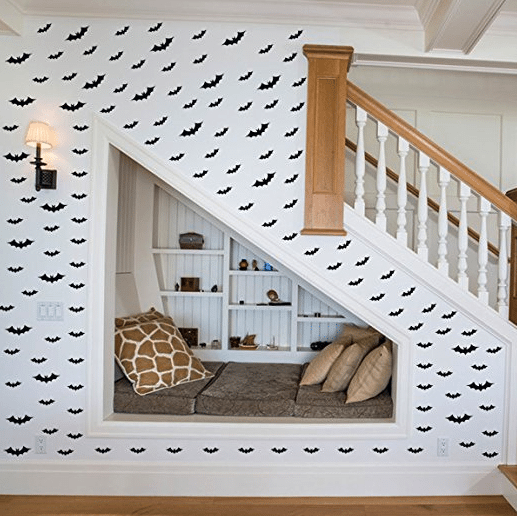 Bat Decals – I think these look SO cute, especially on white walls! Such an easy way to decorate inside your house without a ton of effort or supplies.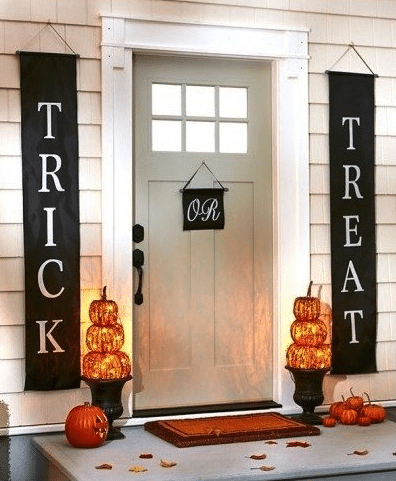 Trick or Treat Door Signs – If you have a front porch, these signs make a big impact for not much money. The fact that they are black and white mean that they would go with any house colour scheme (unlike orange – my LEAST fave colour!).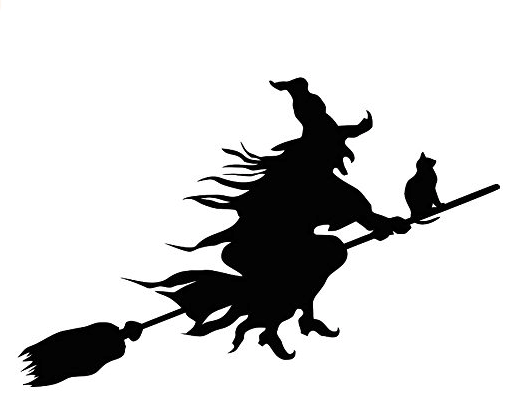 Flying Witch Window Decal – I wanna put one of these decals up in our front window. Spooky, huh?
Black Lace Mantle Cover – This black lace cover is fun. This pic shows it above the door, but it would be perfect on your fireplace mantle or along any buffer/dresser you have in your pad.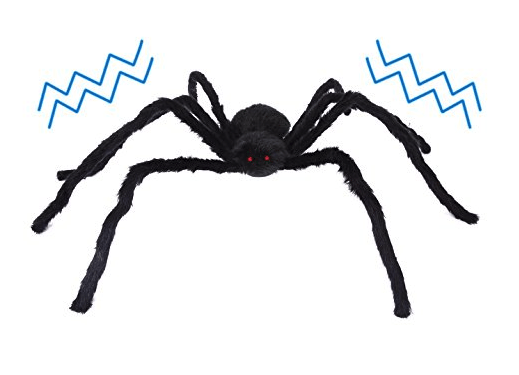 Giant Spider – So not only is this black spider GIANT, it makes noise too. I used to get so scared by stuff like this when I was trick or treating. Creepy!!!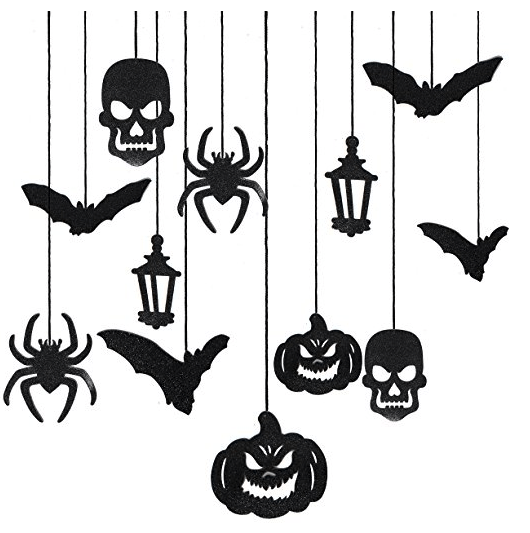 Hanging Decoration Set – This is a huge set of hanging decorations that you can hang from your chandelier, along a curtain rod, your fireplace mantle, wherever. It comes with a bunch of bats you can stick on your walls, too.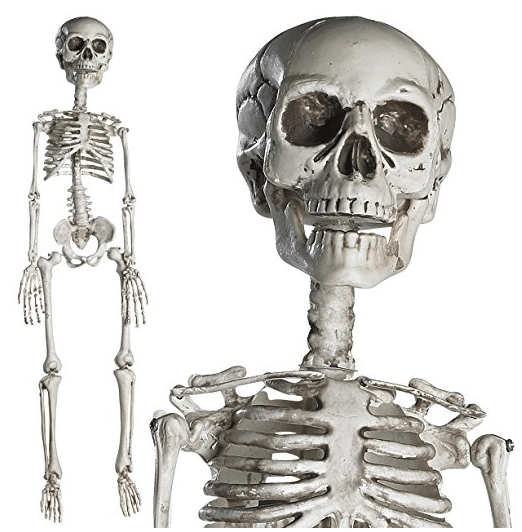 Full Body Skeleton – This is my fave. A full-body, life-size skeleton. I wanna put this guy on our porch. I wonder what the kids would think.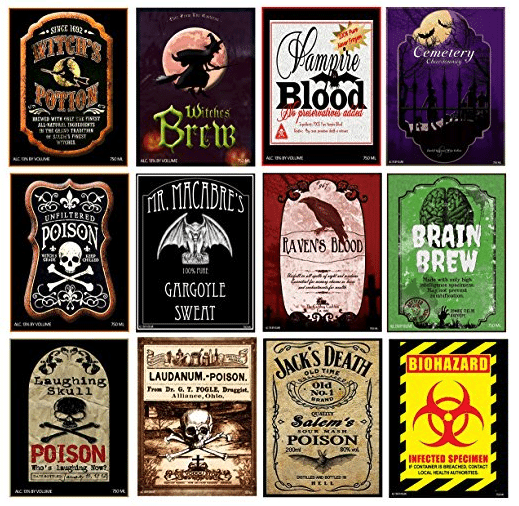 Halloween Wine Labels – If you're having people over for halloween, dress up your wine bottles with these labels. How fun is that?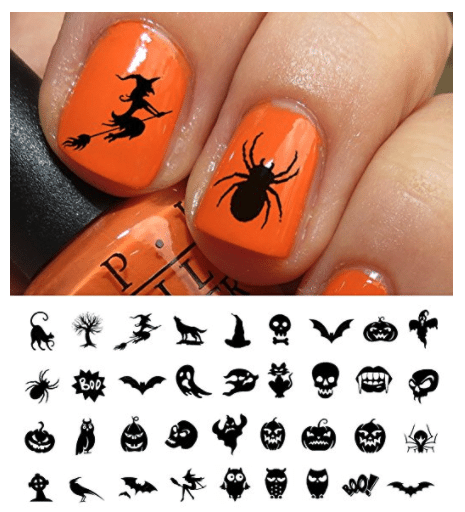 Halloween Nail Decals – These nail stickers are super cheap and so fun to do with the kids. I'm snagging a pack of these – Maya will LOVE them.
That's a wrap!
Do you go all out decorating for Halloween? Are you a diehard pumpkin carver, or do you paint your pumpkins?