I have been using face serum instead of moisturizer for years. Have you ever tried it?
In my teens I had acne and the idea of putting OIL on my face goes against everything I was taught. I thought you wanted to dry out your skin as much as possible. I used to put toothpaste on any acne (anyone remember trying that?), used a daily toner, almost never moisturized, and even used a prescription cream for a number of years that just zapped any oils from my skin whatsoever.
But I have since learned a lot more about skincare and how your skin actually needs oil. If you strip it all away, it's just going to go into overdrive oil production. Once I started using a face serum that was oil-based, I saw a huge improvement in my skin.
The shitty part was that I was spending $50+ per tiny bottle of fancy serum… so it added up. Bigtime.
When I started using Young Living Oils around our house for health and wellness purposes, I thought I'd try making my own face serum to see if I could get similar results.
And would you believe…. the homemade version is even BETTER than my super expensive stuff. It goes on beautifully, moisturizes just the right amount, doesn't leave any oily residue, and smells amazing. Honestly my skin has never been better since switching to a totally handmade routine. Plus, it's 100% toxin-free.
Homemade Face Serum Recipe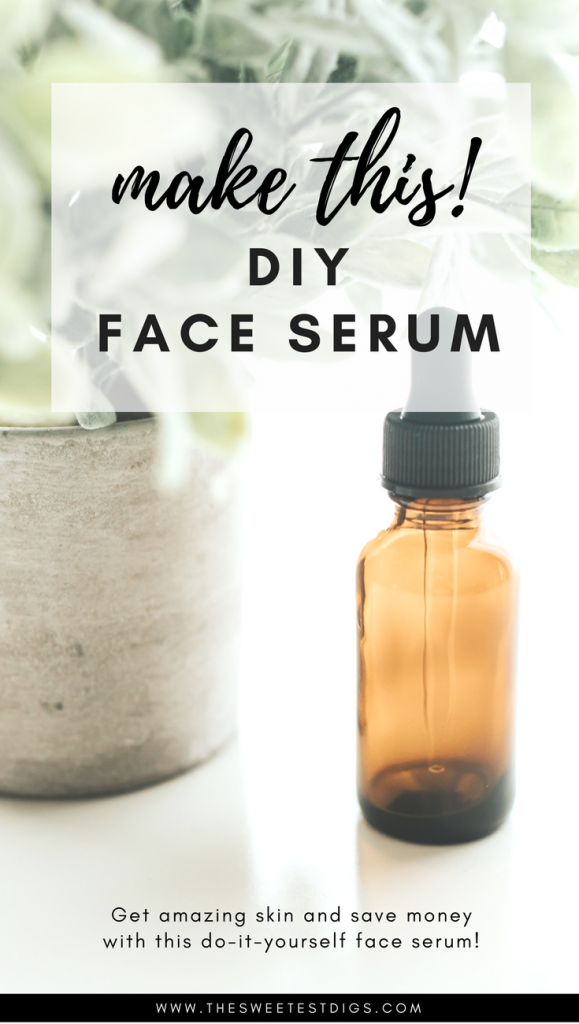 I wanted to share the recipe so you can make your own!
Homemade Face Serum Recipe Supplies:
–Jojoba Oil. Jojoba mimics the natural oils and sebum in your face the best of any other oil out there. That's why it's so often recommended for use on the face. No matter what your skin type, I would bet that jojoba will work well on your face.
–Rosehip Oil. Rosehip oil has naturally-occurring beta-carotene, vitamins A, C, & E, and fatty acids that are all excellent for the skin. It is supposed to be amazing for scaring, sun damage, and more.
–Pure Vitamin E Oil. Vitamin E is amazing for the skin on your face. It will reduce scaring, wrinkles and provide a ton of moisture. It's a thick, sticky oil. You need to make sure you're buying pure vitamin E, not something that has mixed in with other oils.
–Essential Oils. There are a lot of essential oils that are amazing for the face. I have personally found that the combination of Frankincense, Tea Tree, and Lavender work really well. Other good ones for skin are Geranium, Helichrysum, and Rose.
–1 ounce Glass Dropper Bottle. I like these dark amber or blue glass ones, as you want to make sure the contents don't get affected by sunlight.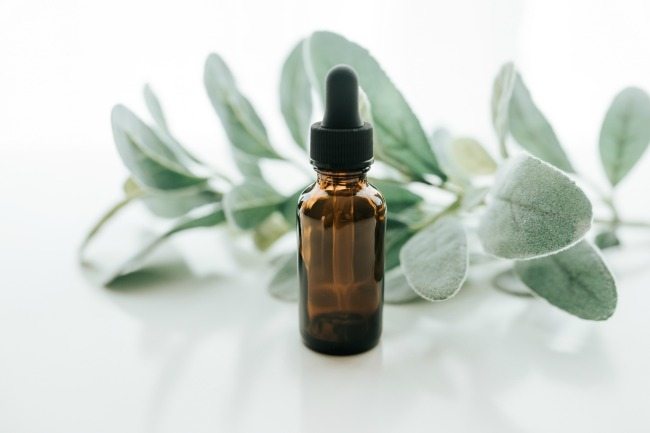 Want the recipe on an easy-to-print recipe card? Snag it right here:
[convertkit form=5076878]
Alright, let's get making…
Step 1: Add Essential Oils
Get out your glass dropper bottle and start off by putting in your essential oils.
I use:
10 drops of Frankincense (amazing for anti-aging)
10 drops of Tea Tree (excellent for acne)
10 drops of Lavender (soothing)
Shoot me an email if you want more info on Young Living essential oils – I love them and can help you get started with a sweet starter kit and bonus goodies! gemma[at]thesweetestdigs[dot]com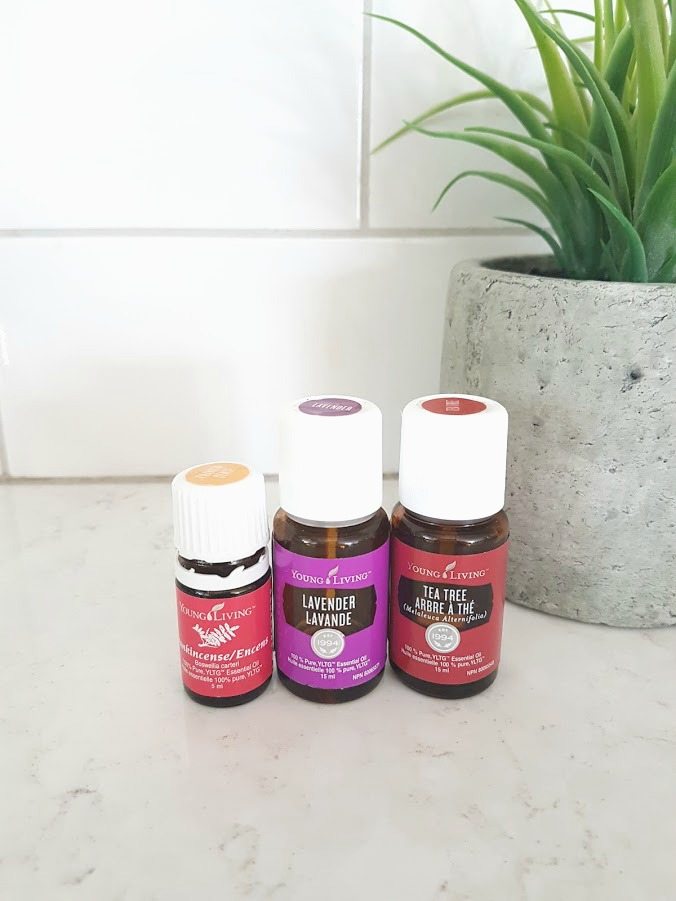 Step 2: Vitamin E
Now add your Vitamin E oil. It's important to use pure Vitamin E oil, not one that has been mixed with another type of oil. You're going to be adding other carrier oils in a second, so for this you want just vitamin E.
The Vitamin E oil should be thick and sticky! This makes it a bit challenging to measure out, but do your best to add 1 teaspoon to your glass dropper bottle. A dollop, in non-scientific measuring terms.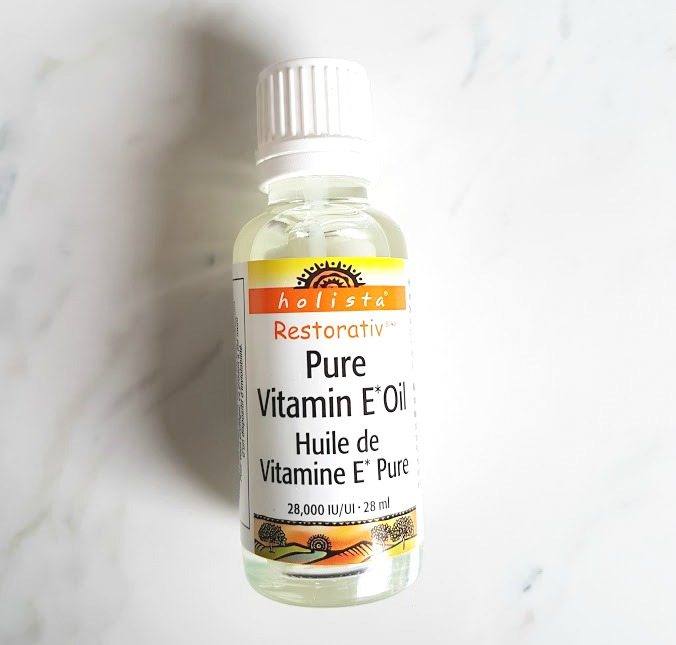 Step 3: Add your Carrier Oils
Now it's time to add your carrier oils. "Carrier oils" refer to the fatty oil that you are going to fill up the rest of the bottle with, that "carry" the other essential oils to the skin.
I do a 50-50 split between Jojoba Oil and Rosehip Oil. These work extremely well for my skin. Jojoba mimics the sebum in your skin better than any other oil, and rosehip is amazing for any scarring or sun spots. You can try different carrier oils and see what works best for your skin type (grapeseed and carrot seed are two other oils that are great for face).
Instead of measuring it out, I just pour the oils directly into the dropper bottle. Half jojoba, half rosehip.
Once filled all the way up to the top, put the lid on, and gently invert it to mix all of the ingredients up.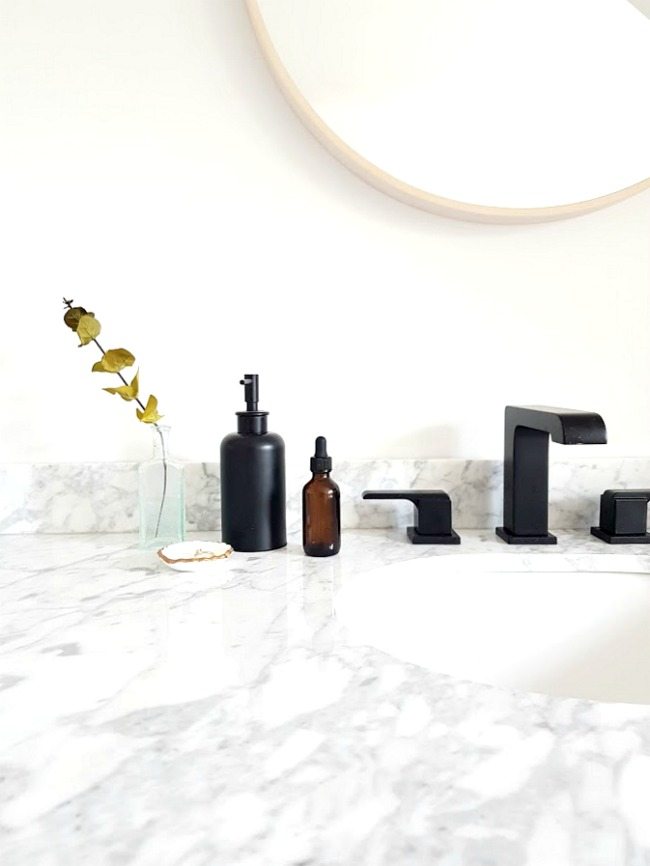 DIY clay jewellery dish / similar black soap pump / 'Ara' faucet by Delta
Done! Now go and use your serum and come back and tell me how amazing your skin feels and looks. I'm so obsessed. Can't travel anywhere without it!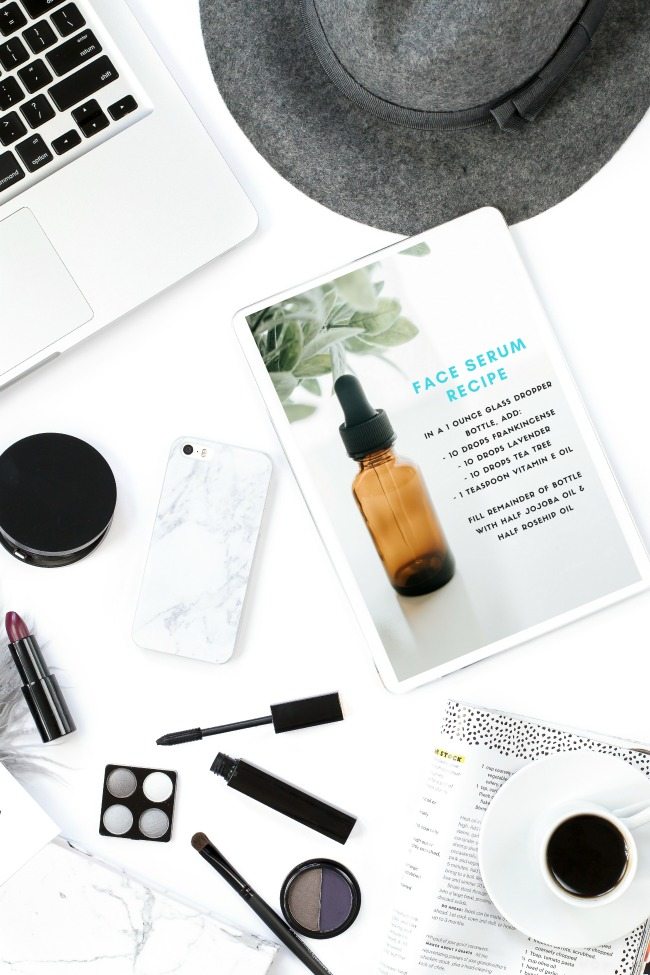 If you want the recipe on an easy to save and print recipe card, sign up below and I'll send it to your email!
[convertkit form=5076878]
Want More?
I have even got my husband Dan into using a face serum too. The difference is that I tell him it's a "beard oil". Ha! Sure it's amazing for his beard, but it's mostly for his handsome face.
Here is the beard oil recipe.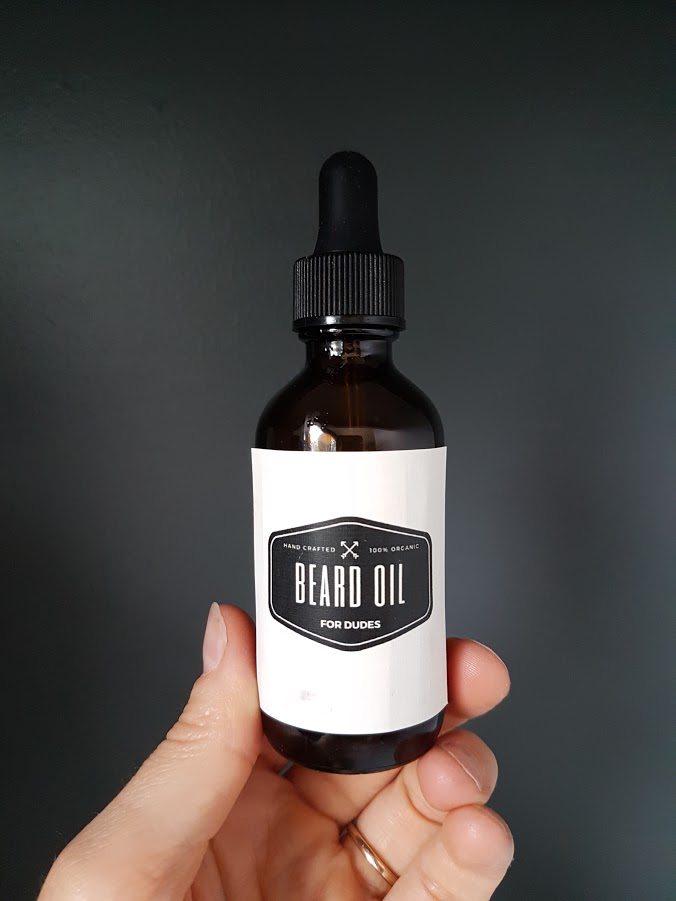 Want to know why I use Young Living Oils in all my recipes? Get the scoop here: