This is a sponsored post written by me on behalf of Gorilla Glue. All opinions are 100% mine.
Want an easy DIY idea to add to your holiday decorating?
A felt christmas tree garland is quick and easy to make, and looks SO cute!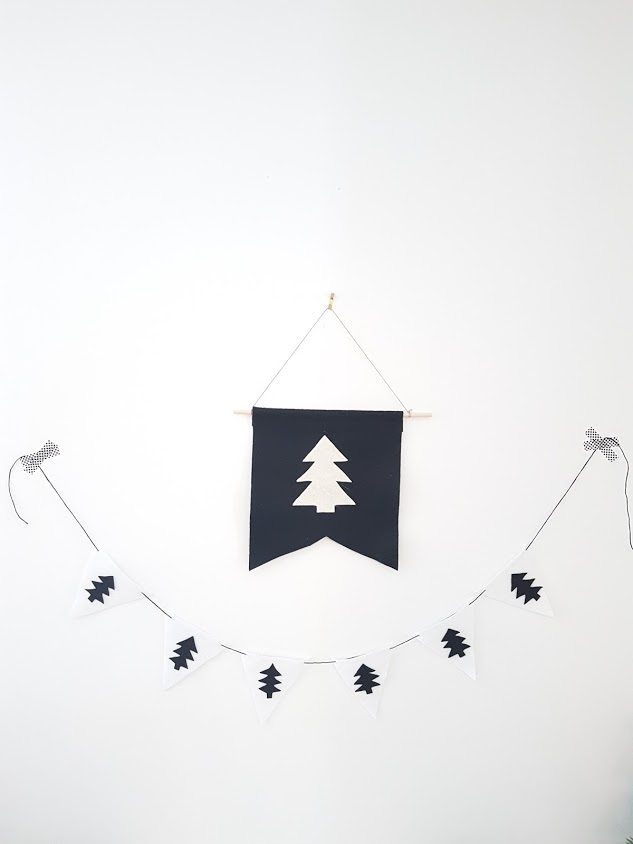 Supplies List:
First up, grab your supplies. For this project you'll need…
Felt. I went with black and white to stick with my scandinavian holiday decorating vibe, but you could go with any colour!
Scissors
Gorilla Spray Adhesive. This adhesive is heavy-duty, multi-purpose and easy to use.
String.
Step 1: Cut out Shapes
The first thing you need to do is take your sheets of felt and cut out your shapes. Cut the background shapes of your garland first. So this would be either triangles or a flag shape (I made two versions, and so cut out both styles!).
Then you need to cut out your tree shapes. The best thing is to do one tree first, and then use it as your guide for cutting the rest. That way you get the same shape over and over again. I did black trees and grey trees for my two different versions.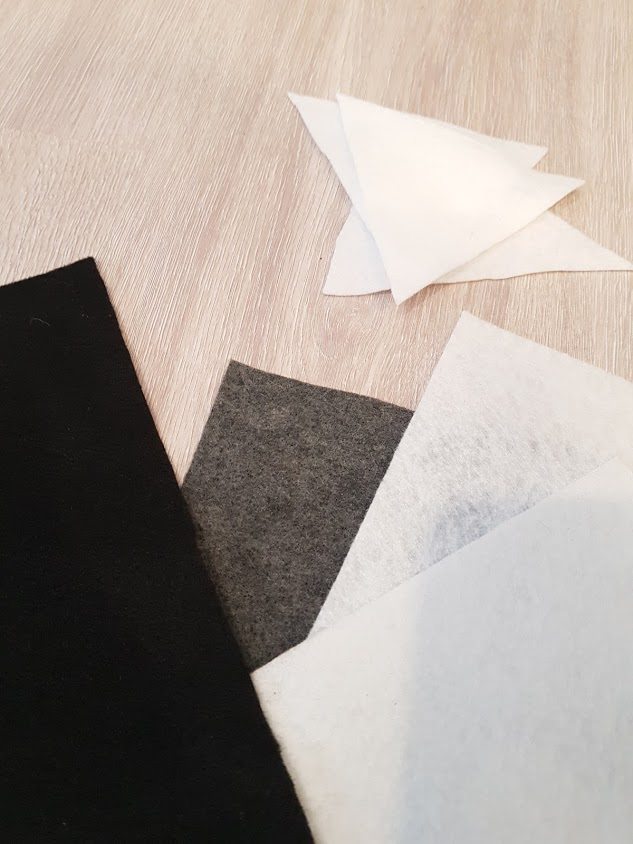 Step 2: Glue Together
Now you need to glue the two together. This is where you'll want to bring our your Gorilla Spray Adhesive. Do this part in your garage or outdoors, where it's well-ventilated.
Spray the back side of your tree shapes, one at a time, and place them onto your triangles. The glue dries permanent so these bad boys aren't going to go anywhere. The nice thing is that the adhesive is repositionable, so if you press the tree down in the wrong spot at first, just lightly pick it up and put in the right place.
When spraying, spray from about 6-8 inches away, and make sure you have something like cardboard behind you for any potential over-spray.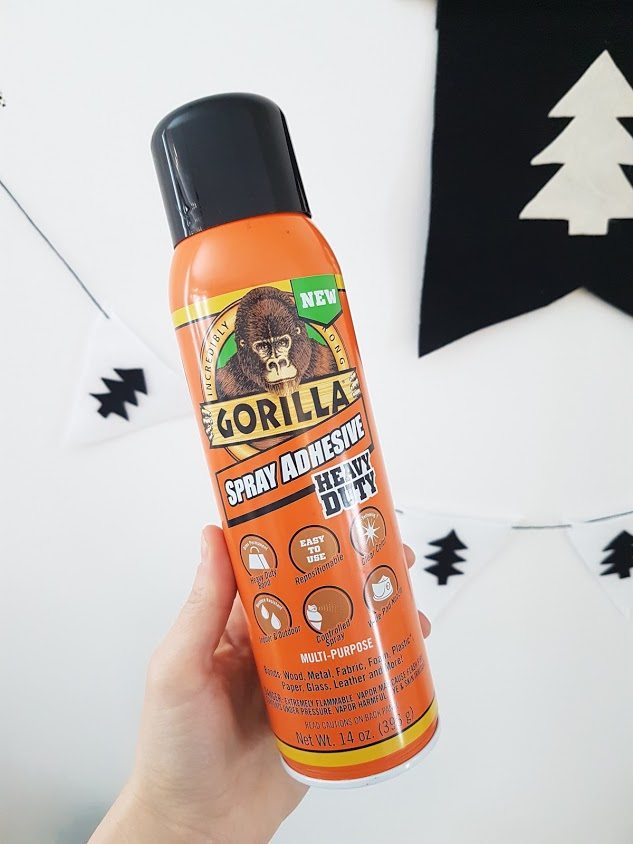 The sweet thing about using spray adhesive is that you get every little spot of the tree covered in glue, so it adheres really well.
Let them dry for about 10 minutes before moving onto the next step.
Step 3: Cut Holes and Loop
Once all of your trees are adhered to the triangles/flags, then you need to make small holes in the top two corners to loop your string through.
Do this by bending the felt and cutting a small little hole away, up in each corner.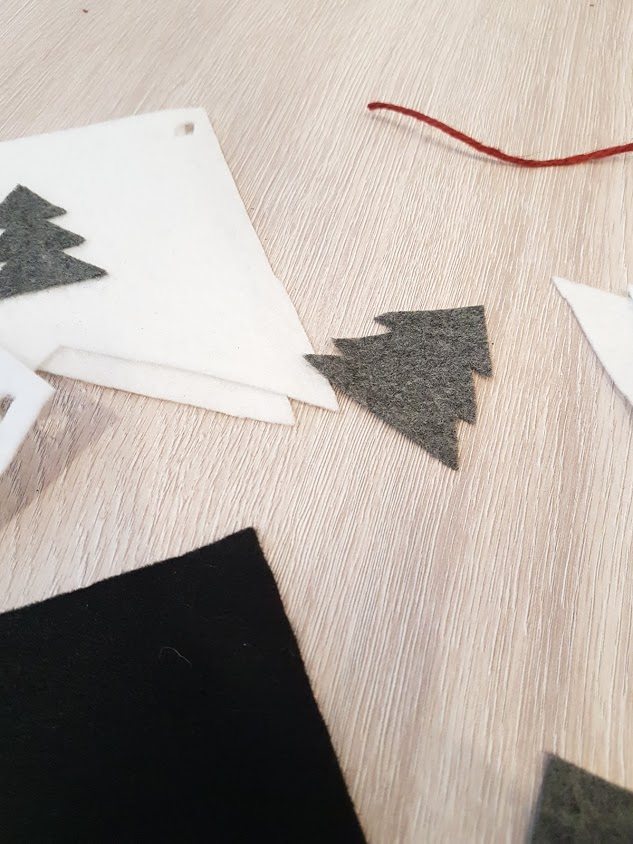 Then take your string and loop it through all the holes, so that you are creating that garland.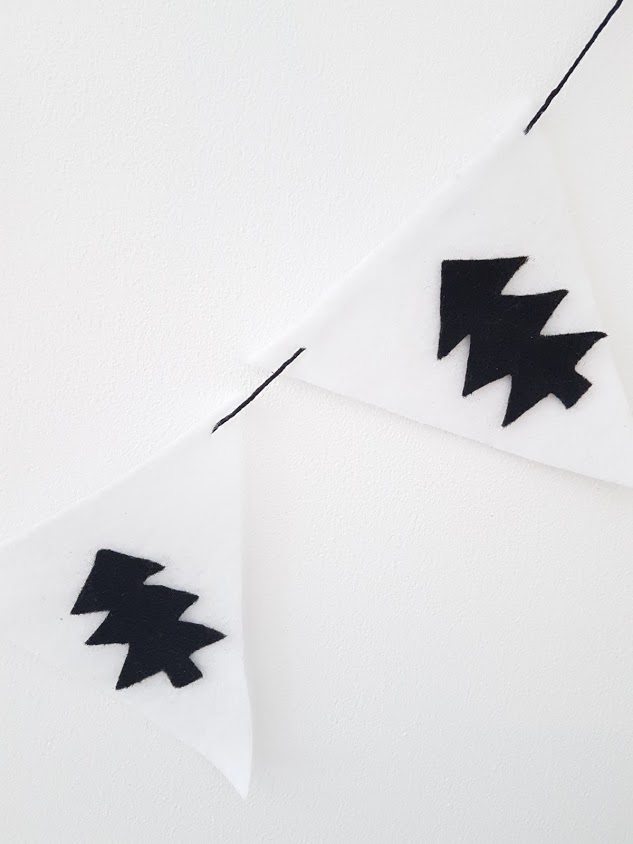 Step 4: Hang!
You can tie the garland up, or do what I did and use washi tape to affix it to your wall. Boom. How cute is that?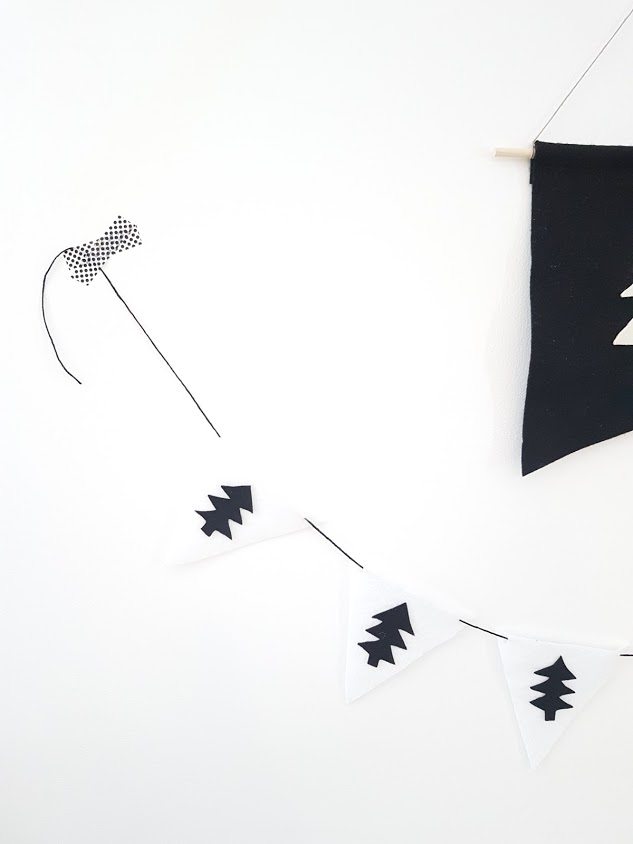 I love how it turned out.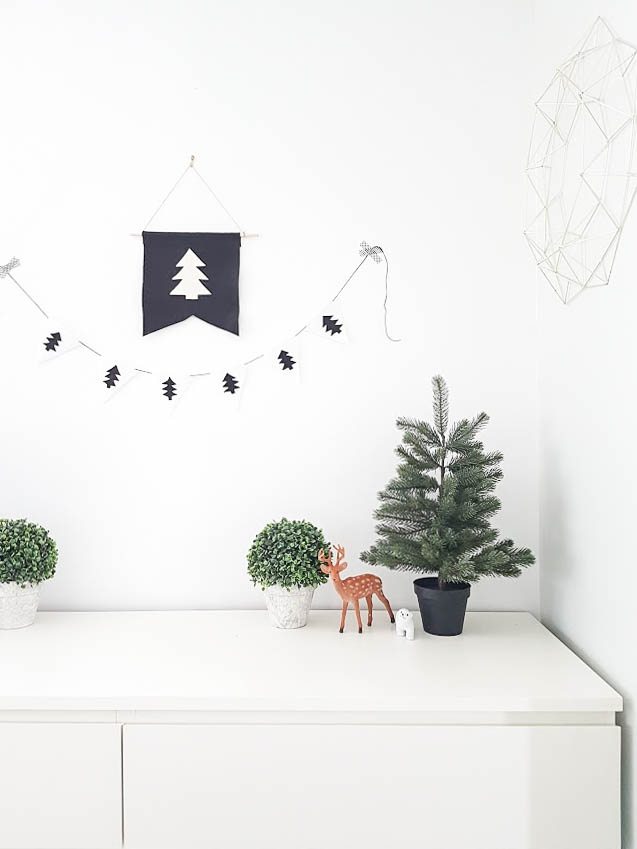 You could totally do a version of this elsewhere in your house too – doesn't just have to be for Christmas. I've got a swiss cross one in James's room. A little heart one would be so sweet, too!
Here's another version, white trees on black felt, that my girlfriend made!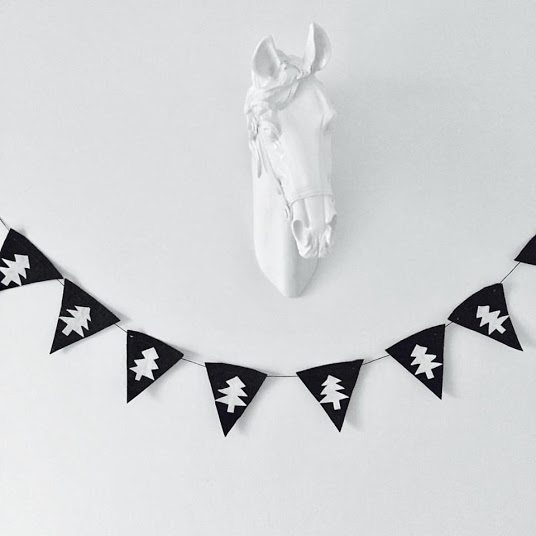 Don't forget to Pin it!