Guys, I owe you the scoop on our kitchen lighting (lots of you have been asking – sorry!). In terms of the lighting in our house, we had to come up with a plan with our electrician in the early reno stages. Of course we were putting potlights throughout, but I'm really not one for going potlight crazy. Have you noticed that a lot of new homes these days have a zillion potlights everywhere and no other types of lighting? What happened to some good old pendants or sconces? I am a big fan of layered lighting in a room, and find that light fixtures can add so much to the overall design of a space, so I really wanted to think through our plan carefully room-by-room. Here is how we created our kitchen lighting plan, including choosing pendant lights.
We decided on a three light source scheme for our kitchen: some potlights (6 in total), under cabinet lighting, and pendants over our peninsula and sink. The potlights provide the main light source, the under-cabinet lighting really helps brighten the countertop, and the pendants? Sure they provide light, but they are largely there to bring the pretty.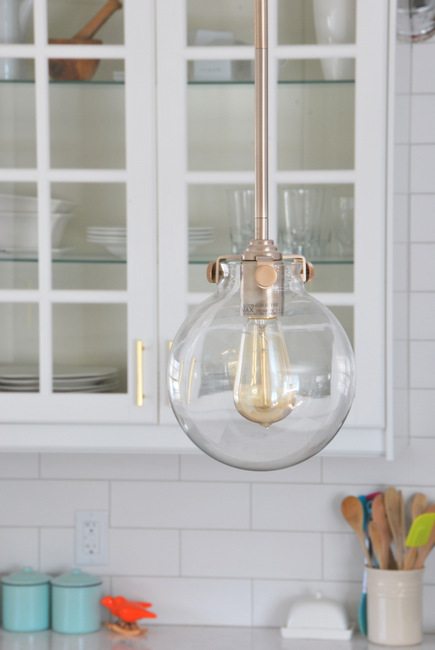 How To Choose Pendant Lights For A Kitchen
I have scoured lighting sources like crazy during this reno. From big box store options to more upmarket retailers and online companies, there are tons of places you can find exactly what you're looking for. I knew that over the peninsula was going to be *THE* spot to highlight some beautiful pendants, so I was keen to get something special. Have you been on lamps.com? They have just about everything you could possibly want (lighting + beyond). I can't even tell you how many hours I have spent browsing their lighting options.
I was pretty torn between a few different pendants for the peninsula, but I ultimately landed on these 'Congress 1-light mini pendants'. I thought they were simple and lovely. They wouldn't feel heavy or block any sight lines, but would add some beauty to the space. I went with the antique nickel, which I thought would tie in with the chrome sink and faucet. I almost went with a gold/brass fixture, but then thought that having the silver would help balance the whole mixed metals thing (I was shaking in my boots a little before the pendants came, not sure if it was all going to work, but luckily I think it did!). The brand is Hinkley, who have SO many other gorgeous light fixtures. Oh and the vintage-style bulbs come with the lights!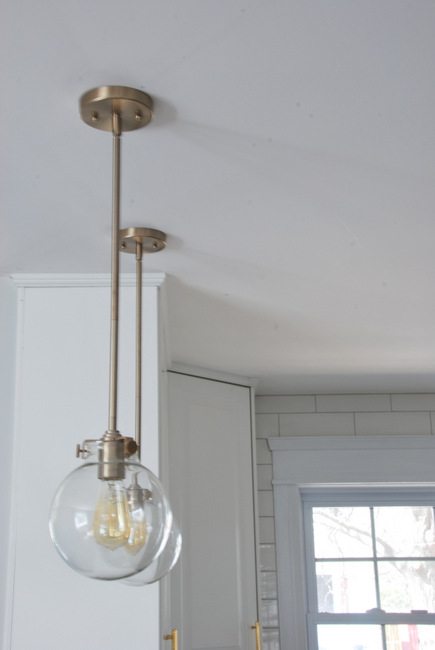 Over the sink I went with a simple pendant from IKEA – the Ranarp. I didn't want another glass shade that would compete with the Hinkley ones, so this white guy was perfect. A good example of a high-low mix.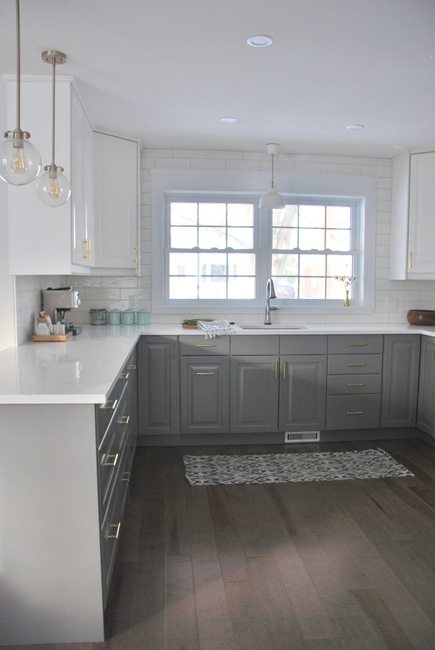 The layering of the light in this space is just right. When they are all on, it is such a nice and bright space, but if we don't need it to be overkill, it doesn't have to be. And I can happily say that pretty much everybody who has come over to the house comments on the pendants. It is nice to have a few little jewels, you know?
Please ignore the unfinished range hood in the photo below…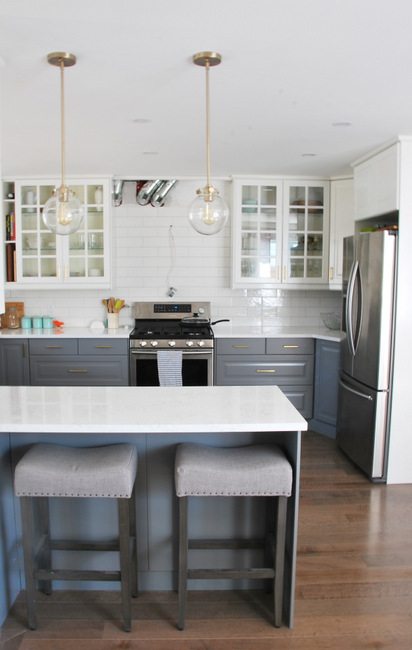 For my Canadian readers – Lamps.com ships to Canada, but don't forget about the taxes and duties you might encounter from shipping cross-border. If you live near the US border, it can be worth shipping there and then driving over to pick them up (I do this frequently with the Ogdensburg UPS Store).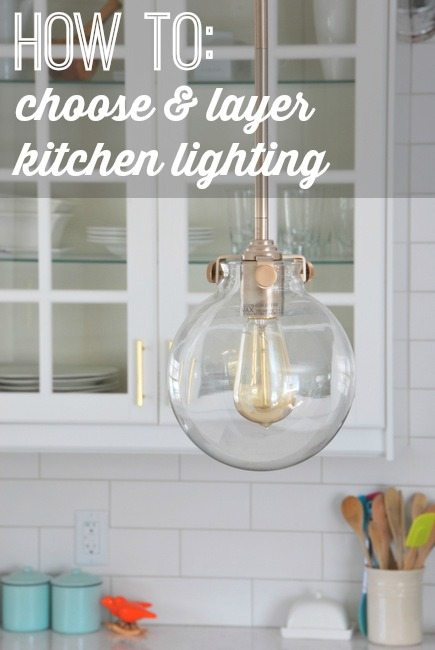 Have you guys had to update the lights in your pad? Have any great lighting sources or tips? We had to get so many light fixtures so quickly when our reno was going on, that I was a bit light-crazy there for a while. Maybe I'll do a roundup of my go-to sources at some point! 
Disclosure: I partnered with Lamps.com on this post, but of course all opinions are all my own! Thanks for supporting the brands who support this blog.