The spring has been a busy one so far, so I thought I'd catch you up a little on what's been happening in my neck of the woods.
After a few months of quiet on the craft fair front earlier in the year, they are all starting up again and so I have been busy prepping and spending time in various shows. I love doing this, as it's a great way to meet all kinds of fun people (some of whom recognize me from the blog, which always makes me go a little red and awkward..!!) and make a bunch of sales without dealing with shipping. I try to be careful though about how many I take on, as the fairs are usually on the weekends – my only time with Maya and Dan – so I want to make sure we have lots of time to do fun family stuff.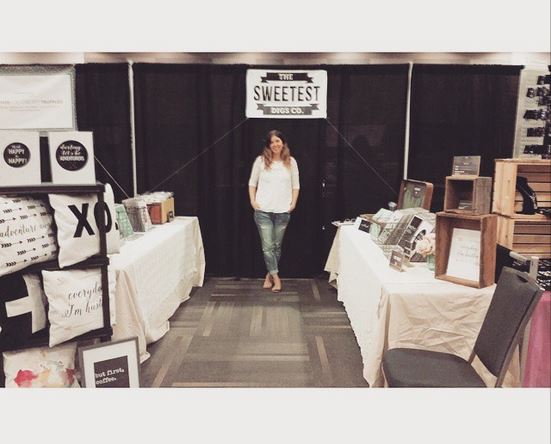 This past weekend, my girlfriend Caroline and I, put on a private Pop Up Shop. We held it in my house – so it was a pop up shop slash "come see the pad since it's been renovated!" event. It was a buzz with people the whole time (we held it from 5-9pm) and tons of fun. Caroline makes all kinds of great stuff – she is a crafty gal with a fabulous eye for style – plus, we always have a good laugh together. It was a fun venue for me to branch out from my usual stuff too, and sell things like refinished furniture, jewellery, and some vintage wares. Stuff that I don't cart around to craft fairs or sell online (because SHIPPING – ugh!), but still love making and collecting.
She and I are going to be starting a workshop series in Ottawa, so if you are interested in hearing more, send me a note and I'll add you to our email list (email me: [email protected]). We had a bunch of workshop ideas written out at the pop up shop and got people's feedback on which ones they would like to attend. From dip dyed napkins and pillow covers, to DIY artwork, to wine pairing with an expert sommelier, people seemed to be really keen on them and we have all kinds of ideas that we are excited to work on!
On the family front, I had the most lovely Mother's Day on Sunday. Last year (my first mother's day since Maya was born), she and I were in England without Dan. So this year, with all 3 of us being at home, it was a treat. Dan made me stay in bed until mid morning, where I enjoyed a seriously gourmet french toast (whipped cream, berries, the works!) and coffee (HEAVEN). Once I eventually made it downstairs, we had fun playing the rest of the day and squeezing in some extra snuggles from my sweet girl. It was perfect. And luckily my Mum spent part of the day with us too – so it was a happy mother's day all around! Love you mama!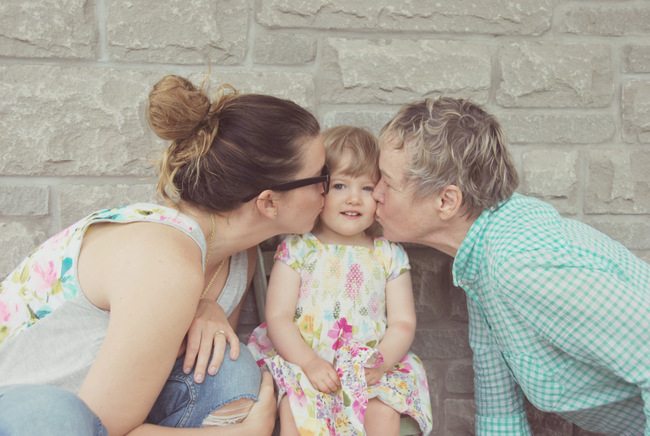 Oh and during the week, Maya's daycare threw the sweetest Mother's day tea. The room was decorated beautifully (seriously, it looked like a bridal shower or something!), the kids came in and sat at the piano and gave their mummies a concert, and then we all enjoyed some tea and snacks and homemade gifts. I was just bursting with pride at my growing little lady.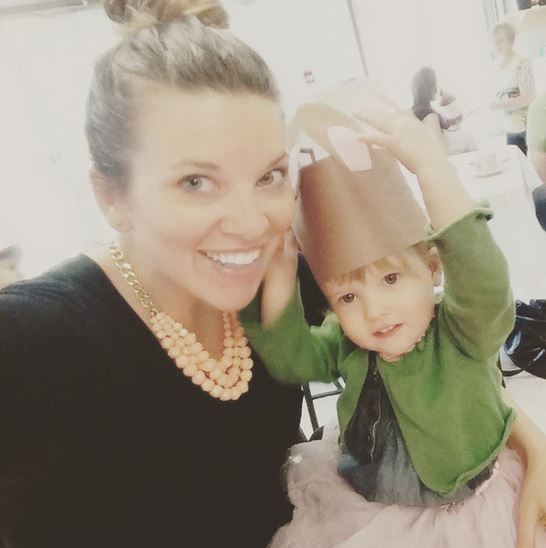 Maya is hilarious these days. Definitely no longer a baby and very firmly in the toddler category. There are lots of opinions and stubborn-ness (woah the stubborn streak is strong in this fierce little girl!), balanced out by sweet kisses, hugs ("up, peaase!!"), total silliness (I think the girl is going to be an actress), and new words exploding out of her every day. One of my favourite ones right now is "la-lad" for salad – which she loves. Mostly her grandmother's extra garlicky caesar salad. So funny. And it's quite incredible to watch her learn and do new things every day. I continue to be amazed by how she thoughtfully builds lego, knows how to fit the shape blocks into the box, does imaginary play with her stuffed animals, and knows so many things in her books. I know this is all normal stuff, but as a first time parent, it all seems quite unbelievable. You somehow don't think that they are ever going to get out of the baby phase and then it all seems to happen so fast.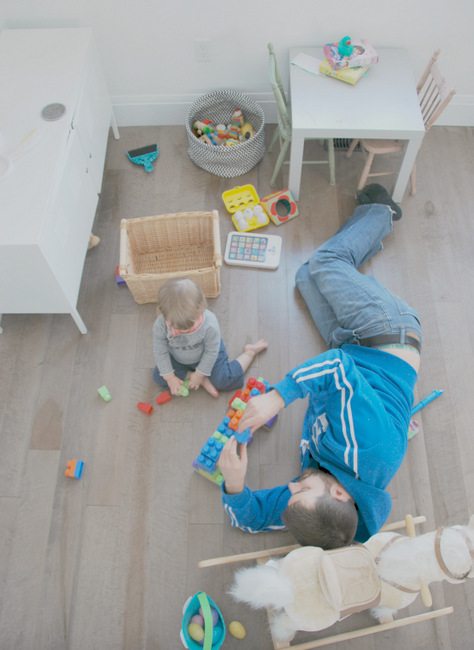 Oh and watching her play with her friends and cousins is just to die for. Just this past weekend I was with Maya at my brother and sister in laws, and she and I went up to get their daughter out of her crib. Maya LOVED getting her her diaper, helping me change her, and then wanted to bring her every single toy to play with. Took the little bunnies and bears and made them give kisses to my niece, even making a "kissy" sound as she did it. It's exactly what I often do to her with her stuffed animals, so it totally made me crack up (slash get teary because it was so cute). Oh and lots of hugs. Like almost bowling the baby over with the hugs.
She is getting more and more independent – we are in the "Maya do" phase. This can mean a 20 minute session of her trying to put on her own pants or shoes, which can be hugely frustrating when you're trying to get out the door in the morning, but the girl is headstrong, clever, and going to take the world by storm. I have no doubt.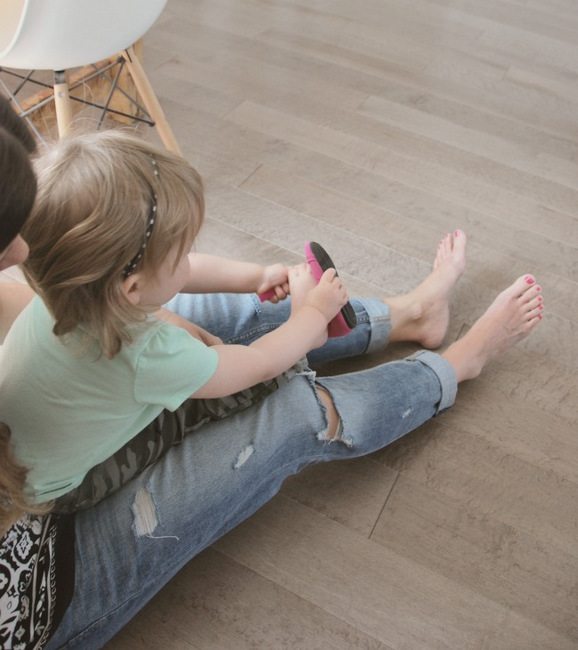 Anyway, that's the scoop! We have also been busy focusing on getting the basement apartment finished as we have tenants moving in on June 1st. I owe you guys photos on that, but we're just trying to plow through and get it done (it's close). Oh and I have been doing a few different contracts and design/styling projects on the work front. So basically life is busy, but wonderful! It's nice to be settled in the house and into a good groove again.
Oh and don't forget to follow me on instagram to keep more up to date on latest happenings. I'm able to post there more regularly… so if you don't hear from me on here for a little while, it's always good to pop in over there and see what's up!
Any newsy stuff happening in your neck of the woods? I'm all ears!