Maya's nursery was the last room in the bungalow (our house pre-reno) that we re-did. She was born in August and we started our renovation in July the following year, so she lived in her first room for just under a year. It was a sweet little space that I had loads of fun finishing while my belly grew bigger and bigger. Some snapshots of that room:
That last photo was the day we started packing up our stuff to move out. Where did that little baby of mine go?
With Maya's new room, I have carte blanche to start over again. Thing is, I really loved the pink + mint + white scheme and the DIY projects I had done. So, without replicating the room entirely, I have decided to do her room as the 2.0 version. It's already a nicer room in terms of the bones: bigger, more windows, a waaaaay more decent closet, and you know, not having to share with our home office. All major improvements from the get go.
Here is the moodboard I have put together.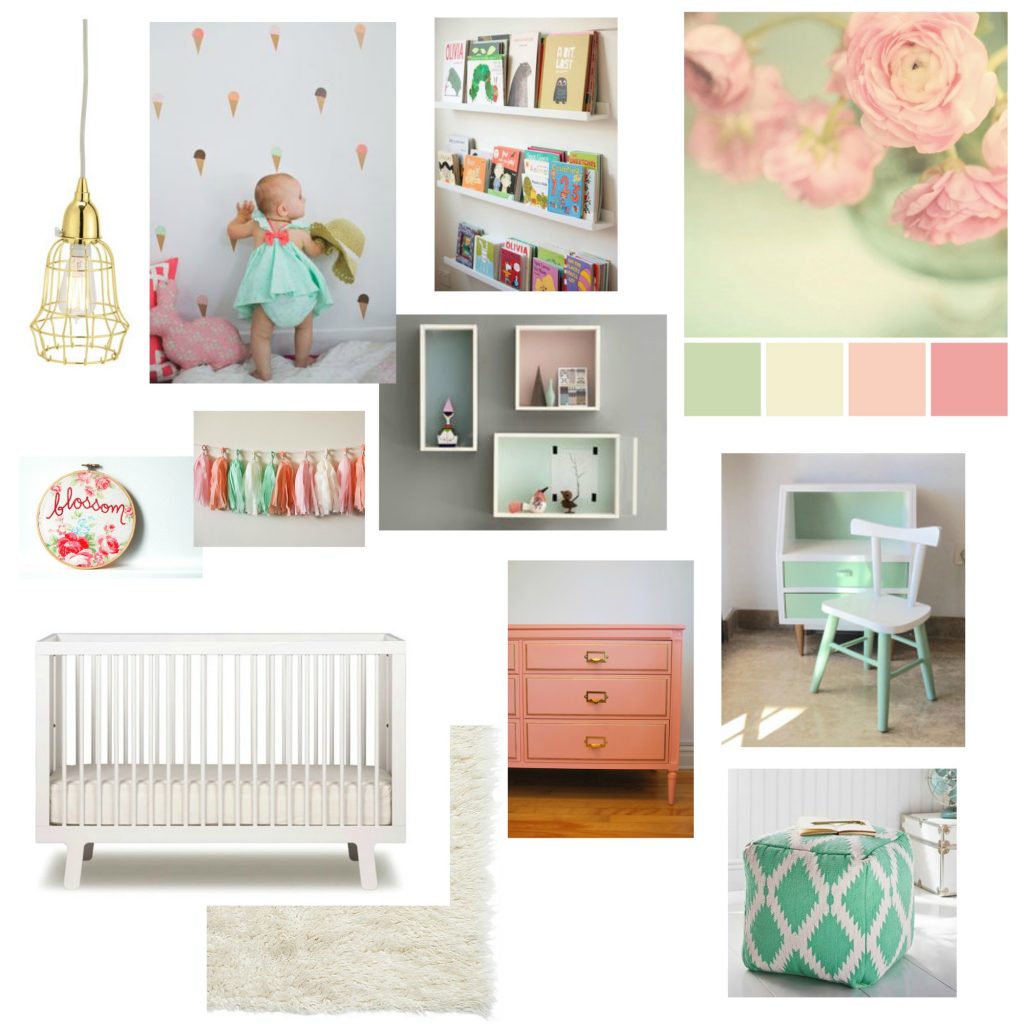 Fun, right? The basic plan:
– pink + mint scheme, with a white base (walls)
– furniture: white IKEA crib, pink dresser, small table and chairs
– bookshelves
– DIY artwork on the walls
– fluffy rug
– decals!! love those ice cream cones….
– gold accents, like lighting and furniture hardware
– shadow boxes to add dimension on the walls and create spots to display favourite objects
The elements I'm going to be re-using from her previous nursery:
-Her IKEA crib. We don't have an interest in moving Maya out of her crib anytime soon (and she hasn't tried to climb out of it or anything), so we're definitely re-using this bad boy. It has held up beautifully and I still really like the classic design in a white-washed look.
–The pink and gold dresser. I'm still obsessed with the coral-y pink of this solid wood midcentury dresser, and the gold hardware I added. There was no way it was going anywhere.
–Gallery wall. Although I'm going to replace some of the artwork and probably won't have room to hang all of these frames, I'm going to re-use some of them for sure. Oh and the canvas that I painted for my little lady will definitely re-appear in the new room somewhere.
–DIY Raindrop mobile. I'm not sure if I'll be hanging the driftwood piece from the ceiling again, or will take the clouds off and hang them on their own, but either way those raindrops will be in the room somewhere.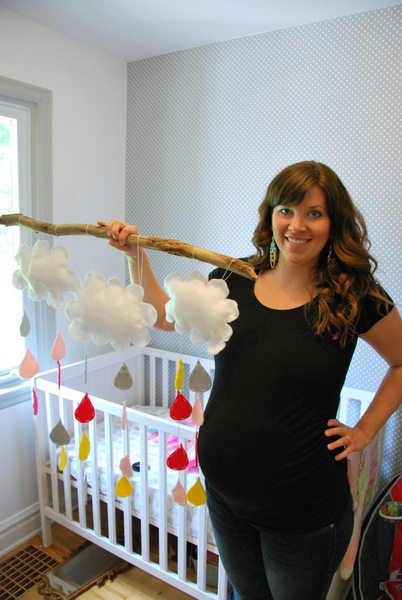 Woah belly!
Things that won't be making a re-appearance:
–DIY Ribbon garland. I LOOOOVE this garland, but I'm not actually sure if there is a spot that makes sense for it in the space. We'll see. If there isn't, I'll def re-use it somewhere else in the house or keep it on hand as a party decoration.
-The yellow chevron rug. This flatwoven guy was a $30 find and frankly, it got pretty dirty pretty quickly. Also, I don't really want to bring any yellow into this new room, and I don't know about you, but chevron ain't really doing it for me anymore.
-The gray polka dot removable wallpaper. I saved the paper when I took it down off the walls (NO damage to the walls, by the way! that stuff really is awesome), but I don't have enough of it to do the new room. I'll probably re-use it for a closet or some other art project down the line.
Here is the new room, circa construction zone over the last 10 months. All framed in, but no windows: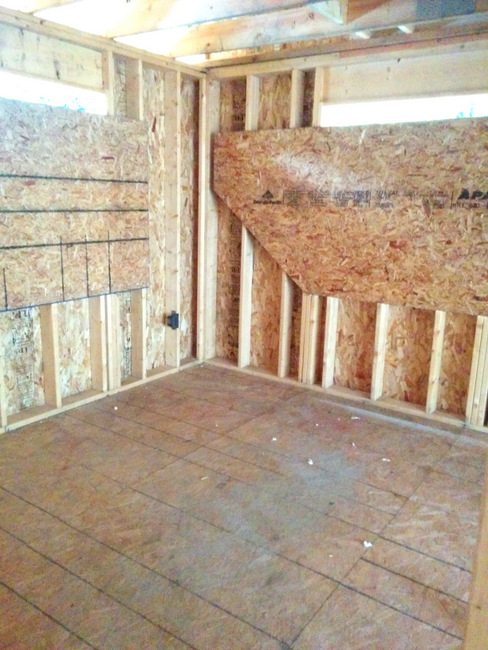 Coming together with drywall (primed), window trim, and flooring…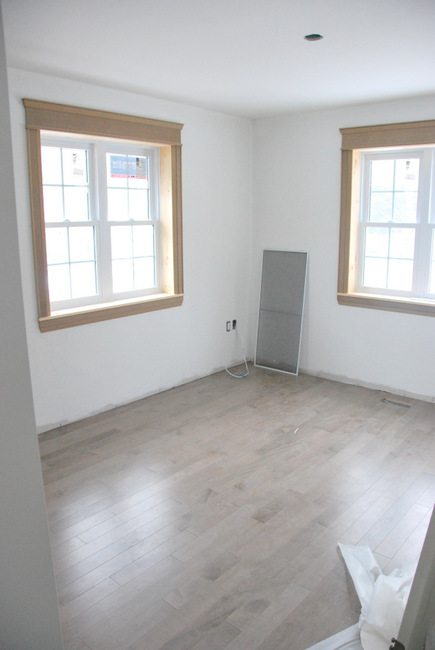 And finally with some painted trim and baseboard (painting that stuff is going to be the death of me, guys… there is SO MUCH of it in the house and it's the most tedious thing ever), plus a few pieces of furniture.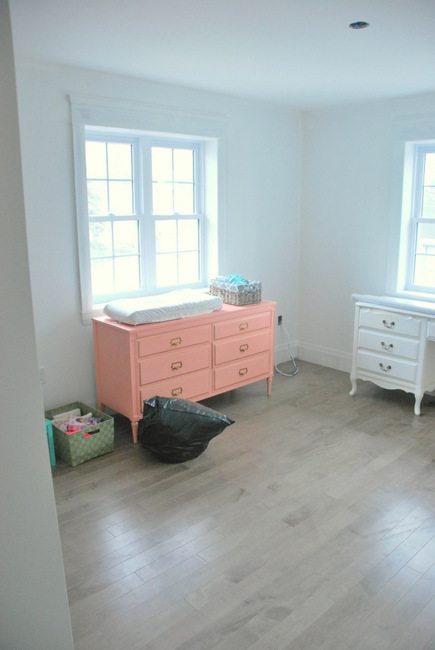 Want to see how it turned out? Check out the full AFTER reveal of the room right here!
And you can shop the sources here…
Get the Look:

Source Links:
Room Tutorials:
Here are all the projects from this room makeover!